Health Bureau's new mobile unit jabs 183 Ilha Verde residents in three days
Health Bureau's new mobile unit jabs 183 Ilha Verde residents in three days

Link copied
Senior citizens and infirm encouraged to get vaccinated by service on their doorstep; Macao vaccination rate tops 85.8%.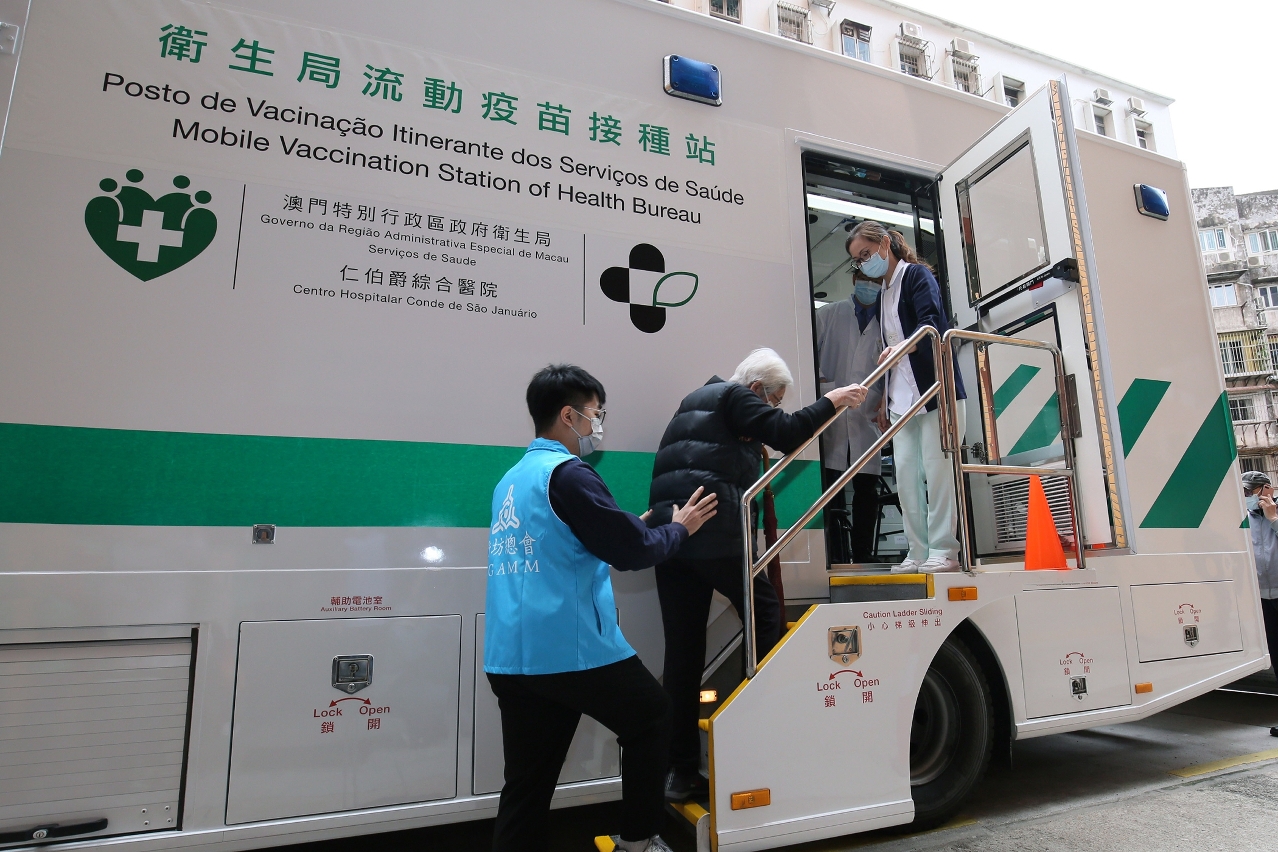 A total of 183 residents have received a Covid-19 jab in the new mobile vaccination station since last Saturday.
The new mobile Covid-19 vaccination station is a Health Bureau (SSM) vehicle equipped with medical facilities, which was parked outside Cheng Chong Building, a social rental housing building in Ilha Verde, from Saturday to yesterday to provide walk-in inoculation services for those living or working nearby.
The bureau has converted two vehicles equipped with medical equipment into mobile Covid-19 vaccination stations.
The bureau is yet to decide when and where the Covid-19 vaccination vehicles will next provide inoculation services. The Health Bureau said that it has launched mobile Covid-19 vaccination services with the aim of making it more convenient for residents living in different neighbourhoods to get inoculated, particularly senior citizens, those with reduced mobility, and the infirm.
Each mobile Covid-19 vaccination station is staffed by three or four health workers, and is able to inoculate around 56 people per day.
First-aid equipment is set up at each mobile Covid-19 vaccination station in case vaccinees suffer an anaphylactic reaction.
The Health Bureau aims to make use of its mobile Covid-19 vaccination stations to inoculate more bedridden individuals and those with reduced mobility, in collaboration with social service organisations, in which case their staff members will help transport these groups of individuals from their residential facilities to the mobile vaccination stations.
In addition, the Health Bureau will launch on-site home Covid-19 vaccination services for bedridden individuals later this month, expecting to inoculate around 10 people per day, The Macau Post Daily reported.
In related news, Macao's Covid-19 vaccination rate reached 85.82 per cent yesterday. According to the Health Bureau, as of 4 pm yesterday 586,351 people had been vaccinated against the novel coronavirus, 518,807 of whom had completed two or more doses.