10,000 BioNTech vaccines on the way to Macao
10,000 BioNTech vaccines on the way to Macao

Link copied
New supply from Germany doubly welcome as supplies are running low; 26 per cent of the population vaccinated, with no new Covid-19 case recorded for five days.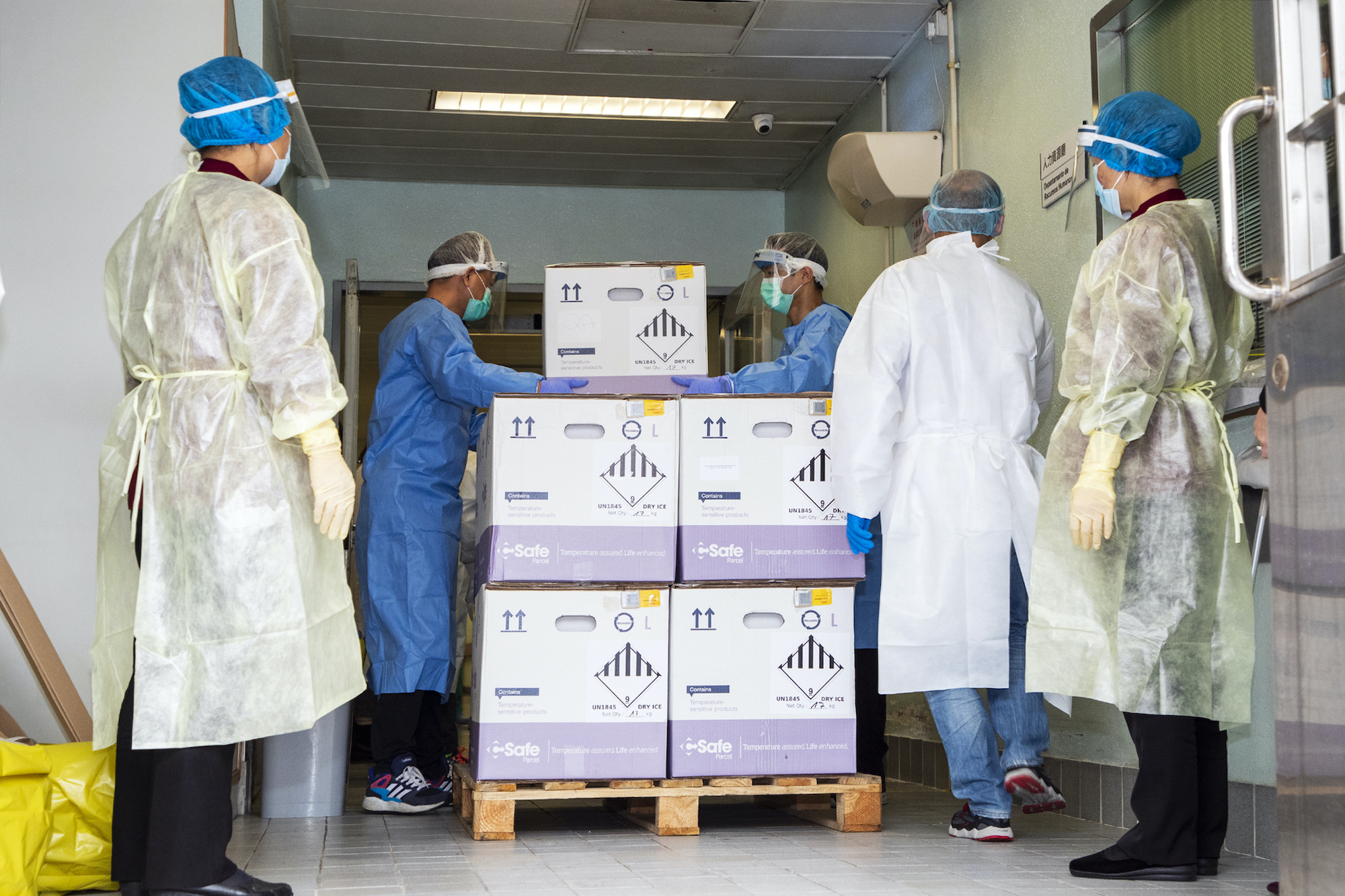 A batch of vaccines will be delivered in the nick of time at the end of this week as Macao's stocks run perilously low.
Tai Wa Hou, clinical director of the Conde de São Januário Hospital Centre, announced that 10,000 doses of BioNTech mRNA vaccine will be delivered to Macao from Germany via Hong Kong.
It's the fourth batch of the German jabs to be delivered to Macao.
Tai said that about 15,000 BioNTech doses were still in stock as of yesterday. On average, about 1,000 BioNTech doses have been administered per day, Tai said, adding that the Health Bureau (SSM) expects the current stock of BioNTech's mRNA doses to be used up in two weeks.
Tai reaffirmed that due to the vaccine's six-month validity, the government has requested the BioNTech vaccine supplier to deliver mRNA jabs in small quantities to avoid waste.
Tai also reassured residents that the SSM will ensure that those who have had their first BioNTech jab will be able to receive their second shot.
Two types of Covid-19 vaccines are currently available in Macao, China's Sinopharm inactivated vaccine and Germany's BioNTech mRNA vaccine. 
Currently, Sinopharm jabs are administered to those aged 18 or over, while BioNTech shots are given to those aged 16 or over. The government announced early this month that it will lower the minimum age for BioNTech jabs from 16 to 12, but this measure has still not been introduced.
Tai added that about 270,000 Sinopharm doses were still left as of yesterday, which he said would be sufficient for potential vaccinees to get their jabs for the next one to two months. Tai reaffirmed that the government has ordered another 200,000 Sinopharm doses.
Macao has not recorded a new Covid-19 case for five days, while no local case has been confirmed in 443 days. The city confirmed its latest and 52nd Covid-19 case on Wednesday last week, which has been classified as imported.
As of yesterday, 26 per cent of the population has received their jabs with 261,228 doses of Covid-19 vaccine had been administered to 181,797 people in Macao, comprising 101,141 who had received their first jab and 80,656 who had received their second jab.
According to the website of the SSM's Covid-19 vaccination programme, the 261,228 doses comprised of 223,343 Sinopharm jabs (85.5 per cent of the total) and 37,885 BioNTech jab (14.5 per cent of the total).
A total of 24 adverse events were reported in the past 24 hours. The total number of adverse events since the start of the vaccination drive stood at 1,050, or 0.4 per cent of the total number of jabs, including three serious cases.
In related news, a new nucleic acid testing (NAT) station at the Macao-side checkpoint zone of the mainland-Macao joint border checkpoint in Hengqin comes into service today. The station is run by Namyue Medical Technology Company in collaboration with the SSM. A NAT  costs MOP 70 at the station, which opens from 2-9 pm daily, with 500 places available per day, reported the Macau Post Daily.