Catholic university in Macau expects to move to new campus next term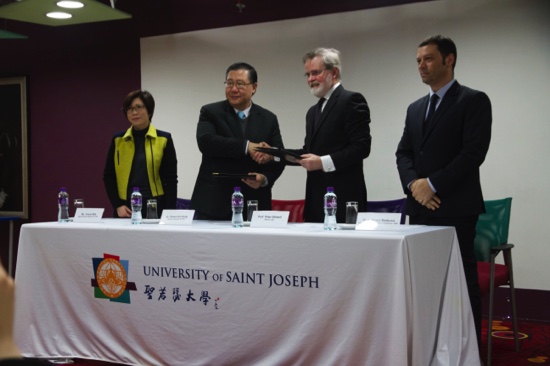 University of Saint Joseph (USJ) Rector Peter Stilwell said on Monday that the university's new campus in Ilha Verde was expected to become operational in the first term of the 2016/2017 academic year if the construction goes smoothly.
Stilwell made the remarks after a signing ceremony of a co-operation agreement between the university, which is co-owned by the local Roman-Catholic diocese and the Catholic University in Lisbon, and the local government-owned Macau Productivity and Technology Transfer Centre (CPTTM) on the university's premises in a commercial and residential building in Nape.
Under the agreement, the university and the centre will jointly run a fashion design bachelor's degree programme, the first of its kind in Macau.
Asked by reporters about the university's long-delayed campus in Ilha Verde, Stilwell said that construction was in its final stages.
He said the building contractor had promised that the new campus, the university's first, will be completed in May, adding he expected the university to be able to start using it in September.
The rector also said that if the project was not completed on schedule, the university would move gradually to its new facilities.
Father Stilwell, who is from Portugal and has headed the university since May 2012, also said the university had submitted an application to the mainland's education authorities for a quota allowing 30 mainland students per year to be enrolled in its master's degree programmes, adding that it was still waiting for the application to be approved.
He also said that as more students from different places were choosing to study at the university, it was set to raise its international clout.
According to information provided by the university, currently about 1,100 students are enrolled in its courses with about 33 percent of them non-locals from 49 countries and regions.
(Macaunews/macaupost)