50% increase in deals expected this year at MIF, MFE, PLPEX
50% increase in deals expected this year at MIF, MFE, PLPEX

Link copied
Thousands flock to Macao International Trade and Investment Fair, Macao Franchise Expo, Portuguese Speaking Countries Products and Services Exhibition; fairs open to public today and tomorrow.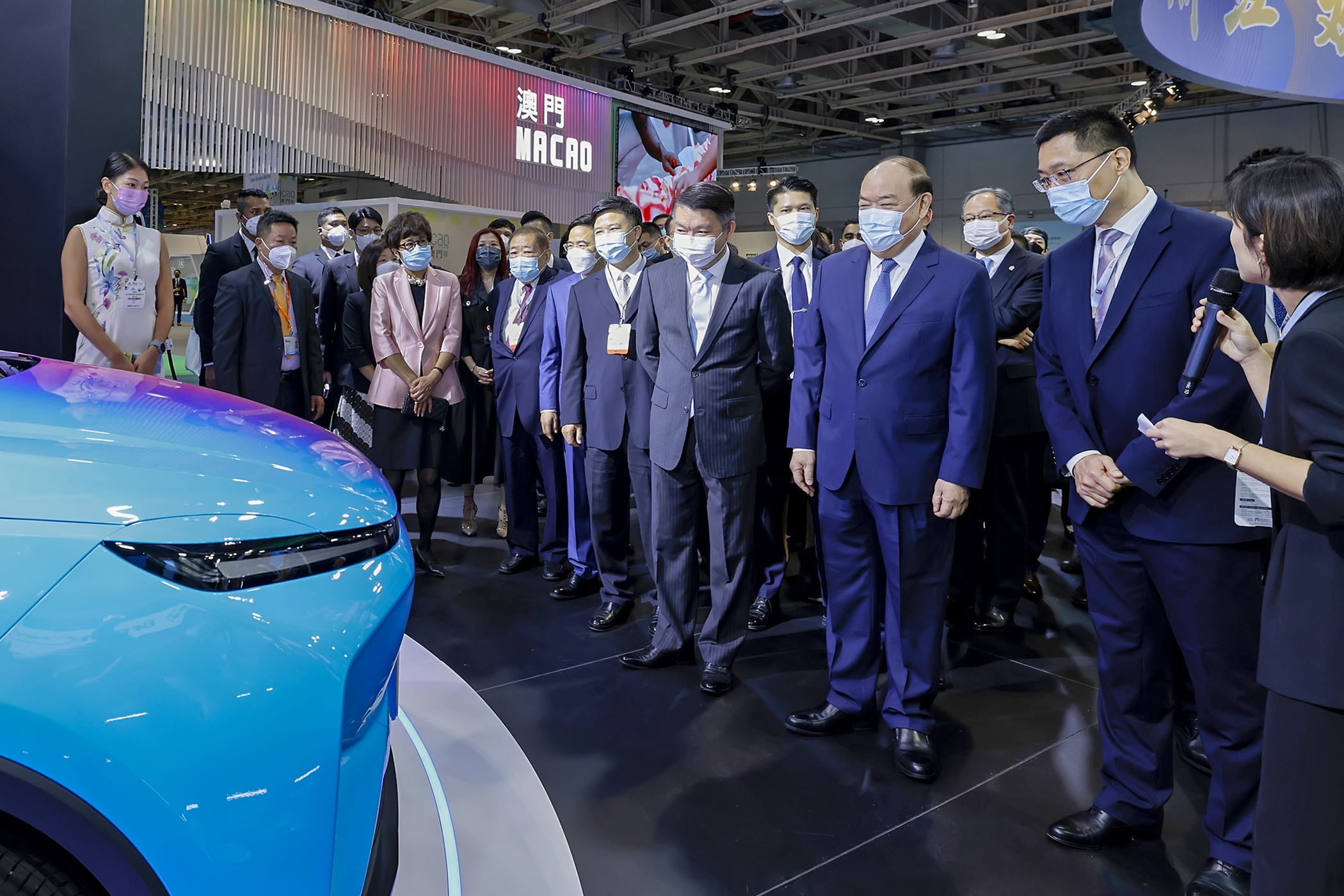 Macao Trade and Investment Promotion Institute (IPIM) Acting President Vincent U U Sang has said he expects the number of contracts signed during the 27th Macao International Trade and Investment Fair (MIF), Macao Franchise Expo 2022 (MFE) and 2022 Portuguese Speaking Countries Products and Services Exhibition (Macao) (PLPEX) to increase by over 50 per cent compared to last year's triple fairs.
U was speaking following the opening ceremony of the three expos, which are taking place on- and offline and will be open to the general public today and tomorrow.
According to IPIM, over 50 projects were signed yesterday, covering areas such as the traditional Chinese medicine (TCM) and health industry, technology and innovation projects, sports, and new energy, with local small- and medium-sized enterprises (SME) accounting for about 60 per cent of the total.
IPIM also noted that more than 30 venture capital institutions are attending the fair, including funds and associations from MIF's partner province Zhejiang, as well as the Guangdong-Macao In-Depth Cooperation Zone in Hengqin.
This year's three expos have a total exhibition area of 29,300 square metres, comprising 1,871 booths, with 1,047 exhibitors, an increase of 12.8 per cent over last year, while there are 1,264 exhibitors in the online exhibition halls with 3,728 online exhibits.
Macau Innovation Investment Union Association President Ip Sio Kai said before yesterday's Innovation-driven Investment and Financing Project Matching that the government will speed up the upgrading of Macao's financial regulations and systems to enhance the business environment for industrial funds and venture capital businesses.
In addition, nearly 40 exhibitors and representatives of products from Portuguese-speaking countries and traders conducted business matching at the PLPEX expo yesterday, aiming to help producers from Portuguese-speaking countries expand their markets and thus giving full play to Macao's role as a platform between China and Portuguese-speaking countries.
In order to stimulate consumption and support the recovery of SMEs, the three exhibitions have teamed up with exhibitors to launch sales campaigns where visitors will receive gifts such as "lucky grab bags" when they reach a certain spending amount, as well as being entered into lucky draws.
Meanwhile, the Macao Fashion Festival 2022 also kicked off yesterday, organised by the Macau Productivity and Technology Transfer Centre (CPTTM), with the aim of promoting and supporting the development of Macao's creative and cultural industry, and creating opportunities for future business development.
According to CPTTM, yesterday's event featured seven professional fashion shows, with designers from Dongguan, Guangzhou, Hong Kong, Macao, Shenzhen and Taipei to "combine traditional wisdom and design aesthetics with the new power of technology."
One of the fashion show's alternated between virtual fashion technology and physical fashion, striving to create an innovative way of presenting fashion, The Macau Post Daily reported.