Glowing rabbit lanterns by Macao artist Carlos Marreiros illuminate Xi'an Lantern Festival this month
Glowing rabbit lanterns by Macao artist Carlos Marreiros illuminate Xi'an Lantern Festival this month

Link copied
Known for his whimsical modern lantern art, Marreiros designed 45 larger-than-life bunny installations in honour of the Year of the Rabbit.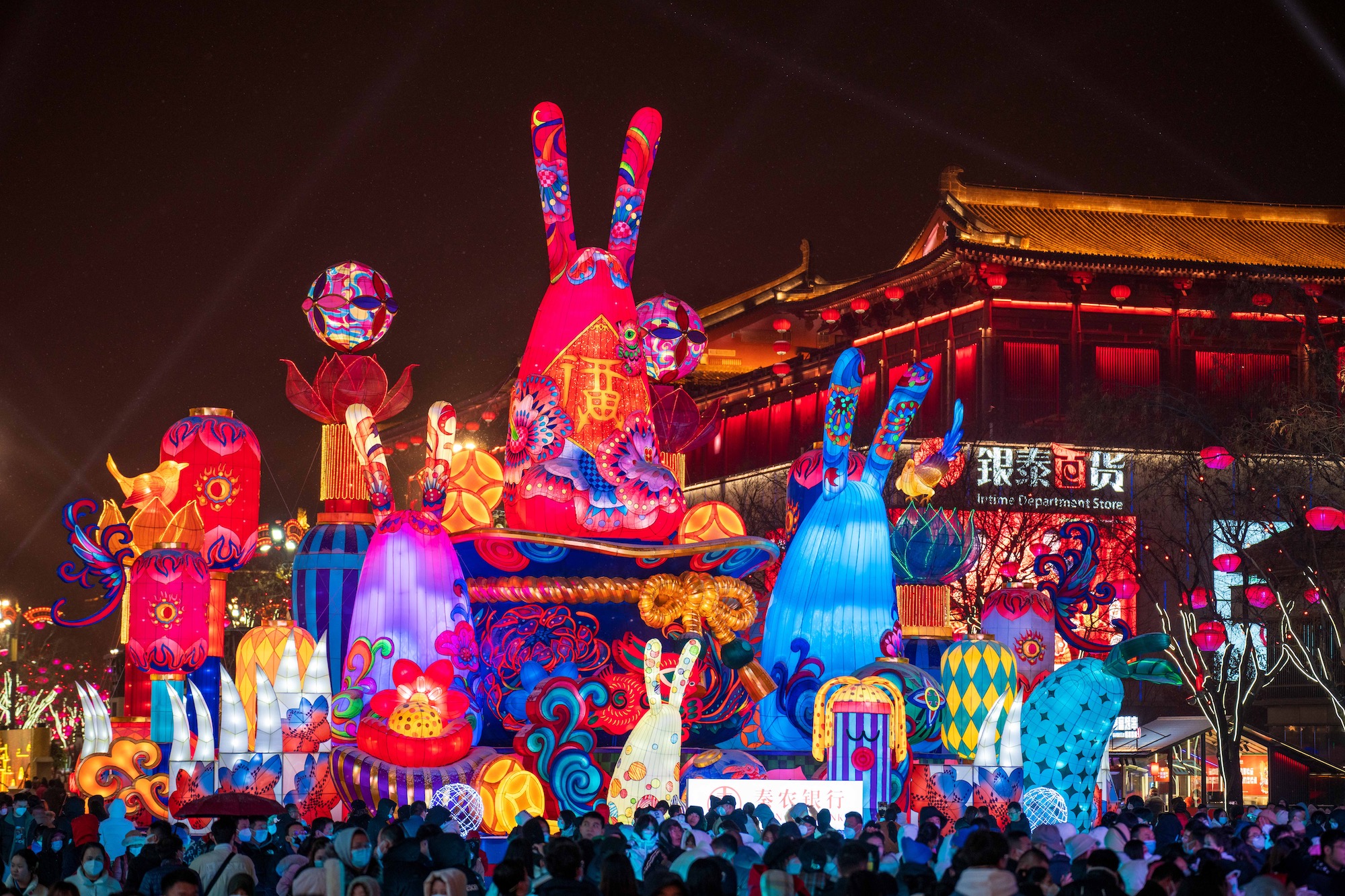 A 15-metre-tall pink rabbit towers overhead, surrounded by a colony of kaleidoscopic bunnies of all shapes, colours and sizes. That's just one glowing scene designed by artist, architect and writer Carlos Marreiros for the Xi'an Lantern Festival, which runs until 26 February. Ahead of this year's festival, the Macao-born artist designed a total of 45 rabbit-shaped lanterns to celebrate the Year of the Rabbit. 
While Marreiros's playful installations are decidedly modern, lanterns have long been an essential part of Chinese culture. After emerging in the Western Han dynasty (206 BC–9 AD), lanterns became a fixture of Chinese festivals, symbolising auspiciousness and family reunions.
Ever fascinated by rabbit lanterns, in particular, Marreiros has been developing his fresh take on the tradition for over a decade. "Rabbit lanterns remind me of my childhood. Just like Le Petit Prince, who imagined his own planets, we look at the rabbit lanterns and imagine our own stars and planets – the places where we can be happy and care-free," says the artist, who grew up in Macao. "I played with rabbit lanterns as a kid, just like my mother did before me and my maternal grandfather before her."
In his creative work, Marreiros has been organising exhibitions to showcase his own lanterns, as well as the creations of other artists, since 2009. A year later, in 2010, Marreiros also turned to rabbit lanterns for inspiration when his firm, MAA Marreiros Architectural Atelier, designed the Macau Pavilion for the Shanghai World Expo. 
Dubbed "Little Rabbit Lantern", the innovative and sustainable glass building took the shape of a giant white rabbit with moveable red balloons for the ears and tail. In the years following, he continued to experiment with ways to modernise lantern art, which traditionally uses bamboo structures wrapped in rice paper. 
And in celebration of the Mid-Autumn Festival in 2017, he designed a massive installation along the waterfront promenade of One Central Macau featuring his own 11-metre-tall inflatable rabbit and more than 40 illuminated rabbit lanterns by himself and other artists.
Leaping into Xi'an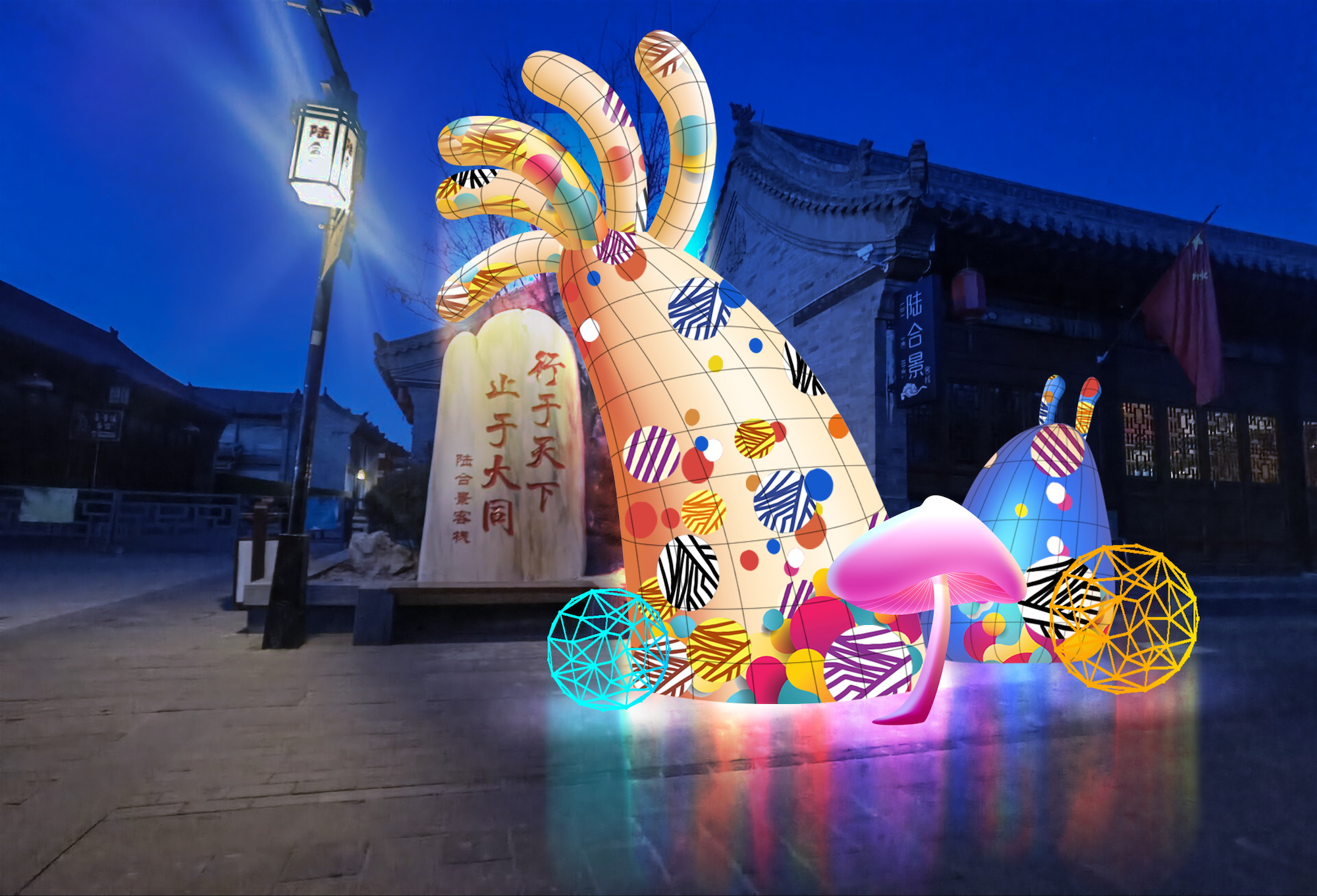 The idea to bring his rabbit-shaped lanterns to Xi'an had been in the works for over five years. In 2017, an influential figure in the central government (whose name Marreiros declined to disclose) came across the artist's waterfront installation while visiting Macao from Beijing. 
Impressed by the scale and style of his work, the official invited Marreiros to partake in the Xi'an Lantern Festival. But due to complicated logistics and the pandemic, it took six years to move the project forward. At last, in December 2022, a delegation from the Xi'an festival visited Macao to meet with Marreiros and outline a plan.
Things moved quickly from there. First, Marreiros worked with civil engineers to design metal structures with maximum stability and minimal weight. Next, he created various nylon fabric prints and patterns, then added LED lighting to transform the artwork into lanterns.
Just 25 days later, 45 new rabbit-shaped lanterns came to life with the largest measuring up to 15 metres tall. The artist, who worked on the project remotely from Macao, is quick to compliment the hard-working team on the ground in Xi'an, who assembled the lanterns by hand and managed the logistics.  
Elevating lantern art 
At the festival in Xi'an, the central lantern installation sits next to the Daming Palace, a colossal building that once served as the imperial residence during the Tang Dynasty (618-907). But that's just the beginning – dozens more glowing bunny lanterns are scattered throughout the city, sharing joy and light with residents and visitors. 
What's more, each one has a name. Marreiros christened his lanterns with endearing monikers, from "Uncle John" (after British musician John Lennon) to a trio dubbed "Liberté, égalité, fraternité" (meaning 'freedom, equality and fraternity' in French). 
Looking to the future, the artist hopes to see more modern lantern art emerge during holidays and celebrations. For instance, he encourages the Macao government to invite young artists to come up with fresh ideas for light installations that could adorn the city during significant festivities like Lunar New Year and Mid-Autumn Festival.
"Lantern art is a form of public art, and it improves urban aesthetics," says Marreiros. "I'd like to see IAM [Municipal Affairs Bureau] modernise festive art installations in Macao, making them more contemporary whilst keeping tradition. Macao has the potential to become a global centre for festive lanterns: we have the means and the brains."