The Grande Hotel Macau: Back to life
Call it the circle of life. What was once the best address in town, and the haunt of tycoons and celebrities, is today a humble, two-star hostelry, offering a clean, comfortable bed and not much else. But then the fact that the Grande Hotel is even here at all is something of a miracle and a testament to the deep pockets of three hotelier sisters – Vivian, Jessica, and Veronica Lu.
When the Grande Hotel first opened on the Avenida de Almeida Ribeiro in 1941, its art deco design (the work of local civil engineer João Canavarro Nolasco) was an instant hit with the fashionable crowd of the China Coast. Its location, close to what was then the landing point of the steamers from Hong Kong, made it even more popular, and in the post-war years, it appeared in a number of Hong Kong movies.
Its star began to fade in the late 1960s and was eclipsed altogether when the far-showier Hotel Lisboa opened its doors in 1970. The Grande somehow staggered on in the shadows until 1996, when it ceased operations. The owners squabbled over what to do with the building, which fell into serious disrepair and was mothballed for more than a quarter of a century before being purchased by the Lu sisters.
Now, thanks to their investment of 500 million patacas, the hotel lives again, this time offering 96 budget rooms – a canny move in a city where affordable accommodation isn't always easy to find. The dignitaries and movie stars are gone and the hotel doesn't even have a restaurant. But its new guests appear to like it that way: the hotel was fully booked on 18 August, its opening night.
Photographer Eduardo Leal paid a visit to the property shortly afterwards. His camera documents a Macao icon slowly, gently, coming back to life.
---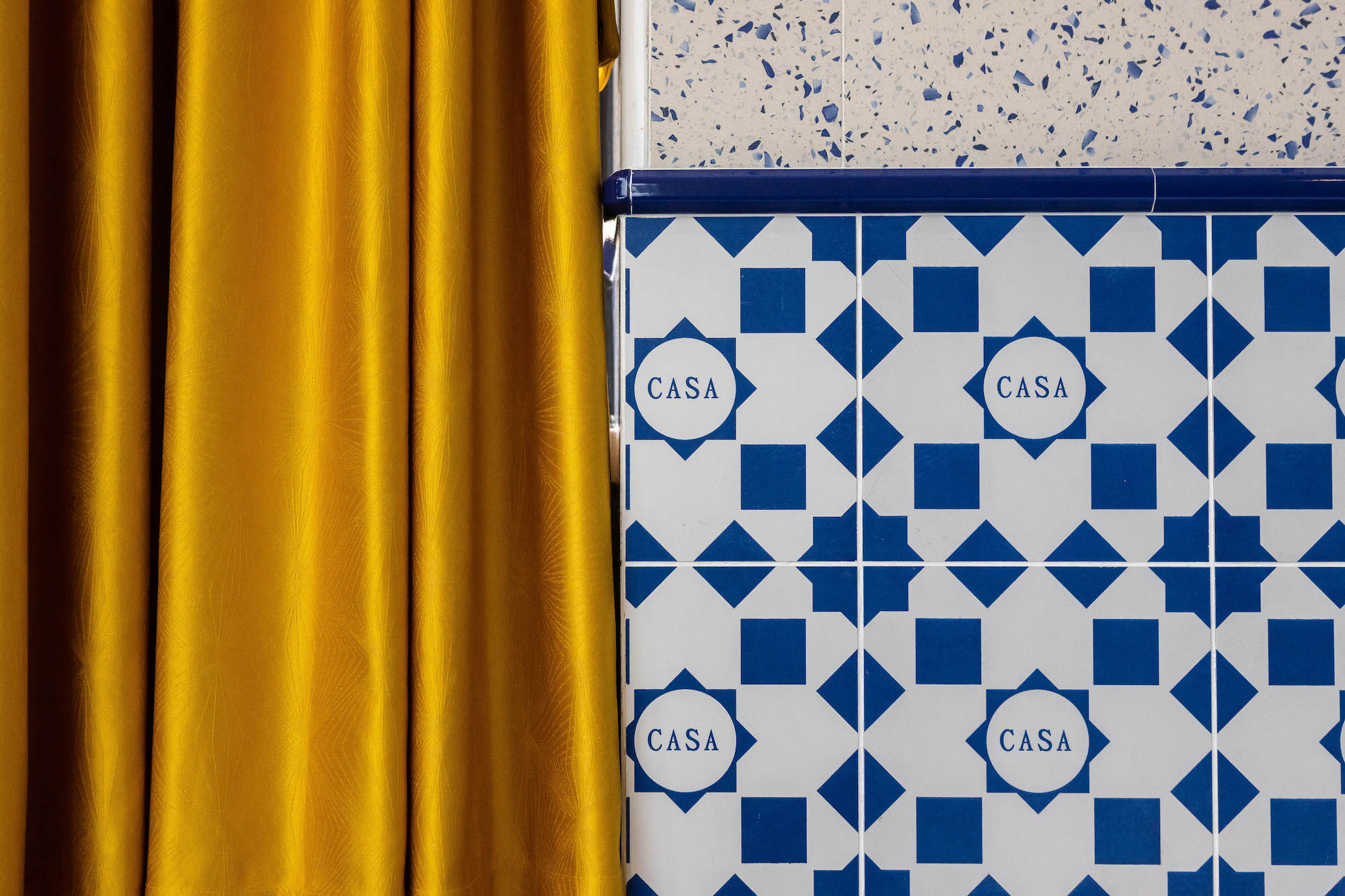 Blue and white tiles, reminiscent of the traditional Portuguese azulejos, are found throughout the Grande Hotel in a nod to the city's lusitanian connections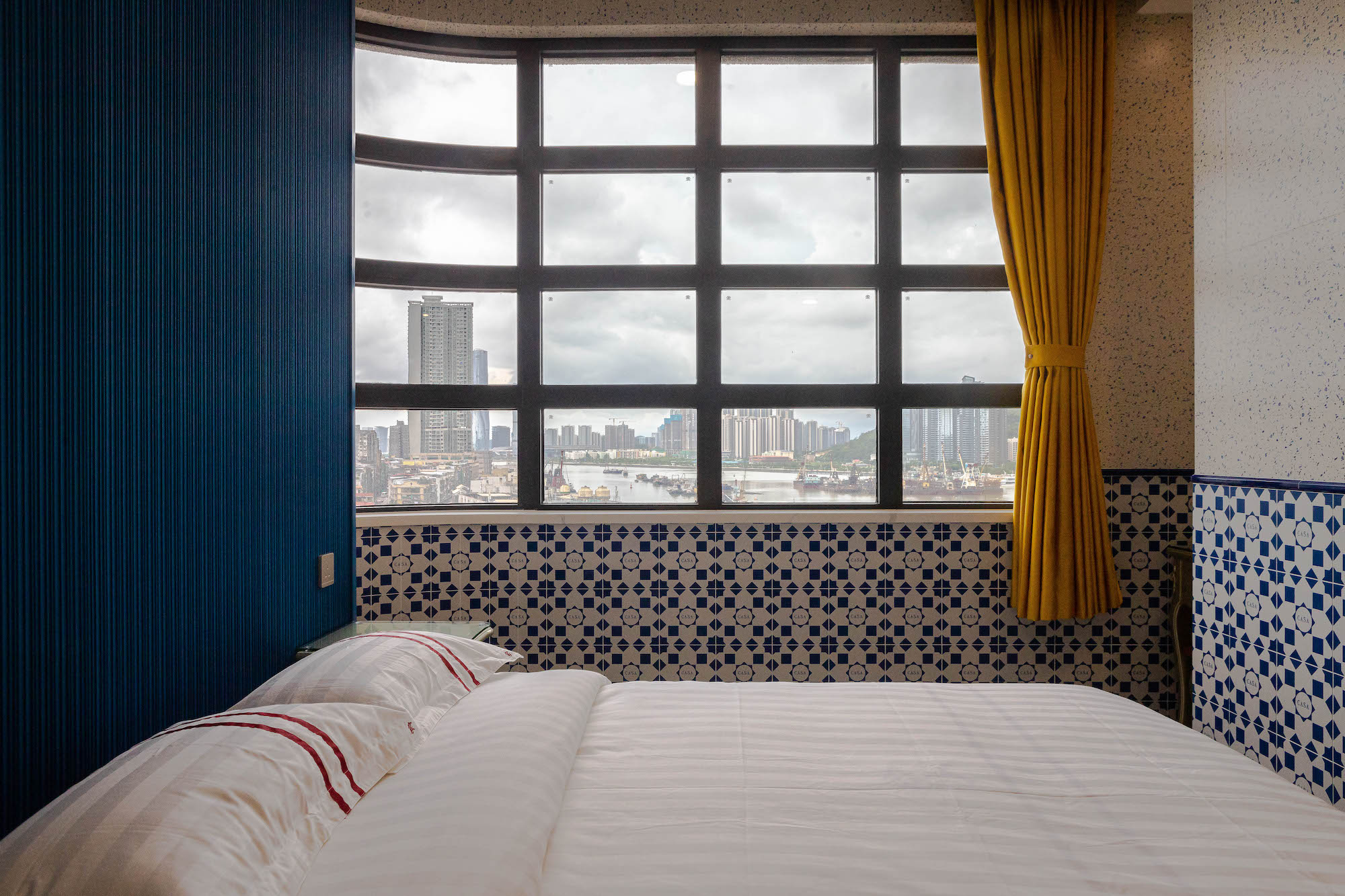 When it opened in 1941, accommodation at the Grande Hotel was a byword for luxury. These days, the bedrooms are more spartan but continue to look out over the Inner Harbour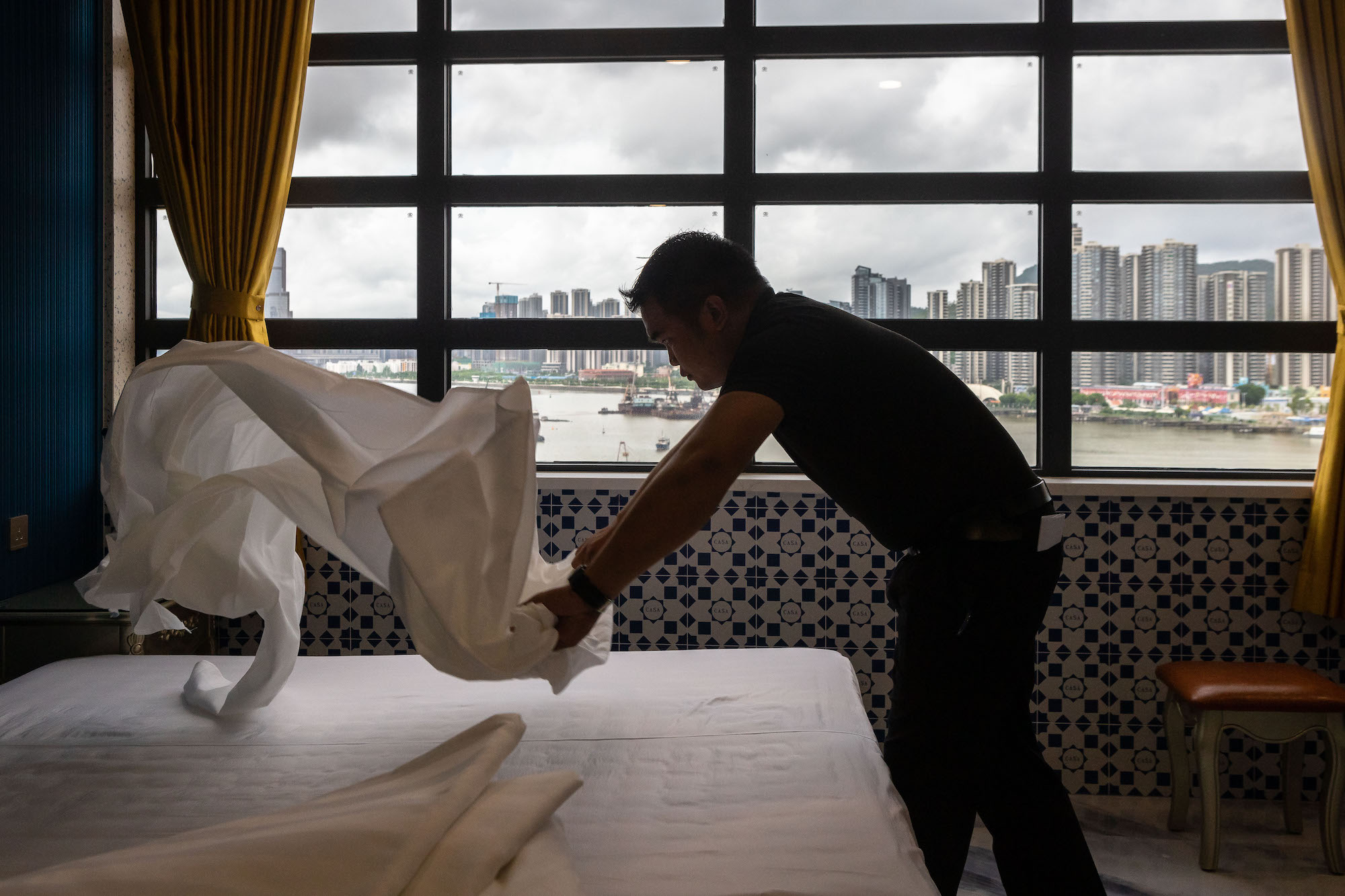 A staff member services a guest bedroom at the recently renovated Grande Hotel
Accommodations configured with a double bed and a single bed hint at the Grande's new market: families and groups of value conscious travellers, happy to share a room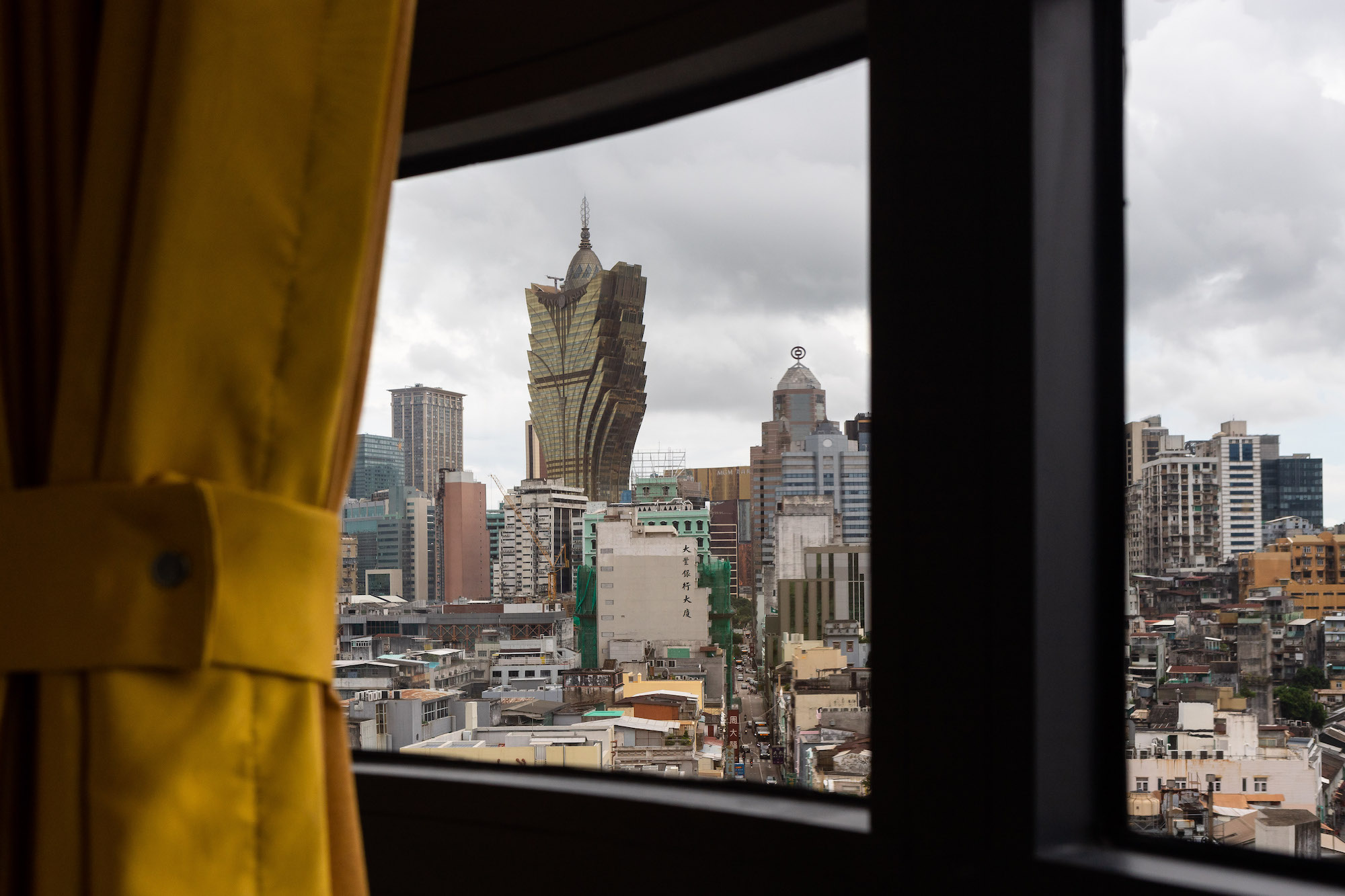 Rooms with a view. The characteristic curvature of some of the Grande Hotel's windows may not have changed but the skyline is dramatically different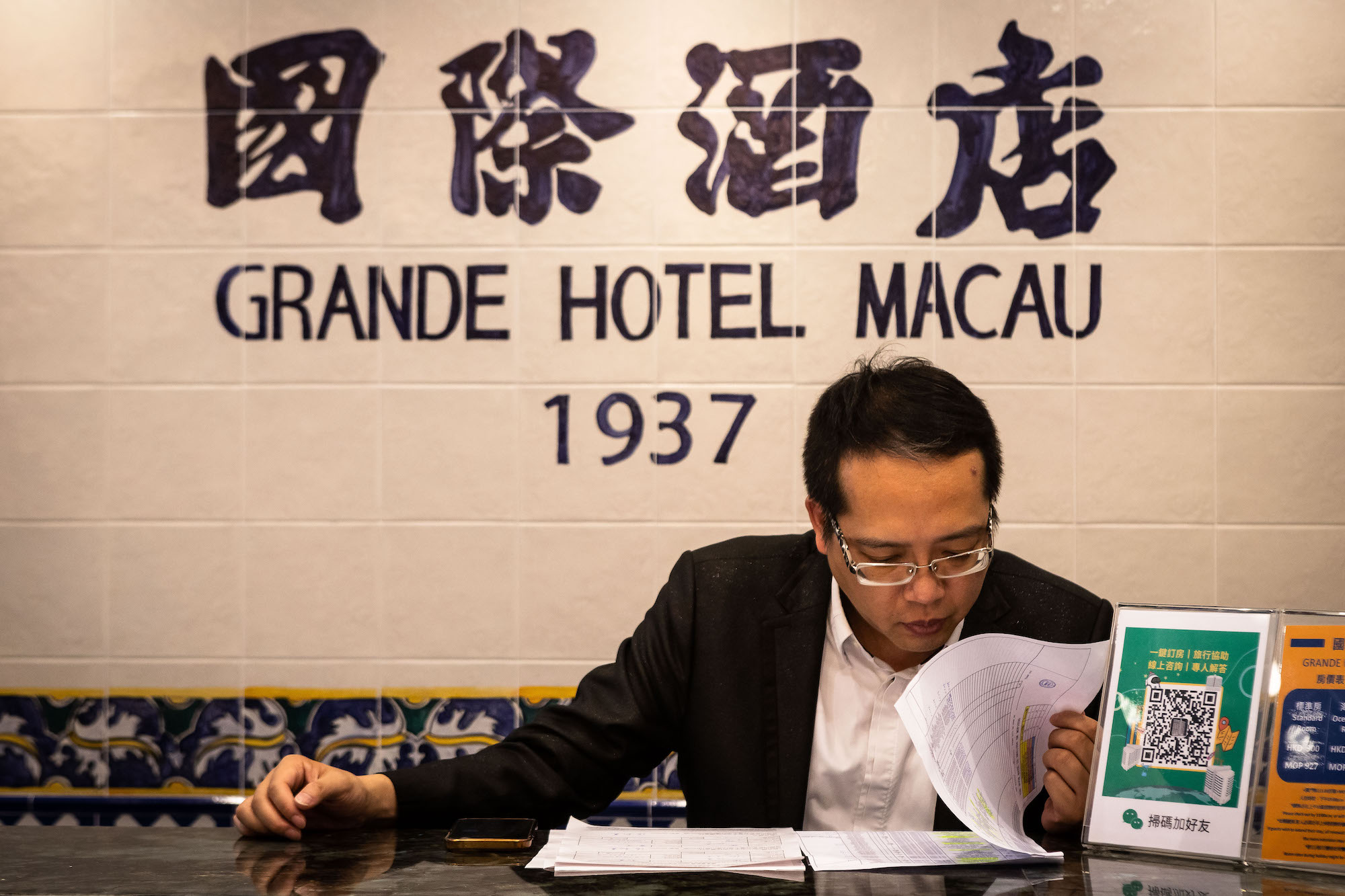 Turning history's page. A receptionist sits beneath a sign proclaiming the date that construction began on the Grande Hotel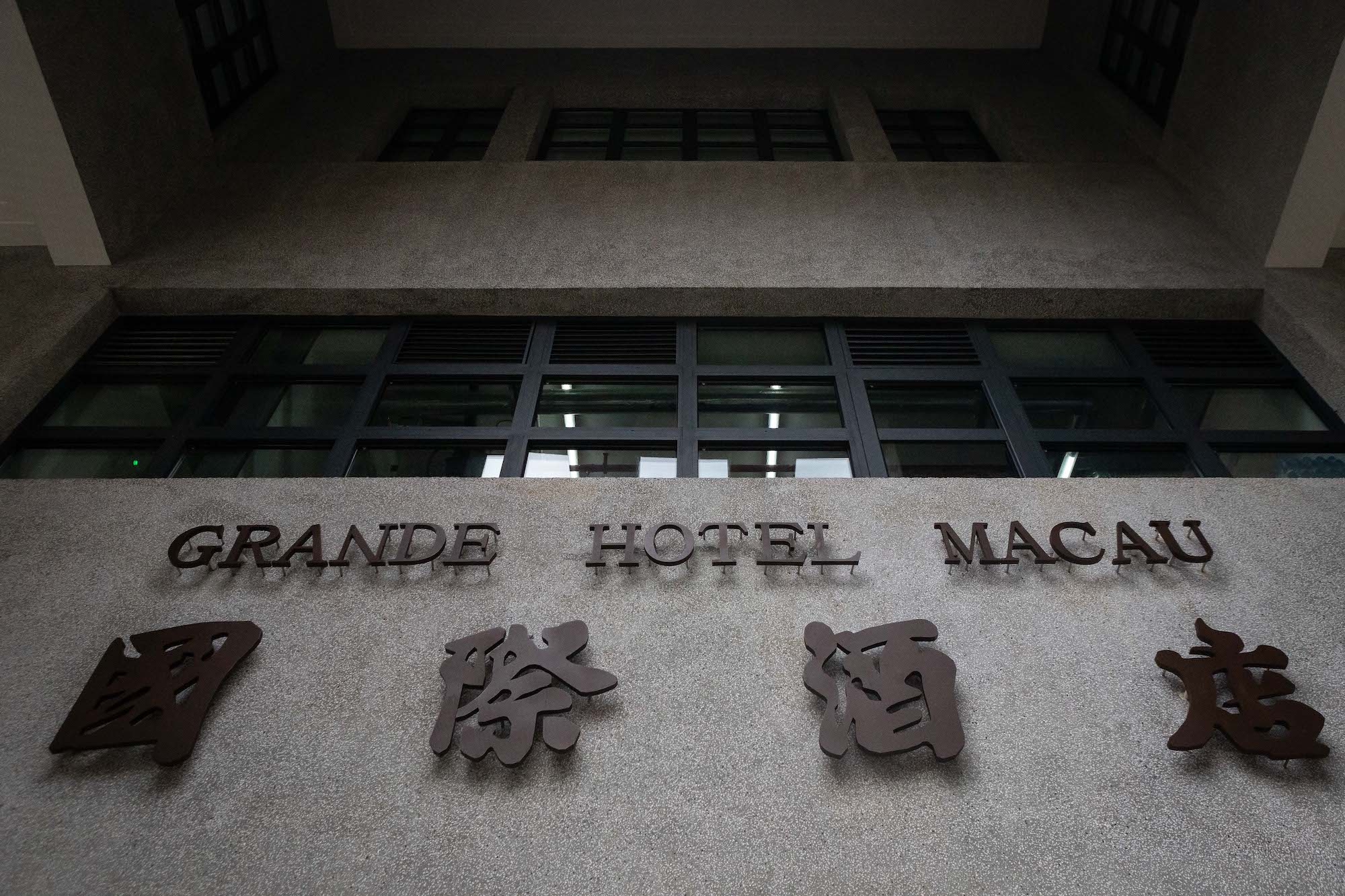 After being mothballed for more than 25 years, the Grande Hotel's signage welcomes guests once more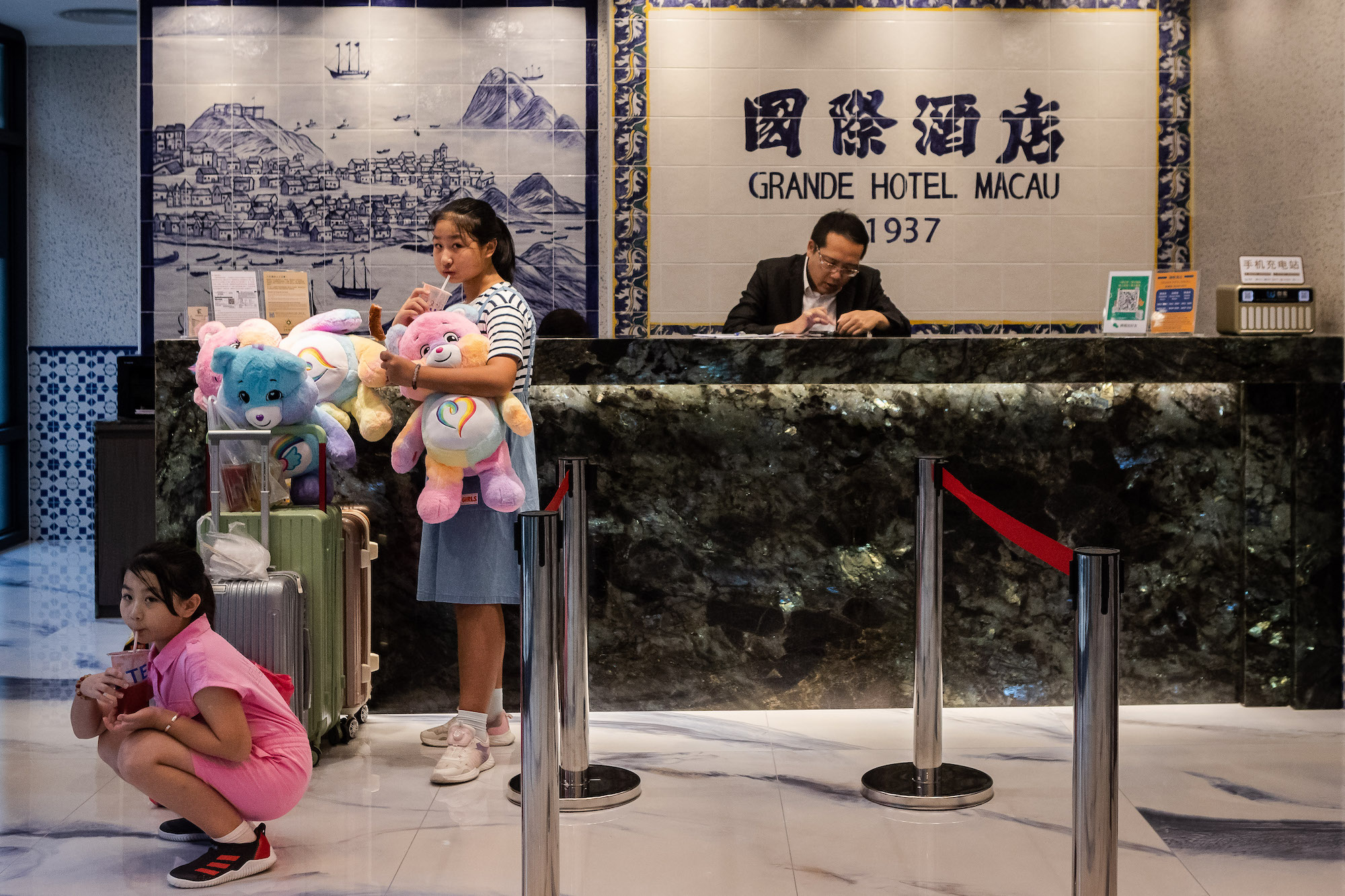 While the property is full of history, a new generation of guests is discovering the Grande Hotel's charm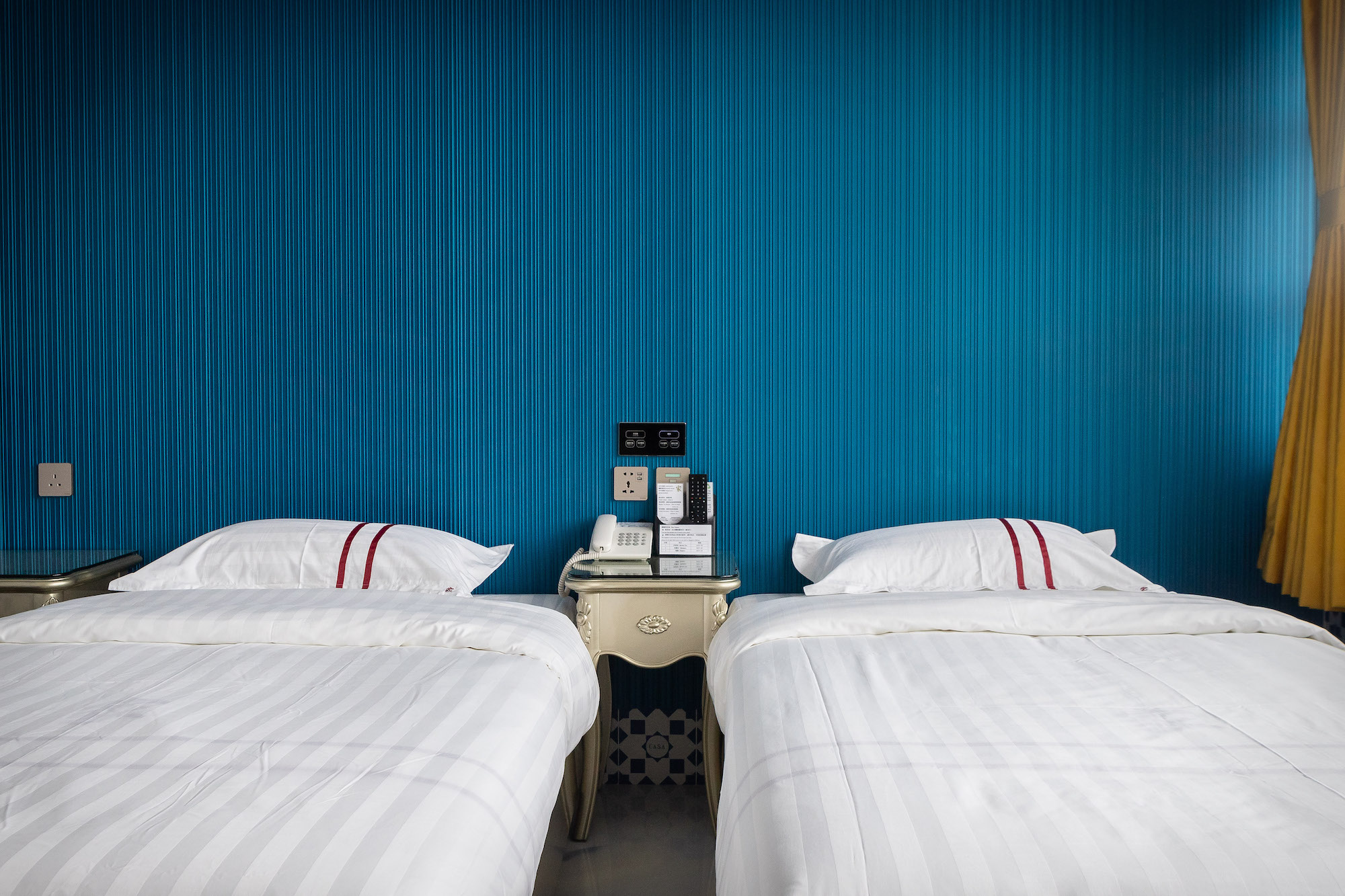 A standard twin room at the Grande Hotel, which is hoping to cater to a gap in the market for budget accommodation in Macao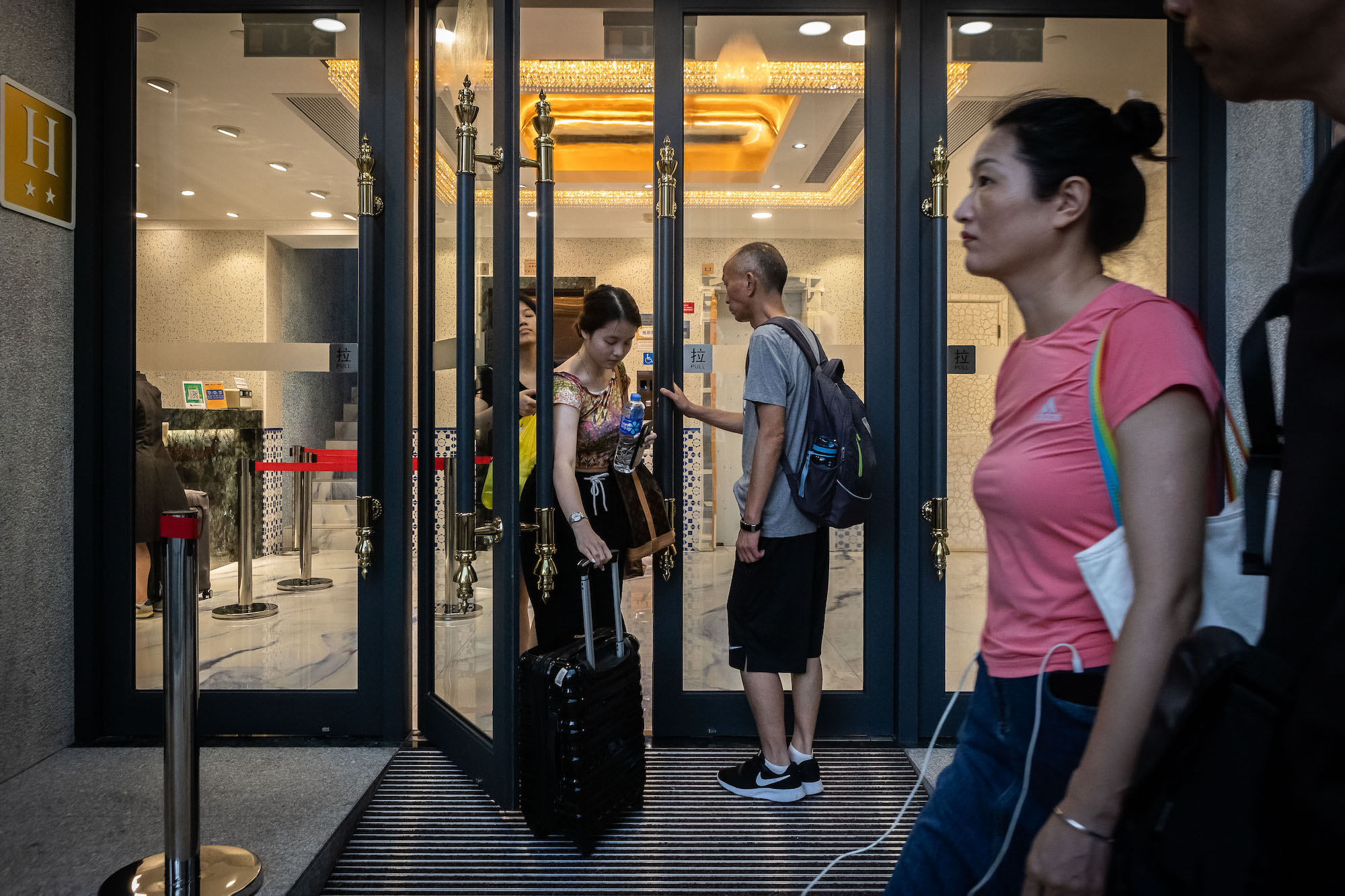 Guests come and go at the Grande Hotel. There are high hopes that the relaunch of the property will generate greater foot traffic and help revitalise the Inner Harbour area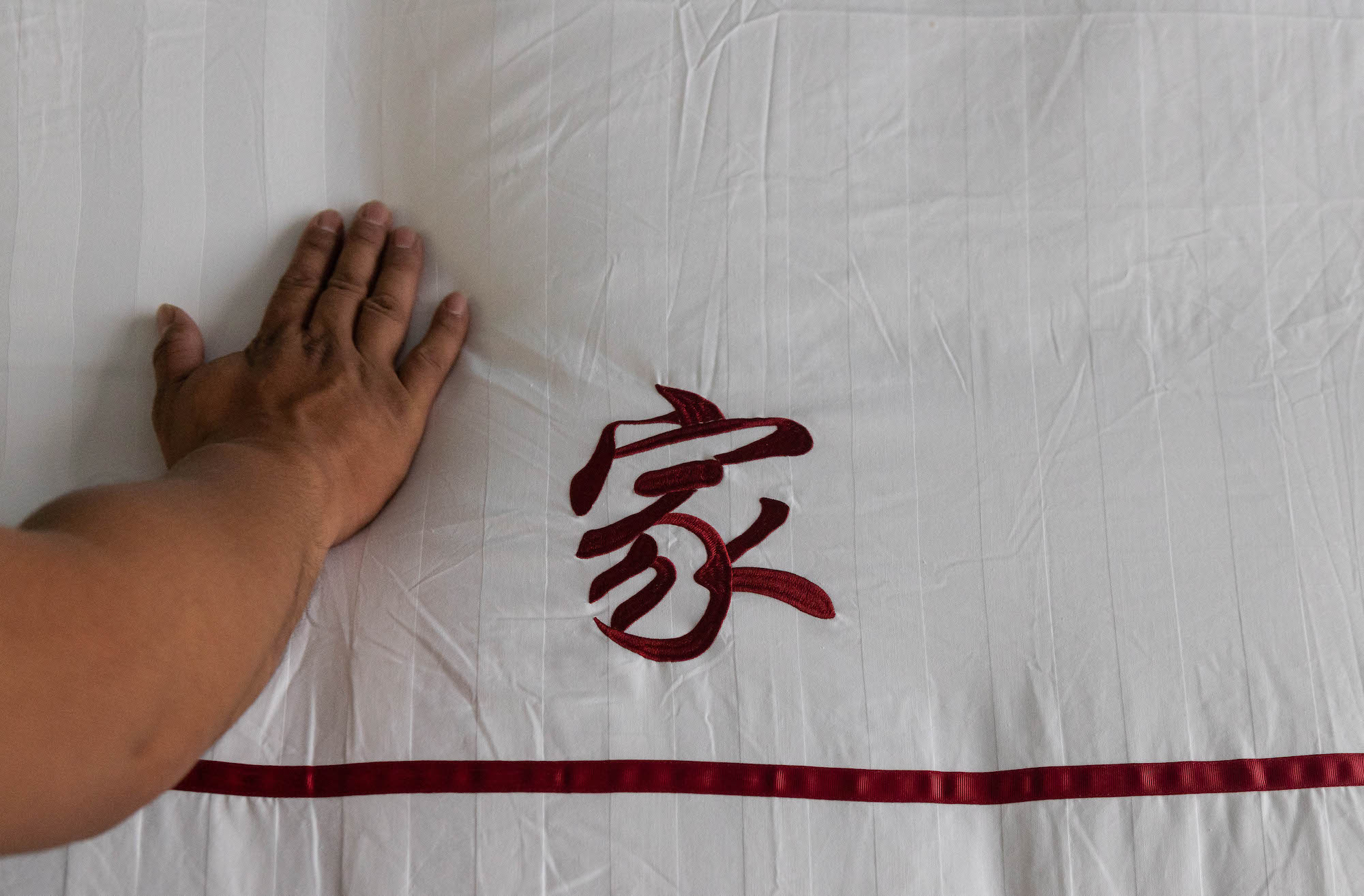 Jia, the Chinese character for both "home" and "family," is embroidered on bedsheets at the Grande Hotel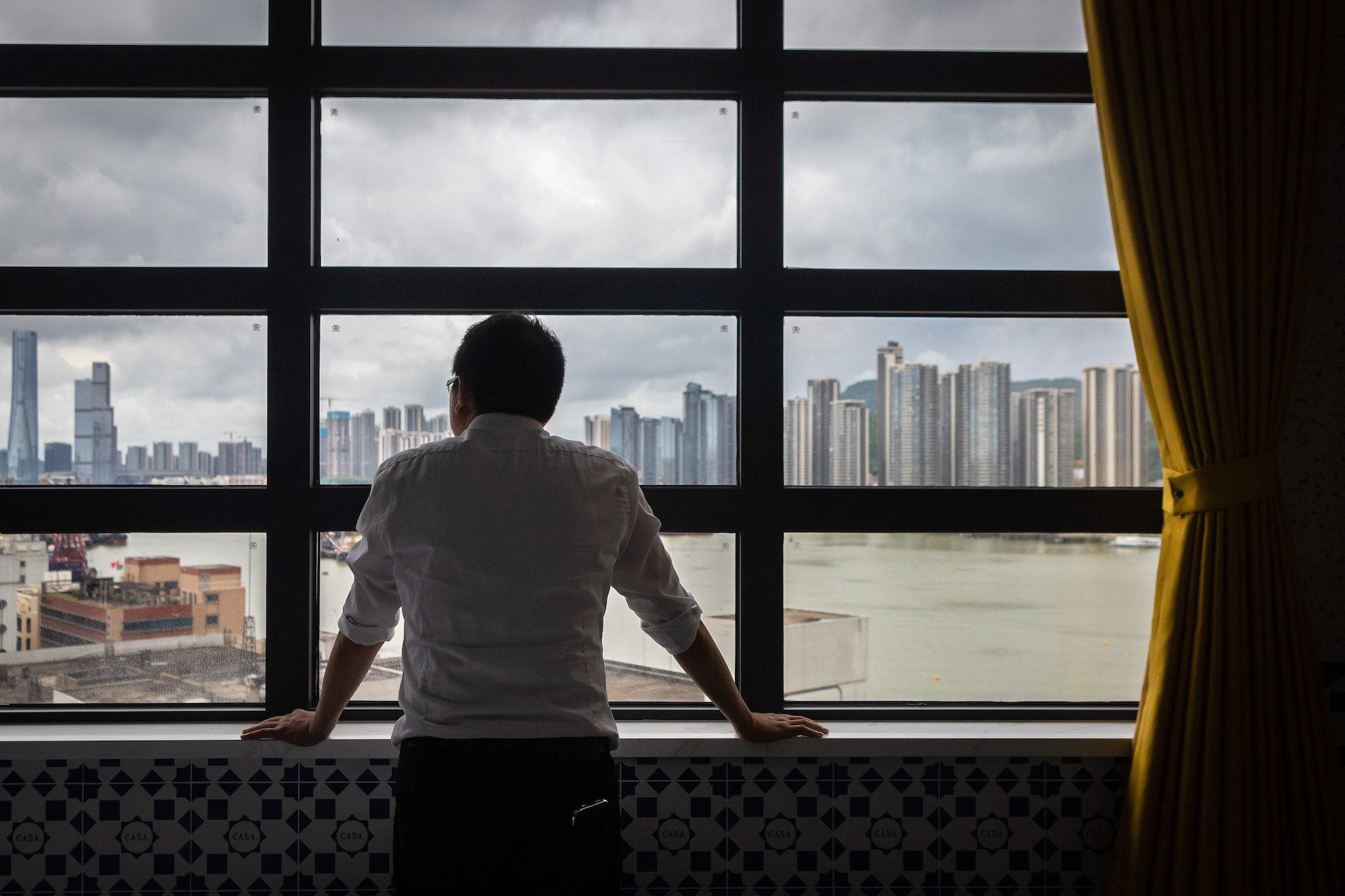 A guest contemplates the looming skyscrapers of Zhuhai from a room at the Grande Hotel