Undeveloped island of Hengqin to be next centre of Macau tourism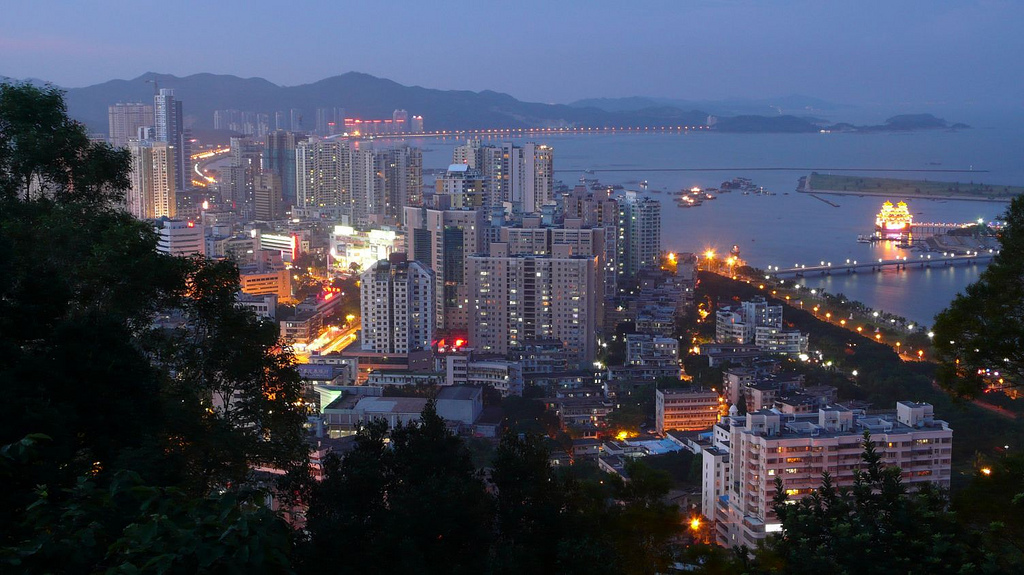 Zhuhai, China, 20 Nov – An empty island a stone's throw from Taipa will become the next centre for Macau's booming tourist industry, according with officials of the city government.
Hengqin occupies an area of 86 square kilometers, the largest of the 146 islands that make up the city of Zhuhai: it has an area three times the size of Macau but a population of 6,500, against 540,000 on the former Portuguese territory.
The island, created by connecting two islands – Large and Small Hengqin, consists of bays with sandy beaches, rolling hills and large areas of wasteland covered with low-lying trees. Of the 86 square kilometers, 53 can be developed.
With 18,600 people per square kilometer, Macau is one of the mostly densely populated places on earth. Its remaining plots are being rapidly developed into new casinos, hotels and housing: just 200 metres away is this empty land, waiting to be developed.
At a meeting on October 12 reported by the Zhuhai Evening News, officials of the city government said they would accelerate the development of Hengqin, in line with the building of a bridge from Hong Kong to Macau: construction is due to begin in early 2009, costing 42 billion yuan, and be completed in three-four years.
"Zhuhai will work together with Hong Kong and Macau to make new breakthroughs and hasten the development of Hengqin, so that it will become a new platform for co-operation between Zhuhai, Macau and Hong Kong," the meeting said.
Zhou Guanhao, Communist Party chief of the Hengqin economic and development region, said that Hengqin was of great strategic significance in the deepening co-operation between Zhuhai and Macau.
Contacted by telephone, officials of the Hengqin government declined to elaborate on the details of the meeting.
In his policy address on November 11, Macau chief executive Edmund Ho said that a high-level meeting between Guangdong and Macau at the end of this year would release more concrete news about the joint development of Hengqin. "The development work of Hengqin over the next 10 years will be a new starting point of development for Macau," he said.
The island already attracts many visitors. According to the government's website, 120,000 people went there during the seven-day holiday that began on October 1, to play golf, fish, go for hiking, walk on its beaches and enjoy sea food at its restaurants.
On October 17, 2005, Las Vegas Sands Corp announced that it had signed an agreement in San Francisco with Zhuhai city and Guangdong province to invest US$1 billion in three phases in a resort in Hengqin, occupying 5.2 square kilometers of land and less than one mile away from its giant Venetian complex in Macau.
"The resort will feature a diversified mix of leisure, tourism and convention amenities, including first-class hotels and villas, first-rate convention facilities, a marina and yacht club, outdoor amphitheatre and impressive combination of golf, tennis, fishing and other leisure and recreational facilities," Sands said in its news release at that time.
But this has not materialized. The group is under heavy financial pressure, during the financial crisis, and has stopped work on major projects in Macau. It has no capital or management energy to start another giant project. The crisis is likely to postpone major developments, by Sands or anyone else.
Hengqin remains largely undeveloped, except for a border post, which enables people and goods to cross a bridge into Taipa, part of Macau.
Whoever the developers are, the final shape of Hengqin is likely to resemble that envisaged in the Sands proposal.
The Hengqin government website says that tourism will be its main industry, with international resort villages, including parks and commercial activities. It said that it will also develop industry.
In 2007, Zhuhai attracted 7.58 million visitors and Macau nearly 27 million. With the completion of the bridge to Hong Kong, this figure will rise by several million, making the existing facilities in Zhuhai and Macau unable to handle the number.
Hengqin is the obvious site for such tourist development, offering cheap land that is low-lying and proximity to the sea. It has 50 kilometres of coastline and its highest point is only 457 metres above sea level. It owes its pristine condition to the fact that, during the Maoist era, it was a border post at a time when the government's priority was not, like today, to attract visitors but to keep them out and prevent its own people leaving.
Places close to the border were intentionally left undeveloped, to enable the security forces to guard them more easily and make access more difficult to anyone seeking to leave or enter.
In early 2006, the Guangdong government sent an ambitious plan for the development of the island to the State Council: it proposed turning Hengqin into an offshore financial and commercial centre, 'a special zone within a special zone', with tax incentives and privileges – a zone similar to Pudong in Shanghai.
The plan received a cold reception in Beijing, which argued that it was ridiculous to build such a centre in a place with no conditions for it and that the country was well served by Hong Kong and Shanghai.
(MacauNews)