Trade fair becomes shopping haven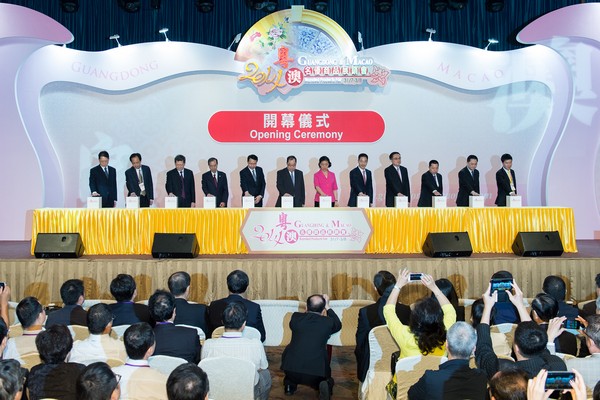 Thousands of locals and tourists flocked to the Guangdong and Macau Branded Products Fair over the weekend looking for bargains as they bought pots and pans, food and wine, while their children took DIY classes to make crispy egg rolls and chocolate.
The four-day fair, co-hosted by the Macau Trade and Investment Promotion Institute (IPIM) and the Guangdong Department of Commerce at the Fisherman's Wharf Convention Centre, wrapped up Sunday.
Enterprises from Guangdong use the fair as a platform to test the local market and look for potential partners to expand their business to Macau.
According to an IPIM statement, four co-operation deals and memorandums of understanding (MOU) were signed for beverages and energy-saving lights as well as hotel products. In addition, the fair conducted a total of 879 business-matching sessions on food and beverages, daily necessities, electrical appliances, clothing and ceramics as well as arts and crafts.
The fair has become a big attraction for non-trade visitors, and many of the enterprises from Guangdong sold all their stock even before the last day of the fair.
According to IPIM statistics, the fair drew about 135,000 visits.
Many visitors went to the fair to see celebrities, such as Maria Cordero as she was one of the judges in a cooking competition, while others went on the last day yesterday to catch the clearance sale.
"I come every year to stock up on dried food," a housewife said yesterday, adding, "They usually have bigger discounts on the last day."
Tourists also took the opportunity to do their souvenir shopping at the fair. "I don't think the things are cheaper here than in the shops but you can find everything here so it's more convenient," a family from Guangzhou said.
A visitor from Hong Kong likened the atmosphere of the fair to a "night market".
"The price is more or less the same but you can buy things that you can't normally find in supermarkets. I bought some white curry instant noodles and durian-flavoured white coffee," the Hongkonger said.
The fair will return next year from July 30 to August 2. (macaunews/macaupost)