Sky Shuttle helicopters flights between Macau and Hong Kong suspended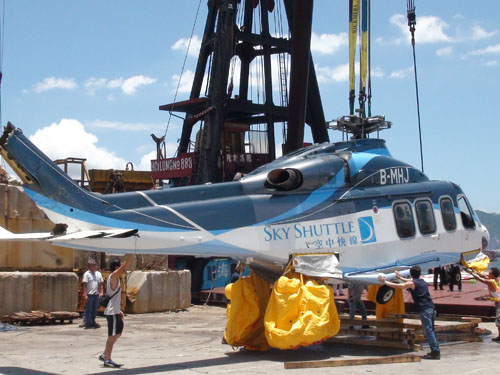 Macau, China, 5 Jul – Helicopter flights from Sky Shuttle between Macau and Hong Kong are suspended since Saturday after an AgustaWestland AW139 italian helicopter belonging to Sky Shuttle ditched at sea about 500 meters northwest of the Shun Tak Centre helipad, in Hong Kong, soon after it took off.
The two pilots and 11 passengers were all plucked to safety.
Sky Shuttle, was ordered by Hong Kong authorities to suspend its helicopter service until safety checks are completed on the five other aircraft of the same model that it owns.
Italian and Macau aviation experts will join a Hong Kong government probe into the emergency landing of a Macau-bound helicopter since the helicopter was registered in Macau and manufactured by AgustaWestland in Italy.
The preliminary report will be released in about a month, the department said.
The wreckage was shipped Sunday to the China Aircraft Services hangar in Chek Lap Kok for government inspection, a spokeswoman for the Civil Aviation Department said.
Earlier in the day at a pier in Western District, workers dismantled parts of the helicopter including the main rotor before shipping them to a Stonecutters Island pier and then to Chek Lap Kok by land for inspection.
Reports say that an eagle or a bird-like object had struck the tail rotor of the helicopter shortly before the accident.
A spokeswoman for Sky Shuttle said to Hong Kong papaers that it is believed that the helicopter had encountered engine failure.
The tail rotor apparently broke apart from the main body of the aircraft and had yet to be seen at the Western District pier Sunday.
Sky Shuttle has six medium-twin engine AgustaWestland AW139 helicopters.
It operates 54 flights daily between Macau and Hong Kong, between 9am and 11pm. Each flight takes 15 minutes. A one-way ticket costs HK$2,600 (US$ 325.00).
(MacauNews)