Police from Macau, Guangdong and Hong Kong carries operation againts organised crime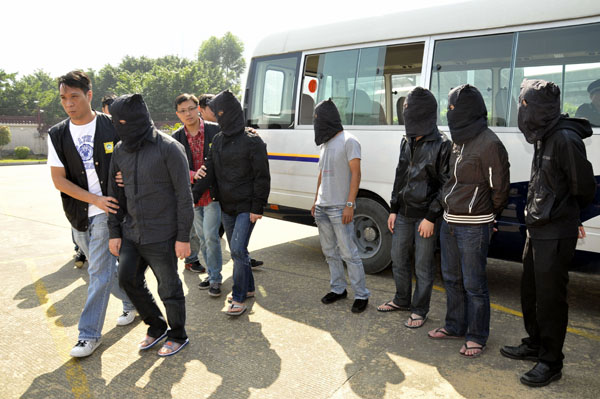 Macau, China, 9 Nov – A massive cross-border swoop on organised crime carried out in conjunction with Guangdong and Hong Kong ended last week, aimed at cleaning up the streets in the lead-up to the Asian Games in Guangzhou and Macau's Grand Prix, the Macau Unitary Police Service (SPU) announced Monday.
While the Asian Games open this Friday, the Macau Grand Prix will be held next week.
Ma Io Kun, assistant to SPU Commissioner General Jose Proenca Branco, revealed the results of the cross-border operation dubbed "Thunderbolt 10" in a press conference held at the SPU premises.
The swoops were a ioint crackdown conducted by the local Judiciary Police (PJ) and Public Security Police (PSP), as well as their respective counterparts from the Hong Kong and Guangdong side.
"We [police authorities] have focused on combating organised cross-border crime during the Thunderbolt 10 operation […] to ensure that during the Asian Games and Grand Prix we have a secure environment," Ma said.
According to the SPU, the local police carried out just under 200 raids on casinos, budget hotels and nightspots during the operation from 8 October to 3 November .A total of 962 people were taken into police custody for further in-vestigation, Ma said, and some 200 were sent to the Public Prosecution (MP) for possible arraignment.
Another 200 were expelled from Macau, with 121 found to be either illegal entrants or working illegally in Macau.
Meanwhile, the Guangdong police authorities yesterday transferred six male alleged drug-takers to the local police.
The six men were transferred at the Barrier Gate to the Judiciary Police (PJ) for follow-up legal procedures by the local authorities.
According to a PJ spokesman on the scene, the suspects were arrested by Zhuhai police at night entertainment venues earlier this month. This is the first time that Guangdong police have transfered suspects to Macau this year.
According to The Macau Post both in Macau and mainland China not only drug-trafficking but also frug-taking is illegal.
(MacauNews)