Mandarin Oriental in Macau turns into Grand Lapa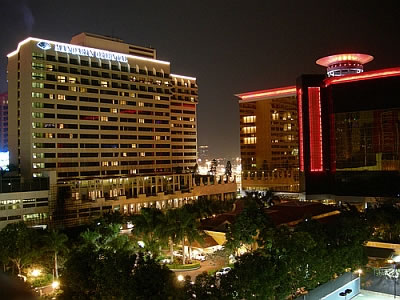 After a few months of rebranding preparations, the venerable Mandarin Oriental Hotel in Macau has finally transformed itself into the newly named Grand Lapa Hotel.
The name change took effect last Saturday, according to The Macau Post Daily.
The move to rebrand the 25-year-old hotel took place after it was fully bought out by Stanley Ho Hung Sun's Sociedade de Turismo e Diversoes de Macau (STDM) earlier this year.
Before the US$205-million (1.64 billion patacas) buyout, the Mandarin Oriental Hotel was 50-percent owned by Hong Kong's Shun Tak Group, which is co-owned by Ho's family, while the remaining 50 percent was owned by the Mandarin Oriental Hotel Group, whose post-tax gain from the sale reportedly reached some US$78 million.
However, despite the ownership transfer and rebranding, the Grand Lapa Hotel will still be managed by the Mandarin Oriental Hotel Group for the next two years.
The hotel in the Outer Harbour has had four names so far.
Originally named Excelsior, the hotel opened back in 1984, with a total of 416 guest rooms, including 26 suites with balcony and two presidential suites. It was later renamed Oriental Hotel, after which it became the Mandarin Oriental Hotel.
Throughout the years, the hotel underwent several renovations as well as expansions, including the 15,000-square-metre health resort at its backyard.
Now operating under the brand of Grand Lapa, the hotel has maintained its 400 staff members.
Lapa is the name of residential districts in Lisbon , Sao Paulo and Rio de Janeiro .
It is also the local Portuguese name of Zhuhai's Wanzai Island facing Macau's Inner Harbour .
Meanwhile, the new 215-room Mandarin Oriental property at the One Central Residences is expected to open between early to the middle of 2010.
One Central Residences is located adjacent to the MGM Grand in Nape.
The waterfront hotel property is co-owned by the Shun Tak Group and the Hong Kong Land Company, while the Mandarin Oriental Group will run the property's hotel management.
Shun Tak Group is headed by Ho's daughter Pansy Ho Chiu King, who also shares ownership of the MGM Grand in a joint venture with the Las Vegas-based MGM Mirage.
(MacauNews)