Macau's panda pavillion to cost 90 million patacas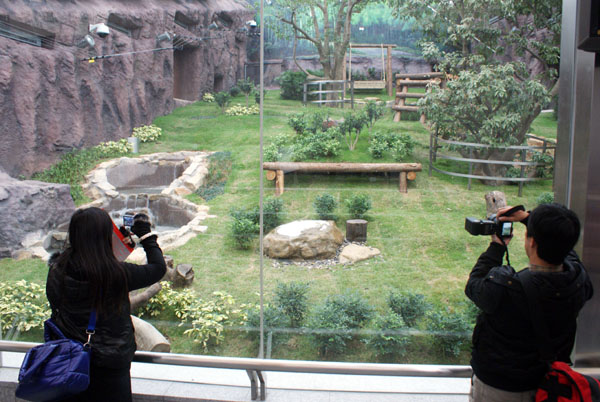 Macau, China, 17 Dec – Originally budgeted at 80 million patacas (US$10 million), the construction of a 3,000-square-metre enclosure at Seac Pai Van Van Park in Coloane island for the pair of giant pandas due to arrive in Macau Saturday will finally cost 12.5 percent more then previously planned due to adjustments suggested by Sichuan specialists.
"This (cost increase) was mainly due to the location of the pavilion, which was moved back by 60 metres from the original site so that it is closer to the hilly areas to offer the pandas a better environment. Because of this, adjustments such as some rock works were needed, so it's reasonable," Civic and Municipal Affairs Bureau (IACM) President Raymond Tam Vai Mansaid.
President Hu Jintao announced during an inspection visit to Macau last December that the central government would gift two giant pandas to Macau to mark the 10th anniversary of its return to China.
The two giant pandas, named Hoi Hoi and Sam Sam in Cantonese, or Kai Kai and Xin Xin in Putonghua, whose names when combined means happiness, will take a chartered Airbus 321 from Sichuan to Macau Saturday .
According to Xinhua, the pair will be the first animals ever to travel in a passenger cabin with the nation's flagship carrier, Air China.
According to Xinhua, the pandas have been feeding on food shipped from Macau to Chengdu in Sichuan by air earlier on, which includes pastries rich in cellulose and a genus of bamboo native to Macau.
"They love the pastries, which are similar to the bread we bake for them every day," Xinhua quoted panda keeper Yang Cheng of saying. "They don't mind eating Macau bamboo, though they still prefer Sichuan bamboo when given the choice."
The pandas will undergo a month-long quarantine once they arrive in Macau tomorrow to familiarise themselves with the new environment.
According to IACM administration committee member Henry Ma Kam Keong, the environment of the two resting rooms for the pair at the pavilion has been prepared with bamboo and "panda smell" to help the animals move in more comfortably.
The pavilion is fully air-conditioned. However, the enclosure also features an outdoor area.
Ma also pointed out that the pandas will not be shown to the public when they are being transported from the airport to their home.
(MacauNews)