Macau receives two giant pandas on Saturday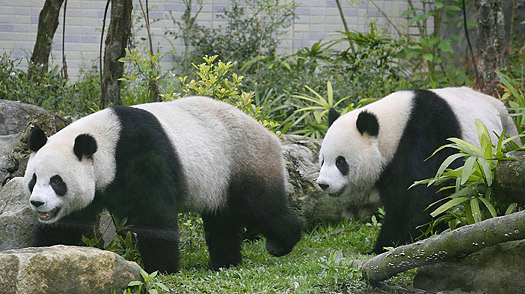 Macau, China, 13 Dec – The two giant pandas that the China's central government is gifting to Macau are due be flown in from Sichuan on Saturday, but the public will need to wait for another month to see the pair after they have gone through a month-long quarantine according to The Macau Post Daily today.
The government announced over the weekend that the pair from the Chengdu Panda Base will arrive in Macau on the 18th of December, just before the 11th anniversary of Macau's return to the China on December 20, next Monday.
President Hu Jintao announced during a visit to Macau last December that the central government would gift two giant pandas to Macau to mark the date.
The giant pandas will be housed at an 80-million-pataca (US$ 10 million) pavilion, covering 3,000 square metres, at Seac Pai Van Park in Coloane island, which is ready for the pair to move in once they arrive.
According to the Secretary for Justice and Administration Florinda Chan there will be a welcoming ceremony for the pandas' arrival at the airport, after which they will be taken to the pavilion for their month-long quarantine period.
"We have a panda foundation that has already got the approval of the Executive Council, so we'll set up the foundation when its formation has been officially announced, and we'll give out the details soon," Chan said.
The Macau-bound pair were chosen by mainland experts in May. Since then, the government has launched a raft of panda-related activities, such as a public naming contest, which resulted in the boy being dubbed "Hoi Hoi" and the girl "Sum Sum".
Hoi and Sum combined means "happy", which according to the government's special panda name evaluation committee symbolises local people's happy response to the central government's decision to present the two"national treasures" to Macau.
Giant pandas are among the world's most endangered animals. About 1,600 giant pandas live in China's wild, mostly in Sichuan and the northwestern provinces of Shaanxi and Gansu.
(MacauNews)