Macau International Airport to invest US$625 million in expansion plans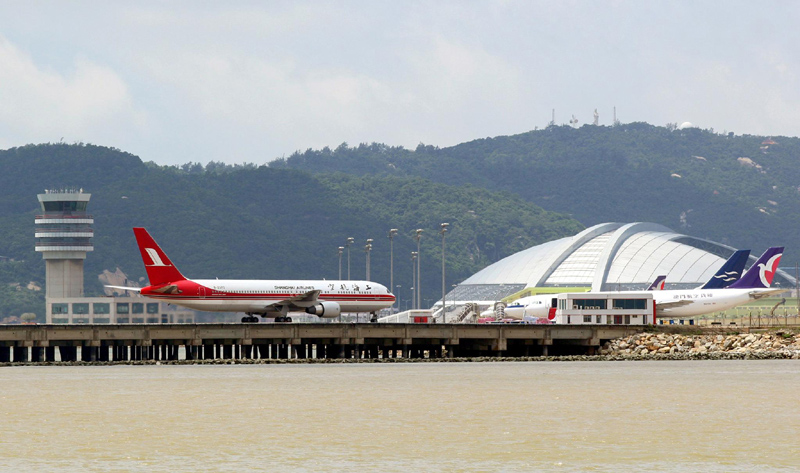 >Macau, China, 11 Sept – Macau International Airport (MIA) is planning to expand its facilities in the medium-term in an investment estimated at 5 billion patacas (US$625 million), MIA marketing director Antonio Rato said Wednesday in Macau.
Rato, who spoke on the sidelines of a seminar on the development of aviation business in Macau, said that in the last two years the aviation sector grew 300 percent as a result of tourist and real estate development in Macau.
MIA's marketing director also said that the airport's expansion plans have already been presented at the highest level "several months ago".
"It's a process that could last between three and eight years, taking into account that part of the expansion of the airport has to be done over land reclaimed from the water," he said.
Rato also revealed that in August 425,791 passengers passed through Macau airport, which represents a 13 percent drop versus the same period in 2007.
In August 63,600 less people passed through the airport, when compared to the same month last year and in July the airport saw 51,000 less passengers, versus July 2007.
"July and August were months that we lost passengers. This is a result of a combination of several factors, such as the start of direct flights between Taiwan and mainland China, the rise in fuel prices, the general fall in regional economies and the restrictions imposed by the Chinese authorities on issuing individual visas to Macau," said Rato.
In terms of airplane traffic, in the first eight months of this year, 35,209 aircraft passed through the airport, which is similar to figure in the same period in 2007.
The largest drop was in regards to cargo, which saw a 35 percent drop in terms of weight transported, to 76,038 tonnes.
In the first eight months of the year, 3.58 million passengers passed through Macau airport, which represents a 2 percent drop versus the same period in 2007.
In 2007 the airport was used by 5.5 million passengers, recorded the movement of 53,386 aeroplanes and dealt with 180,000 tonnes of cargo.
Macau International Airport, which has capacity for 6 million passengers, has regularly scheduled flights from around 20 regional airlines.
In August 2007, the government of Macau said it was analysing the possibility of acquiring the entire private capital of CAM (the company that owns Macau airport) and investing 10 billion patacas (US$1.25 billion) in improving its structure and operations.
CAM, which has the concession to manage MIA, was set up in 1989 with initial capital of 1.5 billion patacas (around US$200 million), with the Macau government in possession of 55.4 percent, while Sociedade de Turismo e Diversões de Macau (STDM), owned by gaming magnate Stanley Ho, owns 33.03 percent.
(MacauNews)