2011 Macau International Fireworks Display Contest to be held on September and October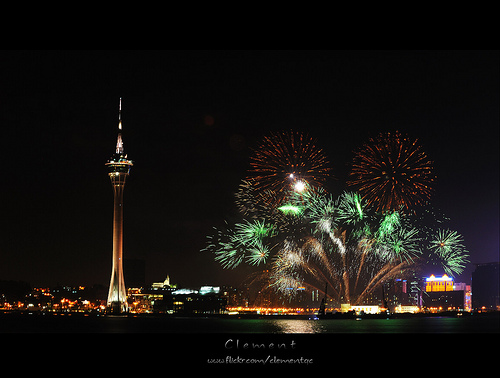 Macau, China, 8 Aug – The 23rd Macau International Fireworks Display Contest, organized by the Macau Government Tourist Office (MGTO), will be held on 10, 12, 17, 24 September and 1 October 2011 at the sea area in front of the Macau Tower.
Nine out of the ten teams this year have taken part in the Fireworks Display Contest in Macau before. Among which, a number of them won prizes and the team from Japan is a four-time champion.
Director of MGTO, João Manuel Costa Antunes, said "I am confident that the ten breathtaking fireworks displays will thrill the spectators' senses of sight and sound, creating wonderful memories for citizens and visitors alike."
Among the five nights of fireworks display contest, 12 September falls on Mid-Autumn Festival and 1 October is China's National Day. Teams from France and China will deploy their skills on China's National Day to add extra sparkle to the celebrations..
In past years, world-renowned pyrotechnic companies have participated in the Macau International Fireworks Display Contest. The contest this year features teams from the Canada, Korea, Japan, United Kingdom, Austria, Taiwan, the Philippines, Portugal, France and China. Among which, the team from Canada will make its Macau debut.
A number of the teams participating in the contest this year are veterans of the event. Teams from Japan, China, the Philippines and Korea, who scored the top four prizes last year, will revisit Macau to vie for the contest again.
Tamaya Kitahara Fireworks from Japan, who possesses unique technique to produce firework shells which are perfectly spherical, is a four-time champion that is sure to gain the applause of the spectators again.
Other teams are no pushovers. Brezac Aftifices from France won twice the laurel in its three attempts while the team from Chinese Taiwan won once in its five attempts. Panda Fireworks Group from China, who won the second prize last year, has also set eye on the champion trophy.
Sirius Pyrotechnics from Canada is a new comer to the contest. Performed in the opening and closing ceremonies of the Winter Olympics 2010 in Canada last year, Sirius Pyrotechnics is a famous fireworks company that specializes in large scale pyrotechnic production.(MacauNews/Tourism)