Charles Leong: Macao's super Speedy Gonzales
Charles Leong: Macao's super Speedy Gonzales

Link copied
Following a glittering career to date, the city's boy wonder racer is already looking to the future and the next generation of racers.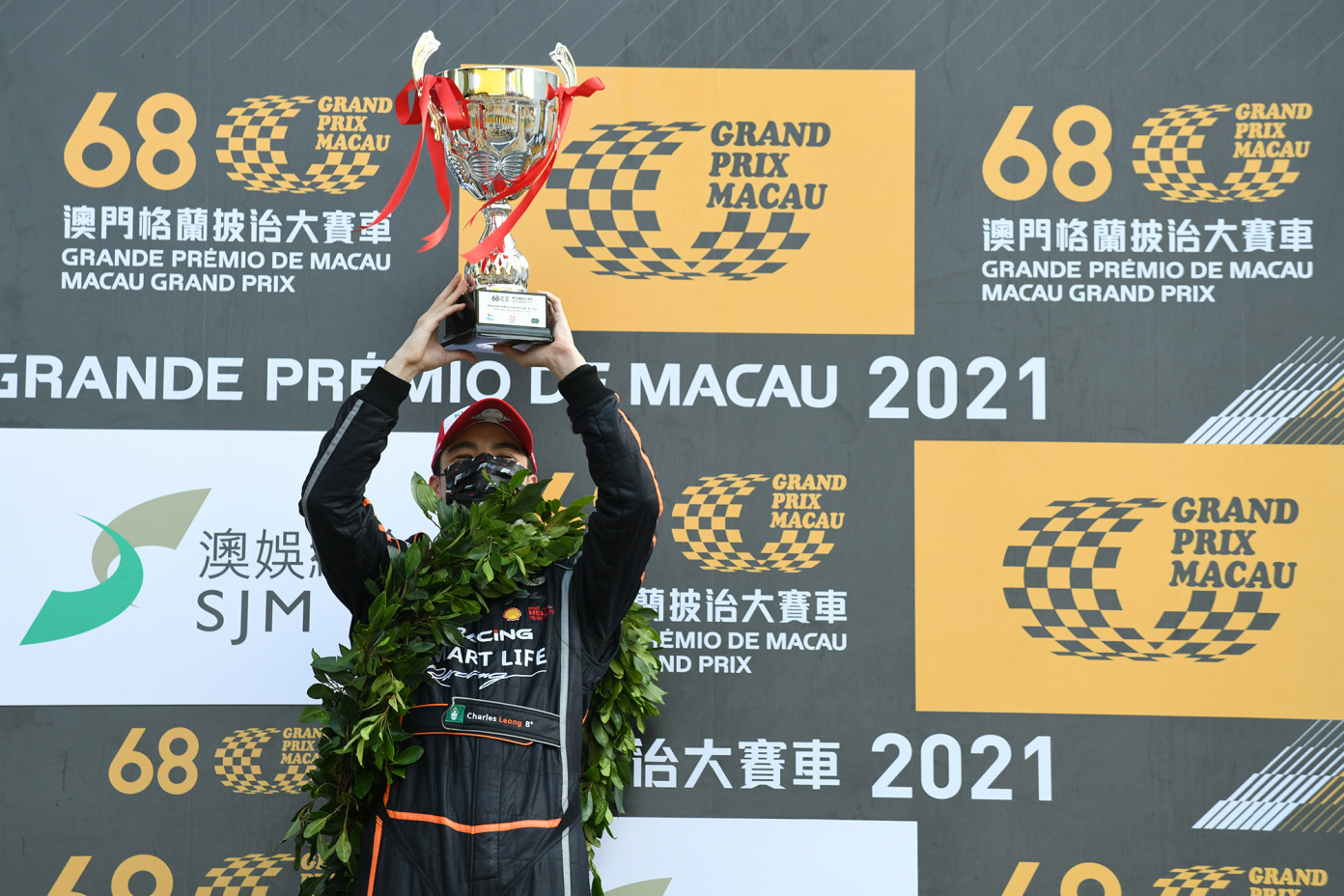 For the second consecutive year 20-year-old Charles Leong's triumph at the F4 race in the 68th Macau Grand Prix has proved that youth is no barrier to major sporting success.
How many times has a young man barely out of high school twice won a major adult motor race? Not many. But today, Leong made history by becoming only the third driver from the city over 68 editions to be first across the line at the Macau Grand Prix. 
His triumph followed Macao driver Eduardo de Carvalho's win at the 1954 edition and local talent André Couto's victory in 2000 – just under a year before Leong was even born.
The 2021 edition was restricted to just local, mainland, Hong Kong and Taiwan racers due to pandemic-related travel restrictions limiting foreign participation – and it was also, for the second time ever, a China Formula 4 Championship instead of an FIA Formula 3 event – but the Theodore Smart Life Racing team driver's performance was, given his age, nevertheless a remarkable victory.
"I grew up watching the Grand Prix at the Grandstand [in Macao]," says Leong. "This was a childhood dream. No words can really describe it." Putting pedal to the metal of his car at the starting line, Leong says he was confident from the outset. "I knew the car very well," he says, "plus I'm very familiar with the circuit, so no doubt I had a boost of confidence."
Leong says he models himself on "fast and aggressive" Dutch Formula 1 racer Max Verstappen, as well as Brazilian legend, the late Ayrton Senna, who won the Macau Grand Prix's F3 race in 1983 before moving on to Formula 1 racing glory – a move Leong believes is already out of his reach despite his youth because in racing, time is critical both on and off the track.
At his age he should already be in – or at least on his way to – Formula 2. Instead, he is already thinking about Macao's next generation of racing car drivers, hoping some of them will make it to F1. He's even got some upcoming coaching projects with younger talents to help make this happen. "I would like to have a small racing simulator space," he says, "and invite some young local drivers to train [with me]."
He adds that even in Formula 4, racing is expensive and some younger drivers "have budget issues" so Leong's experience in pro-kart racing, F3 and F4 in both Europe and China can be valuable for the city's future racing stars.
"I am the most experienced in Macao at this level," says Leong, "and we need someone with this experience for future racing." He adds this does not only mean in driving but also in career management, including sponsorships. With China's Zhou Guanyu racing in F1, can Macao dream of having someone at that level in the future? "I really hope we will see that," says Leong, "but in the next few years that won't happen." 
For that to become a reality, a young talent must start at around six years old and then his preparation work must receive continuous investment for at least 14 years, Leong estimates. Even making the grade to F3, he cites, means "10 times the amount" needed for F4 racers. In short, big sponsors are a must.
"When I was younger, my dad was on the racetracks with me every week in Zhuhai and elsewhere in China," he says. "I was luckier than most kids, who sometimes have to drop out young because their parents can't spend so much money. I won trophies and I think I was pretty talented growing up but that is not enough."
After taking part in nine races in the Formula Masters China competition in 2016, the following year Leong had an impressive debut in the Formula Renault AsiaCup, winning four out of 10 races before taking the title. In 2018, he was fourth in the F3 Asian Championship, sixth in the Formula Renault AsiaCup and even raced three times in the FIA Formula 3 European Championship. He also entered the Macau Grand Prix for the first time but did not finish the race. 
In 2019, he raced in the FIA Formula 3 Championship and also participated in three F3 Asian Championship Winter Series events. His big success came in the Macau Grand Prix – he finished it for the first time, ending in 19th place. His most stellar year yet was 2019. He focused on the China Formula 4 Championship, notching up five wins, which in turn led to winning the Macau Grand Prix in 2020 and 2021.
Leong says that Macao's government has financially supported his career in F3 motor racing. His family has too but he thanked the government for its support as a "lack of big corporate sponsors has been an obstacle". He may think that he won't make it as a top F1 driver but Leong is nevertheless flying the chequered flag for Macao's young sports stars who are helping to put the city on the sporting map.