Typhoon Nangka force Macao to issue Signal 3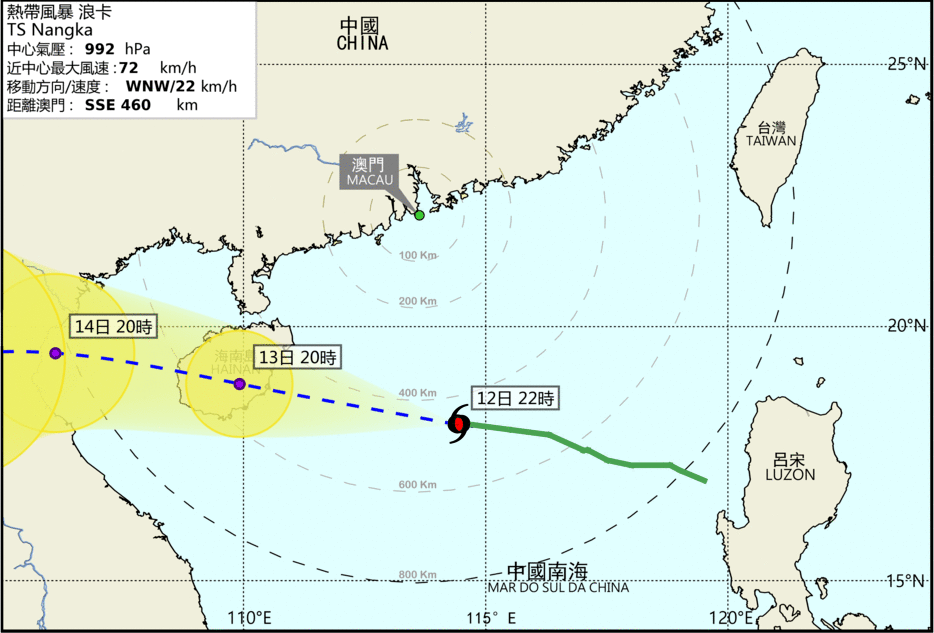 Typhoon Signal No. 3 was hoisted today at 8 pm by the Macao Meteorological and Geophysical Services (SMG).
According to SMG, signal No. 3 is expected to remain in effect until the beginning of Tuesday.
The SMG also said that between dawn and the morning of Tuesday, there is a moderate possibility that the signal No. 8 will be hoisted.
The tropical storm "Nangka" is located at the northern part of the South China Sea, and is moving west-northwest towards the Hainan Island.
Nangka will maintain a distance of about 400 kilometres away from Macao.
However, under the accompanying effect of "Nangka" and Northeast monsoon, the winds in Macao are expected to strengthen significantly.
The weather between today and 14 October will be unstable, with frequent heavy showers and thunderstorms.
Last August, Macao has been battered by Typhoon Higos forcing the government to issue signal No. 10 the highest on the tropical storm scale.
(Macau News)
PHOTO © Meteorological and Geophysical Services (SMG)