Mainland Chinese personnel to help conduct mass Covid-19 testing in Hong Kong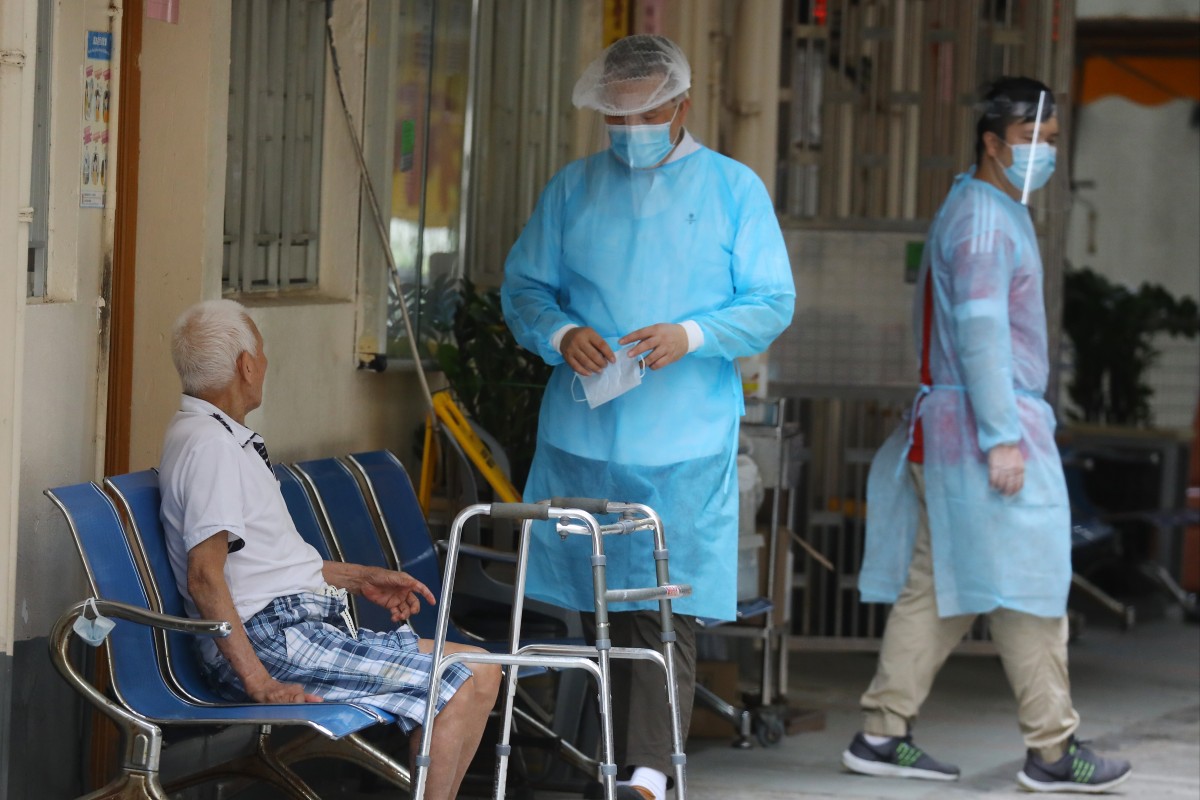 Personnel from mainland China will come to Hong Kong to help conduct mass Covid-19 testing, it was revealed on Friday night, as the city confirmed another 121 coronavirus cases, the tenth straight day of triple-digit increases in infections.
The central government answered a request from the city and would send workers to carry out Covid-19 tests en masse and speed up the construction of community isolation and treatment centres, the cabinet-level Hong Kong and Macao Affairs Office said in a statement.
That came as the coronavirus killed another two elderly care home residents, bringing the city's death toll to 27, while an infected woman who left her home for two hours sparked fears of a legal grey area that would allow patients awaiting hospitalisation to move around freely.
Health officials said that of the new cases, 118 were locally transmitted, including 56 of unknown origin, while three were imported, involving arrivals from the Philippines, India and Mexico.
The latest figures pushed the number of confirmed cases to 3,272. There were also more than 90 preliminary positive cases.
With the city's third and deadliest wave of Covid-19 infections showing no signs of easing, Chief Executive Carrie Lam Cheng Yuet-ngor had asked for mainland help in recent days to tackle the crisis.
The government has also been under mounting pressure from public health experts to carry out citywide virus testing.
"The motherland is Hong Kong's solid backing to conquer the epidemic and all risks," the office said in its statement, without elaborating on the plan.
Public hospitals are stretched to their limits while occupancy rates of isolation beds and wards are at 75.8 and 76.9 per cent respectively. Public laboratories under the Department of Health and Hospital Authority can handle up to about 10,000 Covid-19 tests a day.
Dr Chuang Shuk-kwan, head of the Centre for Health Protection's communicable disease branch, said a 37-year-old patient left her home at Peace Garden in Ho Man Tin on Thursday night and that she later claimed to be trying to buy items to prepare for her admission to hospital.
Police officers were called to the scene and conducted a citywide search but to no avail.
The woman returned home about two hours later and was taken to Pamela Youde Nethersole Eastern Hospital in Chai Wan at about 10:30 am on Friday.
That sparked concerns as to whether current regulations were able to legally bind infected patients to remain at home before admission to hospital.
Chuang, while not admitting there was a legal loophole, said those who had tested positive but were waiting for hospital admission should stay at home to cut health risks, adding the government would more actively urge them to do so.
"When confirmed patients get admitted into hospital, they will be issued with an isolation order at that hospital. But when they are not admitted, there are currently no laws to bind them [to remain at home]," Chuang said.
"Currently, we are not issuing other legal orders for [patients waiting to be admitted], because we expect them to be transported to hospital as soon as possible. And also if we issue an isolation order at their home, nobody can enter, even their relatives, so there is a legal issue."
She also said there were no plans to issue tracking bracelets to such patients, although it was "difficult to predict whether there would be a change of strategy".
The authority said more than 100 patients were yet to be admitted to hospital as of Friday.
A patient the Post spoke to, American Steven Hightower, tested positive for Covid-19 last Saturday but was isolated at his Tsim Sha Tsui flat for six days before paramedics took him to Alice Ho Miu Ling Nethersole Hospital in Tai Po on Friday evening.
"The best response [from the authorities] I got was that hospital beds were overrun and space was limited," the personal trainer said.
He said health officials did not ask him for an update on his condition until Thursday and provided no support on the delivery of food or daily necessities during his isolation. "Fortunately, I have friends who care about me."
Professor David Hui Shu-cheong, a government adviser on the pandemic, said the incident on Thursday night was a cause for concern.
"If every confirmed patient acted similarly to that case, there would be a sustained outbreak of the virus in the community," Hui said. "But it is also difficult to blame them alone, as now it is not unusual to wait for three to four days to be admitted to hospital."
He said if it were feasible, surveillance tools such as wristbands, which were given to overseas returnees who had to undergo mandatory quarantine at home, should be handed to those who were infected and waiting to go into hospital.
Some of the latest infections were related to existing clusters, including three with Cornwall Elderly's Home (Golden Branch) in Tuen Mun, which now has 37 cases, and one to the building firm Kin Shing (Leung's) General Contractors, which has 24 infections.
More homes for the elderly were also affected. At Chi Lin Day Care Centre for the Elderly in Diamond Hill, an employee tested positive while a resident of SAHK Jockey Club Bradbury Wah Sum Care Centre tested preliminary positive. A tutor at Caritas Jockey Club Lai King Rehabilitation Centre was also a preliminary positive case.
Sixteen care homes have been affected in the latest wave.
A potential new cluster also emerged involving four patients who were linked to a direct-selling company at Yee On Court on Argyle Street, bringing the infection count there to six.
"The store has a basement that can hold 100 people. Police will help with our contact tracing effort," Chuang said.
The latest fatality was a 91-year-old resident of Kong Tai Care for the Aged Centre Limited in Tsz Wan Shan. The cluster at the care home had at least 45 infections, while seven of the patients died. The man was admitted to Queen Mary Hospital on 10 July and died at 11:34 am on Friday.
Earlier, an 82-year-old woman who lived at Cornwall Elderly's Home (Golden Branch) in Tuen Mun died. She was the first death connected to the cluster. Tuen Mun Hospital said she was admitted on Sunday after developing a fever. Her condition deteriorated, and she died at 12:18 am.
(South China Morning Post)