Macau based association claims operators violate their holiday entitlement rights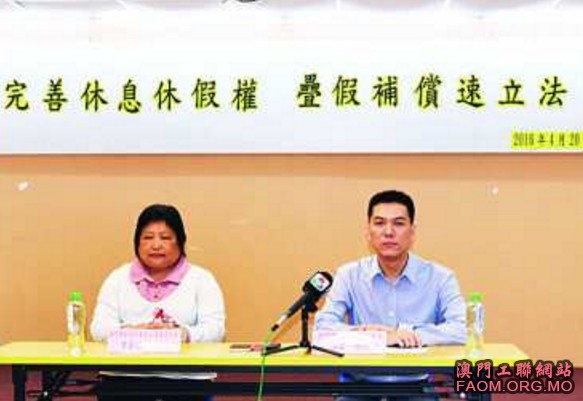 Macau Gaming Enterprises Staff Association Director Kelvin Choi Kam Fu urged the government on Wednesday to mandate employees' holiday entitlement in its next revision of the Labour Relations Law.
Choi made the plea during a press conference at the Macau Federation of Trade Unions' headquarters.
Choi said many gaming employees had told his group that their companies were violating their rights to have days off.
In some cases, Choi said, the company would suddenly change an employee's day off to overlap with a public holiday, but instead of being given a day in lieu, the employee simply loses one day from the permitted number per year.
Choi said while this had been happening for a long time, his association had explained the problem to the Labour Affairs Bureau (DSAL) on multiple occasions.
Choi said that gaming operators were "getting smarter these days" by making sure that each employee would only lose two to three days off a year, so the bureau was unable to intervene.
Choi also said that some gaming companies were also demanding that all employees apply for their annual leave a year in advance. However, by doing so, he said the employers hold all the power in deciding whether the employees can change the days of their annual leave, and often, he said, the employers would decline employees' requests to change the dates.
According to Choi, only three gaming operators are involved in the annual leave matter. He praised the other three for respecting employees' holiday entitlement, but lamented the lack of regulations on the matter and urged the government to look into it in its future revision of the Labour Relations Law, such as by adding new articles to protect workers' rights to their days off and annual leave entitlements.
He did not name any of the gaming companies.
The gaming industry had 56,217 full-time employees at the end of last year, according to official statistics.
(macaunews/macaupost)