Long queues form for NATs across Macao
Long queues form for NATs across Macao

Link copied
Despite mammoth queues and some technical glitches, the city-wide tests are proceeding according to plan.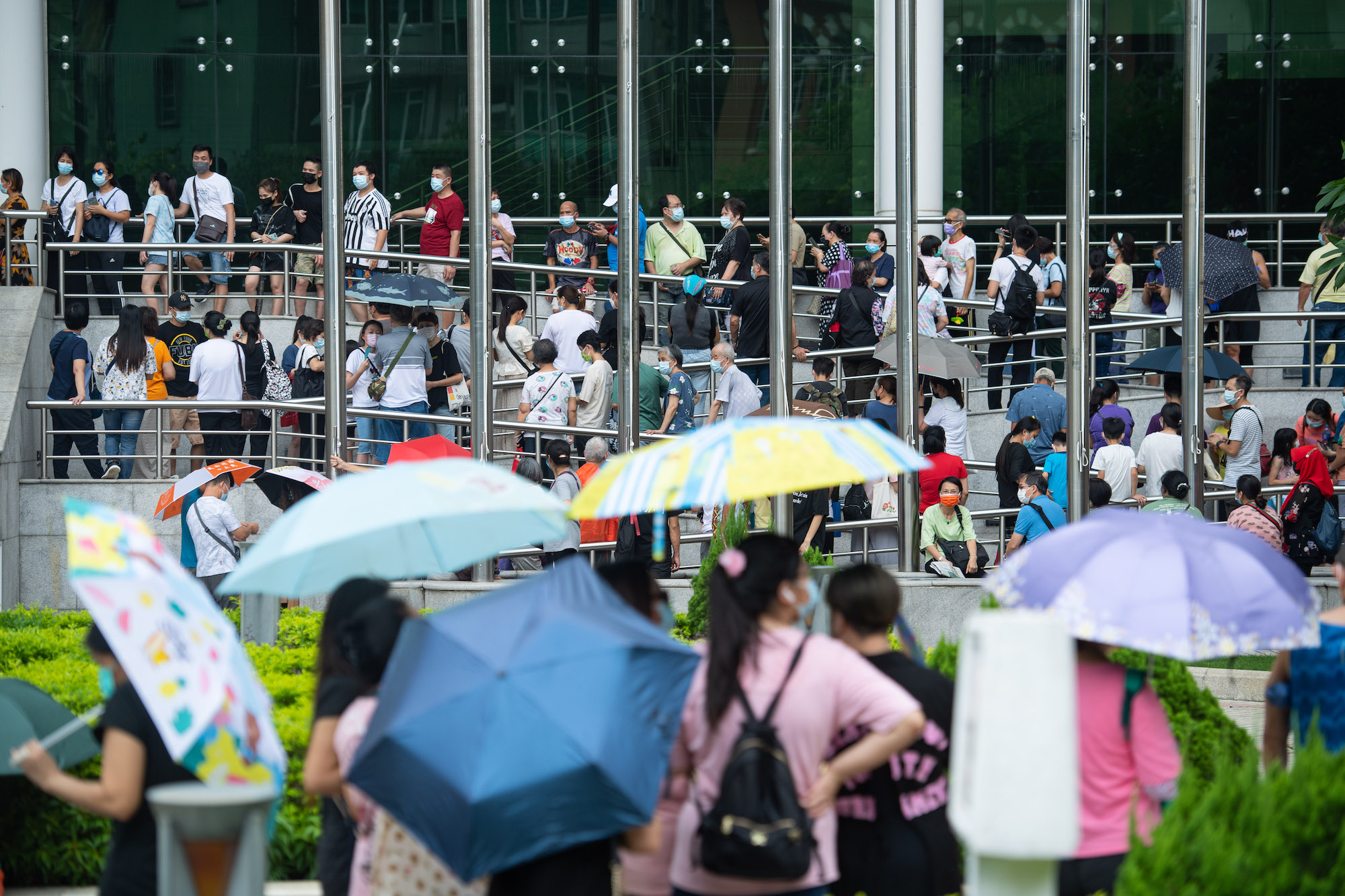 Long queues continued to form outside testing stations this morning as people of all ages and nationalities waited patiently for nucleic acid tests (NAT) as part of the government's citywide Covid-19 mass testing drive.
Last night at 8 pm a long queue outside the Olympic Sports Centre in Taipa stretched beyond Macao Sam Yuk Middle School. A police officer said that there were around 1,000 people and the wait would be at least two hours.
In the queue, two hotel staff members told The Macau Post Daily that their company asked them to be tested every day. They said that they would need it for work today so they had to queue. Both said that they went there right after work and had not had their dinner. They also pointed out that if they got tested at 10 pm they would have little time to rest before work started in the morning.
The mother of four who was also queuing said that she was not worried about her children being bored because they had brought chairs and were "just watching the Olympics Games" on their smartphones. When asked whether she was worried about the Covid-19 situation in Macao, she admitted that she was worried that it would affect her children. She also pointed out that she still had to go to work and could only get tested at night.
The woman's daughter said that she was not worried about the Covid-19 pandemic as she was more worried about having the test.
An Indian non-resident worker said he had had to wait for about 90 minutes just to get to the door of the centre.
However, he saw that the queue continued inside and expected to wait for another hour. He said that he was worried about the Covid-19 situation in Macao but was quick to add that he has faith in the government and appreciated its quick responses.
At Broadway Hotel testing station at 8:45 pm a staff member said that the hotel suddenly changed its station's opening hours from being open 24 hours to closing at midnight. Testees who had booked a late-night appointment arrived at the venue only to find out they could not get tested and would have to return later.
The staff member noted that the wait at 9 pm yesterday would be about two and a half hours, adding that there were four medical workers performing the test.
The Venetian Macao faced some technical difficulties at 9:20 pm as its testing station could not print the test results in paper form for visitors who needed it for their flights back home.
The test is mandatory for anyone planning to leave Macao.
A number of people were trying to book their appointments when they arrived at the station, however many found out that they could only book an appointment for Saturday (7 August ).  
A domestic helper said that she waited five hours to be tested at Estrela do Mar ("Sea Star") Middle School last night. She said she had arrived there at 9 pm and got tested at about 2 am. However, she said the long wait was worthwhile as it was "good for me and Macao".