Space heroes gift docking model of Tiangong-1/Shenzhou-9 to Macau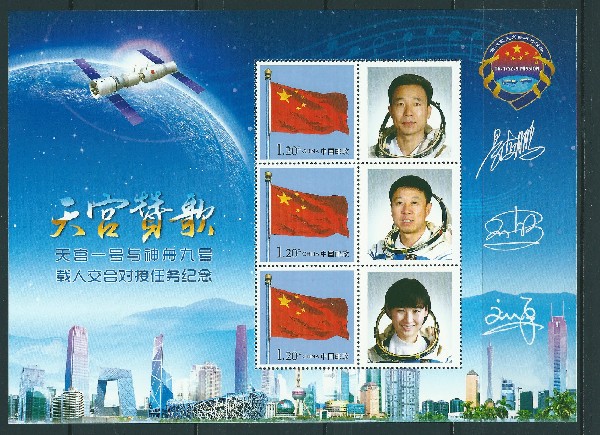 A 42-member delegation of the Tiangong-1/Shenzhou-9 manned space docking and rendezvous mission gifted yesterday a docking model of Tiangong-1 and Shenzhou-9 to Macau after arriving in the city yesterday at the start of a three-day visit.
After a short closed-door meeting with Chief Executive Fernando Chui Sai On at Government House, Niu Hongguang who heads the delegation and the three astronauts – Jing Haipeng, Liu Wang and Liu Yang – the nation's first female astronaut, jointly unveiled the docking model
According to The Macau Post Daily, the delegation also gave Chui a book about the Shenzhou-9 spacecraft. Chui presented the delegation with a carved picture of the St. Paul's Ruins in return. Niu and the three astronauts also signed the government's official guestbook.
Before the meeting started, Chui said that the previous three visits by the nation's astronauts in 2003, 2005 and 2008 had excited and encouraged residents.
Chui also said he hoped more residents could have the opportunity to meet the astronauts and hear about their experience.
Niu expressed his gratitude to local residents for their warm welcome.
The delegation arrived at Outer Harbour Ferry Terminal yesterday afternoon with about 500 school children and residents on hand to greet them waving national and Macau flags.
After the meeting with Chui, the government invited the delegation to dinner at MGM Macau in Nape.
During the three-day visit, the delegation will give public lectures and talk to students, as well visit local tourist spots including the St. Paul's Ruins. (macaunews)