No request from US over UN graft scandal: Wong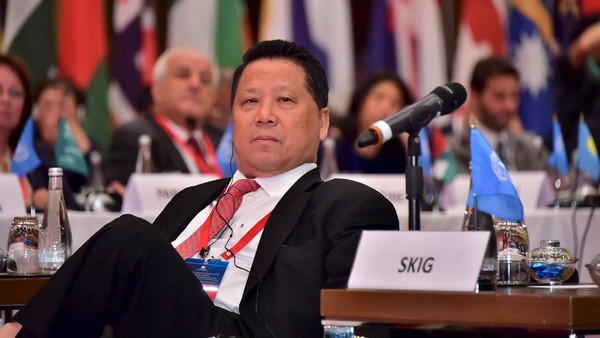 The local police have not received any request for assistance from the US in investigating a UN graft scandal involving local developer David Ng Lap Seng, Macau's top security official said on Thursday.
Secretary for Security Wong Sio Chak made the remark at the end of an inspection tour of Long Chao Kok, a bay in southern Coloane notorious for illegal immigration from the mainland.
However, Wong also said that if needed, the local police would follow-up on the case in the future.
Earlier this week, the US judiciary charged former United Nations General Assembly president John Ashe and Ng, chairman of the local Sun Kian Ip Group, with corruption. US Attorney Preet Bharara announced on Monday an indictment against six individuals, including Ashe and Ng, in New York.
Ashe, president of the UN General Assembly from September 2013 to September 2014, is alleged to have accepted over US$1 million in payoffs from Ng and an associate to help persuade the international body to build a multibillion-dollar conference centre in Macau and to promote Chinese businesses in the Caribbean micro-state of Antigua and Barbuda, according to US officials. Ashe is a former ambassador of Antigua and Barbuda to the UN.
"We don't have any information… [Macau's] security forces do not have the authority [to investigate the case]. In the future we may do so if needed," Wong said.
The policy secretary also said all the organs under his portfolio would only be able to look into the incident if the case becomes clearer. "We don't see that any [investigation by us] is possible or necessary at the moment."
On Tuesday, the Office of the Government Spokesperson issued a statement to say that the government does not comment on judicial cases.
Ng's lawyer in the US insists that his client is innocent.
(macaunews/macaupost)