Macau Chief Executive vows not to intervene in judicial process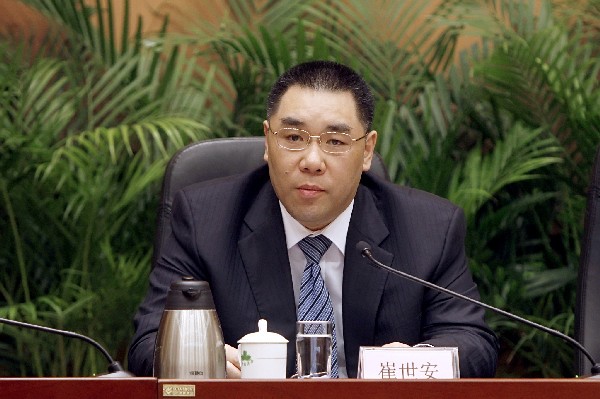 Chief Executive Chui Sai On promised on Friday that his government would abide by all the rulings made by local courts regarding the mega-graft scandal of disgraced policy secretary Ao Man Long and insisted that his government would never interfere in the judicial process.
He made the pledges to reporters before his departure to Beijing on a working trip.
Asked by reporters whether the government would re-possess  five plots of land allegedly involved in Ao's corruption case if the local courts rule that the procedure for leasing the plots for a luxury residential development project was illegal, Chui said that the government would respect the courts' rulings.
The five plots of land situated opposite the airport are part of the La Scala deluxe property development by business interests linked to Hong Kong property tycoon Joseph Lau Luen-hung, with the Public Prosecution Service (MP) confirming last week that Lau and his Hong Kong business partner Steven Lo Kit-sing will stand trial because of their suspected involvement in Ao's case.
Lau and Lo are allegedly involved in the payment of a HK$20 million bribe to Ao for the five plots of land.
Ao is serving a 28 1/2-year prison term for corruption, abuse of power, money laundering and a host of other crimes. He was arrested in December 2006. The maximum prison term in Macau amounts to 30 years.
Accordint to The Macau Post Daily on Thursday, the Court of Final Appeal (TUI) will rule on Ao Man Long's third trial in which he stands accused of six counts of bribery and three counts of money laundering over five public work projects and one land sale.
"The government will absolutely abide by the ruling [regarding Ao's third trial] after the Court of Final Appeal announces it … regardless of the past, present and future," Chui said, adding that "the Public ProsecutionService … and courts are independent … the government will certainly not interfere with judicial procedures. "( macaunews)