Chui Sai On says 'more risks & hidden troubles' lie ahead for Macau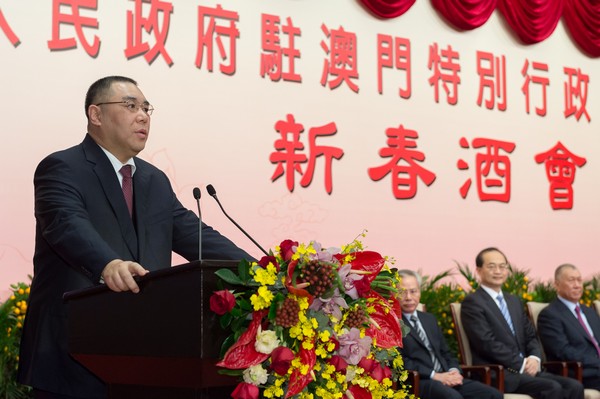 Chief Executive Fernando Chui Sai On said on Thursday that Macau's prospects for this year are that the city will still enjoy "good development opportunities" but he also admitted that it faces an overlapping of "old and new problems" and "severe challenges" as more "risks and hidden troubles" could lie ahead.
Chui made the remarks in a speech at a Chinese New Year reception hosted by the Liaison Office of the Central People's Government at Macau Tower.
Several hundred guests including many senior officials such as the city's five policy secretaries, lawmakers and civic leaders attended the reception. Former chief executive Edmund Ho Hau Wah, vice-chairman of the National Committee of the Chinese People's Political Consultative Conference (CPPCC), also attended.
"Macau's prospects for this year are that we will still enjoy good development opportunities. There is an overlapping of old and new [socio-economic] problems, and more risks and hidden troubles [are expected so that] severe challenges may lie ahead," Chui said in his speech, adding: "Definitely, we can seize the opportunities and tackle the challenges."
Chui said his government would fully develop the city's coastal waters, adding that the government will continue to moderately diversify the city's economic structure.
The central government last month granted Macau jurisdiction over 85 square kilometres along its coast, the first time in the city's history that it will have the right to manage its coastal waters.
"The government will also improve the city's Internet infrastructure and develop Macau into a smart city," he said, pledging that Macau will become a society where humans and the natural environment can co-exist in harmony.
Chui also said he believed locals' participation in the construction of the central government's "One Belt One Road" initiative would bring new dynamics to Macau's development.
(macaunews/macaupost)