359 elect 12 local NPC deputies among 15 candidates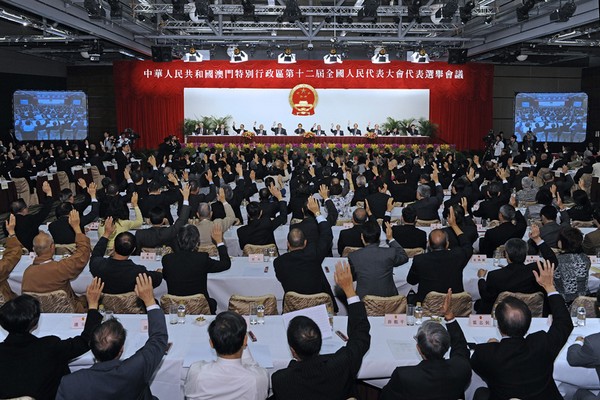 A total 359 of the 364 members of the Electoral Committee to elect the local deputies to the National People's Congress (NPC) Monday cast their votes for Macau's 12 NPC deputies.
Nine of the ballots were invalid. There were 15 candidates.
Among the 12 elected NPC deputies, comprising four females and eight males, 10 were re-elected, namely Lei Pui Lam (m), Paula Ling Hisao Yun (f), Kou Hoi In (m), Lok Po (m), Jose Chui Sai Peng (m), Leong Iok Wa (f), Lionel Leong Vai Tac (m), Ho Iat Seng (m) and Lao Ngai Leong (m). The two newcomers are Ho Sut Heng (f) and Iong Weng Ian (f).
According to The Macau Post Daily, the voting started with a total of 359 attending, lead by Legislative Assembly's former president Susana Chou, placing their ballot papers into three boxes placed at Macau Tower.
After 30 minutes, Chief Executive Fernando Chui Sai On, who was elected standing president of the 11-member presidium of the Electoral Conference, announced the results of the election.
According to Chui, 359 members cast their votes, 350 were valid and nine invalid.
The members of the Electoral Conference included Macau's current NPC members, members of the Chief Executive Election Committee and members of the Macau Legislative Assembly (AL).
Chui also announced how many votes each NPC deputies obtained.
Those with the three highest votes were Lao Ngai Leong, a local businessman and key member of Association of Returned Overseas Chinese, with 337 votes; Lionel Leong Vai Tac, a businessman and member of the government 's top advisory body Executive Council (ExCo) with 333 votes. Kou Hoi In, a businessman and indirectly-elected lawmaker, and Lei Pui Lam, who chairs the Chinese Educators Association of Macau, each garnered 329 votes.
Ho Iat Seng, vice-president of the local legislature who is the only local member of the NPC Standing Committee, won 321 votes.
Io Hong Meng, who chairs the General Union of Neighbourhood Associations (commonly known as Kai Fong), also obtained 321 votes.
Government-appointed lawmaker Jose Chui Sai Peng, who is a civil engineerer, gained 318 votes; Newcomer Iong Weng Ian, a former lawmaker who is a key member of the Macau Women's General Association, garnered 315 votes; Lok Po, the editor-in-chief of the influential Chinese-language daily Macao Daily News, got 302 votes; Paula Ling, a lawyer, obtained 284 votes, while two key members of the Macau Federation of Trade Unions – Leong Iok Wa, a former lawmaker, and newcomer Ho Sut Heng obtained 290 and 282 votes respectively.
Fernando Chui also announced two alternate NPC members –Kevin Chan Chun Ho, a businessman, with 164 votes, and government-appointed lawmaker Gabriel Tong Io Cheng, a law professor, with 162 votes.
An NPC term lasts for five years. The 12th NPC will start work next March. It will elect the nation's new president and prime minister.
After the election, the 11- member presidium had a closed door meeting.(macaunews)