Chui promises no imported croupiers during his tenure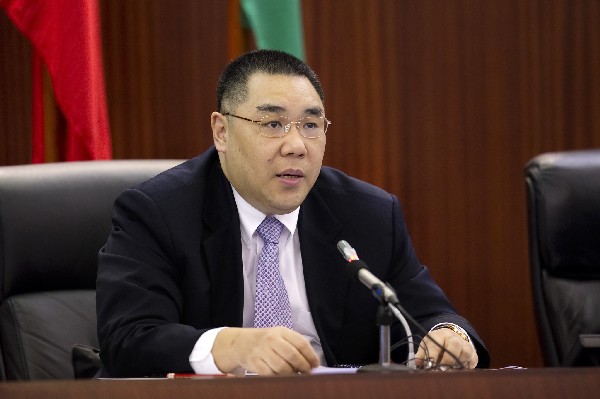 Macau,China, 17 Nov – Chief Executive Fernando Chui Sai On pledged Wednesday that as long as he heads the local government there will be no croupiers recruited from outside Macau .
According to The Macau Post Daily, Chui made the promise while he returned to the legislative hemicycle for a question and answer session after delivering his 2012 Policy Address on Tuesday.
All 29 legislators attended Wednesday's plenary meeting while 27 of them raised questions for Chui.
Directly elected lawmaker-cum-grassroots activist Antonio Ng Kuok Cheong urged the government to halve the number of imported gaming industry workers, "in order to protect local workers' rights and job security."
Chui said that during his official term Macau would not import anyone to work as croupiers – also known as dealers – in casinos.
Chui's first five-year term ends in 2014. He can serve a second and constitutionally final consecutive five-year term.
"For the last three months people keep asking me the same question [about importing croupiers] and today [Wednesday] I have to declare my stance that during my term, there will not be any [imported workers working as croupiers], "Chui said.
Ng listed 10 local hotels with casinos whose total workforce includes just 16 percent of local employees, while the remaining 84 percent are non-local workers.
According to the Statistics and Census Bureau (DSEC), the number of croupiers and other staff directly engaged in gaming services stood at 38,200, or 11.6 percent of Macau 's labour force, at the end of the second quarter of this year.
Until the end of September, 89,896 non-resident workers were working in Macau – accounting for 26 percent of Macau 's total workforce.
The government has promised that it will not allow non-locals to work as bus drivers or croupiers in Macau .
Chui said that since Macau increased the number of gaming permits to six in 2003, the city has recorded substantial economic growth. Chui also said that the pros had been bigger than the cons so that there should be a positive evaluation of the local gaming industry.
Chui continued to point out that Macau 's large-scale non-gaming leisure facilities have reached world-class levels.
Compared with other gaming destinations throughout Asia, western Europe and North America, Macau was very successful thanks to the efforts of local people and the support of the central government.
Aside from the gaming industry, the chief executive also said that his government would give full assistance to, and provide more opportunities to small- and medium-sized enterprise (SMEs) to enable them to prosper, adding he hoped that the non-gaming sector could benefit from the prosperity of the gaming industry.(MacauNews/Politics)