Chui Sai On appointed Macau Chief Executive by China's State Council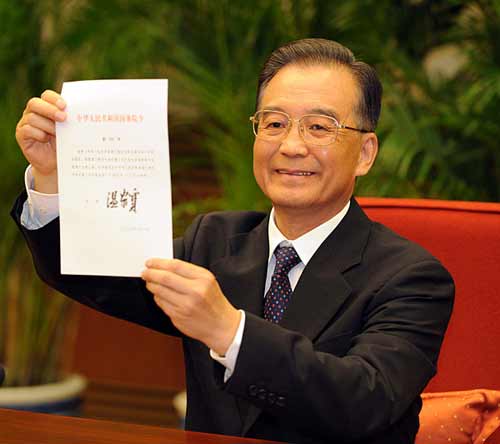 Beijing, China, 10 Aug – China's State Council on Monday formally appointed Fernando Chui Sai On as the new chief executive of Macau Special Administrative Region (SAR) following his unopposed election last July, Xinhua news agency reported today.
The Chinese cabinet, made the appointment at a meeting presided over by Premier Wen Jiabao.
Wen said that since the region returned to the Chinese rule in 1999, Chui had served as secretary for social and cultural affairs of the SAR and was "an important member of Macau's governance team."
Chui had "firmly supported Chief Executive Ho Hau Wah" and had made achievements in his field, accumulating abundant administrative experience and leadership capabilities, Wen said.
Chui's election would be conducive to Macau's long-term stability and development, the premier said.
The Premier Wen JIabao said he is confident that Chui could lead the SAR government and people to create new conditions for the region's prosperity in his tenure.
The approval of the State Council is the final process of appointing the chief executive.
According to the Basic Law of the Macao SAR, despite winning the election last month, Chui needed the confirmation of Macau's Court of Final Appeal and appointment by China's central government to officially become the SAR's next chief executive.
Fernando Chui Sai On arrived today in Beijing for a 3 day visit and collect his appointment letter.
During the stay in Beijing Chui Sai On will be received by President Hu Jintao and Premier Wen Jiibao
A former social affairs and culture secretary of Macau, Chui Sai On pledged to diversify the region's economy and rid it of corruption after being named the new chief executive on July 26.
Chui Sai On, 52, succeeds Edmund Ho, who led the Macau government since the former Portuguese territory returned to Chinese rule in 1999 and oversaw the liberalisation of the territory's gaming sector in 2002.
His five-year term runs from December 20, this year.
(MacauNews)