Ruan Bester is the founder and practicing veterinarian at the Royal Veterinary Center Macao opened in 2013. He has been in Macao since 2004.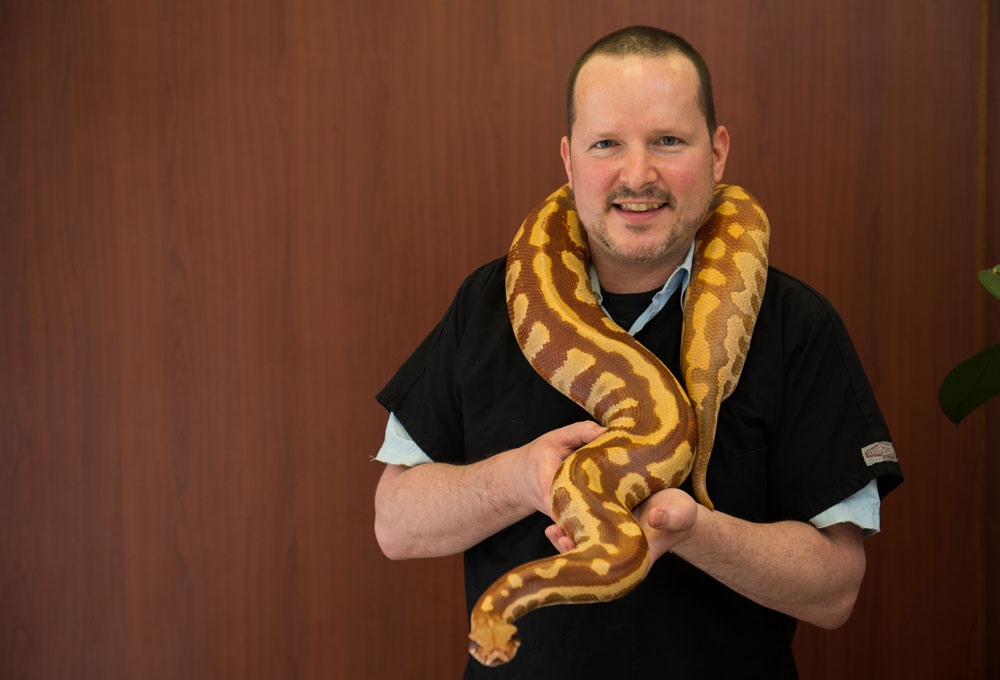 Ruan Bester is the founder and practicing veterinarian at the Royal Veterinary Center opened in 2013. He is fluent in English and Afrikaans and has been in Macao since 2004.
Born 19 December 1974, in Pretoria, South Africa, Bester grew up on a big farm near Cape Town surrounded by a menagerie of exotic and wild animals, including spiders, snakes and birds. His passion for animals came at a young age, and he would often take spiders, scorpions and snakes to primary school, which delighted his classmates.
Upon completing secondary school, Bester decided to travel the world for one year, which ended up being four. His travels took him to Turkey, Greece, Switzerland, Sweden, Canada, the United Kingdom, Japan, Korea, Hong Kong, just to name a few. He worked part-time and freelance jobs to support his travels, moonlighting in the U.K. as a chef (his favourite job of the four years) and picking fruit in Israel. Other jobs included carpentry, working in a dairy farm, landscaping, picking strawberries and working with hot air balloons.
After his epic four-year adventure, Bester began his degree at the University of Guelph in Canada. A year later, he moved back to South Africa to finish his studies at the University of Pretoria's Faculty of Veterinary Science at Onderstepoort. He graduated November 2003 with a Bachelors of Veterinary Science and worked at the Australia Zoo for three months alongside Steve Irwin treating koalas and turtles, among other animals.
Studying to become a vet, according to Bester, is not like studying to become a specialist doctor, as one must know how to treat any animal, from a cat to a giraffe. "We are radiologists, we are dentists, we are ophthalmologists, we are surgeons."
Between 2004 and 2006, Bester lived between Macao and Hong Kong. Originally looking to get a job as a vet in an animal clinic in Hong Kong he was transferred to Macao to manage a clinic while waiting for his Hong Kong registration to take effect. Although managing a small clinic was supposed to last only one month, Bester extended it to six. Finally, he opened his own clinic in Macao in 2006.
Throughout the course of his life, Bester has kept some interesting animals. In college, his dorm room was home to snakes, spiders and even a baby crocodile. Bester would sometimes find the snakes breaking out of their cages in the middle of the night and climbing into his bed. "I had the crocodile because my friends had a crocodile farm in South Africa, but I would never do it again because it's completely wrong. They should be in the wild. Bester later released the crocodile in Kruger Park. Since arriving, in Macao, he has gathered 40 tarantulas, one scorpion, a few snakes, four cats and two dogs as house pets.
It should come as no surprise that what Bester likes most about the animal kingdom is the range of exotic animals. Treating exotic and dangerous animals, however, has its disadvantages. Being stung by a scorpion, for example, feels similar to being burned by a lighter.
Racing cars and flying aircraft are Bester's other passions. He divides his time between Hong Kong, Macao and South Africa pursuing these hobbies and belongs to a supercar club that organises races across Asia. In addition to flying planes, Bester is also learning to navigate helicopters.
Bester's long-term goal is to open a massive animal hospital in Macao staffed with a team of veterinary specialists. Dealing with unqualified vets has become a frequent and major problem for Bester, resulting in numerous cases requiring second-round surgery to fixed botched jobs. "It's just not right; it is extremely frustrating to know that the public does not know the difference between good and bad vets."