Setting aside his interests in architecture and interior design, Paulo Cunha Alves focused on his stronger passion for people and cultures on an international scale. After gaining experience in many communities around the world, he is happily posted in Macao to represent Portugal.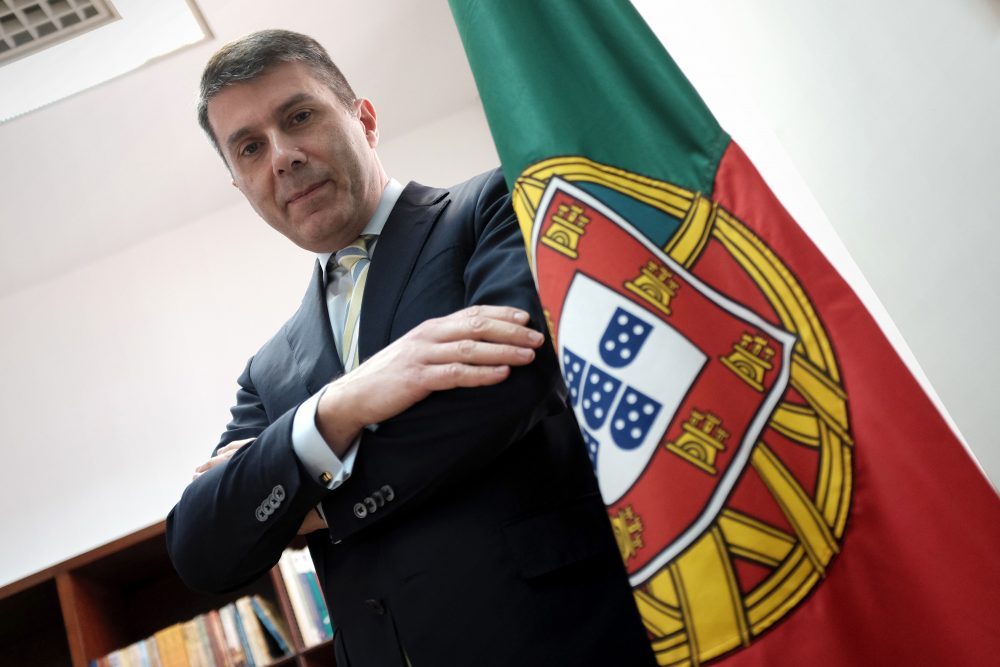 His early interest in architecture was replaced by a desire to better understand civilisations and peoples, and Paulo Cunha Alves has since represented Portugal in the four corners of the world.
Alves was born in Lisbon on 21 July 1964, where he lived until 1993. "Unfortunately, back then it wasn't as easy to go abroad as it is now," he says. Thus, he studied for his undergraduate and master's degrees in international relations at the Technical University of Lisbon, from 1982 to 1988.
"My recollections are of Belém. Little did I know that I would speak so much about Belém pastries when I was a diplomat," he jokes, referring to the custard pastries that are a hallmark of that Lisbon district.
Many signs indicated an eventual career in diplomacy for Alves, given his passion for languages and geography. "When I was around ten years old, I already knew practically all the world's capitals."
He ended up choosing international relations but admits that he hesitated.
"I really liked architecture and interior design," Alves says. But there was a stronger desire to learn about the world, its peoples and civilisations, and to use foreign languages (he speaks French, English, and Spanish fluently, and is improving his German).
"I don't regret it at all, though I might have been a good architect. Who knows?"
In 1987 he joined the Portuguese Foreign Ministry as an embassy attaché. Thirty-two years later, his career has taken him to all but one continent: South America.
His first experience outside Portugal was in the Belgian capital, from 1993 to 1996.
"Diplomacy is viewed as being a brilliant and glamorous job, but it requires very strong human and professional preparation. You've got to have the necessary ability to leave family and friends behind. I had never lived abroad. My first time was in Brussels, and I must confess that it was hard for me."
After Belgium, he was briefly posted to the Portuguese embassy in the Hague from January to June 1997, before moving on to Maputo, the destination that made the strongest impression on him.
"Africa marks whoever has lived there," he asserts. He lived in Mozambique for three years and remembers the natural beauty of the African continent and the friendliness of its peoples. The experience, he explains, helped him realise "how much of what surrounds us is superfluous." He was also affected by the contact with realities different from those found in developed countries, such as the poverty. "The first day we went to the bakery, where there were children begging for food, and we bought six or seven loaves of bread. The next day we knew we'd have to buy double, because those kids would be there again."
After leaving Maputo he occupied other positions such as Head of the Sub-Saharan Africa Division in the Foreign Ministry's Directorate-General for Bilateral Relations (2000), Head of the Common Foreign and Security Policy Division, Head of the Justice and Home Affairs Division in the Directorate-General for European Affairs, Chief Technical Adviser for Justice and Home Affairs in the Permanent Representation of Portugal to the European Union (2004-2009) and Consul-General of Portugal in Boston (2009-2013).
He was named Ambassador of Portugal to Australia, New Zealand, and the southern Pacific states in 2013, when he was distinguished with Portugal's Grand Cross of the Order of Merit.
"It is awarded by the president of the Portuguese Republic to all diplomats who will head an embassy for the first time. Not that I had done anything remarkable. It is a normal recognition," he humbly explains.
Macao
In October 2018 he was posted for the first time to Asia, as Consul-General for Macao and Hong Kong.
"It hasn't been hard to adjust. I think we Portuguese feel cultural differences distinctly. I feel at home. It's very pleasant to see the names of streets and bus destinations, and to be able to speak with nearly all members of the local government in Portuguese," he says. Here, as with previous posts, the priorities are to serve the Portuguese community and to represent the country well. "One of the main roles is to show what Portugal is today: a modern, enterprising country, very much linked to science and technologies."
Despite this being his first professional assignment in the Far East, the culture seems familiar to him. For Alves devotes his free time, "which isn't a lot", to antiquities. And besides his appreciation of French 18th century drawings and prints, he collects Chinese export porcelain. Indeed, he and his ex-wife are co-authors of a book titled "From East to West – The Quest for Chinese Export Porcelain with Western Themes (1695-1815)".
"The urge is always there. Every once in a while I take a look at the catalogues and buy whenever I find something very special. I can't resist."