Fão founded the Association for Retirees and Pensioners of Macau (APOMAC) in 2001 with Francisco Manhão and has been running it for the past 19 years.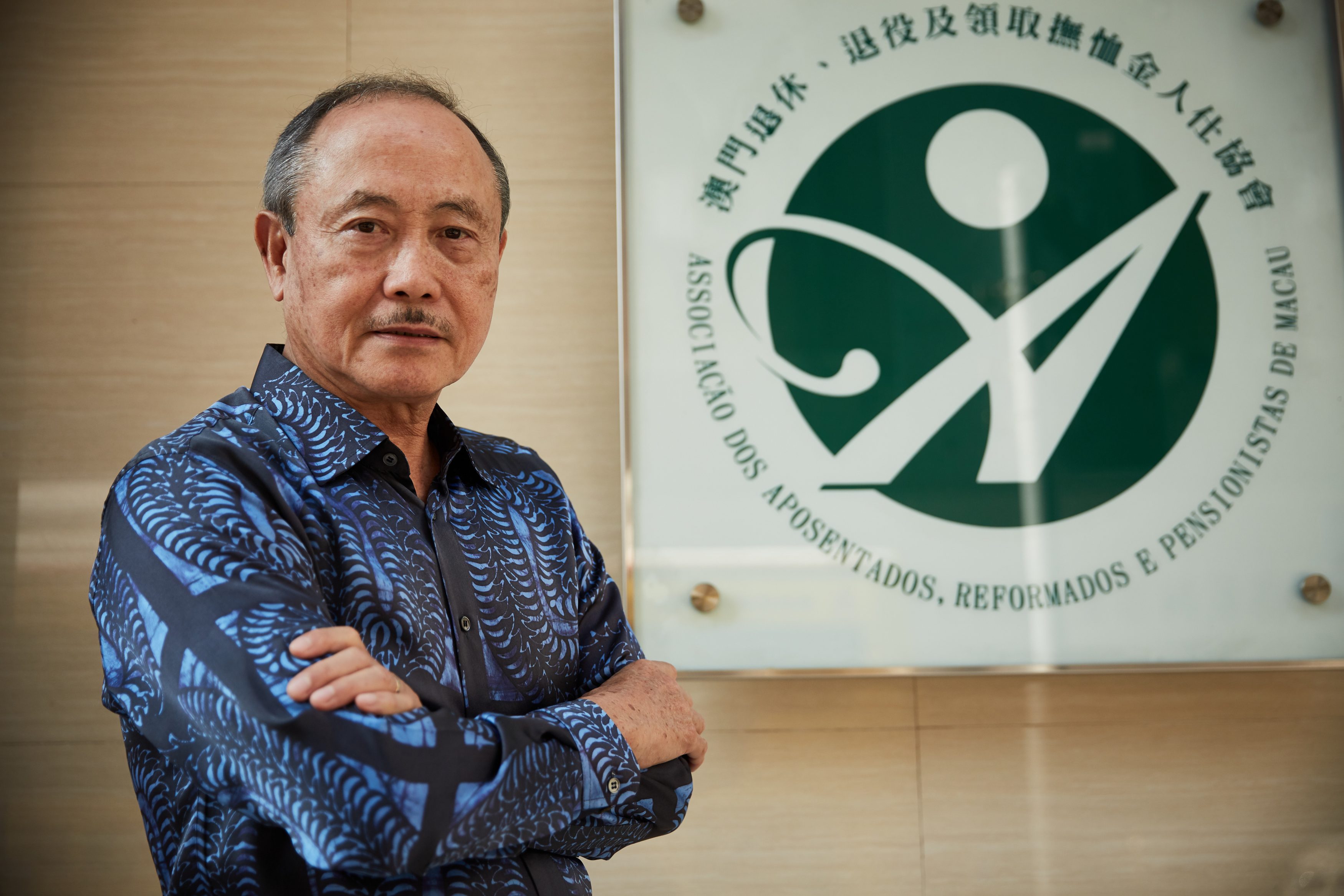 The career of Jorge Fão has included time in the military and politics, as well as at the helm of civic associations. This outstanding figure in the Macanese and regional community has also led many battles, and that's what he's most proud of.
He was born in Macao on 17 March 1947, the second of eight children to parents themselves born in Macao, although his mother is of both Chinese and Portuguese descent. Fão has called the city home ever since, only entertaining the idea of leaving in 1999, spurred by the uncertainty surrounding the transfer of administration from Portugal to China.
"After witnessing the saddening, unpeaceful scenes during the transfer of administration from the UK to China in Hong Kong in 1997," Fão recalls, "I decided I wouldn't stay in Macao during the transition ceremony and festivities and went to Thailand for a week, where I didn't even turn on the TV." For all his concern, upon returning to Macao, he only saw one difference: the flags at Guia lighthouse.
"I had properties in Portugal and thought that if things went badly, I'd go there. The years went by and I noted that things in Macao not only weren't bad, they were better."
It wasn't always easy living in Macao, but Jorge Fão is no quitter, dedicating his working life to ensuring the city did get better. "My [Chinese] zodiac sign is the pig, but I'm more of a wild boar, not a domesticated one," he jokes.
He fought his first battle when he was just eight years old and was a student at Colégio Dom Bosco. A kidney infection interrupted his schooling for more than a year. He nearly died, but fought through it and eventually recovered. He then continued his studies at the Pedro Nolasco da Silva Commercial School, "because my parents weren't wealthy … it was practically free," he explains. His history professor there, Henrique de Senna Fernandes, would go on to become one of the city's most celebrated writers.
He finished secondary school when he was 17 years old and began working at the Administrative Court as a clerk. He could do so only after being emancipated by his parents, because back then one was considered a minor until the age of 21.
The year he worked at the court, 1966, was marked by the so-called 12-3 incident, a period of upheaval against the Portuguese administration coinciding with the Chinese Cultural Revolution led by Mao Zedong. "We suffered. Nothing was sold to the Portuguese, not even food. That was said officially. I also remember that I was given a rifle at the court and five bullets, to guard the installations," recalls Fão, just 19 years old at the time.
He began his compulsory military service as a sergeant in Macao in 1968, leaving with distinction after two years and a half. "I liked military life. I learned a lot and it shaped me in terms of discipline."
He was then invited to head the administrative division office of the Chinese affairs Provincial Department (now defunct) which was tasked to support the local government in matters to do with China, such as the translation and interpretation of Portuguese and Chinese official documents and vice versa. Fão, who is fluent in Portuguese, English and Cantonese, worked on everything to do with administration and human resources, a role he held for almost 20 years until his retirement in June 1993.
New times
Fão made his debut in the world of associations in 1987 as one of the 18 founding members of the Macau Civil Servants Association (ATFPM). The association aimed at safeguarding the future of the public servants after the transition, informed by what he had witnessed in Portugal during its decolonisation process.
Portugal's 1974 revolution marked a turning point for Macao and for Jorge Fão as well. As a new regime took hold and Portugal's African colonies declared their independence one after the other, Fão made his first-ever contact with the Portuguese homeland. He visited the country for the first time in 1975, accompanied by his wife – with whom he would eventually have two children, a girl and a boy.
"Chairman Mao was venerated by some Portuguese. I saw several busts of him. I also saw what was happening with the returnees [from Portugal's former colonies]. There was no room for them. It was a very sad situation," he laments, referring to the more than one million retornados (returnees) who sought refuge in Portugal.
"When they began negotiating Macao's return to China [in 1986], those scenes came back to me. Those returnees had no jobs, no pensions, and that made us think about the need to guarantee people's subsistence after the transition."
The freedoms brought by the Carnation Revolution took time to reach Macao. One law continued to ban union-type organisations, which were forced to operate underground. "I remember that the statutes were drawn up at the house of Dr Sequeira e Serpa. We then summoned a very well-attended general assembly and approved them. We were lucky," he explains, "because a civilian was then governing [the physician Pinto Machado], who knew but pretended he didn't, so we were able to create the ATFPM."
Fão was one of the directors for a decade and served two terms as President and spokesperson of the association, meeting with officials in Beijing and Portugal, such as the then prime minister and president – Aníbal Cavaco Silva and Mário Soares, respectively – to discuss issues such as the question of nationality for the Macanese (mestizo) who decided to stay on in the MSAR and which entity would assume the responsibility of paying pensions to the public servants' that worked for the Portuguese administration.
The association fought hard to avoid the fate of the retornados and it paid off: "Everything that's now in place for Macao Portuguese retirees is due to our efforts to make demands beforehand." He stepped down from the ATFPM in 1993 after retiring from his job as he did not believe a retiree should head the association. In the meantime in 1989, he was designated as a counsellor to the Island Municipal Council (Taipa and Coloane) for four years.
Political animal
Fão's appreciation for politics prevented him from slowing down. David Chow, then a candidate for the legislative elections, decided to hire him as a political adviser, a role he would later reprise for the entrepreneur's wife, Melinda Chan, during her years as a legislator.
Later, in 2001, Chow asked him to be number two on the respective election list. Fão accepted, convinced that he wouldn't win. "But we did. I was the first and only Portuguese elected by universal suffrage after the transition. I served one term. I didn't want more. I did what I had to," he says.
As proof, he lists the frequent speeches in plenary sessions – published in the book "Duty of Citizenship" – and the bills he introduced, among them the Unions Act envisaged in the Basic Law, which failed to pass by only two votes. "I'm proud we were able to pass legislation written by the assembly members," he says. "Now, they only pass measures from the executive government."
Even though he is fluent in Cantonese, he intentionally chose to speak in Portuguese at the Legislative Assembly in an effort to ensure that the Portuguese-language was not forgotten, as it remains one of the SAR's official languages.
Right before he became a legislator, Fão put forward another initiative, which he is still involved in: "I founded the Association for Retirees and Pensioners of Macau (APOMAC) in 2001 and have headed it with Francisco Manhão for 19 years. I can see that we're committed to working till the very end. No one else has the courage to take it on," he muses.
Today, APOMAC aims to provide a space for the city's around 800 public servant retirees and pensioners to spend time in. A space where they can receive support from the association, whether it was issues related to Portugal's Caixa Geral de Aposentações or Macao's Pension Fund. The association also has a clinic, a leisure area and a canteen with food at very affordable prices.
"We often organise lectures so that our retirees continue to follow the evolution of the times," highlights Fão, who serves as chairman of the association's General Assembly.
Despite his busy work life, Fão still finds time for himself to do things he loves such as fishing and travel which he does very often, jetting off almost every month. As a child, he used to fish in the coastal waters of Macao but now, with the pollution, he says that the fish are no longer edible and that is why he travels to Thailand two to three times a year to practice using a boat he purchased there. Hunting was another long-time hobby of his, even travelling to mainland China after it opened in the 1980s to hunt water fowls and small game.
"They are all very lonely hobbies," he admits. "But they help me be more patient and also boost my endurance," which I dearly need.