Residing in Macao since 1989, the Australia-born artist has won several local awards, including prizes from the Macau Biennial Art Exhibition.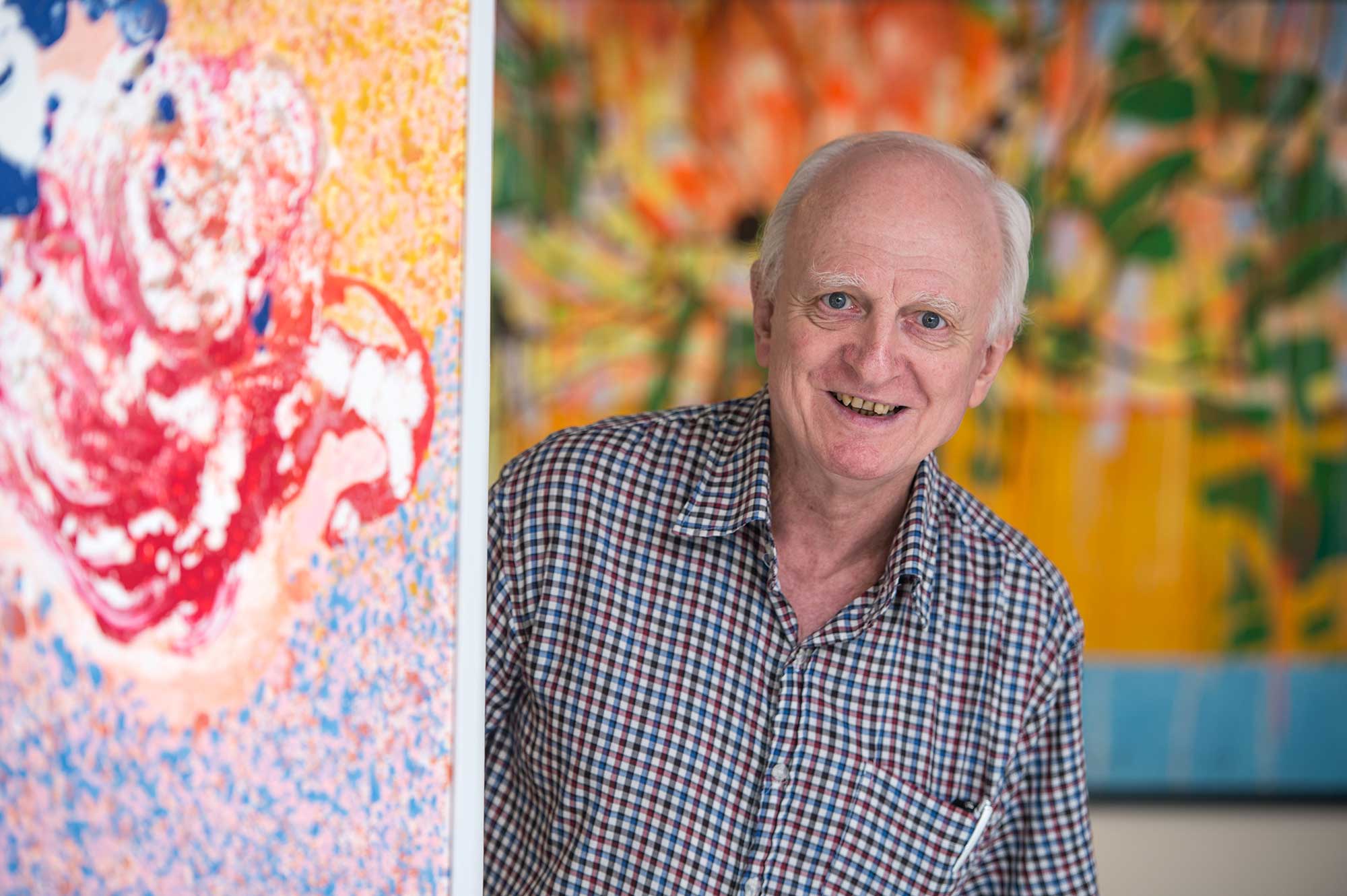 Local art enthusiasts can easily identify Denis Murrell's unique work, which combines acrylic paints with ink and tissue paper. Residing in Macao since 1989, the Australia-born artist has won several local awards, including prizes from the Macau Biennial Art Exhibition and the Collective Exhibition of Macao Artists. In addition to speaking fluent English, basic French and Cantonese, Murrell also once spoke two local languages from Papua New Guinea – Hiri Motu and Tok Pisin.
Born on 2 March 1947, Murrell spent much of his childhood in the outskirts of a little Australian town called Boronia. He remembers his father as a very intelligent man with a hot temper. "He always got angry with his boss so sometimes we were without food and money for days," he says.
Murrell had his first taste of art when his mother brought home a box of watercolors and taught him how to mix colours on pieces of butcher paper that his father used to wrap meat in. "By the time I got into primary school, the teacher realised that I could mix colors so he asked me to teach the whole class."
Art practice became more serious after Murrell started high school. He developed a preference for making abstract art, finding the creation of real-life paintings "absolutely boring". When he reached the end of his time here, he was shocked to discover that his teacher had organised an exhibition of all his school artwork in the classroom. "The exhibition last three to four days but I never got my paintings afterwards," he chuckles.
It was natural for Murrell to choose an art-related subject for university, but his parents had other plans in mind. "They wanted me to be a teacher because I could earn more money. So I thought of being an art teacher," he says. Sadly, upon applying for a course of particular interest – teaching art in primary schools, Murrell soon found out that only women were required that year.
Unsuited for the course, Murrell began to work in a factory, later joining the public service department doing "terribly boring" clerical work. However, things changed when his mother heard about a teacher training program offered by the Australian School of Pacific Administration in Sydney.
Murrell's mother demanded he fill out the application form and, in 1966, he joined the college. "The idea was we did two years of school training in Sydney and then three years of service training in Papua New Guinea. If you get a pass at the end of the fifth year you get your a degree," he recalls. Unfortunately, amid restructuring in 1970, the college lost all the documents and transcripts of the trainees who did this course. This meant that, as there was no record of his service, Murrell never received a degree.
Having moved to Papua New Guinea as part of his training, Murrell ended up staying for the following 14 years. It was an era of many ups and downs; during his time there, he contracted malaria and experienced hair-raising moments with violent people, including being chased by a drunken man who tried to stab him with a knife. However, he met and married his wife there, and together they bought a small hotel in 1975.
He also worked in the health department, teaching doctors and nurses medical English and even drew cartoons for a local newspaper. After separating from his wife in 1978, he moved to a small town called Popondetta where he taught students how to grow tropical products such as rubber and coffee.
On the eve of 1982, Murrell returned to Australia, where he took up a teaching job at the International College of English in Melbourne. He made friends with a lot of students from Asia. When he resigned from the role in 1988, his students gave him a beautiful address book with all their names and contacts. "They wanted me to visit them when I travelled to Asia. So I thought to myself, okay, I will. I flew to Macao during that first year of travel and I'm still here today!"
In his first few years in Macao, Murrell taught English at an international school and also helped write a book aimed at tourists to the region. After a long break he found the opportunity to return to painting, and by accident discovered the technique of acrylic over tissue paper, which became his signature style.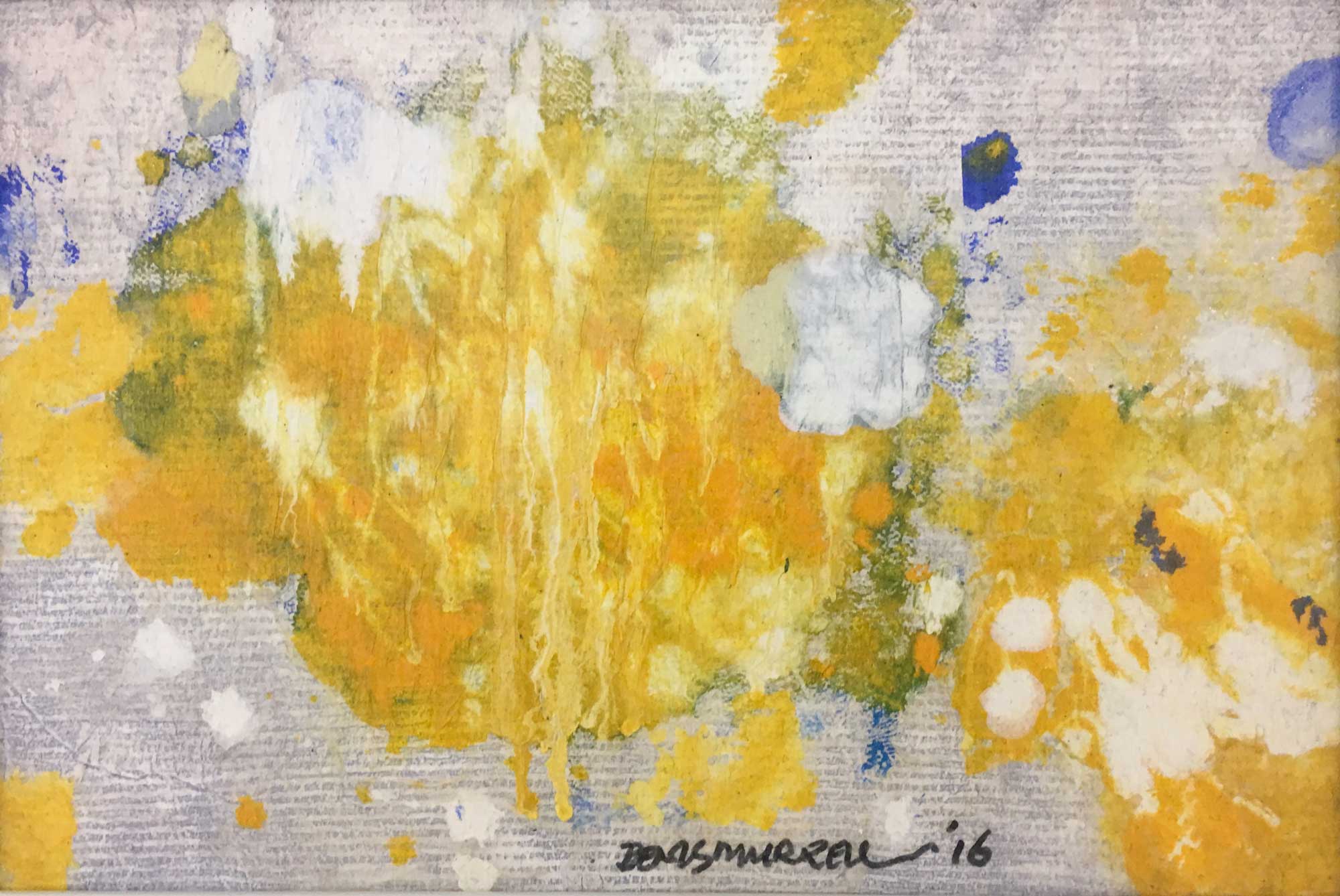 "I was painting in my apartment one day in 1991 and I accidentally dropped some paints on the floor. I cleaned it up with a piece of toilet paper and I was surprised to find that the color actually looked great on it. I glued it onto my painting and then thought, I'd like to do more with that," he says.
Murrell's first painting in his signature style now hangs in Macao Museum of Art. Time and again, he's been asked why he used tissue paper instead of something else. His answer to this is always simple: "I just want to do the things other people don't. I like to search for a new way to do something."
Murrell continues to paint while teaching painting part-time at the Institute for Tourism Studies. He became a member of Círculo dos Amigos da Cultura de Macau [The Friends Circle of Culture of Macau] in 1997, and through his connection with the association, has held many exhibitions, both in Macao and overseas.
He has also noticed a transformation in his painting style during his time in Macao. "When I first arrived I started to paint in darker colours. I thought this way people wouldn't notice any mistakes," he smiles. "When it was time for the Macau Biennial Art Exhibition in 1995, I decided to change to a lighter color. It was an immediate success and I haven't looked back since."
Having lived in Macao for almost 30 years, Murrell believes there are many reasons to love this city. "The food is magnificent and the people of Macao are very generous to me, especially when they find out I speak a little of their language. I think it's part of their nature – they are always willing to help you, with no strings attached," he enthuses.