Cecilia Ho is the founder and executive director of Photo Macao art fair and a successful Macao-born artist.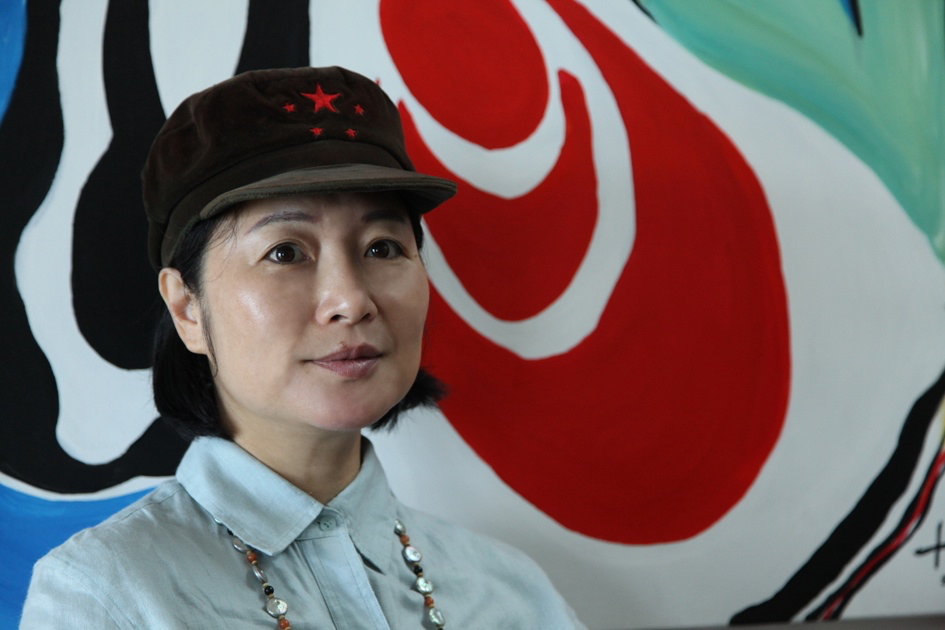 From the beginning
Cecilia Ho still remembers the days when she used to stroll down Praia Grande Avenue watching the boats and the fishermen, while the sun shined upon the Pearl River Delta. This scene would later be present in some of the works by this Macao-born woman who always dreamed of being an artist. "I dreamed about that from a very tender age, 7 or 8. I remember my dream being completely broken in pieces when my art teacher told me 'Forget about it, judging from your work you'll never make it'. When she told me this, I was very upset about it, very emotional, but I actually made it."
Born to "a very modest family", Ho spent some years living in Fai Chi Kei area, "in what we now call temporary houses". "We were five children, typical during that time when the big family was à la mode. We are four girls and one boy, so that's probably the reason we have quite a big family because boys are important for both Chinese and European families", she says.
Ho's education started at Yuet Wah College for girls. After finishing Chinese school, she moved to the English section of Sacred Heart Canossian College. "That (education) thought me how to speak English and then, two years later, I moved to Colegio de Santa Rosa de Lima, which is now quite a different school from the days when I was there. After so many years abroad, when I came back to Macao and visited my mother school, Santa Rosa, the first thing I found out was that they don't speak English anymore. When I spoke to my principal or teachers during my time there, we would be fined if we didn't speak English. One sentence, 50 cents, I remember, the perfect carried a picky bag", she laughs.
Young accomplishments 
In 1978, Ho finishes her Form Six level at Colegio de Santa Rosa de Lima and prepares for her first experience abroad. "I've studied in England and then, after a few years in London. I came back to Macao, worked in a bank and I met my husband here." The fact that she met her lifetime companion, a Frenchman, at an early age was decisive: "Absolutely, it changed my life completely," she admits.
Ho soon got married and then followed her husband to different cities. "As he was an expatriate, the first place he took me was to Hong Kong. My first child was born there and soon afterwards he took me to his family, in Singapore." This was the year of 1989, and that's when Ho's art studies begin. "Most of my studies will be after my marriage. My art education all came after my marriage, and even some of it came in Paris later on. I was already a mother and that's quite a story because not too many mothers would go to school", she says with a smile.
During four years in Singapore, Ho studied art and learned from a particular teacher who specialised in Chinese painting and calligraphy, and also went to Nanyang Academy of Fine Arts while looking after her first child. "After that, my husband took us to Paris, where we've stayed for three years and where I was carrying the duties of a wife, a mother, and a student. I've studied arts and at the same time I've learned how to speak French, and therefore French is considered my third language."
Artistic passion
In 1994, the family relocates to Hong Kong, where Ho, a mother of a girl and also a boy, lived most of the past two decades. The dream of being an artist persisted, and also the will for teaching art to others. "I always said, 'if I have a chance I'll become a teacher', because an inspiring teacher is important, and therefore I became a teacher later on. When I came back to Hong Kong, I opened an art school, called Cecilia Ho's Art Club, giving professional art training to people of all ages in a belief that I do agree, which is: art has no complete frame. When you are happy in creating art, you should go ahead. There's no good art or bad art, art is art itself and all people should believe they could create art."
It was her art school that put her in the way of a student who would open the doors of the British Royal Academy to her works. "I was still a teacher and I enjoyed very much. One day, one of my students came to me and said 'Teacher, I really enjoy your work. Could you please join the submission to the Royal Academy Summer Exhibition?' In fact, she was a trustee of the Royal Academy, which in England is a very famous art school", she recalls. Ho decided to submit three works and two months later the Royal Academy picked six pieces out of hundreds of them. All three of Ho's works were selected. "I was extremely happy. And since I was announced to be the first Chinese to have exhibited there, they invited me over for the vernissage. I was very emotional because before that I had never participated in a single exhibition. It was a big event in my life, I was interviewed by the BBC and mingling with all the big stars, all the big guys. Then, every year since 1996 – 1997, 1998, 1999 – I submitted my works and I got in consecutive for four years."
Because of her French nationality, Ho also decided, "to participate more on the French art scene". In 2000, she got selected for the Salon d'Automne, an annual art exhibition held in Paris since 1903, where renowned names such as Paul Cézanne, Henri Matisse and Paul Gauguin have exhibited their works. "I was extremely proud, because of the past history of Salon d'Automne, and then I got in again in 2003 when they celebrated 100 years. I was just a small potato next to some of those big names, but I'm extremely proud that at some point my work was next to theirs."
From this moment onwards, Ho exhibited regularly in Hong Kong and elsewhere. Her work "has evolved from Chinese painting at the time of the Royal Academy, to more abstract at the Salon d'Automne, to architectural work, and later on to photographic work and conceptual work", over a time span of more than 20 years. "There was a major change on my work when in 2012 I've started a very big artistic project, called "Transporting Qi", transporting people's qi [that translates from the Chinese as 'air' but has a much more powerful meaning that can be summarised as 'vital force'] from Macao and Hong Kong for over 2000 kilometres." Qi is formless, and Ho decided to give it a form, with people filling red balloons with their qi. "We were meeting people everywhere and asking them to donate their qi as a symbol of support to the rural part of China in Yunnan, which is now a UNESCO site but it wasn't when I was doing this project. It's a very important project to me, it completely changed my work, it was documented in video and photography, and because of this work I've been invited to a few countries; Germany, to the documenta in Kassel; Australia, at FotoFreo festival. I also did my first solo in Hong Kong because of this work, I've submitted it to the Venice Biennale with Macao, but it was only shortlisted. Because of this, I've also had my first Macao exhibition", she says.
Looking forward 
In 2015, Ho decides to come back to Macao and starts working on a new project she kick-started earlier this year: Photo Macau, an art fair devoted to photography and new media. "Despite being away for almost 30 years, I've always felt a very strong attachment to Macao, this strong feeling like a baby, fed by its motherland", she explains.
The idea of creating Photo Macau came from Ho's belief that "the future of art is digital", and the fact that, "there was no art event in South China dedicated to photography and new media, there's Art Basel in Hong Kong but it's just a part of it, it's not specialised." Therefore, Photo Macau happens in March, just like Art Basel, and tries to attract to Macao some of the art lovers that visit the neighbour city during that month.
The first edition of Photo Macau required big efforts and the result was positive. However, Ho couldn't avoid feeling a bit disappointed. "Despite all our efforts, it's difficult to realise that Macao people don't care about art. It can be quite frustrating, but then I thought 'if I don't do anything about it, it will be like this forever', so it may take time but perhaps we can help changing it."
March 2019 will see the 2nd edition of Photo Macau happening in town, focusing on the Portuguese-speaking countries and also on Turkey, the executive director announces.
Used to call home to both Hong Kong and Macao, Ho has an interesting view on both cities regarding their arts scene if we ask her to compare them: "Hong Kong is a city on the move; Macao is a nostalgic city."