Stardust Journey: How textile designer Jovinia António made her mark in Macao
Stardust Journey: How textile designer Jovinia António made her mark in Macao

Link copied
Known for vibrant colour combinations and marbled patterns, Macao textile designer Jovinia António launched Stardust Journey in 2018 to showcase her unique products and inspire others to pick up the craft.
A former employer once told Jovinia António she was "as disposable as a piece of dust". Instead of letting the insult derail her, António turned it into fuel to power the next phase of her career. 
She embraced the idea that she is "dust", albeit from a different perspective: Even the smallest things can contribute something great. "I refer to myself as stardust – something very small that can one day become a planet," explains the 32-year-old Macao-born artist.
Indeed, António was bound for something bigger. In 2018, just 10 months after leaving her job as a graphic designer, she launched her own textile label, Stardust Journey, and a studio-slash-showroom called Stardust Studio. In this bright and lively space, she designs unique patterns and showcases her kaleidoscopic homeware and fashion accessories – think carpets, cushion covers, blankets, and umbrellas alongside accessories like scarves, scrunchies, eye masks and more.
Ever an optimist, António also seeks to cultivate the city's local creative community by hosting regular textile design workshops. Held at Stardust Studio, the workshops focus on pattern-making, especially a technique called "paper marbling". As one might guess, the process yields marbled patterns – similar to what you'd find on a stone – and can be applied to an array of natural fabrics. 
"Macao is a city full of patterns, especially with its Portuguese heritage that can be seen in the architecture, designs and decorations of many of the old buildings, so I think people in Macao need to start embracing this 'pattern lifestyle'," she says. For the artist, this means donning daring colours, and unexpected shapes and taking chances – ultimately, living life fully with passion and enthusiasm.  
Designing her own path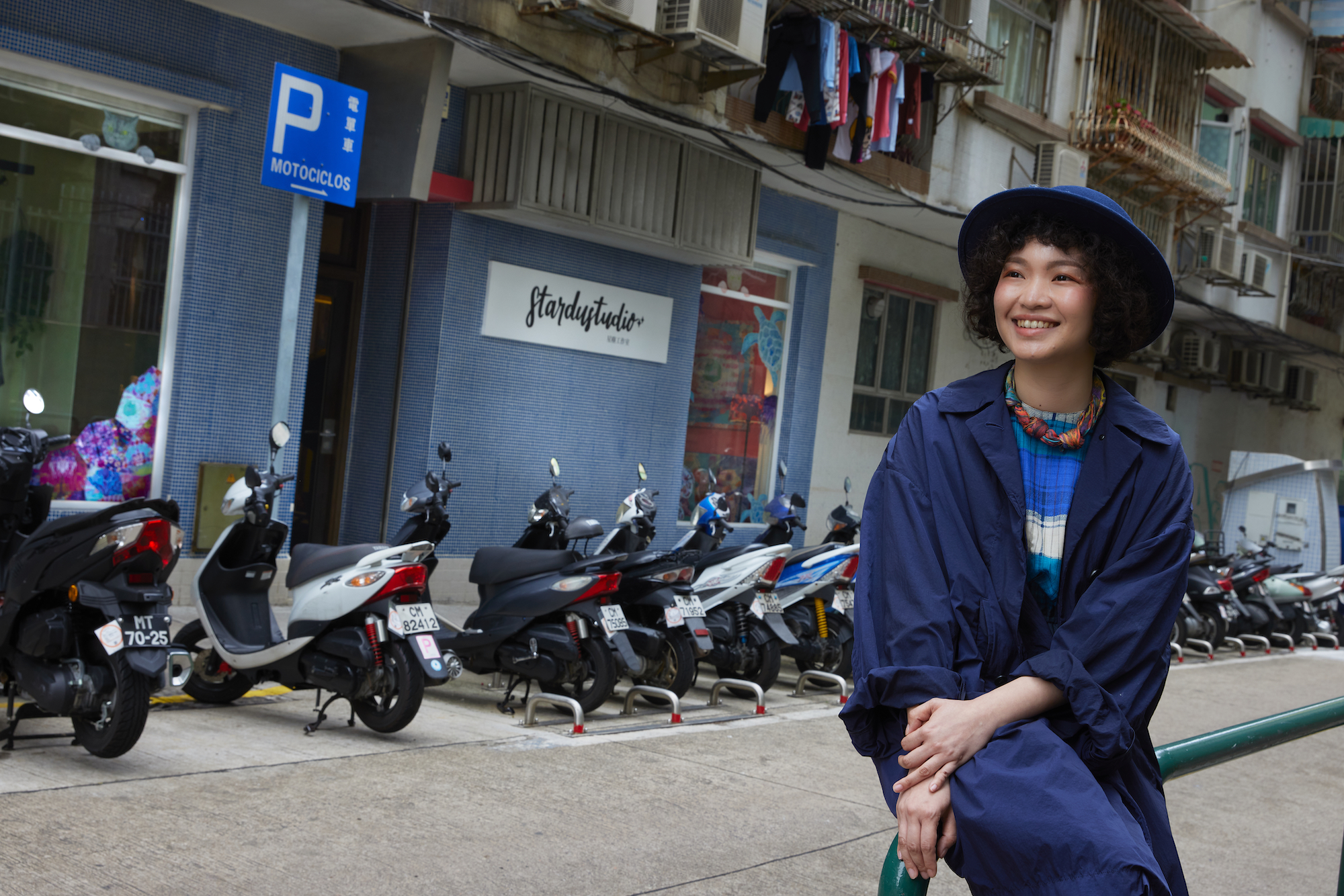 When António was young, she visited relatives in Portugal almost every summer. During one of these trips, she recalls being drawn to a collection of books about art that her uncle, an architect, kept on his shelves. "My uncle once said, 'Maybe you will like art'," she remembers fondly. 
There was already some evidence supporting his hunch. "Art runs in my family. Apart from my uncle, another aunt and a cousin of mine are also architects, and my father said I always liked drawing as a little kid," says António. 
In 2009, António moved to the United Kingdom to pursue art more seriously. She enrolled in art classes – first at Chichester College, then at the University of Brighton, in southern UK – where she explored different types of design.
António considered studying graphic design at first, but wasn't sure which path to take, so she shared her concerns with an instructor. "I like fashion, but only styling. And I don't like making clothes – I just like the design," António recalls saying. 
To which her tutor replied: "I think what you like is actually my subject: textile design."
An integral part of fashion and homeware design, textile designers choose the structure and appearance of a fabric. It's a broad field, typically including everything from specifying weave types to creating patterns, selecting colour combinations and choosing dye techniques. 
António's tutor proceeded to introduce her to a couple of textile designers and artists, and suggested an array of reading materials. After better understanding what a career as a textile designer could look like, António dove into the subject and began studying textile design. 
"I didn't know this kind of design existed," she recalls. "I thought fashion or graphic design were the only options. After learning more about it, I told myself, 'This is what I want to do.'"
Starting something new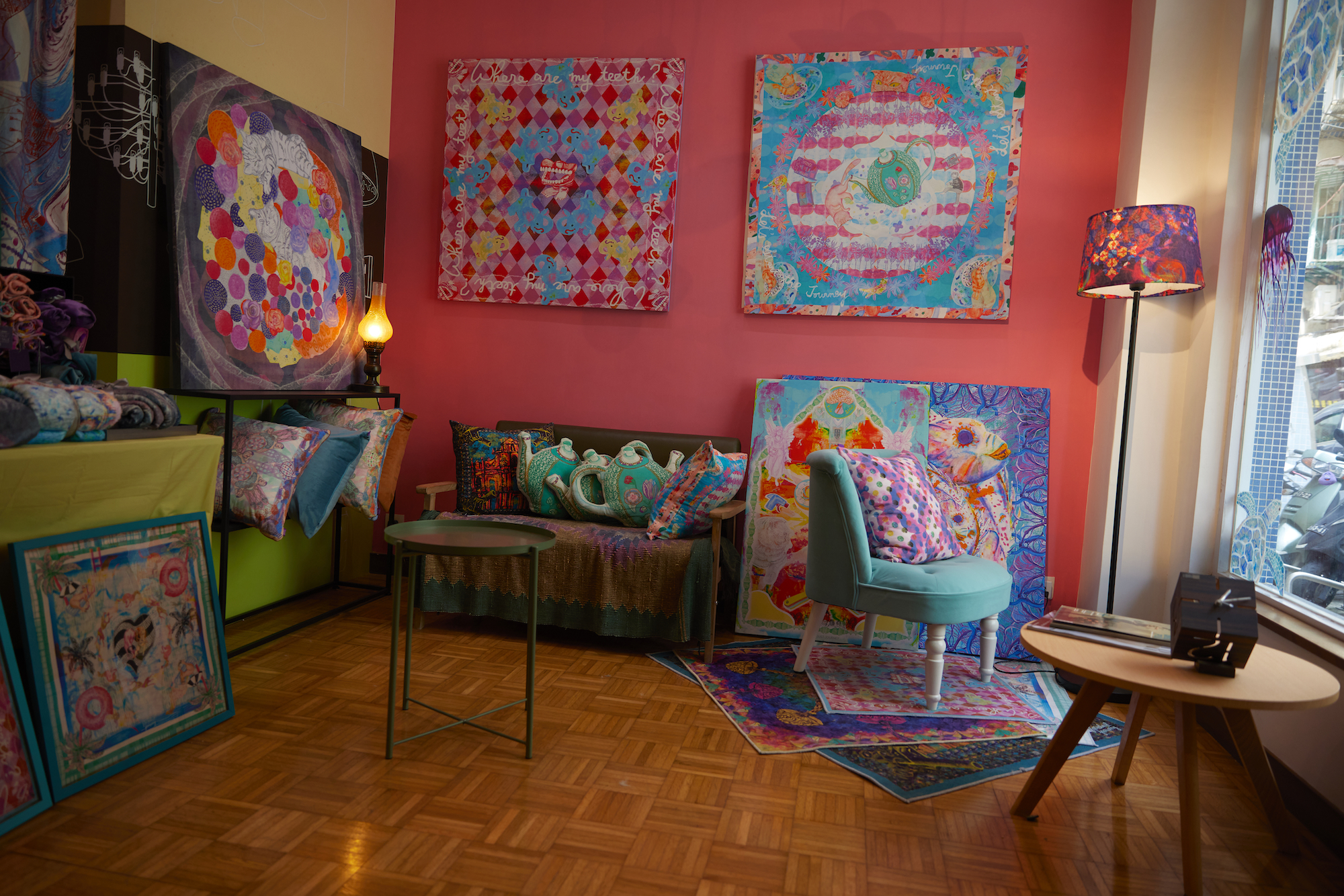 In 2015, António returned to Macao and took a job as a merchandiser for a local fashion company as she continued to develop what would become her signature aesthetic: colour, colour and more colour. While working full-time, she started an online business in 2016, where she sold accessories, such as a line of silk scarves featuring patterns inspired by Antoni Gaudí's Sagrada Família church in Barcelona. 
After she started participating in Macao's bi-annual Tap Siac Craft Market that year, her customer base grew rapidly. When a friend encouraged her to open a studio, António worried about giving up her full-time job and stable income, but weighed all the outcomes to make a decision.
"I finally decided to do it – to start something new – while I was still relatively young. Even if I failed, I would not be too old to get another job working for a company," she reasoned.  
António invested her savings and financial assistance from her friend to open the studio in August 2018 and develop a radiant new product line. In March this year, António relocated Stardust Studio to its current location near the eye-catching blue Social Welfare Bureau building in the São Lázaro district on the Macao peninsula. This is where António comes up with new patterns and product designs, which tend to be based on her life experiences or places, people and inspiring objects. Each new pattern can be a weeks- or months-long process, starting with extensive research and brainstorming. 
Sometimes António sketches or paints her patterns, which can take two to four weeks to perfect. When using the paper-marbling technique, however, it usually takes António about 30 minutes to create a new pattern, then a week for the pigment to settle. In either case, she digitises the design using Adobe Photoshop, then sends it to her manufacturing partner in Shanghai to bring it to life.  
Patterns full of memories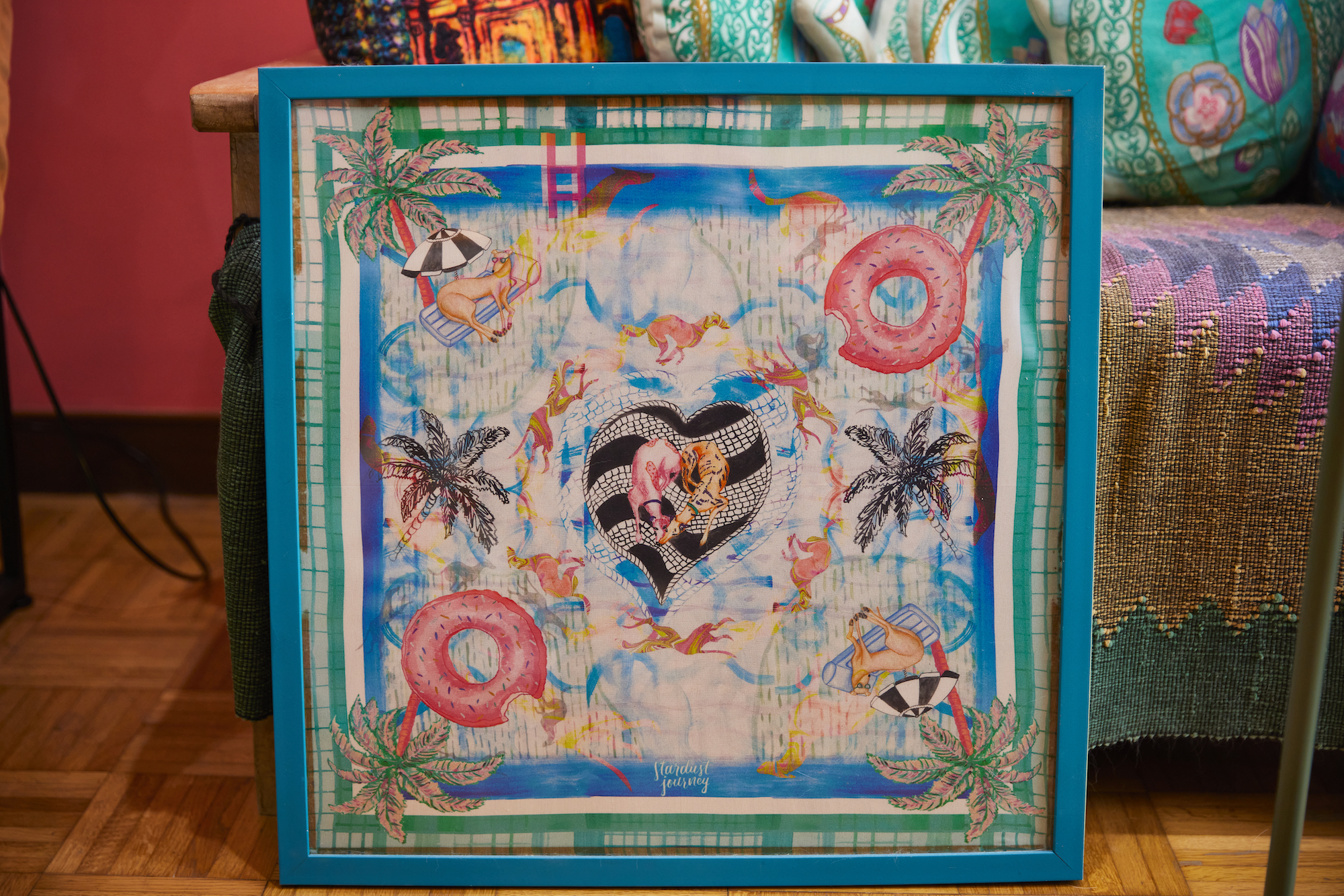 Whether an umbrella or a teapot, António's products combine vibrant patterns and bright colours, like yellow, pink and light green or sky blue, orange and red. "Colours make you happy," she admits. "I always wear a lot of colours."
Many of António's bold patterns were inspired by her travels across Europe and North Africa –  a period of time when she found her calling and refined her craft. In 2015, she visited Marrakesh, one of Morocco's largest cities, then Fez, the country's second-largest city and de-facto cultural and spiritual capital, just before she returned home, bringing lots of inspiration with her back to Macao. For example, she has created patterns based on Moroccan qubbas (mosque domes), and hamsa, a palm-shaped amulet with an eye in the centre that's believed to protect the wearer from evil.
"I found a garden with tiles and walls that had mosaic patterns on them," she recalls. "Wandering through the crowded market, I could smell the leather being sold and see handmade traditional chandeliers, potteries and accessories." 
She also harnesses design to raise awareness about social issues. António has referenced everything from the plight of Yat Yuen Canidrome's "retired dogs" – more than 500 greyhounds abandoned by their owners when the racetrack closed in 2018 – as well as ivory poaching and Covid-19 disruptions. Some of the patterned scarves and cushion covers displayed in Stardust Studio depict greyhounds and elephants, while another textile design strives to capture the city's pandemic situation in 2020 with images of casino chips, António's cats and Macao's St Michael the Archangel Cemetery. 
"We live in a bubble and can't travel anywhere," she says of Macao's strict Covid-19 measures. "Travelling has become a main source of inspiration for my work, but [at the moment] I can only get inspiration from Macao."
Getting hands-on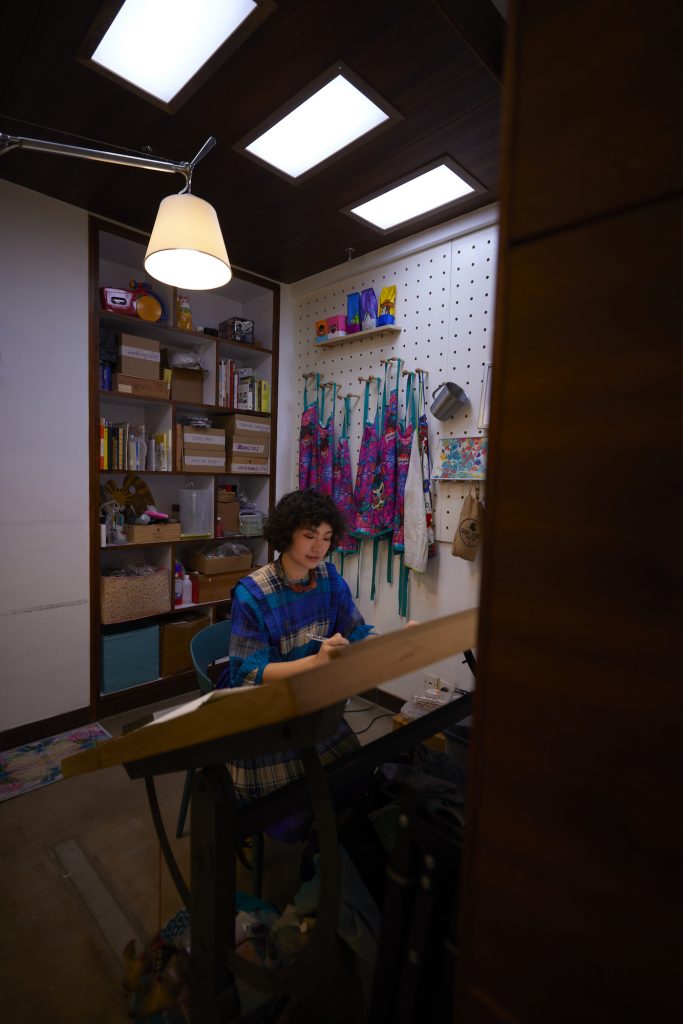 In addition to showcasing her unique products, António also uses her studio to host paper-marbling workshops. 
"I think marbling is the key to opening the door of textile design. If people want to get into the textile world, they should learn about patterns and marbling," she explains, noting that paper-marbling was one of the first techniques she learned in her university days. 
Since 2018, more than 200 people have joined her marbling workshops, where they get to design a pattern and apply it to items, such as shoes, bags, wooden beads and cards. António holds four to six workshops a month, each limited to just three people. "I want the participants to have a personal experience, not just a class," she says, adding that she always welcomes them with a cup of coffee or tea to help them relax." 
António says she enjoys sharing her experiences and knowledge with others, with hopes of inspiring more people to learn the craft and create patterns."If they really enjoy the class, then they will continue to do this technique, which means more people will continue to create patterns. This is what I want – to promote pattern lifestyle in Macao," she adds.
To prepare for each workshop, António mixes one of the key ingredients needed for paper-marbling – a thickening agent called carrageenan powder – with water, leaving the mixture to thicken for at least 10 hours. This ensures it will be ready for participants to add marbling pigments during the workshop.
On the day, she first teaches her students how to mix different marbling pigments on the surface of the water. Then they gently lower a piece of paper onto the surface and let it absorb the design. "Once the students feel confident transferring their designs to paper, I teach them how to apply [the design] to shoes or scarves."
"I have a few customers who have joined several workshops after trying paper marbling for the first time. They particularly love creating silk scarves, because they are a great gift," she points out.
"Most people also say the workshops are relaxing and pattern-making — looking at so many colours and the marbling process — feels like art therapy."  
Through her workshops, António hopes to inspire artists and fashion designers to embrace textile design. "If the market gets bigger, it will create more opportunities [for everyone]. This is the dream," she says. "There's a long way [to go] for this stardust to become a planet but at least it has some sparkles now." 
---
To find out more about Stardust Journey, shop for products or sign up for Stardust Studio's workshops, please visit www.stardustjourney.com. To visit the showroom, make an appointment via Stardust Journey's Facebook. Stardust Journey products are available for purchase at Macao Fashion Gallery on Rua de S Roque No 47 (near St Lazarus Church), the Wynn Palace gift shop and the Tria Spa gift shop at MGM Cotai.