Owl Man: Macao's first gin distillery takes off
Owl Man: Macao's first gin distillery takes off

Link copied
This month, the city's first homegrown gin brand, Owl Man, launched with high hopes to encapsulate Macao's spirit in a bottle.
The last time you ordered a gin and tonic in Macao, your bartender most likely offered a few big names from around the world. Maybe they suggested Hendrick's or Gordon's from London. Or perhaps they introduced you to Roku from Japan, Monkey 47 from Germany or Peddlers Gin from mainland China.
Now, however, you may be able to try a homegrown gin from Macao, thanks to husband-and-wife duo Daniel McAulay and Rebeca Fellini. The couple hopes to capture the city's spirit in a bottle with the newly launched brand: Owl Man, which bottled its first commercial batch of gin on 1 October. 
Coinciding with the brand's launch, we caught up with McAulay to hear about perfecting his gin recipe, his aspirations for the brand, and how the distillery could add a splash of local flair to Macao's hospitality industry.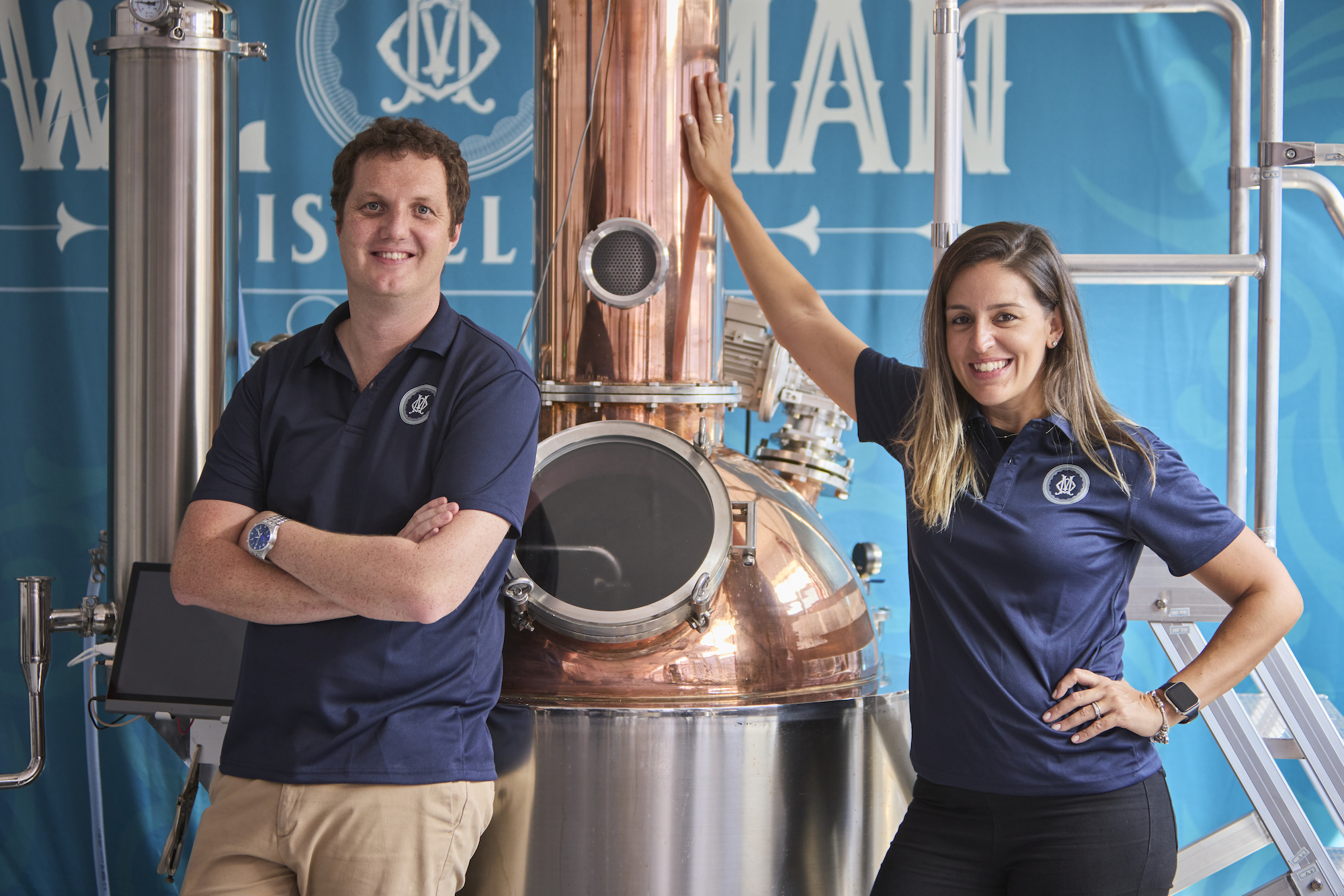 From Benedictine monks to Macao
Gin, which is distilled from grains like wheat or barley alongside juniper and other fragrant botanicals, dates back to 11th-century Salerno, an ancient town in southern Italy. According to Simon Difford of the globally respected cocktail publication Difford's Guide, Benedictine monks likely invented the spirit to preserve juniper – a medicinal plant believed to cure ailments like gallstones and kidney problems.
The spirit's healing streak continued in the 1800s during the British Indian Empire, when citizens and soldiers alike dissolved quinine – a bitter medicine for malaria – in carbonated water to create tonic water, then masked the flavour with gin, sugar and lime. As the story goes, that's how the gin and tonic was born.
Gin has fallen in and out of fashion in the decades since. But over the past 10 years, the spirit has enjoyed a renaissance with not-so-traditional variants, such as pink gin, flavoured gin and other creations entering the market. This new era of inventiveness has also made space for artisanal makers, like McAulay, who is new to the industry.
"I don't come from a distilling background at all, but I'm from New Zealand, which I guess is a very do-it-yourself country," says the 37-year-old, who moved to Macao in 2010 to work as a pilot for a local airline. "We're in the middle of nowhere, so everyone's kind of a jack of all trades. If you want something done, you normally end up doing it yourself."
What's gin a name?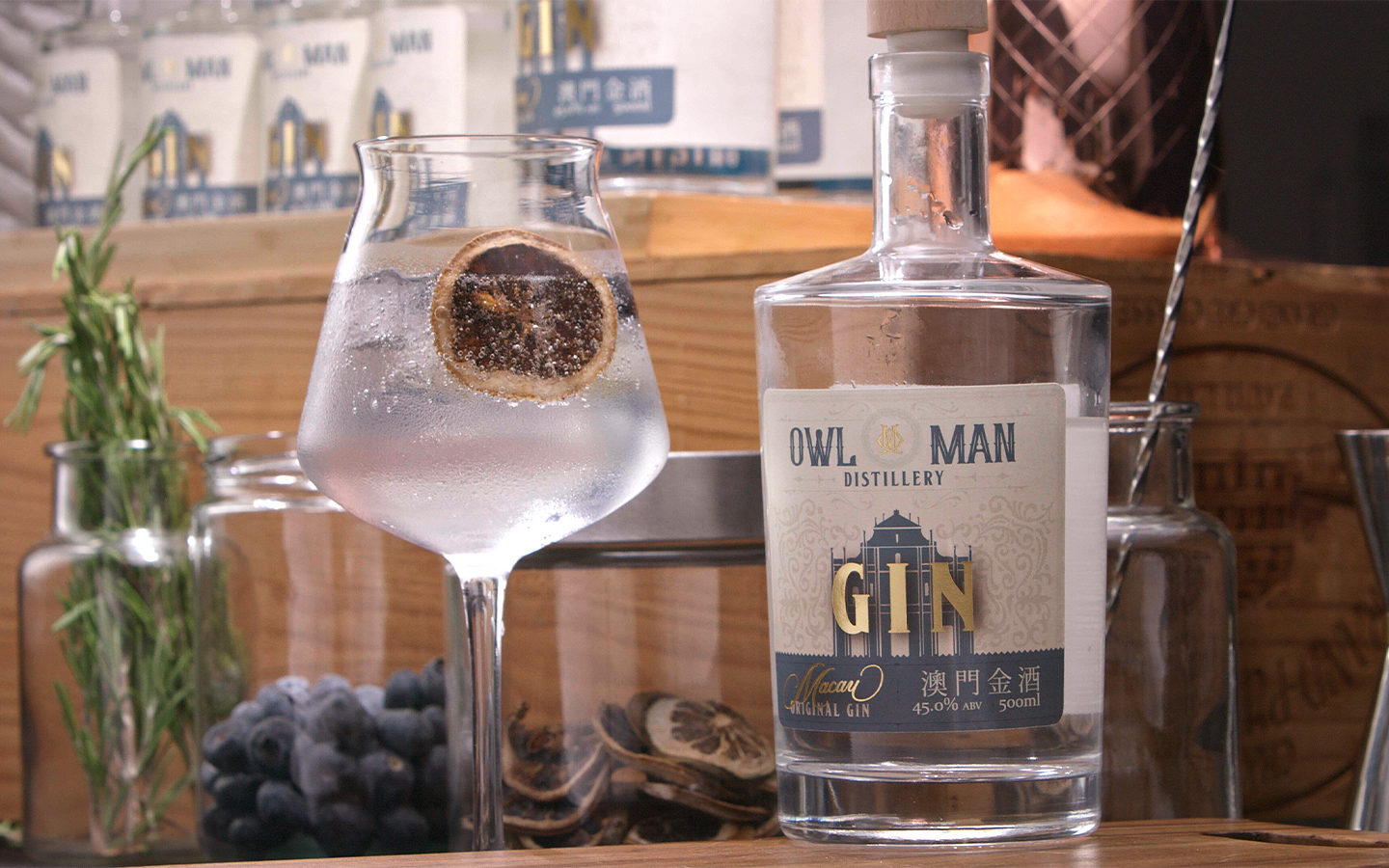 A fan of craft beer, McAulay missed the artisanal brews he drank back home, so he started brewing his own beer in Macao in 2014. 
He experimented with many different flavours and shared his creations with friends, but brewing beer remained a hobby. In 2019, McAulay felt ready to dabble in something new. At first, he considered whisky but ultimately chose gin. Not only is gin easier to distil but his wife, Fellini, who is the company's co-founder and head distiller, prefers it to other spirits.
What's more, McAulay believes Macao is the perfect place to introduce a homegrown gin brand. With a rich history of using medicinal herbs, mainland China grows some of the finest botanicals in the world. "We have access to some of the best-quality stuff for a fraction of the price," says McAulay. "We're lucky because in the rest of the world, it might cost 10 times as much." 
When it came time to name the brand, McAulay wanted to capture the local spirit – quite literally. He chose "Owl Man" – a play on the anglicised pronunciation of the Mandarin word for Macao, 澳門 or aomen. Why? When anyone asks what he's drinking, McAulay wanted to be able to say: Macao gin, or aomen gin. 
Perfecting the recipe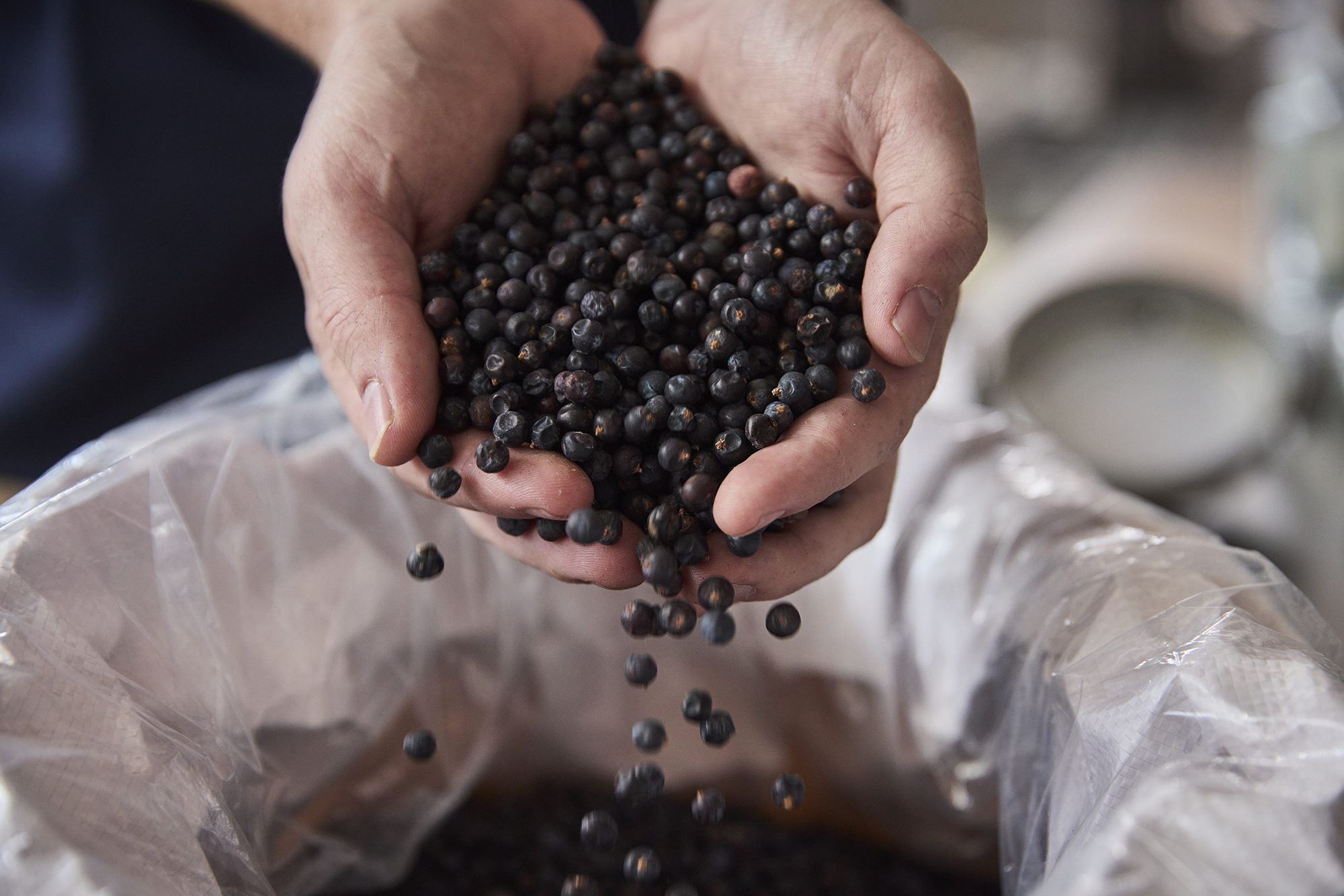 Owl Man's debut gin is the result of "hundreds" of different recipes that McAulay and Fellini refined over the past two years. "I've made a couple of really strange ones, like a Christmas gin [flavoured with cinnamon]," he adds.
For the brand's launch, however, McAulay and Fellini developed a nuanced, understated recipe that pairs well with a classic tonic. A reflection of Macao's history as an international crossroads, the spirit uses an array of different botanicals sourced locally and globally, such as juniper berries from Hungary and grains of paradise (a minty pepper with hints of lavender) from Guinea-Bissau. 
The couple also incorporated several unusual ingredients, such as angelica root and licorice root – both from the high mountains of mainland China's Gansu province. Angelica root is particularly distinctive, with a punchy earthy, sweet and bitter characteristics.  
Meanwhile, they added botanicals like cardamom, rose, grapefruit and tangerine peels which develop layers of complexity to the drink. And naturally, he could not pass on the chance to infuse Macao's symbolic lotus flower into the brew, too. 
When sipping Owl Man neat, McAulay says the spirit opens with a zesty citrus aroma and a burst of juniper, then develops a woody hint thanks to the angelica and licorice roots, and finishes with another hint of crisp citrus.
"It can be hard to find a nice tonic in Macao, so you're pretty much stuck with what's in the fridge," he says. "We've designed [our gin] so you can get yourself any tonic, pour it in, and you'll have yourself a really good gin and tonic. That way, you're an instant mixologist at home."
Bottles

up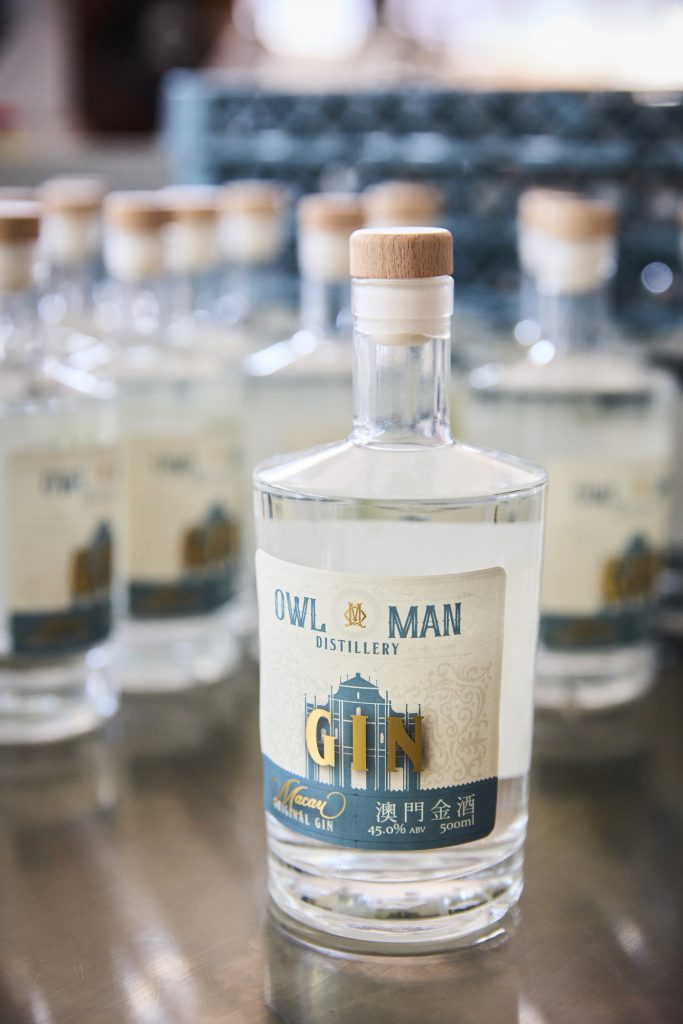 Owl Man is distilled in a 1,000-square-foot space in an industrial building in Pac On where the star of the show is "Stuart" (named after the famous Minion), a custom-made copper still that makes the production process as efficient as possible. 
"We wanted a still, which is 'traditional' but we also wanted the option to make a 100 per cent vapour-infused gin. Only around 10 distilleries worldwide do this," he says of the custom-made still. 
To make their gin, McAulay and Fellini follow a traditional double-distilling process using his special column still, which allows for continuous distillation. First, they use cassava to make a highly concentrated neutral alcohol. Then, in a process called maceration, they infuse the liquid with juniper berries and selected botanicals. The couple then adds more botanicals and distils the spirit a second time using a vapour infusion system for a more delicate, aromatic result.  
Still in its early days, the company plans to produce 500 ml bottles, which will be distributed in local supermarkets and bars. In terms of pricing, McAulay says his gin will be "more expensive than a bottle of Bombay Sapphire but cheaper than Monkey 47" putting it somewhere in the range of MOP 300 to 400. 
In addition to larger bottles, Owl Man also plans to produce smaller, 100 ml and 50 ml bottles for hotels to stock in their minibars or for travellers to purchase as souvenirs. The company already has an agreement with Galaxy Entertainment Group in place and several other projects in the works, including a custom "Quarantine Survivor Gin", created exclusively for the Grand Coloane Resort. 
"I can't wait to see it on shelves and to go on a staycation and see local liquor in the minibar," McAulay says. "I don't see this as my contribution to Macao, but I see it as something that Macao should have. Scotland has scotch and America has bourbon. If Macao became the city with 'that good gin', that would be an awesome dream."
---
To be among the first to try Macao's only locally distilled gin, check out Owl Man's website and Facebook for updates on retail points. To reserve a bottle, contact Windus Lam of Wins Honor at [email protected] or (853) 6380 2228.