Ohte Ramen: Crafting a luxurious ramen experience at Four Seasons Hotel Macao
Ohte Ramen: Crafting a luxurious ramen experience at Four Seasons Hotel Macao

Link copied
Ohte Ramen at Four Seasons Hotel Macao has perfected its own interpretation of ramen that's simmering with complexity, subtlety and skill.
"I've been told that my ramen is not traditional," says Four Seasons Executive Chef Benjamin Lim. "And I say, 'Of course it isn't! Because I'm from Singapore, not Japan!' If you want something super traditional, and very Japanese, you're looking in the wrong place. But that's what makes us different."
Ohte Ramen, set inside the former Bar Azul at Four Seasons Hotel Macao, was originally scheduled to open in early 2020. After almost a year of setbacks due to the Covid-19 pandemic and recipe experimentation, the restaurant finally opened its doors in February 2021 – and the wait has been worth it.
The first challenge? Finding a chef. Reason would say if you are planning to open a ramen restaurant then you need a ramen chef, so Lim set out to find the right person.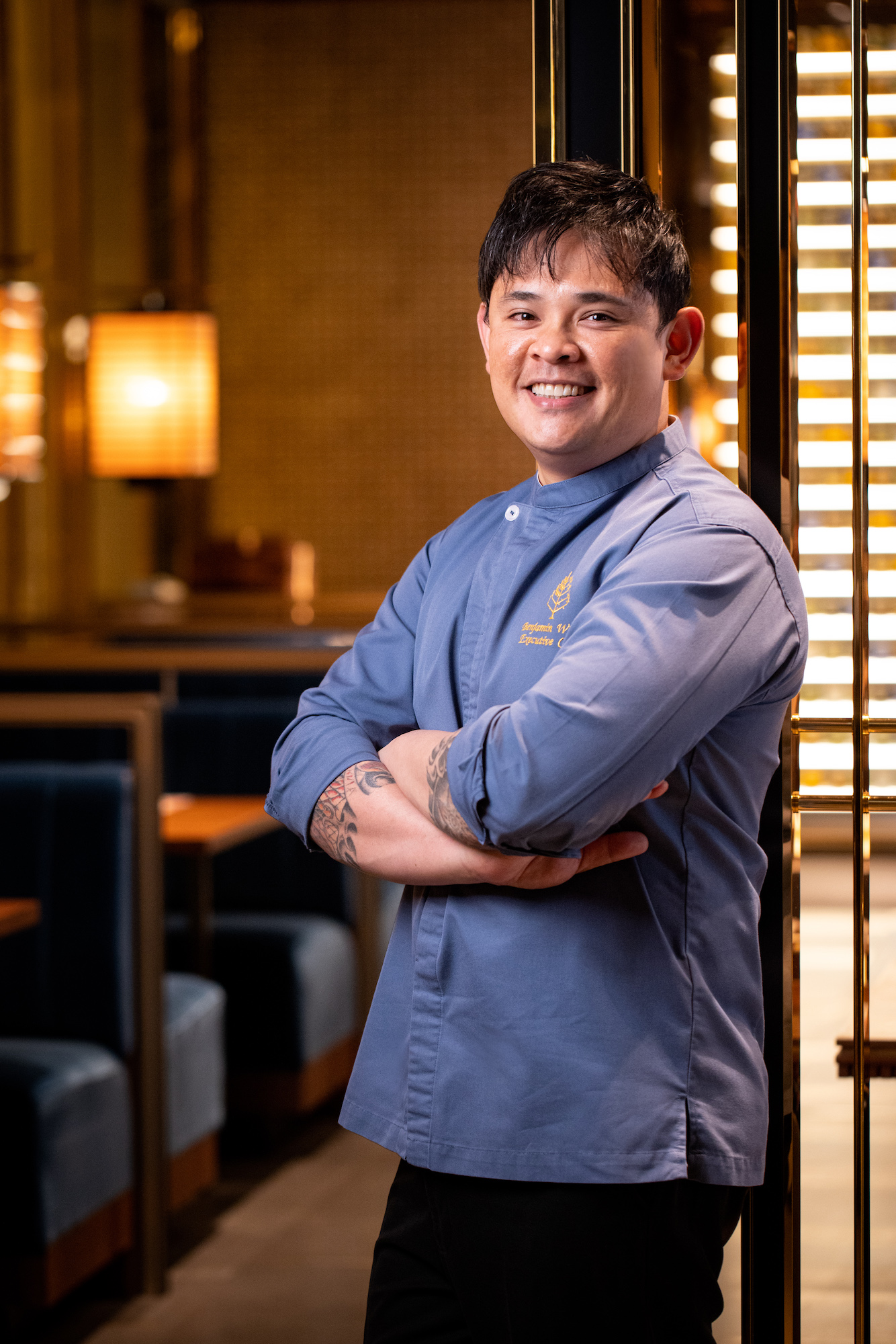 "It wasn't as easy as we thought," he says. "Most ramen chefs in Japan own their own restaurants and don't want to leave. We finally found our guy, a chef who had been working in the first Michelin-starred ramen restaurant in Japan."
The executive chef was all set. That is, until the pandemic slammed international borders shut, leaving their ramen chef stranded in the US. Scrambling to make the restaurant's opening date, Lim and his team concocted a new plan: what if they made the ramen themselves? After all, it's just a simple bowl of noodle soup. Or so they thought. 
"Just a bowl of soup couldn't be further from the truth," says Lim, who spent the next 10 months poring over ramen books and steaming pots of broth to perfect his recipes. "I bought every book on ramen that I could find on Amazon and watched hours and hours of videos online. I was obsessed."
A quick study
Aspiring chefs and restaurateurs usually spend five years learning the ramen trade and a lifetime honing the craft. Lim was short on time – and assistance. 
"Nobody wanted to help me," says the Singaporean chef. "Ramen chefs all have their own recipes but they are secret. Of the recipes I came across, not one was the same, and I tried every single one of them. I was cooking soup four times a week for 10 months trying to get it right. It was good soup, but it wasn't ramen."
Considered the body and soul of the dish, the broth is the most important element. If the ramen is to be any good, the broth must be done right. After many failed incarnations, Lim took the advice of a fellow chef to boil the broth on high heat – the antithesis of the French technique that Lim had learnt as a student.
"Boiling [broth] was just completely foreign to me," he says. "I am classically French trained, and bones and meat are simmered very slowly to get a clear broth. If you boil it, the protein and collagen burst and make the broth cloudy." 
The boiling technique seemed to work at first. But soon, the broth and vegetables turned a brown colour. And no matter what they tried – shortening the cooking time, straining when white, or cooking without vegetables – the soup was inedible.
Lim and his team were five months into their ramen journey when they discovered an essential piece of information: the key to a great ramen broth is clean bones.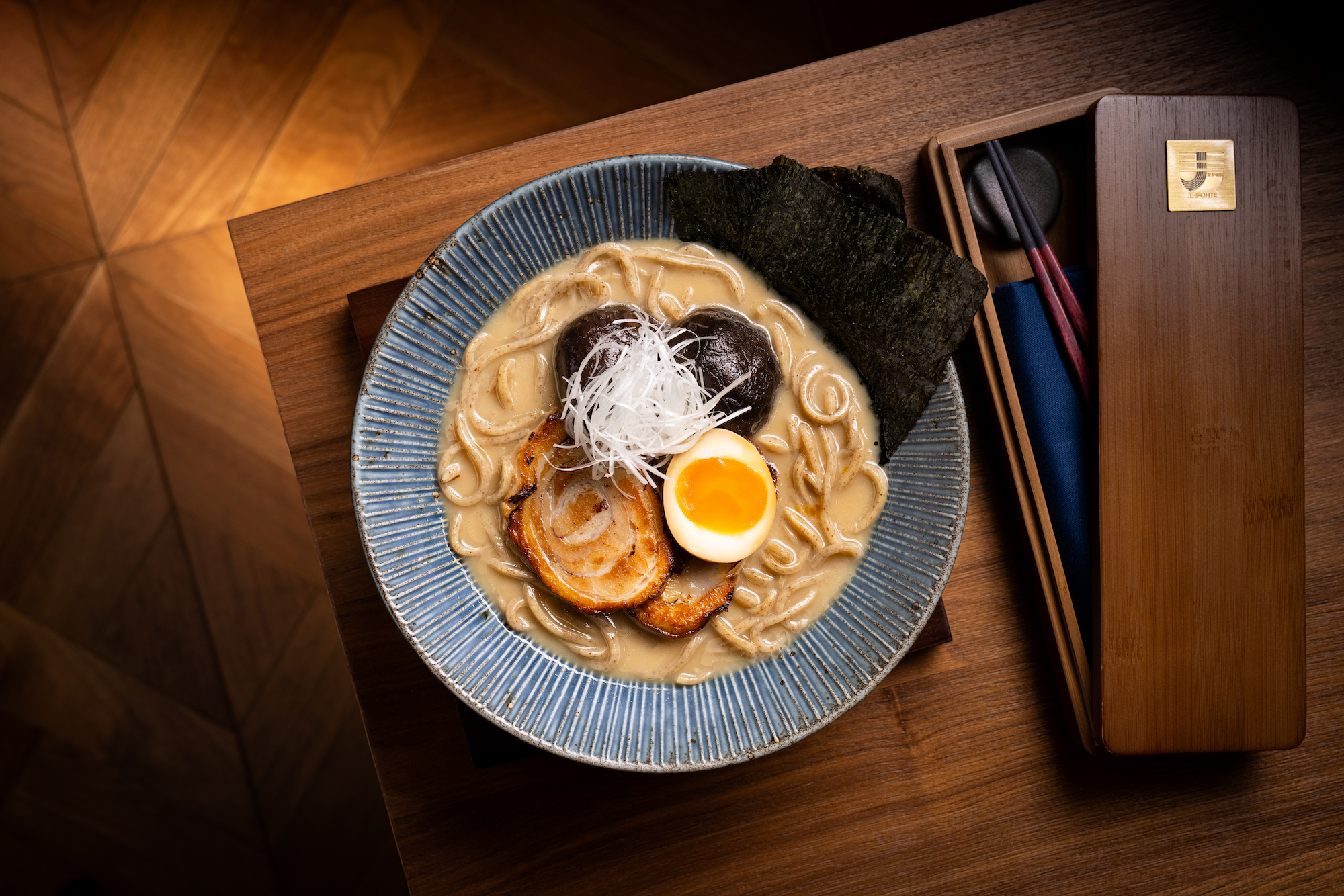 "Bones have blood and impurities in them," he says. "Of course, we had to get rid of that first." After blanching the bones in boiling water, they rinsed the bones before boiling them again for more than 30 hours, producing a flavourful, milky, rich broth.
If the broth is the heart and soul, Lim explains, then the noodles are the backbone. "You can buy ramen noodles, but they are nothing special," he says. "So I fell down a rabbit hole of noodle making. Ramen noodles should be chewy and bouncy, and not dissolve into mush in the soup." 
Lim experimented with eight different flour varieties (from Japan, France and the US), as well as six types of water (all imported from Japan),  trying every possible combination before he created the perfect noodle. With the broth and noodles finally sorted, Lim was left with figuring out the finer details, like ramen toppings. 
He learned how to cut leeks, choose spring onions and hard-boil perfectly round eggs without that little dent (use a needle and pierce the shell before cooking, he advises). After a long 10 months, Lim and his team finally had their bowl of ramen – the result of careful consideration, countless ingredients and protracted cooking processes. 
Once he had his base, the chef expanded to include six different types of ramen on the menu. Diners can choose from classic options such as rich and creamy Tonkotsu with slow-cooked pork belly; Tantanmen, starring a spicy pork broth and minced pork; or Shoyu, with slow-cooked pork shoulder in chicken and soy sauce broth. 
The list continues with less common variations, such as Shio, featuring slow-cooked pork shoulder in chicken and sea salt broth; Tsurai Tori Katsu Mazemen, with crispy Sichuan-spiced chicken cutlets in rich pork broth; and Ohte Seafood, packed with live "Green Rock" lobster, Hokkaido scallops, abalone, crab and miso broth, and kombu (kelp).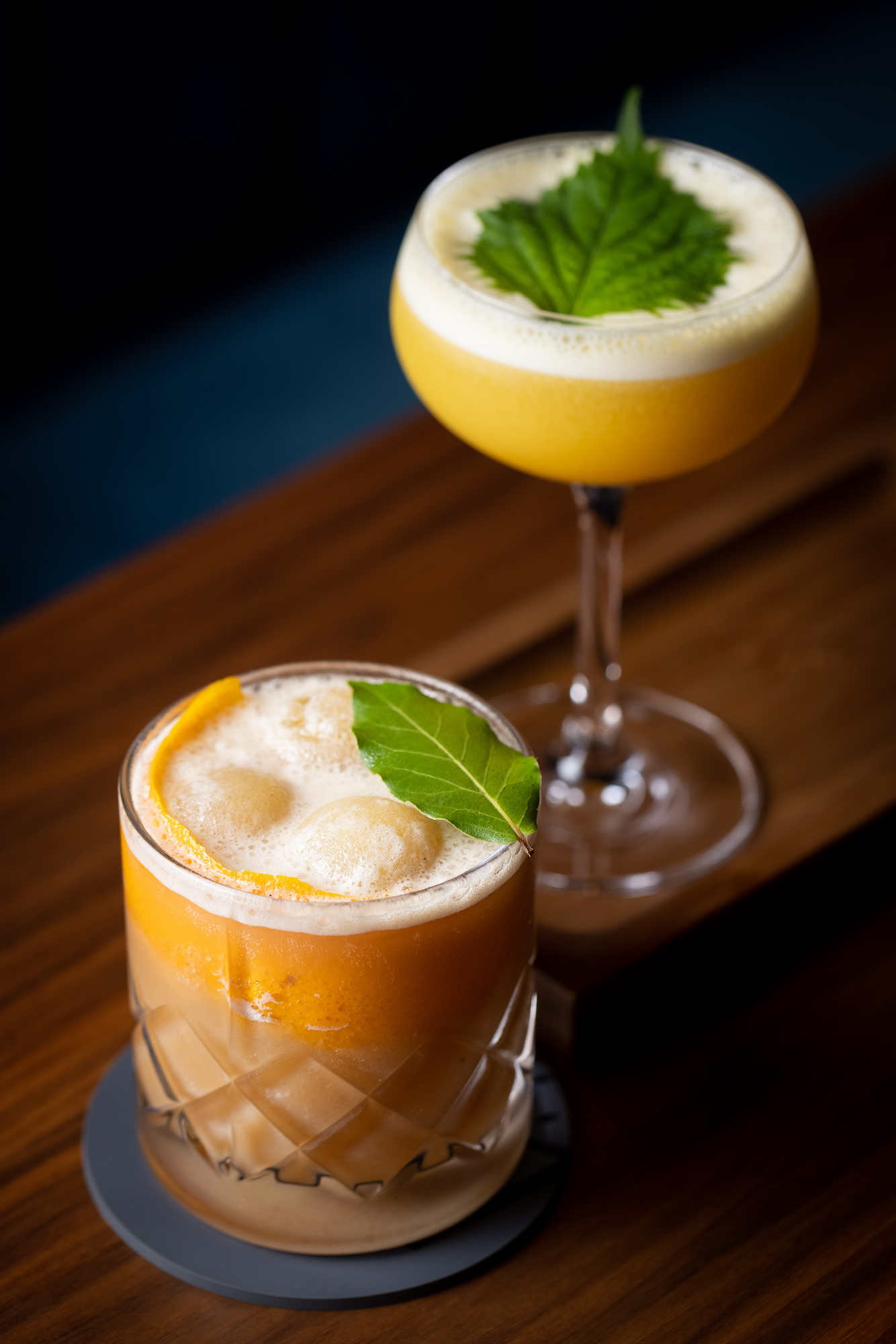 Room to experiment
Perseverance is nothing new to Lim.  He joined the army against his parent's wishes, attended culinary school, then cut his teeth under highly demanding chefs in Singapore. 
Eventually, Lim's hard work paid off, and he soon entered cooking competitions. Singapore even selected the young chef to represent the city-state in the IKA/Culinary Olympics (the world's oldest and largest culinary competition). "I had to prove myself constantly," he says. "But suddenly people started respecting me." 
And while some may say that Lim's creation is not "traditional" ramen, one could argue that "traditional" is a loose term when it comes to this iconic Japanese dish, which has been a part of the country's culture for about a century. Experts believe ramen was originally introduced by China in the 19th century, then brought to Japan via Chinese tradesmen in 1910. Since then, ramen has become synonymous with Japan.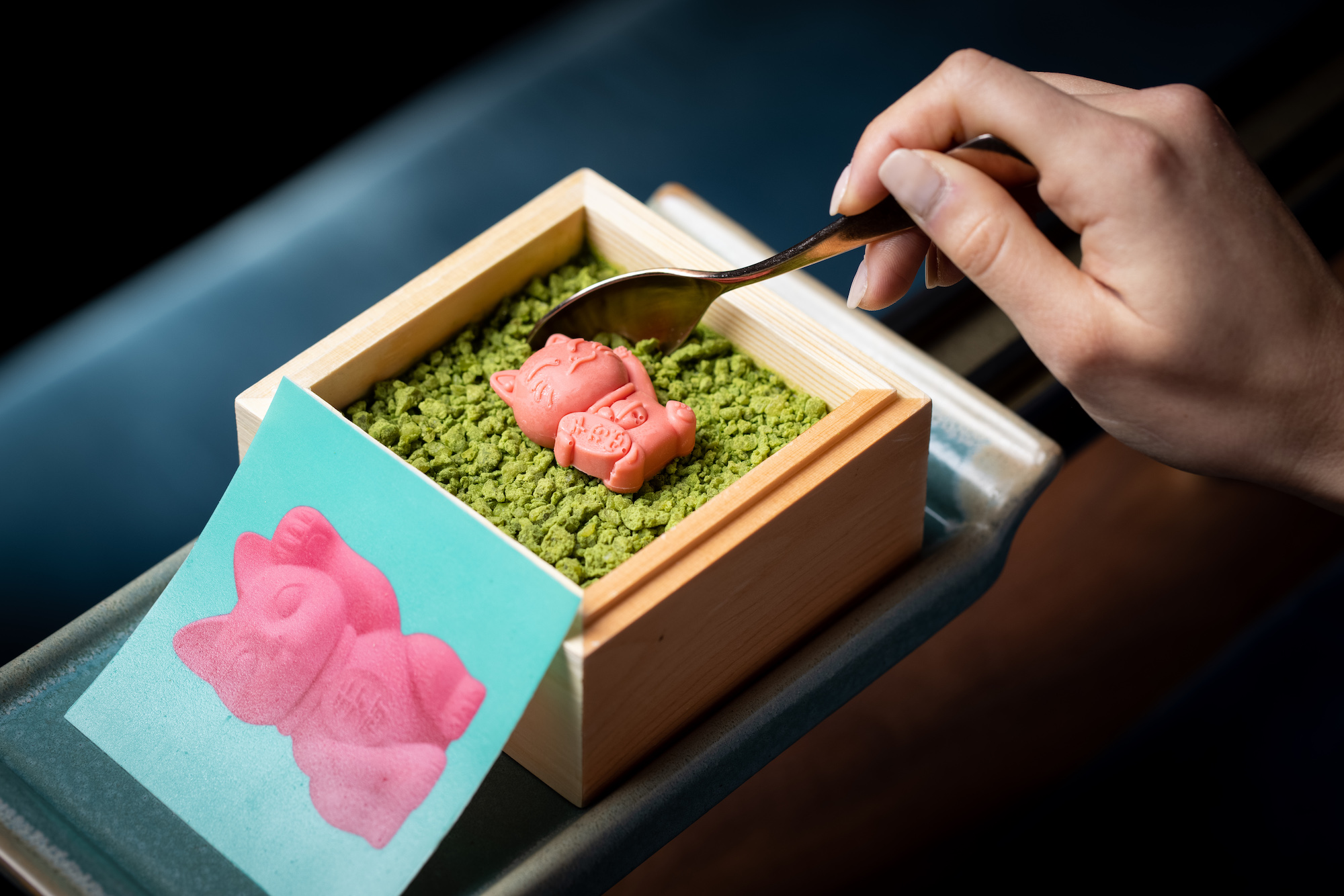 Once simply a staple of the Japanese working class, the noodle soup has now become one of the world's most popular foods. Tokyo alone is home to over 10,000 ramen-ya (ramen shops), many of them with lines snaking out the doors and racking up Michelin accolades. 
Since ramen is relatively new to the country's repertoire, there's still room for ramen chefs to have a certain freedom of expression. Unlike sashimi or tempura, there's no one way, nor an overly rigid set of rules, to prepare a bowl of ramen.  
What's more, the dish differs from region to region. Diners at Ohte Ramen can indulge in the most popular tonkotsu (rich pork broth), shoyu (chicken soya sauce broth), shio (chicken sea salt broth), tantanmen (spicy pork broth) and seafood ramen.  
Usually a pretty casual dining affair, ramen often makes for a quick meal in Japan. But at Ohte Ramen, guests are encouraged to enjoy their bowls of piping hot broth and silky noodles at a more leisurely pace. "Ramen is traditionally an on-the-go type of meal," says Lim. "Here it's much more of a dining experience."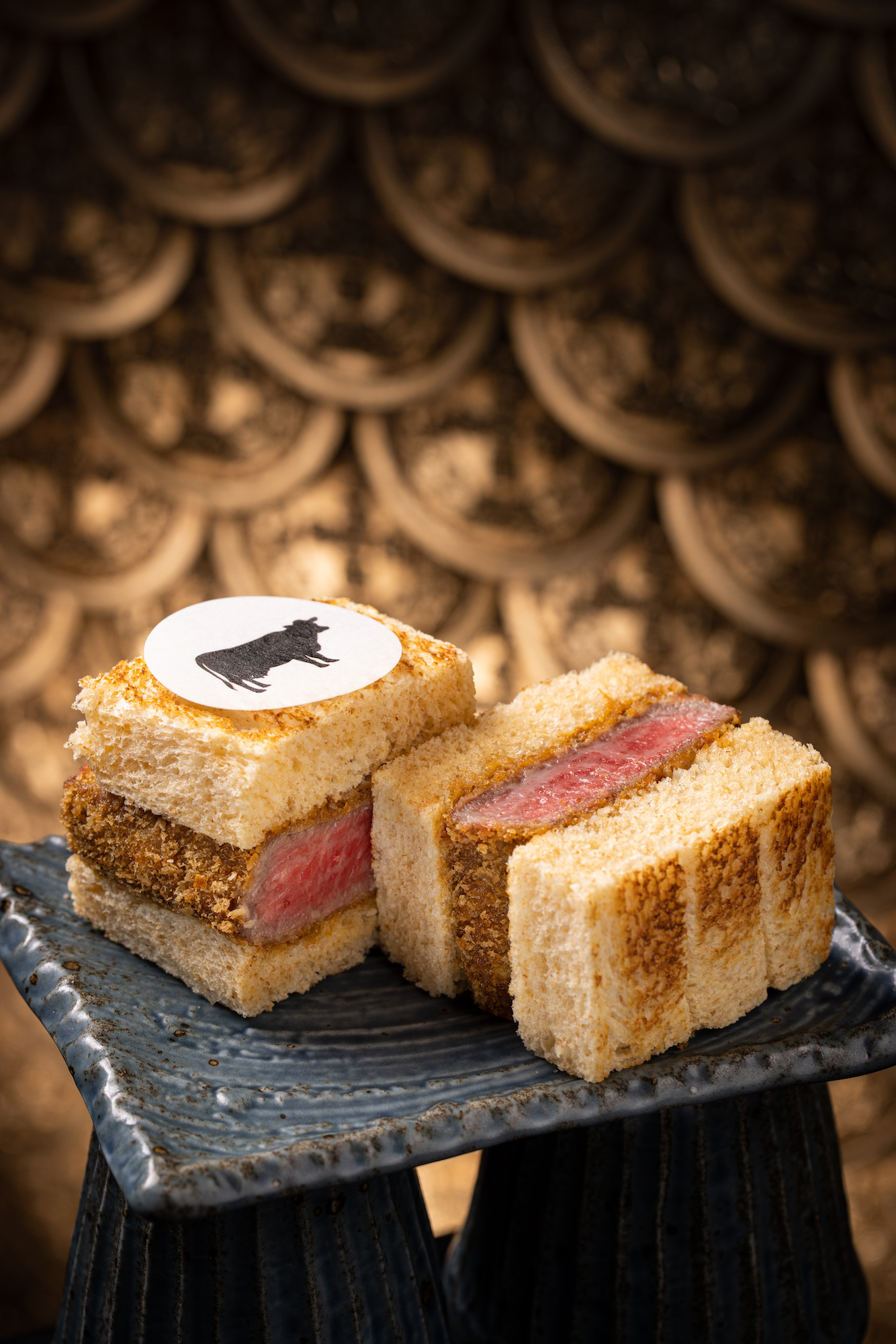 Diners can take a seat at the wooden bar to watch the chefs at work, or sink into the blue velvet booths to linger over their bowls of ramen. Also on offer is the Wagyu beef sandwich, gyozas, tori karaage truffle (Japanese fried chicken with truffle dressing), edamame and chilli prawns, along with a drinks menu featuring craft cocktails and sake pops. 
"I think the reason we were able to create this ramen is because we are not stuck in a box," says Lim.  "If you keep yourself in a box, you cut yourself off from exploring other opportunities and creating great things."
Lim's penchant for experimentation and rigorous dedication to research, test, and perfect each dish have become the foundations of Ohte – a restaurant that doesn't promise to be "Japanese" or "authentic" but brings flavour, quality and craftsmanship to the table.