Mindful moments: Reconnect with your mind, body and spirit in Macao
Mindful moments: Reconnect with your mind, body and spirit in Macao

Link copied
Curious about meditation? Local author, yoga teacher and wellness consultant Lou Lou explains how to practise mindfulness while visiting Macao and kick-start a daily routine.
As we slowly emerge from the mentally and physically taxing Covid-19 era, many people are returning to travel with wellness at top of mind. Some crave healthy cuisine and immersive natural experiences, while others hope to find clarity, connection and a sense of transformation.
"Before [the pandemic], we could escape somewhere and return thinking we were fine. But problems just piled up within. We had nowhere to go [due to Covid-19 restrictions], so we became more conscious of our physical and mental health," says Hio Lou Chang (who goes by Lou Lou), a Macao author, yoga teacher, wellness coach and consultant. 
In Macao, visitors will be pleasantly surprised to find a small but growing community of practitioners dedicated to helping people reconnect with their minds and spirit. As one of the city's wellness pioneers, Lou Lou is a local ambassador for athletic apparel brand lululemon and one of six global experts on the Mandarin Oriental Hotel Group's wellness advisory council. She also collaborates with beauty brands, such as La Mer and Sulwhasoo, and luxury properties, like Mandarin Oriental, Macau, to lead tailored meditation and mindfulness events. 
At her wellness studio, Space Within, located opposite the Macao Cultural Centre in NAPE, Lou Lou guides a wide range of activities, such as yoga, mindfulness, singing bowls and various styles of meditation. She also holds singing bowl meditation courses for groups from mainland China and has travelled across Asia to guide students on personal journeys.
"A growing number of people are seeking wellness experiences," Lou Lou observes, "and particularly singing bowls meditation is extremely popular in China now." However, she notes that such experiences can be less accessible for people outside major cities like Beijing and Shanghai. Macao could potentially fill that gap for the wellness curious – something she's been working towards. Whether planning a wellness getaway in Macao or dabbling at home, Lou Lou shares a few simple ways to incorporate mindfulness and meditation into your routine.
Learn to meditate anywhere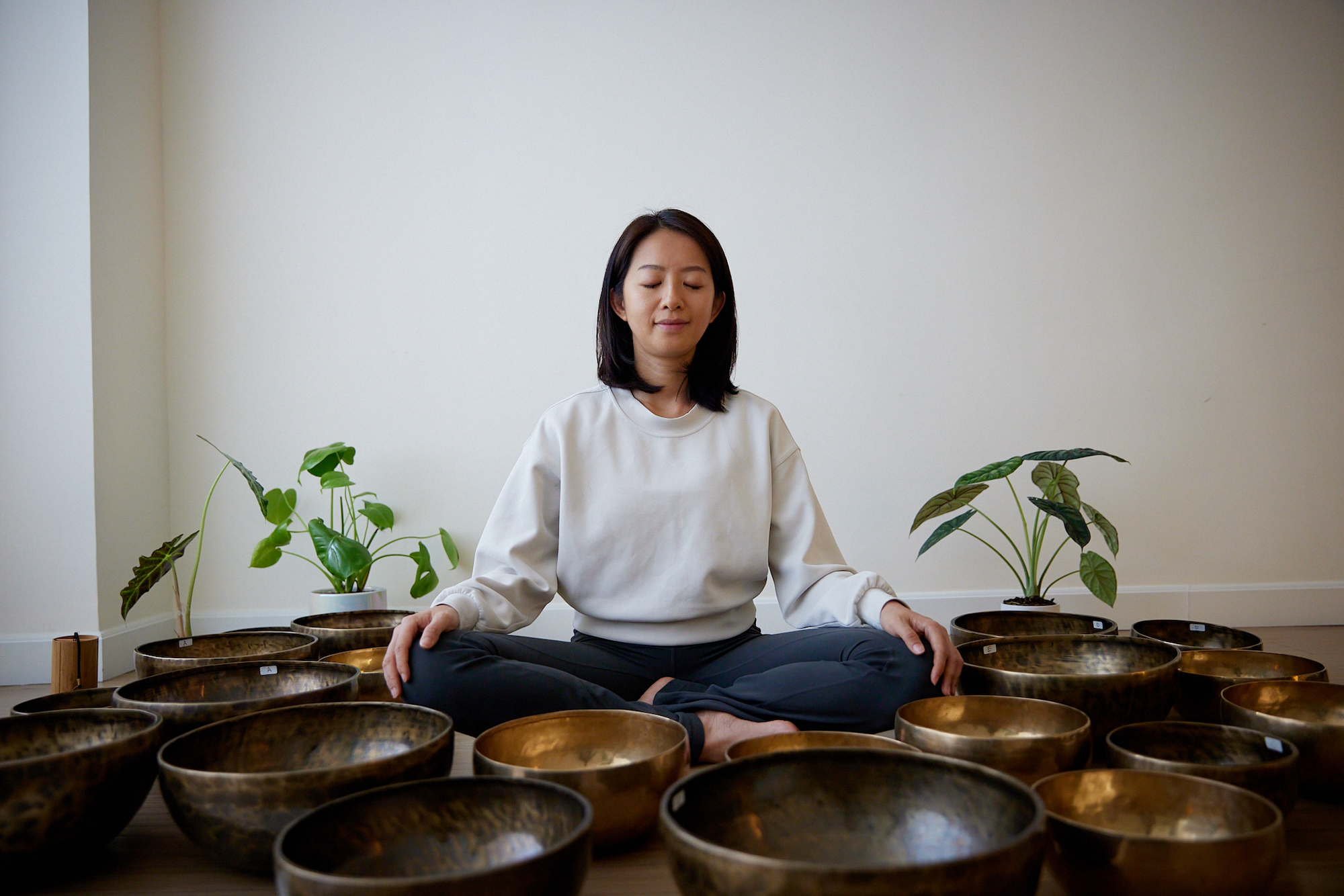 Thought to have emerged in India around 1500 BCE, the ancient practice of meditation is considered one of the best ways to reconnect with yourself and find a sense of peace. It can help promote healing and self-esteem and has been proven to improve focus and concentration while reducing stress and anxiety. 
Contrary to popular belief, you don't have to sit still to meditate, although you can do so if you wish. Meditation can be performed anywhere, anytime, says Lou Lou. "People can focus on their breath and body sensations to practise mindfulness meditation. In fact, they can incorporate it into their daily lives and practise it while doing the most mundane tasks. 
"The most important thing is to find a focus point, which could be textures and sensations." 
While on a bus or a plane, for example, people can tune in to each of their five senses and appreciate their surroundings with intention, resisting the urge to scroll through their phones, she suggests. The aim is to be aware and accepting of the thoughts, feelings and sensations you experience while staying in the present moment. Over time, many people feel more receptive, calm and in touch with themselves. 
Find the right fit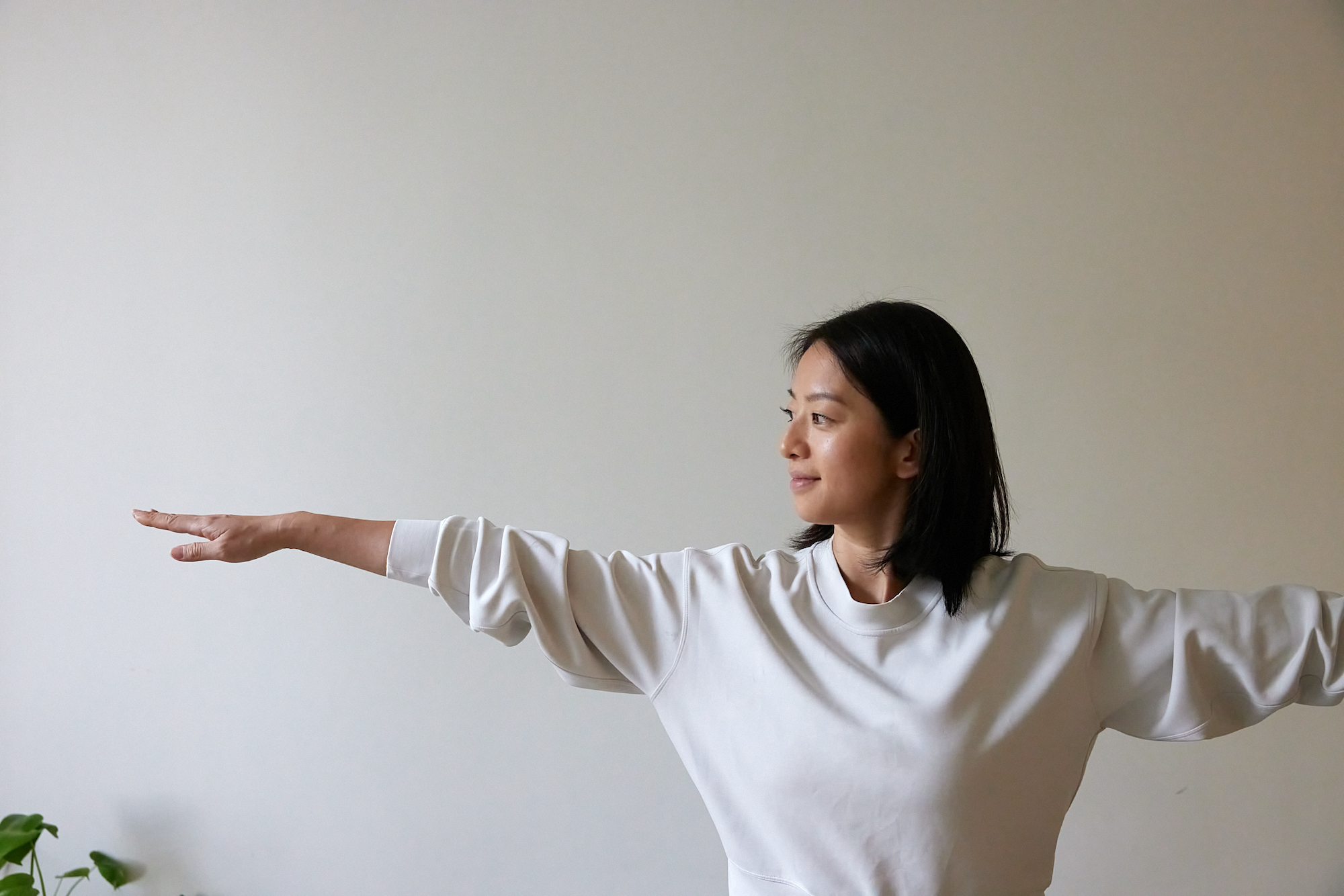 There are many ways to meditate, from visualisations and chanting to guided body scans (a head-to-toe sensory survey of the body), sound baths and chakra meditation. The latter aims to activate, open and balance the seven chakras (crown, third eye, throat, heart, solar plexus, sacral and root chakra).
"Some people are more visual; some have a stronger sense of hearing; some do better with touch," she says. Yoga can even be a form of meditation. "The main goal of yoga is to stay in the present moment – to be mindful of how our body feels at a very subtle level," Lou Lou says. 
She teaches vinyasa yoga, often called vinyasa flow – a style where each pose flows seamlessly into the next – at her studio. Opened in May 2022, Space Within offers a wellness haven in the middle of the bustling city. The dimly lit, soothing space sports a neutral, clean design where you'll find yoga mats, thriving plants and a circle-shaped lamp that evokes oneness. 
In addition to yoga, Lou Lou is also partial to singing bowls, which produce rich tones that promote deep relaxation. "To me, singing bowls are the easiest approach to meditation," says Lou Lou. "As the bowl sings, its frequency, sound and vibration pull people back to the present moment, as if they were blissfully trapped in a sound bath."
Spend time in nature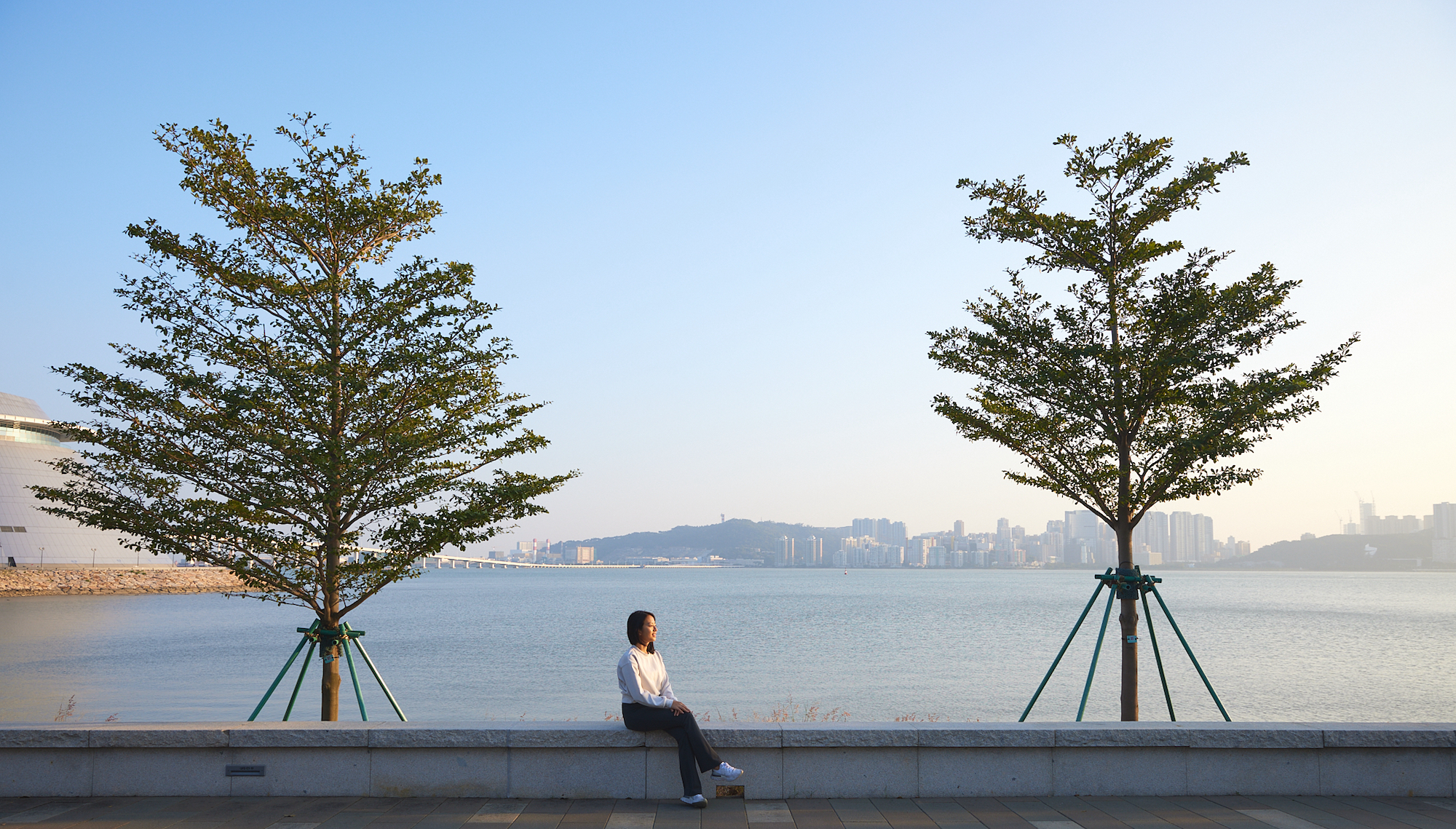 It's easy to get caught up in the break-neck pace of city life, especially when you're exploring a new place. For a boost to your well-being, Lou Lou encourages travellers to reconnect with nature as often as possible. 
According to ancient alternative medicine practices, such as Ayurveda and Traditional Chinese Medicine, simply being outside can help people heal. According to these practices, our bodies blend the five elements in nature – earth, water, fire, wood and metal (or earth, water, fire, air and space in Ayurveda) – and our elements must remain in harmony for optimal well-being. "When we're out of sync with nature, we tend to get sick more easily," Lou Lou says. 
A slow-paced walk on Ha Sa Beach, in Coloane, while practising "open awareness meditation" – where the mind floats to the sounds and sensations in the space around you – would be an ideal way to immerse yourself in nature. Lou Lou suggests focusing on how the water feels as it rushes over your feet or how the sand feels beneath your feet while absorbing the aroma of the ocean.
Meanwhile, one of her favourite places for a meditative hike is the Long Chao Kok trail, set along the sea in Hac Sa. Lined by large rock formations, the path offers endless views of the ocean, making it incredibly peaceful, especially during dawn or dusk. "With open awareness, your focus shifts continuously. You might focus on the sun first, then move to focus on how the wind feels on your face or the sound of singing birds," explains Lou Lou. "Finding these focus points allows people to be fully present, and at the same time, avoid obsessing over the past and worrying about the future."
Reconnect with yourself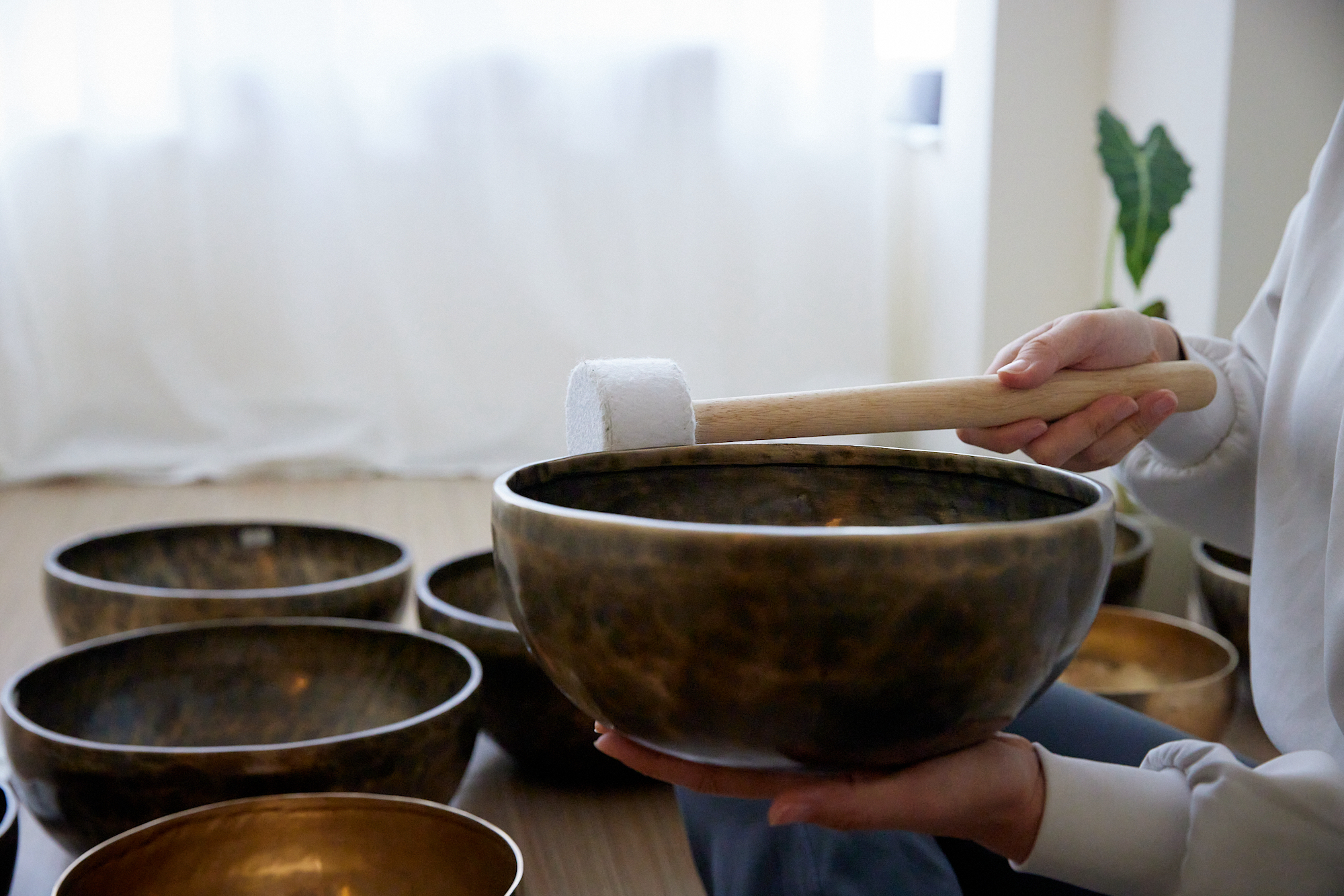 Mindfulness, yoga, open awareness meditation, and being in nature are all powerful tools. But to get to the root of stress and negative emotions, Lou Lou suggests going deeper and learning how to self-heal.  
Her five-week "Seek Within" class, for example, combines many different practices –  meditation, singing bowls, self-healing and chakra-healing – to "heal our inner child", tap into the subconscious, and investigate why we feel or think the way we do. 
During the programme, Lou Lou says the goal is to accept and love every part of yourself. "The good and what you perceive as the bad, including what you've been trying to hide from people around you," she adds. "What you resist [to share] persists. It's like mould growing in our bodies." 
For those on a shorter break, Lou Lou also offers one-off classes and intense one-week courses on meditation, yoga and singing bowls at Space Within. Whether you try a relaxing singing bowl session or embark on a more immersive programme, Lou Lou encourages you to embrace mindfulness in Macao.
"Once you get a taste of the benefits of daily mindfulness practices, you won't go back. You start looking at things more clearly – without mental fog." 
---
On your next trip to Macao, make the time to reconnect with yourself by attending one of Lou Lou's courses or sessions.