Macao's only vegan handbag brand stitches together minimalist style and sustainable efforts
Macao's only vegan handbag brand stitches together minimalist style and sustainable efforts

Link copied
Entrepreneur Xenia Wong weaves environmental awareness into the local fashion industry with O.N.E Concepts, Macao's sole fully vegan fashion brand.
Walking into O.N.E Concepts in Macao's charming historic district, near St. Lazarus' Church, you'll find a haven of minimalist design and shelves stocked ever so carefully with what appear to be chic leather handbags. But looks can be deceiving. 
The local design boutique crafts luxury bags, shoes and accessories that are totally vegan – meaning they are free of any animal products, including leather. Once a symbol of quality, status and prestige, leather has lost its lustre among some demographics who increasingly associate the material with animal cruelty and environmental damage. 
Indeed, the global synthetic leather market is now a US$63 billion industry and is expected to grow at a compound annual rate of 4.4 per cent through 2025 with the greatest demand coming from Asia-Pacific. "We have noticed an increased awareness of the climate crisis. Many people, especially younger generations, want to contribute to sustainability," says O.N.E founder Xenia Wong.
Mainland Chinese consumers have been a force of change in the region. A recent study by the non-profit Material Innovation Initiative, conducted in collaboration with North Mountain Consulting Group, revealed that 90 per cent of Chinese consumers surveyed preferred leather alternatives. 
Hoping to provide a more ethical and sustainable alternative to animal leather across Greater China and beyond, Wong and her husband, Simpson Lee, who is also the brand's director, transformed their designer leather handbag label into an entirely vegan operation in 2020. 
"Our vision is to inspire the fashion industry's pivot towards a planet and animal-friendly state," says Wong. "At our core, we do not believe fashion should come at the expense of sacrificing the health and wellbeing of the planet and animals."
Bidding adieu to animal products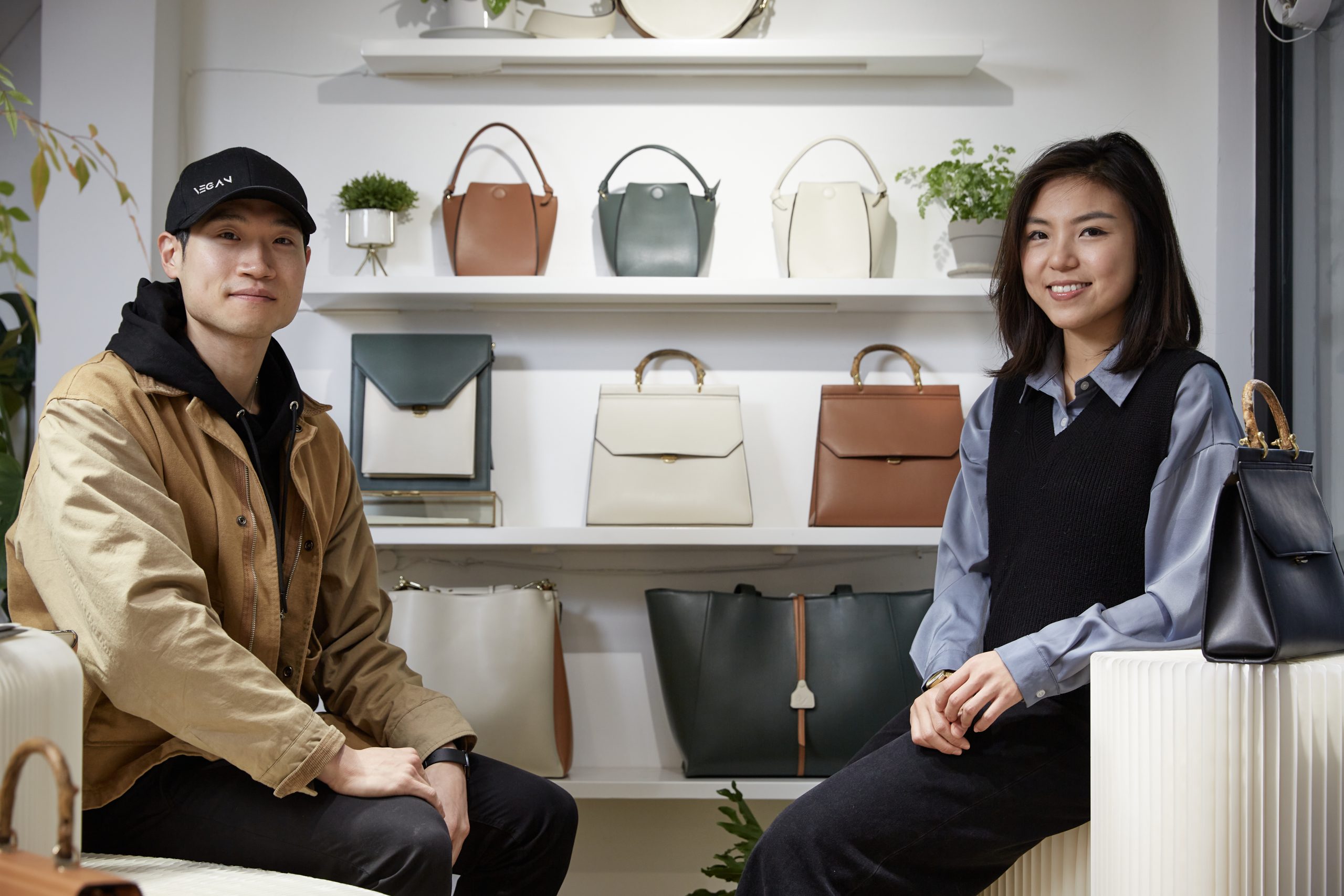 In 2015, Wong and Lee quickly made a name for themselves with a collection of leather handbags – a notable achievement for any start-up in the multibillion-dollar industry. But they had an epiphany a few years later. 
"In 2019, we were travelling in Scandinavia and came across a petition to ban the trading of dog meat in Vietnam. After signing the petition, we realised we were being hypocritical. This led us to do a lot of research and ask ourselves questions, trying to justify why it was okay to eat one animal and not another," says Wong. "About two weeks later, we both went vegan. We wanted the company to align with our personal vision, so in 2020, we rebranded the company as a 100 per cent pure vegan brand." 
To their surprise, the move garnered international attention. British Vogue, Vanity Fair and Cosmopolitan featured O.N.E's designer bags, raising the Macao label's profile and strengthening its identity. "Before, we were just another genuine leather bag company; now, we are unique. We are the only pure vegan handbag brand in Macao," says Wong.
While adopting a vegan diet was easier than Wong or Lee imagined, setting up a vegan business proved more challenging. At first, the pair struggled to find the right products to replicate the look and feel of animal leather while maintaining luxury standards. For their bags, they ultimately chose microfibre leather made in mainland China, which replicates the texture of animal skin. 
Using this supple material as a base, they added a high-quality plastic called polyurethane to replicate the feel of genuine leather. The end result? Flexible, scratch- and water-resistant bags that still look and feel premium. 
Less is more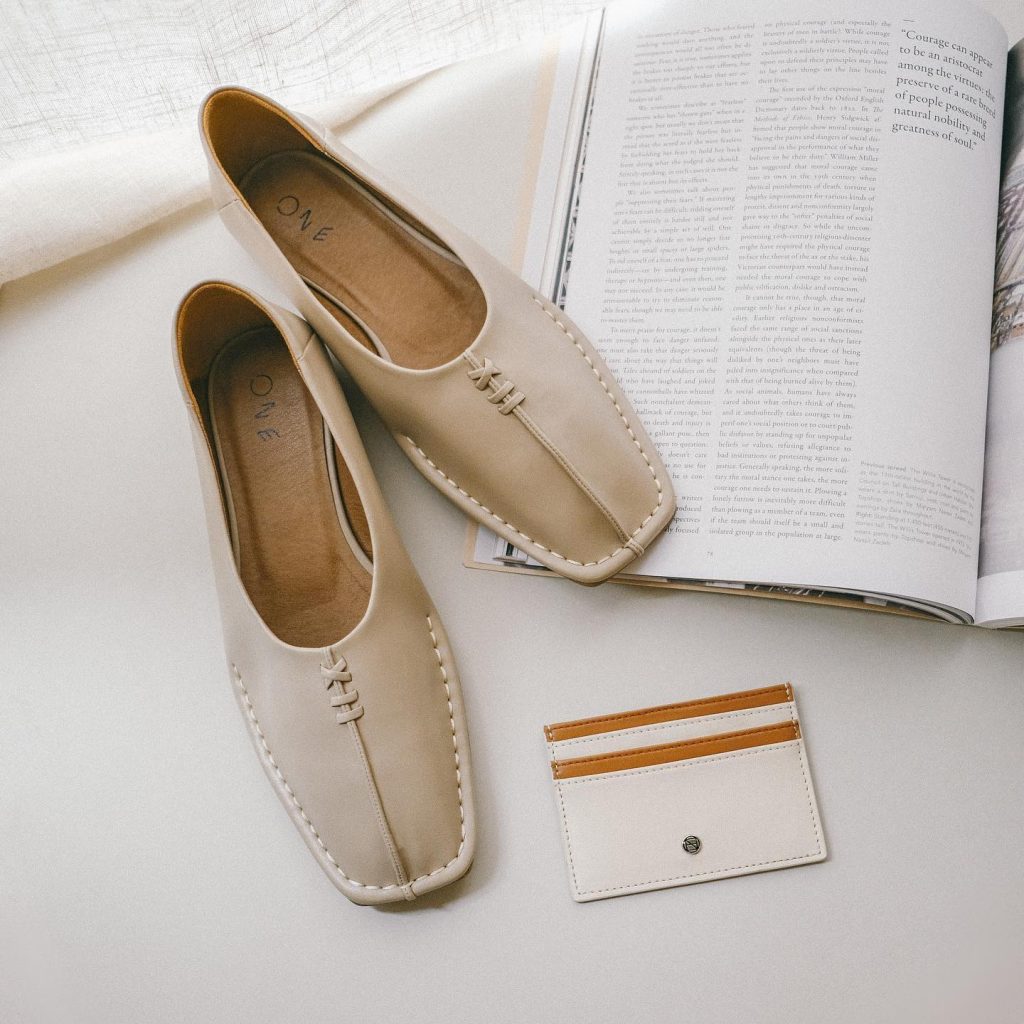 Wong and Lee aim to take their sustainable ethos further, using materials that reduce waste and emissions wherever possible.
"We crafted the inner linings [of our bags] with 100 per cent recycled plastic bottles, which have been melted down and spun into polyester fabric. All our packaging is recycled and recyclable. Our dust bag comprises 100 per cent recycled plastic bottles, and the dust bag handle features vegan leather scraps from our bags," Lee says.
Recently, the brand began to produce vegan shoes, too – something Lee says felt was missing in Asia-Pacific. "Shoes have always been in the back of our minds, because there aren't a lot of good vegan shoes, especially ones that are very minimalist, functional and versatile," he says. "We always wanted to make a simple women's flat and also a simple, white trainer type of shoe, so that's what we've done."
By designing wardrobe essentials that can mix and match easily, the brand hopes to encourage a less-is-more philosophy. "We do not encourage people to buy a lot of new things, but instead, to buy with the mindset of using them for a long time," Wong says.  
Before long, the couple hopes to launch in the mainland China market and extend their collection to include gender-neutral products, such as larger sizes in the brand's Gaia sneakers and more travel bags like the BO Weekender. "The end goal is to become a fashion house that is a go-to for anything vegan and sustainable," Lee explains. 
Cutting out waste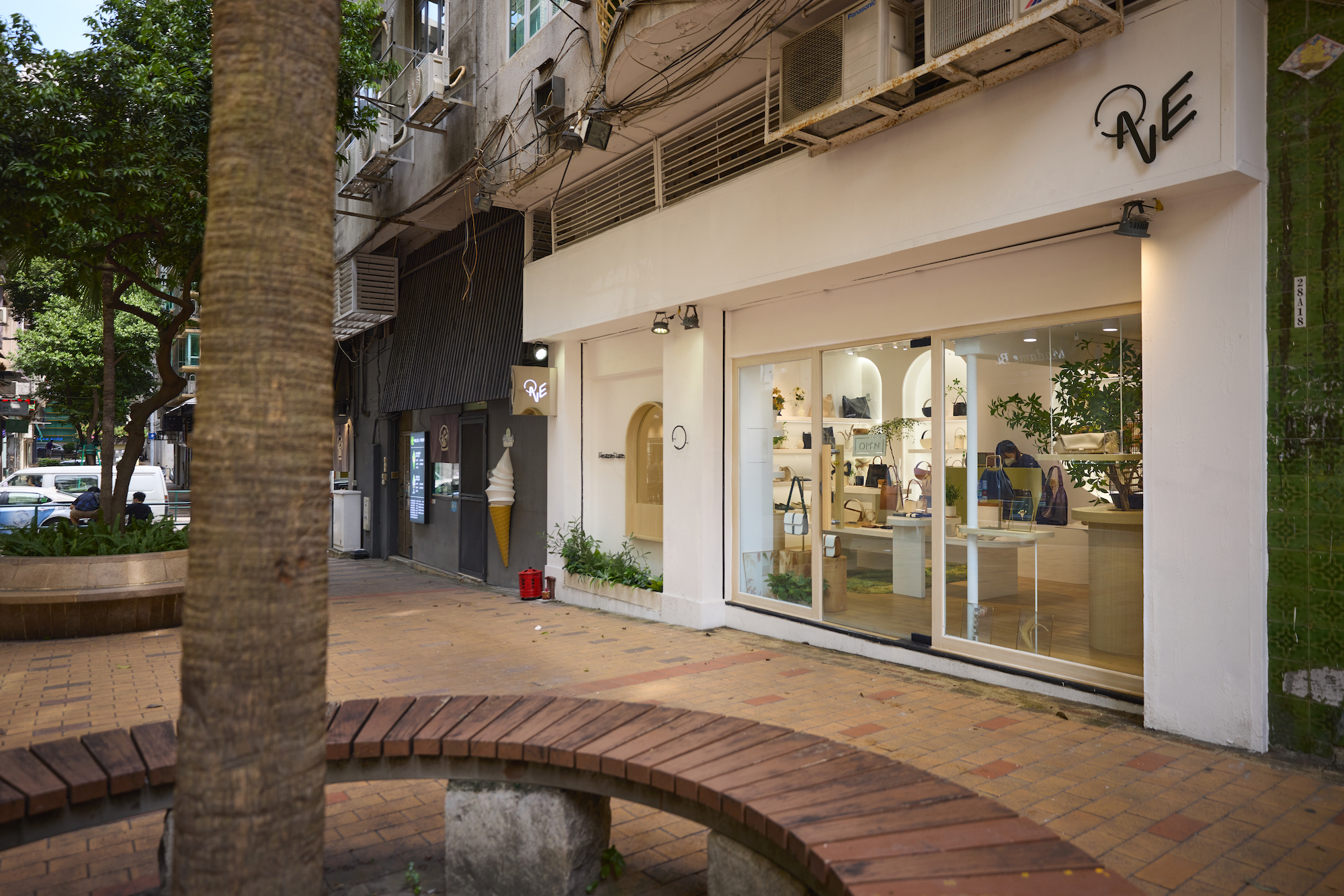 New products aren't the only thing new on the horizon. To avoid using genuine leather, Wong and Lee currently use plastic-based synthetic materials – a common dilemma for vegan fashion brands. They're hoping to change that by gradually replacing virgin plastic with recycled. At the moment, O.N.E uses about 50 per cent recycled materials across their product lines.
"It's about striking the best balance of functionality, durability, and sustainability," Wong explains. Having some plastic in the vegan leather enables the brand's products to look and feel just like real leather, but without the harmful tanning processes, environmental impacts of cattle farming or ethical issues of animal exploitation.
In the effort to move away from plastic, O.N.E has introduced the cotton-based canvas Hebo Collection, made with 60 per cent recycled canvas. "The fast fashion industry, and a lot of industrial textile production, yields a lot of cotton waste. The material that we use is from that waste," says Lee.
Wong and Lee are also hoping to move the industry forward by exploring new technologies. For instance, they plan to use a new, 40 per cent corn-based material made from leftover oil generated by the industrial corn production. The material replicates real leather in many ways, from texture and feel to durability and functionality. "Being able to utilise waste from industrial crops means we can help limit waste in a more effective way, as opposed to growing new crops to create a bio-based leather," Wong says.  
By the end of the year, Lee says O.N.E Concepts plans to release a new series using this special material. They hope to acquire a patent for it, too – an accomplishment that would further boost the brand's sustainable credentials and put Macao on the map as a fashion innovation hub and attract design lovers from all over the world. 
Visitors can discover O.N.E Concepts' sustainable products on full display at the flagship store in Macao. Set in the Yan Weng building on Rua de de Luís João Baptista, the clean and minimal space is decked out with blond wood, potted plants and soft curves. As customers walk in, they're greeted with a decorative sign that highlights the brand's mission: "Because I care". 
Inside, shoppers can feel the quality of the brand's vegan products for themselves, making this a worthwhile stop for any traveller hoping to experience the best of Macao design and take a timeless, chic souvenir home with them. 
"Becoming more and more sustainable is one of our key missions. We'll never stop improving because it's always a journey – you can never be fully 'impact-less'," Wong says. "In terms of representing Macao, it's as simple as showing the world that there are actually talents and great products in a small city like Macao, which is [better known] as a casino hub." 
For now, Lee and Wong are taking things one step at a time. They keep looking for new materials that can take their sustainability initiatives to the next level. And soon they hope to bring their products to new markets and show more people how sophisticated vegan fashion can be. "The core of our brand is to inspire consumers, and ultimately the entire industry, to pivot toward an entirely vegan fashion future," Wong says. "Because we care about animals and the planet."
---
In the Bag 
We caught up with O.N.E founder Xenia Wong to hear about three of  her favourite bags and how to wear them.  
While vegan O.N.E Concepts bags complement an array of outfits and occasions, Wong suggests keeping it simple when it comes to styling. For an everyday affair, pair the minimalist designs with equally minimalist ensembles, like a monocoloured or two-toned look. 
"Customers who are into earth tone colours love our bags, as they go really well with lighter earth-tone styles," she says. 
When it comes to formal or business settings, Wong says many customers prefer the brand's black or white-colored designs, which add a layer of understated elegance. Looking for more style inspiration? Wong tell us all about her three favourite O.N.E bags: 
Boxwood bag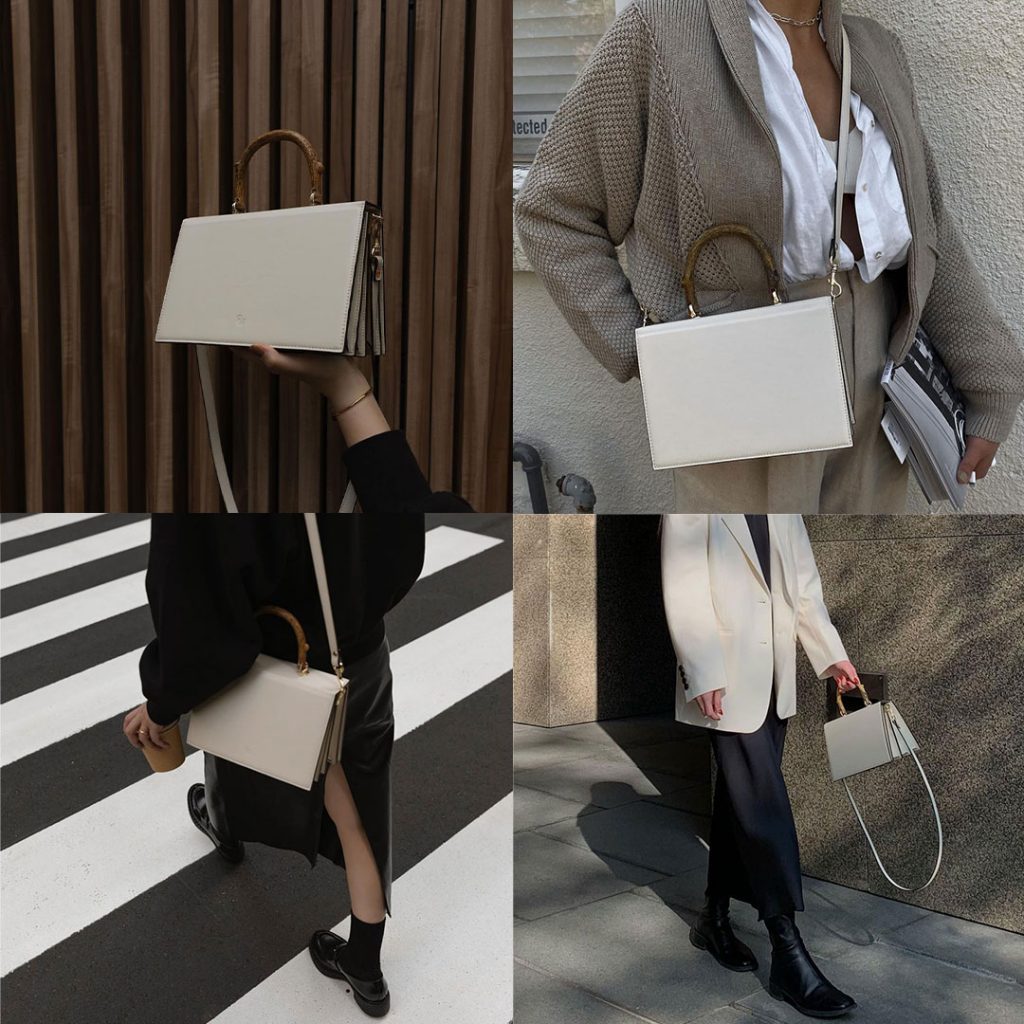 "Inspired by the look of vintage books, our Boxwood bag brings a timeless and truly seasonless look. It's connected to our unique Evergreen Handle, which we mould from real tree branches then colour by hand. Each Evergreen Handle is unique with slight differences in colour and texture." 
Mini two-tone tote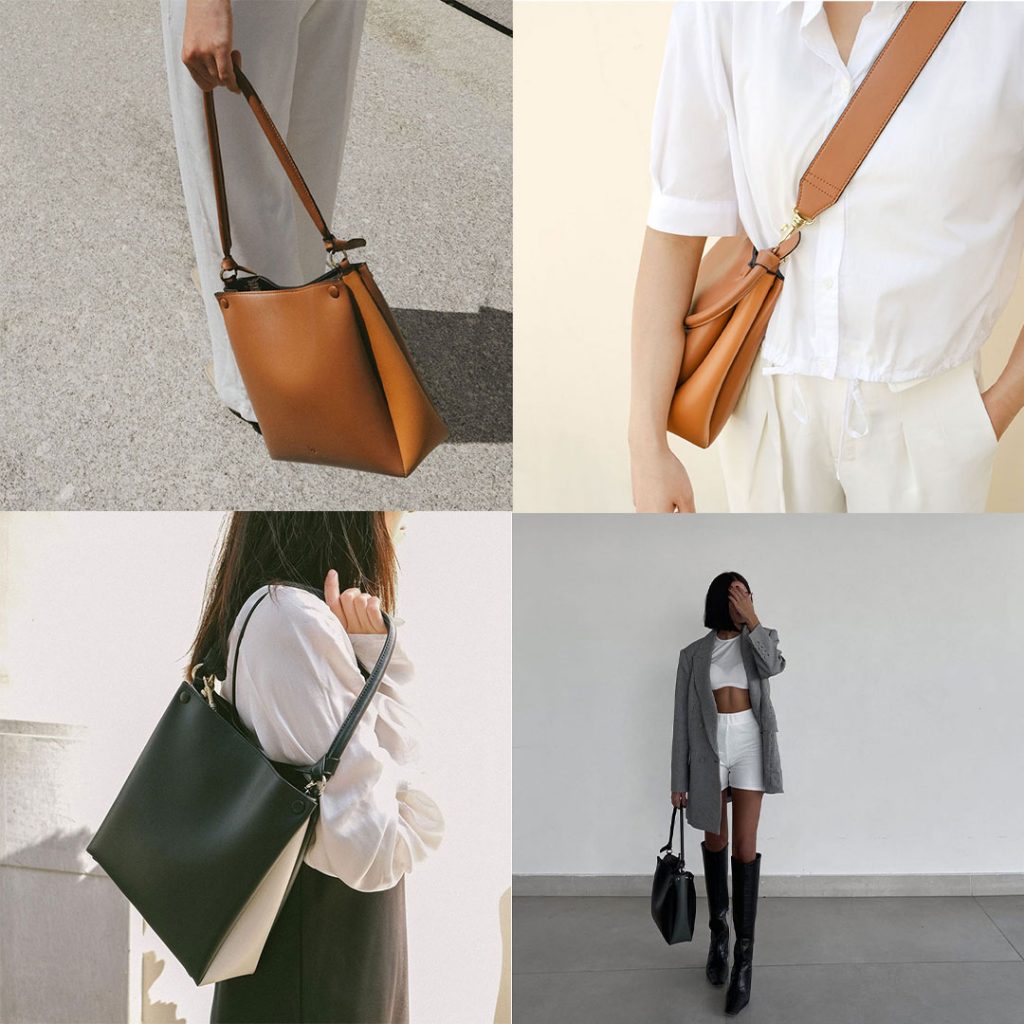 "This is a smaller version of our standard two-tone tote bag. It comes with a slightly longer, detachable handle so you can carry it over your shoulder or as a crossbody bag. Since the 4-centimetre-wide strap is nice and broad, it feels extra comfortable to carry." 
The O.N.E bag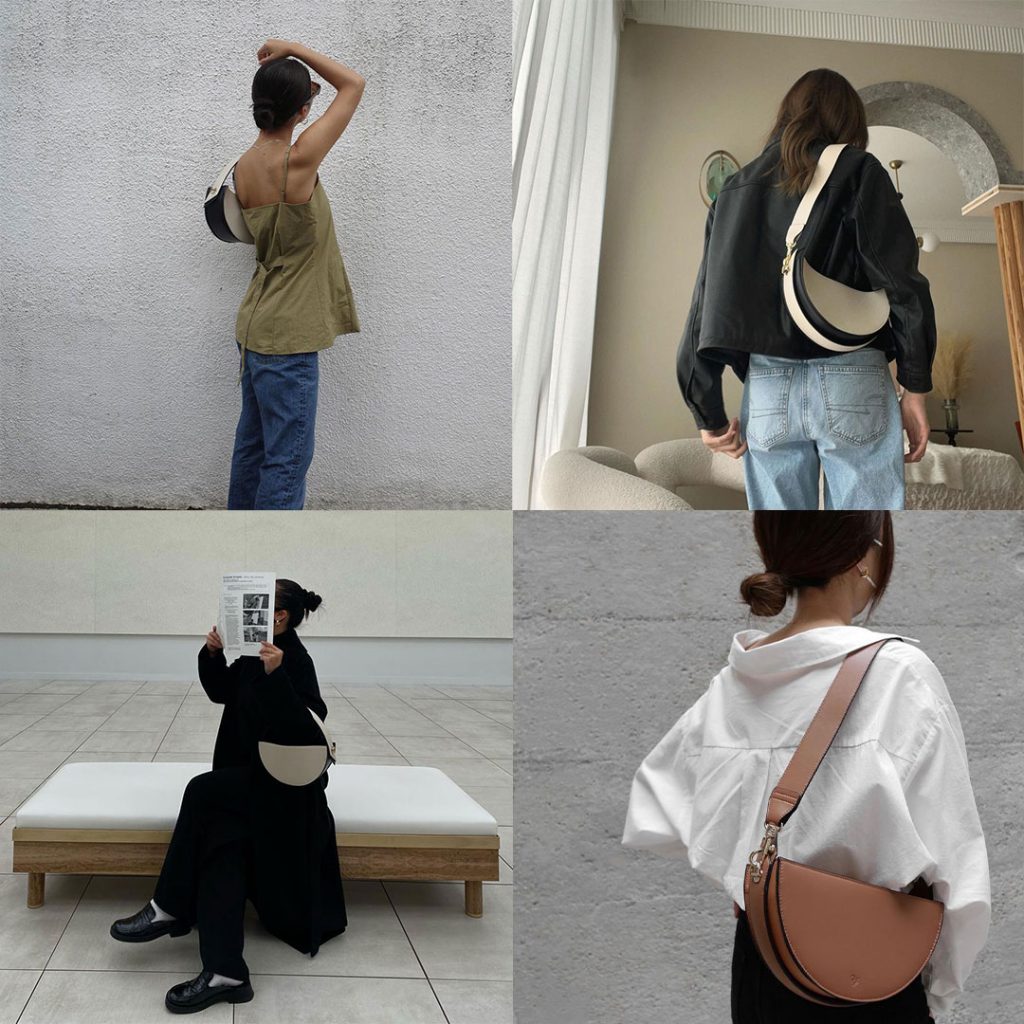 "An elegant mini bag to hold all your essentials, The O.N.E signature bag features a round handbag with detachable, 4-centimetre-wide shoulder straps that can be styled two ways. Wear it over your shoulder for a casual look or adjust the handle position 180 degrees to convert the bag to a smaller semi-circle that fits gracefully over your forearm."  
---
Looking for an elegant, made-in-Macao souvenir? To take home a vegan leather handbag and support a homegrown business in the process, visit O.N.E Concepts' stylish boutique while exploring the famous St. Lazarus district.