Love art? Peek inside Londoner Court's spectacular collection
Love art? Peek inside Londoner Court's spectacular collection

Link copied
At this ultra-luxurious sanctuary on the Cotai Strip, you can learn all about the hotel's vast art collection with a team of butlers or explore at your own pace.
Since The Londoner Macao's official grand celebration earlier this year, the integrated resort's ambitious architecture and attention to detail have transformed the Cotai Strip. Everywhere you look, thoughtful design details and creative flourishes tell a story about English culture and heritage. 
A towering replica of London's beloved "Big Ben" clock tower, officially known as the Elizabeth Tower. A grand exterior façade modelled after the Palace of Westminster and the Houses of Parliament. A sparkling lobby atrium reimagines the former splendour of the Victorian-era Crystal Palace. Red telephone boxes, black taxicabs, and a replica of the Abbey Road crossing where you can snap your own Beatles-inspired album cover. 
Besides these iconic sights and experiences, The Londoner Macao also houses an extensive art collection, featuring renowned contemporary artists and specially commissioned works inspired by the UK's vibrant art scene. 
There's no better place to experience these artistic treasures than Londoner Court, a refined all-suite hotel within The Londoner Macao. Inspired by elegant British townhouses, the exclusive private sanctuary – which earned a five-star rating from Forbes Travel Guide this year – maintains a team of highly trained butlers that offer personalised service to every guest across its 368 residential-style suites.
[See more: How Director of Butler Services Paul Brown takes luxury to the next level at Londoner Court]
A warm welcome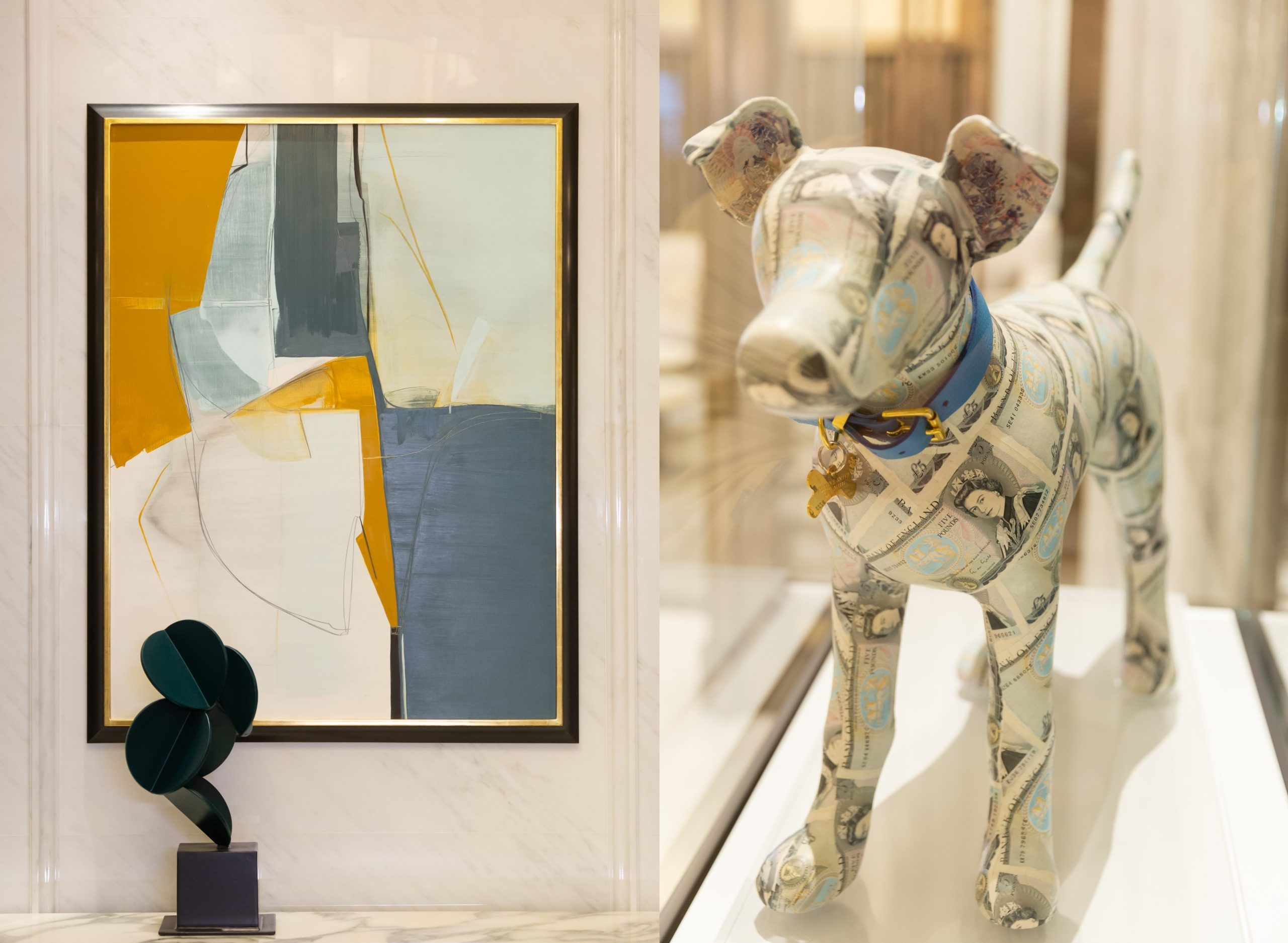 With in-suite check-in always available to guests at Londoner Court, you might be inclined to speed through the lobby atrium on the eighth floor. But we'd recommend pausing to admire the grand marble foyers, inspired by British Art Deco, and striking artworks along the way.
Among the artists featured is English-born Ann Thornycroft, who has established a reputation for creating large, geometric paintings radiating with vibrant colours and shapes. Thornycroft's creations have been described as "windows of the mind" owing to her poetic use of light, motion and colour. 
While relaxing in the atrium's sitting area, you can't miss "Inclined", a painting by American Rose Umerlik, who uses bold lines, shapes and swathes of colour to create compelling abstract works that explore the challenges of relationships and her experience living in the mountains of Vermont, in the northeast US. In this piece, she skilfully layers deliberate graphite lines over bodies of dramatic gold, teal, and grey-blue oil paint, creating an atmospheric canvas that demands a second glance.
Another highlight is "Wellington" by London-based artist Justine Smith. This quirky resin sculpture of a dog is plastered with British banknotes – unsurprising given that Smith's work focuses on the concept of money and its central role in modern society. Her work has appeared in many of Britain's top arts and culture institutions, including the British Museum, the British Library, the Bank of England, the Royal Mint Museum, and the United Kingdom Government Art Collection.
Inspiring mornings at The Kensington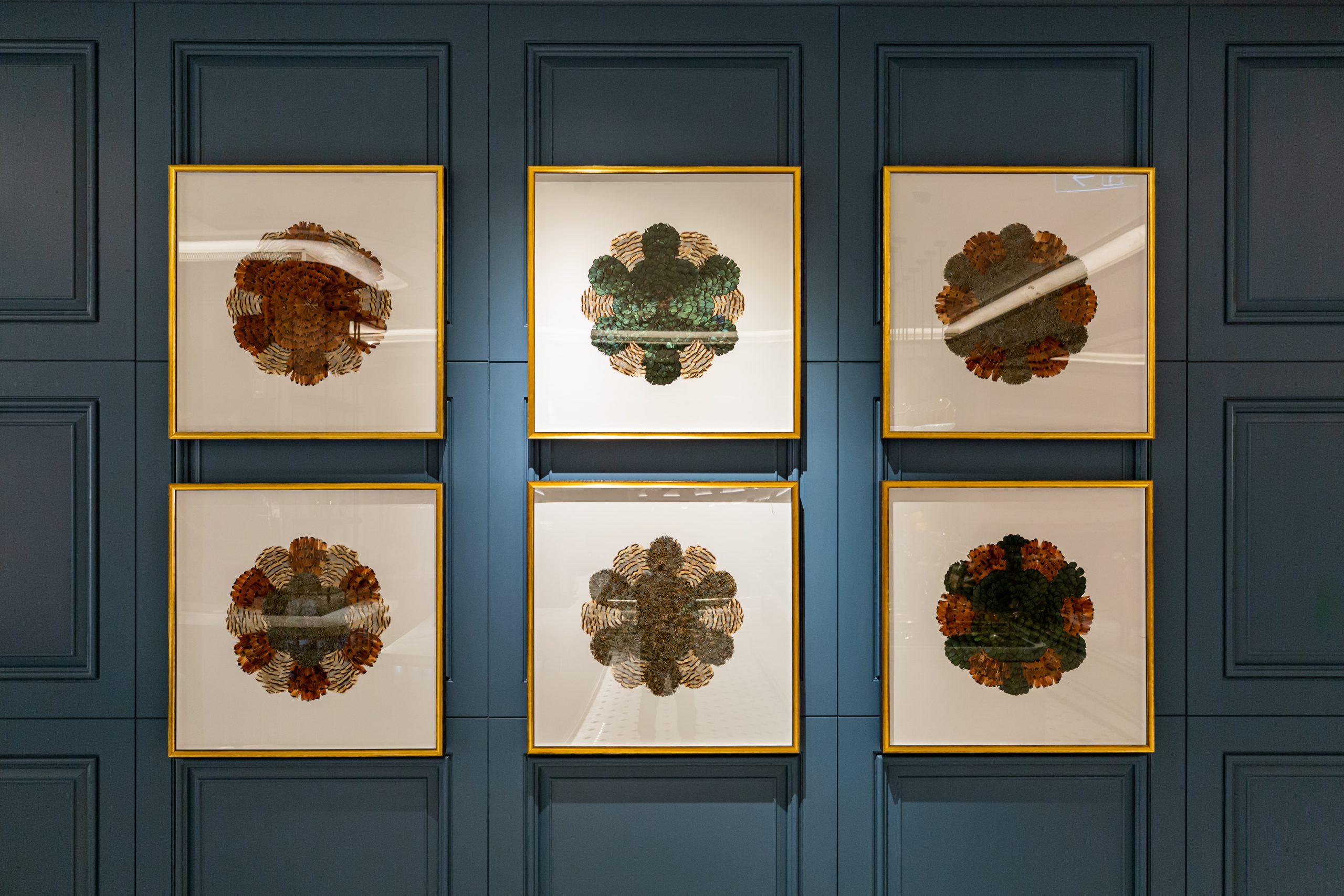 We've previously raved about the breakfast at The Kensington, Londoner Court's exclusive restaurant on the 36th floor. During your stay, you'll get to start your day in this sophisticated eatery where a lavish buffet and daily a la carte menu offer an array of delicious dishes, like made-to-order eggs topped with black truffle, fresh noodles, house-smoked salmon, Peking duck and US prime ribeye.
On the far side of the buffet is a sextet of artworks by California-based art house and design studio Natural Curiosities. Part of the "Queen Victoria" series, these commissioned works layer responsibly sourced feathers to create mesmerising circular patterns that invite you to consider our relationship with nature.
Wander through the various dining rooms to discover even more works by celebrated artists, including "Kubus", a gold leaf and acrylic canvas sculpture by the Dutch ceramicist Mo Cornelisse; three-dimensional paintings by Slovenian artist Dusa Jesih; and reinvented classical Chinese landscapes by painter He Sen.
Stay cultured at The Club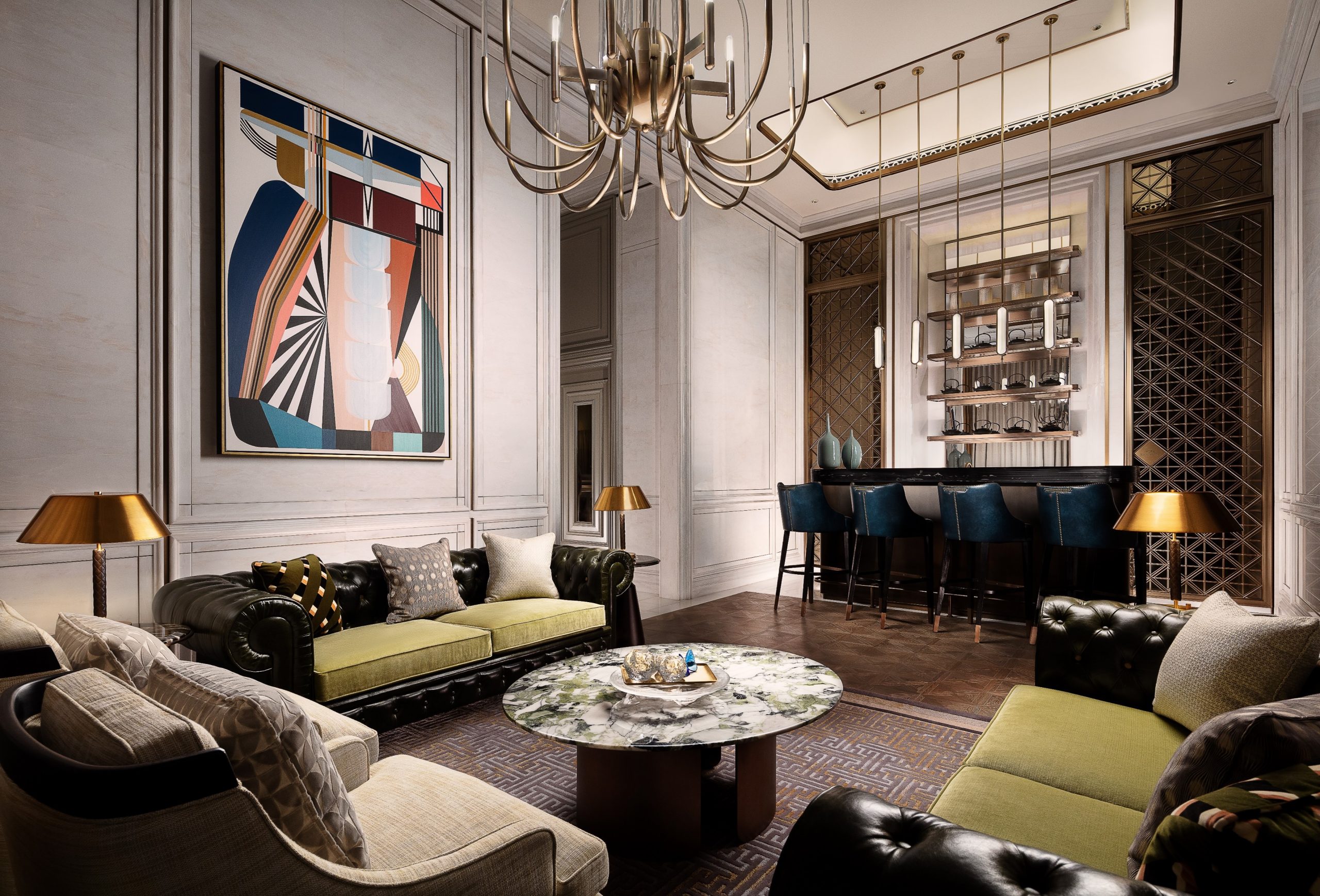 Whether it's a spot of afternoon tea, a well-deserved cocktail or a private party, The Club is your haven for socialising and relaxing. This private club is reserved exclusively for Londoner Court guests, offering a discreet space to drink, dine, play a round of billiards, and anything else you need to decompress.
While unwinding with family and friends, take a closer look at the works of Alyson Khan. Inspired by Art Deco and mid-century modern aesthetics, the Colorado-based artist creates complex visual landscapes that evoke the historical crafts of quilting and collaging. 
In the Victoria Room, a place to lounge after a day out exploring, you'll notice two of her works, "Stacked Cups I" and "Eight Strings" – specially commissioned pieces for Londoner Court. Featuring soft antique hues, each composition combines a mix of lines, organic forms and overlapping layers that feel hopeful and energised. 
Five more of Khan's abstract geometric paintings can also be found in other rooms in The Club, including Belgravia, a cosy lounge, and Chester, the billiards room.
Your own private gallery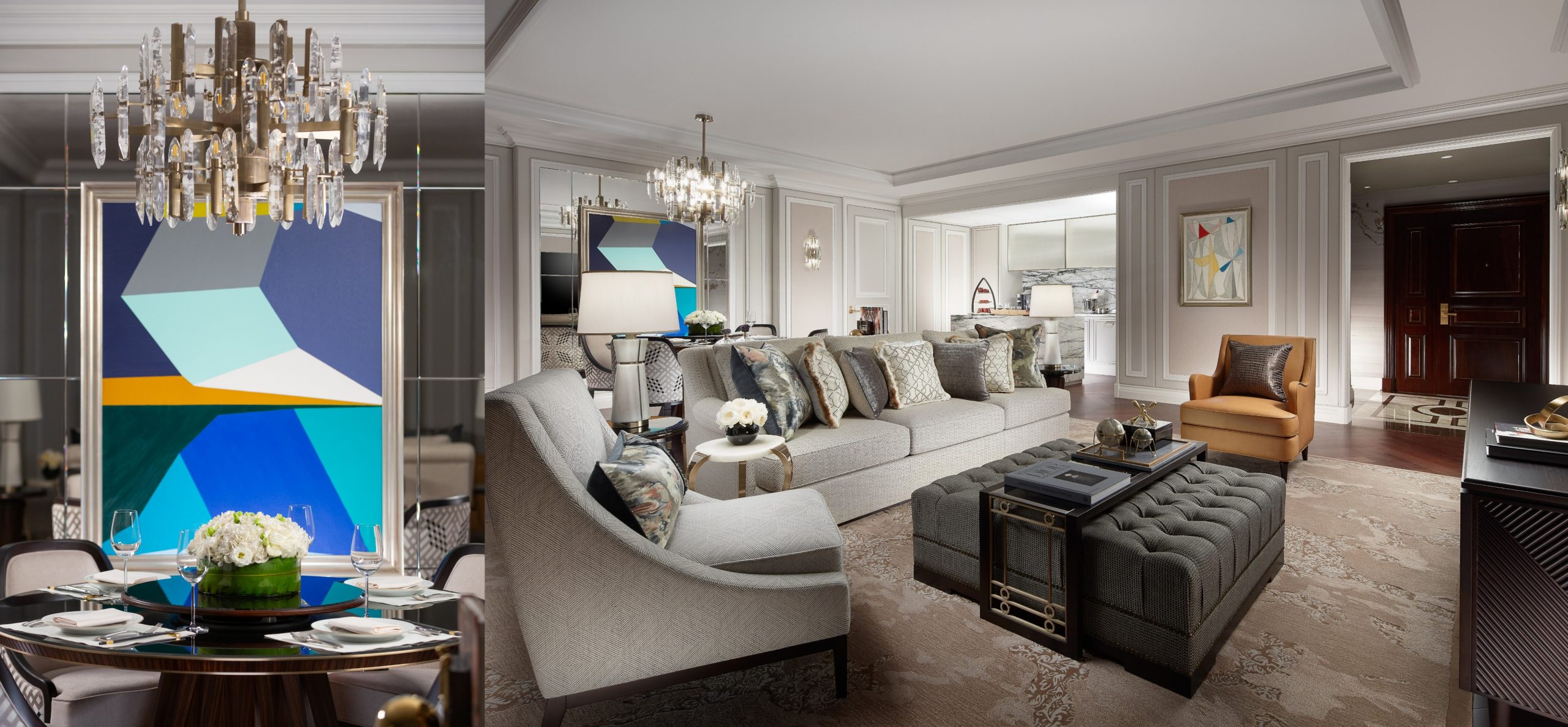 Your art journey doesn't stop in the hallways of the hotel's amenities. You'll find plenty of masterpieces inside your suite to spark your imagination all day.
For instance, look for fresh, geometric paintings by New York-based Robert Von Bangert, commissioned specially for these premium accommodations. His mid-century modern works have been featured in the television series Mad Men and the newly renovated bungalows at the legendary Beverly Hills Hotel.
In the dining area of the SkyVista Villa, guests are treated to a large-scale abstract piece by Alicia LaChance, characterised by her vivid colour schemes that feel like a form of folk art married with street art – timeless yet contemporary. LaChance's works have been featured by clients including Google, Estée Lauder and football icon David Beckham, an arbiter of refined British style.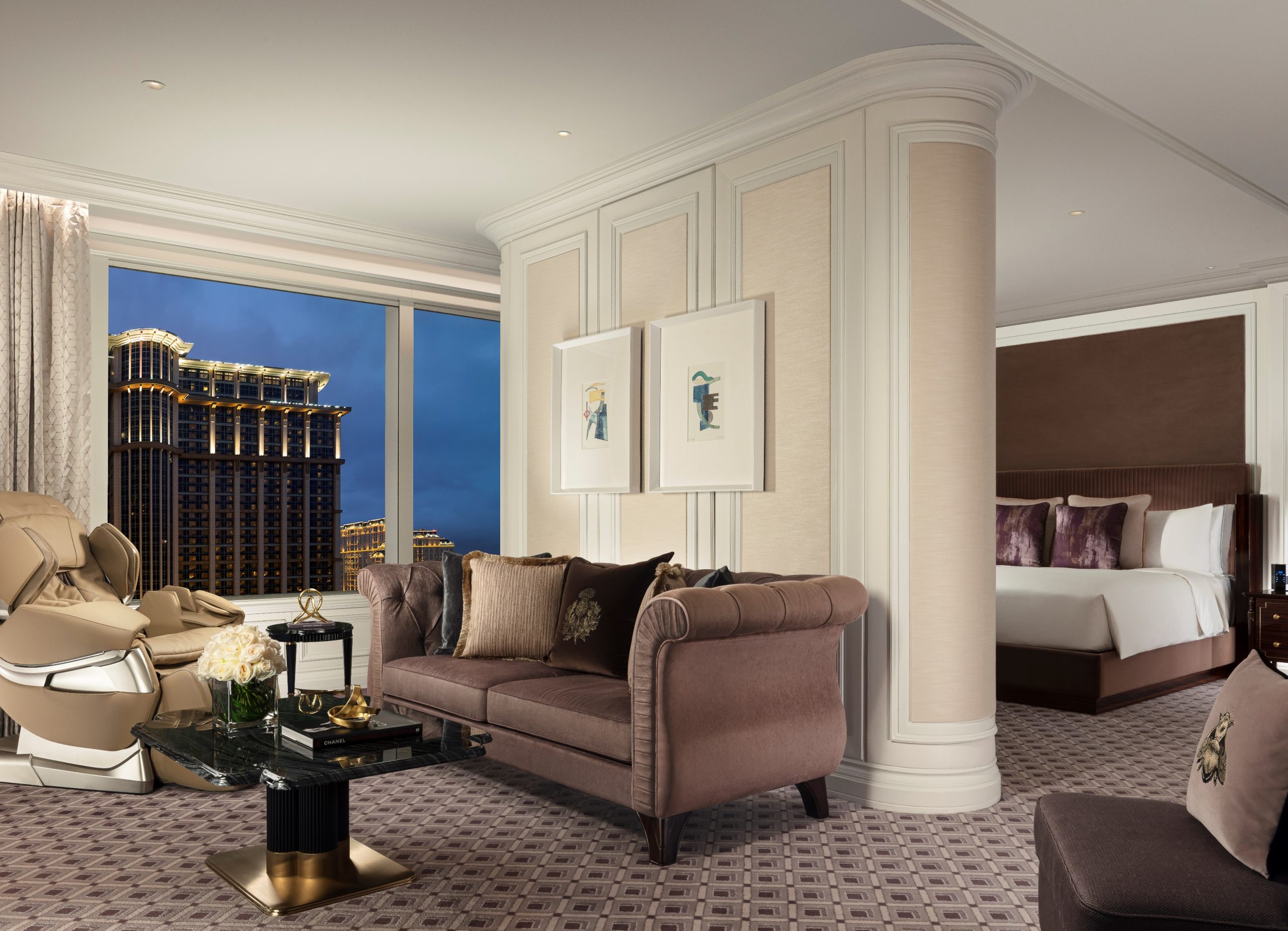 Southern California artist Rob Delamater uniquely merges the abstract with the everyday, inspired by the Japanese concept of "wabi-sabi" or finding beauty in imperfection. His works adorn the walls in the SkyVista Villas and the Mayfair Suites, adding yet another artistic layer to experience.
Whether you're a discerning traveller looking for ultra-luxurious accommodations, round-the-clock butler service and gourmet experiences or simply passionate about art and culture, Londoner Court will elevate your next getaway on the Cotai Strip.
---
For a vacation filled with arts and culture, book a stay at Londoner Court, where you can embark on a private art tour with the butler team or explore the collection at your own pace. Learn more here.