5 reasons you have to try breakfast at The Kensington at Londoner Court
5 reasons you have to try breakfast at The Kensington at Londoner Court

Link copied
Say good morning to one of the best hotel breakfasts in Macao. We've tried dozens of hotel buffets in the city, but The Kensington tops the charts.
Whether you swear by oozy soft-boiled eggs on toast, creamy congee, flaky croissants – or a little bit of everything – there's no better way to start the day than with a great breakfast, especially when you don't have to prepare it yourself.
That's why we were so excited to try breakfast at The Kensington on the 36th floor of Londoner Court – a swanky all-suite hotel that's part of The Londoner Macao integrated resort and recently earned a Forbes Travel Guide Five-Star ranking. Accessible only to hotel guests, this exclusive restaurant serves what has to be one of the best breakfast buffets in town. 
And we should know: We've tried dozens of them in Macao over the years. The Kensington sets itself apart with its quiet, relaxing atmosphere, ultra-premium ingredients and impressive Chinese specialities. 
From truffle-topped eggs to delicately crafted dim sum and double-boiled bird's nest soup, here's what you can look forward to at The Kensington.
1. An elegant, well-designed space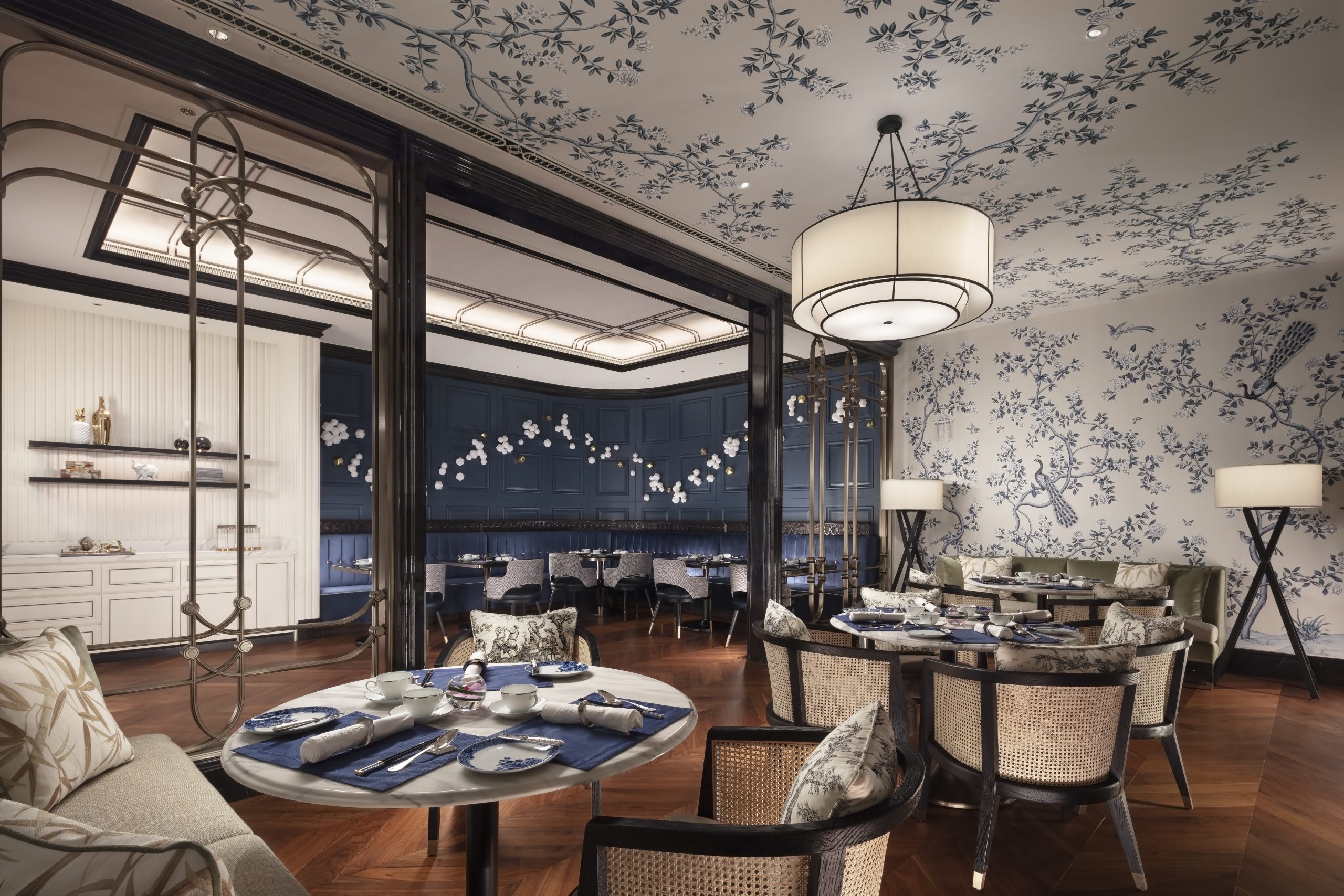 Quiet and serene aren't usually words we associate with hotel buffets. But The Kensington creates a relaxing ambience that will help you ease into the day. That's thanks in part to a smart floor plan that enables diners to spread out across the lounge. The Kensington serves the main buffet in the central dining area, while several adjacent rooms offer a cosy ambience and unique designs. 
No matter where you sit, you'll be surrounded by gorgeous colours and details – picture rattan chairs, plush sage green sofas and elegant peacock wallpaper (an auspicious symbol in Chinese culture) – alongside gleaming hardwood floors and captivating artwork.
2. A balanced buffet starring premium ingredients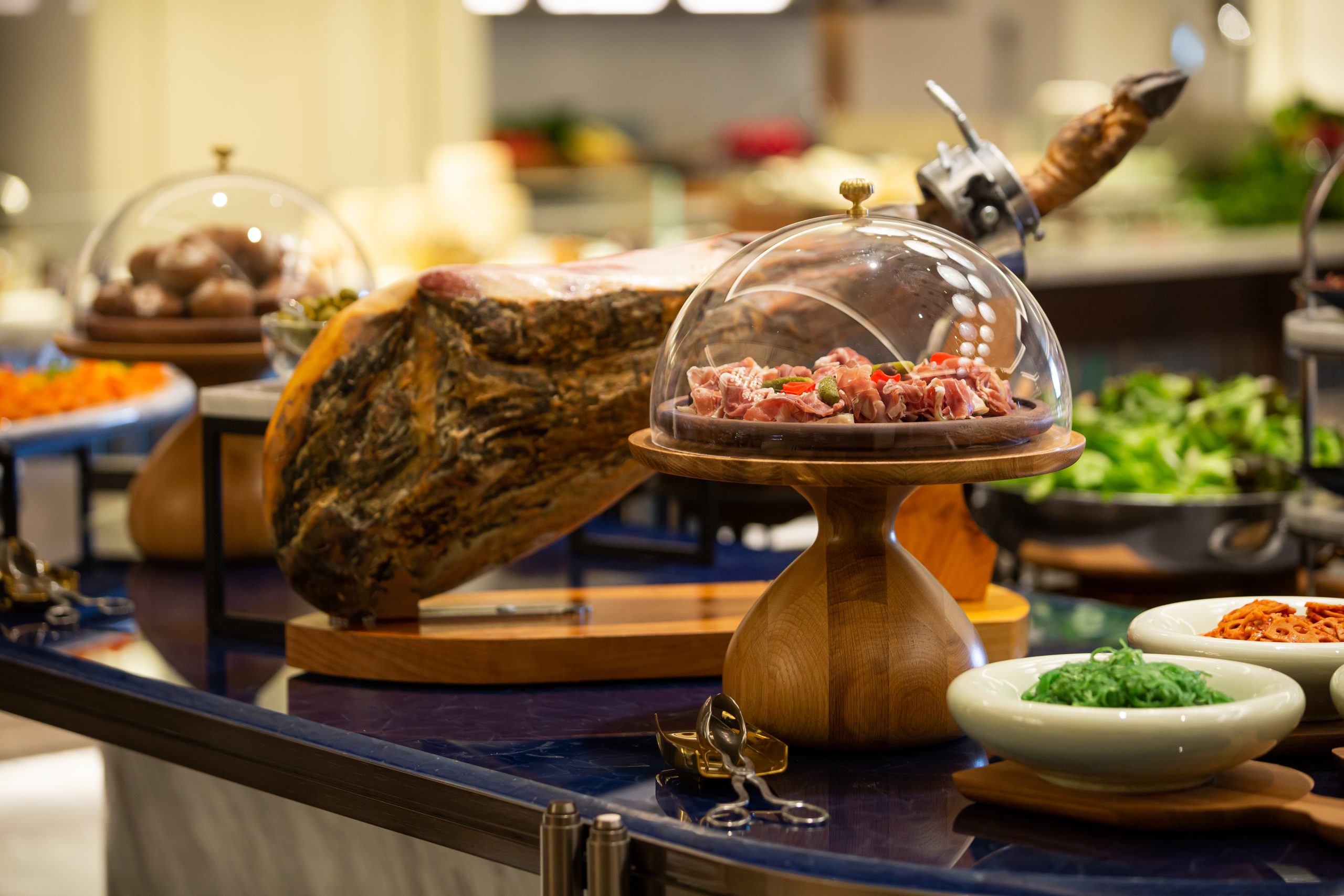 While the buffet promises a world of flavours, it does not feel like quantity for quantity's sake. The vast spread – from spicy tuna rolls to assorted cheeses, house-smoked salmon, Peking duck, US prime rib eye, noodles and more – provides lots of variety without feeling overwhelming. 
When it comes to Western dishes, you'll find eggs, hash browns, bacon and roasted tomatoes, freshly sliced Parma ham, plus caviar and crème fraîche on blinis. Save room for European pastries and confections like Portuguese egg tarts, pain au chocolat, berry muffins, fruit Danishes and brioche brimming with Devonshire cream. Also from the oven come crispy sourdough and fluffy sliced oat bread, perfect with a drizzle from the Australian honeycomb. 
If you're craving something lighter, freshen up your plate with your favourite tropical fruits or a leafy salad sprinkled with pumpkin seeds, walnuts, dried fruits and Chinese rose radishes. The restaurant also offers a handful of juice "boosters" with specific health benefits (like improving your vision or aiding digestion), probiotic milk drinks, and energising smoothies to ensure you're ready to seize the day. 
3. Truffle-topped eggs and freshly made noodles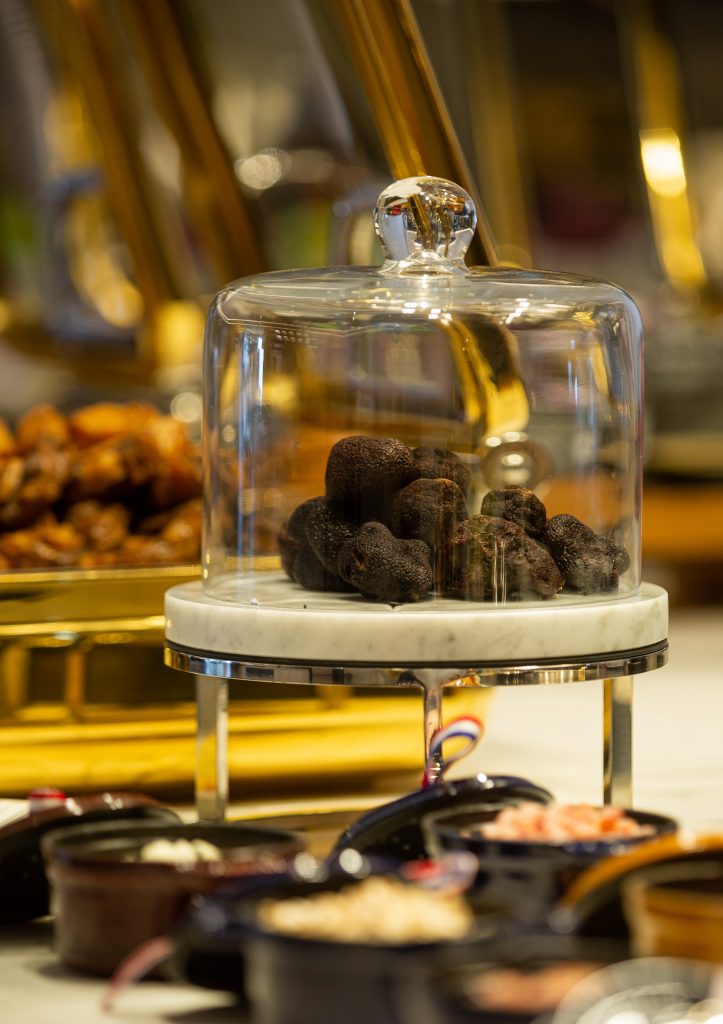 As part of its premium buffet spread, The Kensington serves up custom egg and noodles dishes. 
At the egg station, request your go-to style – scrambled, over-easy, omelettes, and more – topped with black truffle shavings for a decadent twist. While you're there, add a few slices of US prime ribeye steak or Beijing duck pancakes with a side of hoisin sauce. 
Meanwhile, at the noodle station, choose from three types of noodles (egg, Hsinchu rice and Japanese udon), three broths, and several premium ingredients like tiger lobster, braised Iberian pork, premium US beef and wild mushrooms.
4. Refined Chinese specialities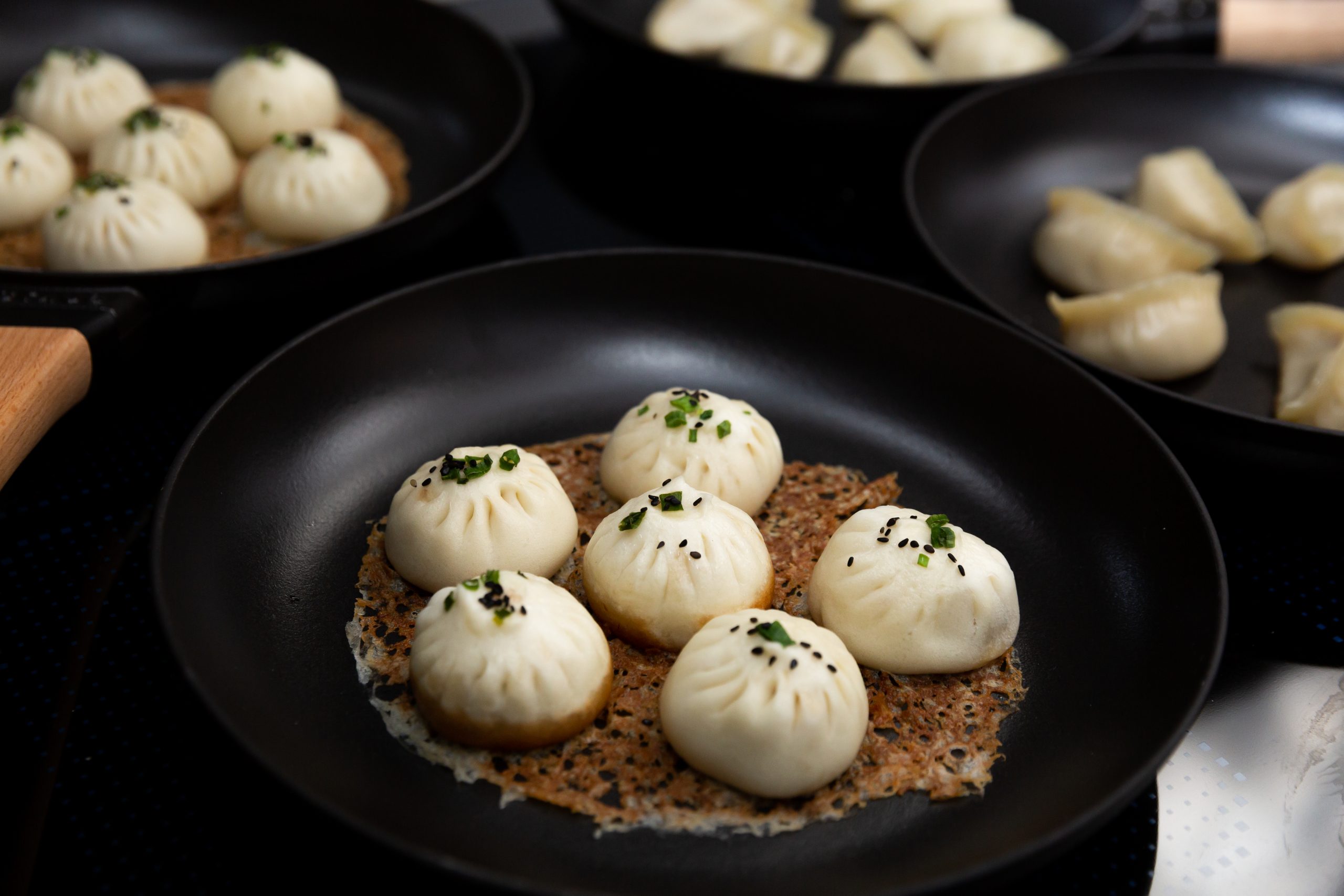 The Kensington's buffet devotes lots of space to delicious Chinese treats, such as enormous fried sesame balls and Macanese pineapple buns (fluffy brioche-like buns topped with a sweet crust). You'll also want to try a coconut tart with bird's nest (sprinkled in 24k gold leaf, no less) and The Kensington's elevated take on homemade flower cakes. Filled with an aromatic paste made from rose petals, these flaky pastries were invented in southwestern China over 300 years ago. 
There's also a whole chef's station dedicated to other Chinese dishes, where you'll find everything from airy fried dough fritters to five-spice doughnuts, double-boiled bird's nest with Hawaiian papaya, Shanxi-style pan-fried pork and chive buns, and sweet green bean dumplings.
5. Delicious daily specials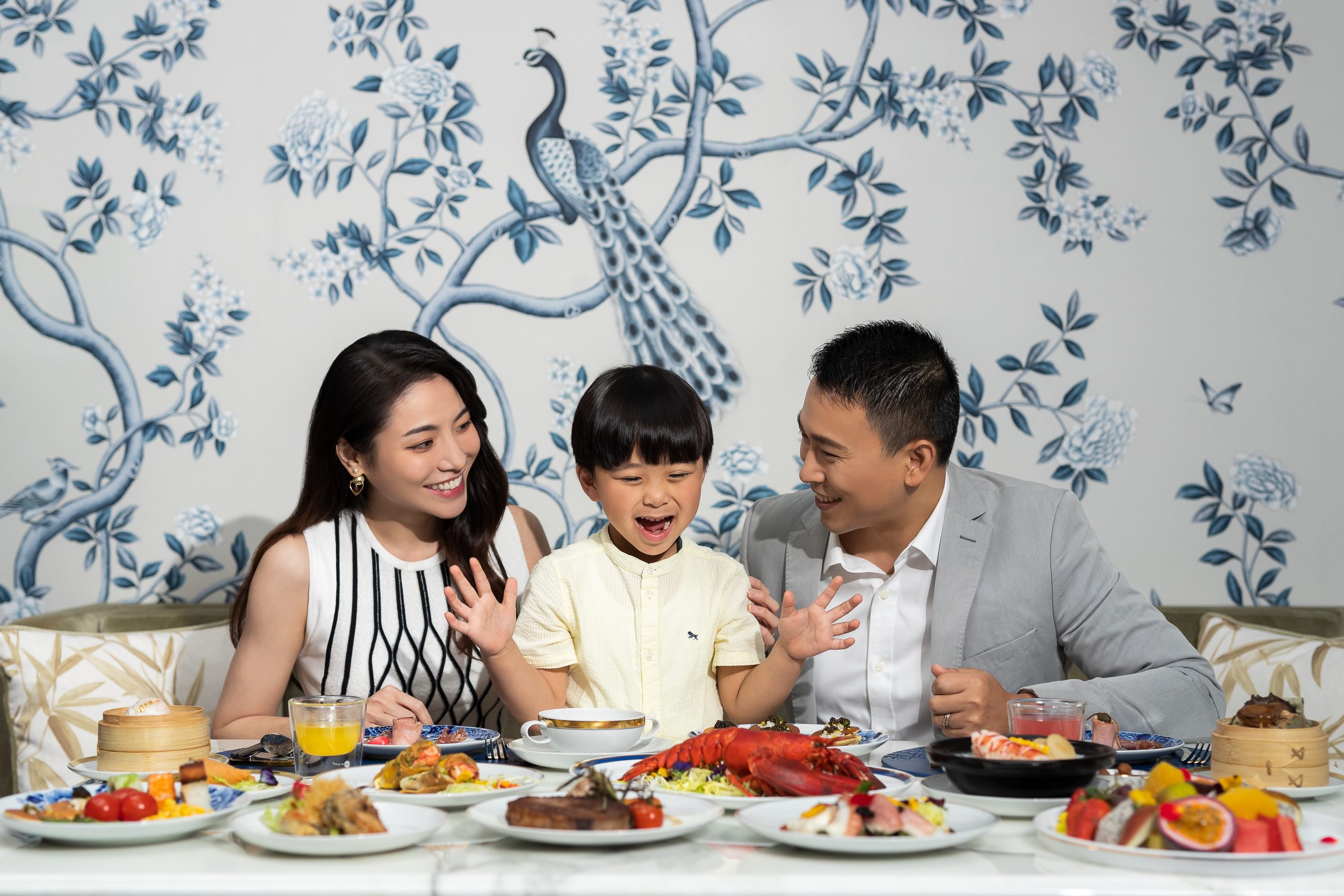 As if the buffet options weren't enough, you can also order daily specials from the a la carte menu. On the days we visited, we tried a sampling of beautifully presented Chinese dishes that rivalled those of Michelin-starred restaurants. 
We particularly enjoyed the smoked baby pigeon's delightful lemongrass aroma and tender meat, as well as the steamed lobster claws in 20-year-aged Huadiao wine and egg whites – not something you usually find at a hotel breakfast. 
For many guests, a steamy bowl of congee is a morning ritual. Of the five options on the daily menu, we went for the prawns, scallops, yam and corn variety – a delicious mix of textures and subtly sweet, earthy flavours. 
Just when we thought we'd savoured all of the greatest hits, The Kensington's dim sum dishes raised the bar even higher. Depending on the day you visit, you may get to sample the signature shrimp dumplings and wagyu-morel mushroom siu mai or perhaps the seafood and caviar dumplings and steamed truffle and mushroom buns.  
Whether you're craving Chinese staples or an extravagant Western brunch with truffles and caviar galore, The Kensington provides a world of flavours in a sophisticated atmosphere that's hard to top.
---
Book a suite at Londoner Court to enjoy exclusive access to The Kensington, where you can enjoy a delicious breakfast every day from 7 am to 1 pm. Learn more here.