Iridium Spa elevates spa rituals with ancient gemstone healing therapies
Iridium Spa elevates spa rituals with ancient gemstone healing therapies

Link copied
The flagship spa at The St. Regis Macao is striving to soothe tired minds and bodies with centuries-old therapy, which is currently seeing a modern revival.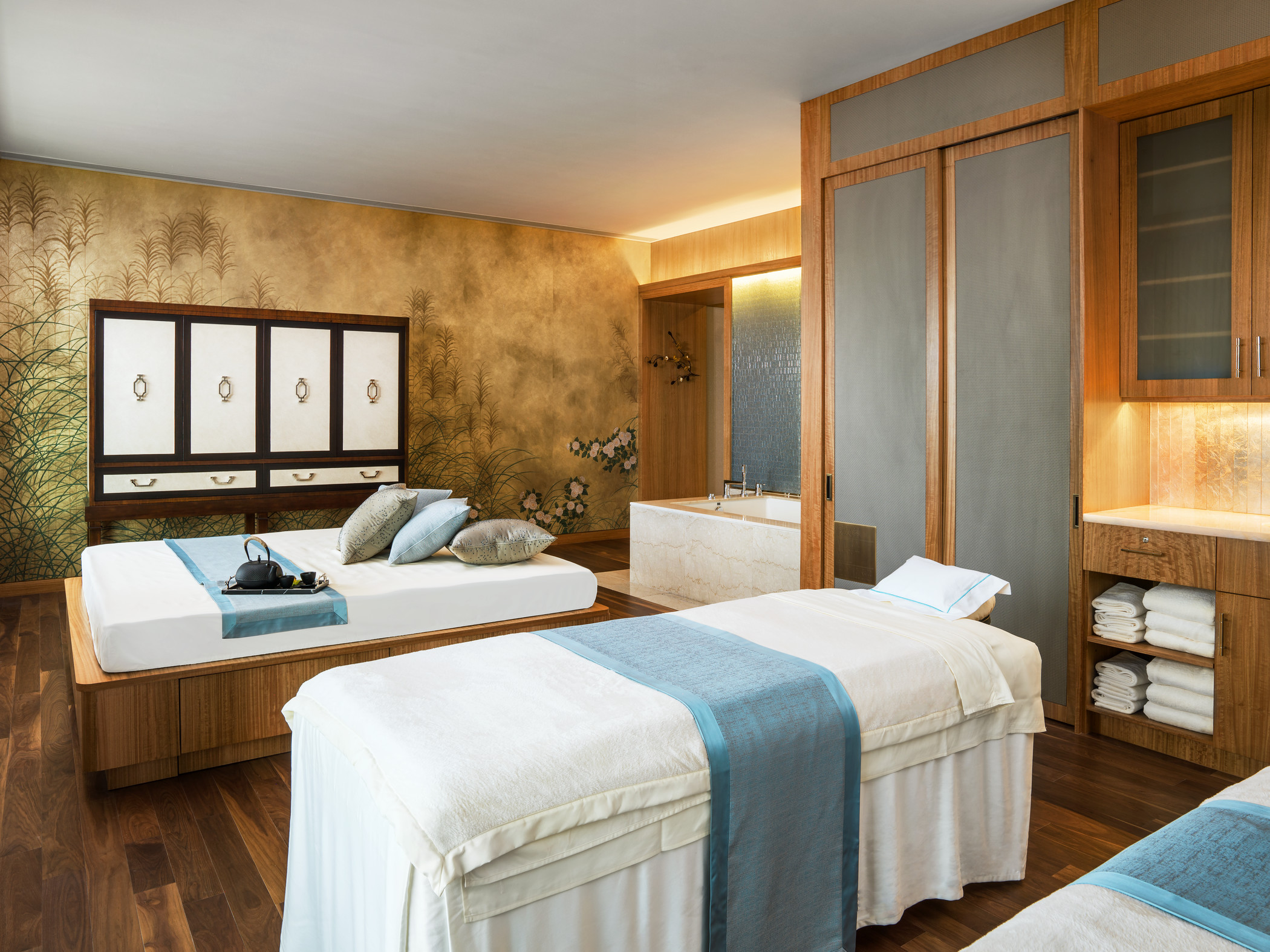 Finding ways to feel grounded, relieve stress and calm anxiety have become top priorities for many people over the past two years. From tried-and-true massages to novel treatments like digital detoxes and sound baths, the trends emerging in the spa industry reflect our evolving needs. It's no surprise to see gemstone healing making its way into the mainstream wellness industry too.
Gemstones – used for centuries to help release mental, physical and spiritual blockages – are thought by some to interact with your body on a vibrational level. By bringing the body and energy fields back into balance, gemstone healing leaves you with a greater sense of peace and relaxation.
Advocates of the treatment believe that each gemstone has unique properties and energies that can be applied to different aspects of our lives: blue lapis supports communication; citrine magnifies wealth and creativity; bloodstone boosts energy; and moonstone promotes clarity. When held in your hand, placed on your body or displayed at home, the stones are thought to connect us to the earth's subtle healing power while enhancing balance, relaxation, protection, creativity, happiness and love.
When it comes to pampering myself these days, I'm looking for more holistic experiences. So when my husband says he's treating me to an early Mother's Day present – an afternoon at The St. Regis Macao's Iridium Spa to try the newly launched Gemology Youthful Treatment – I'm eager to give this "energy medicine" a try.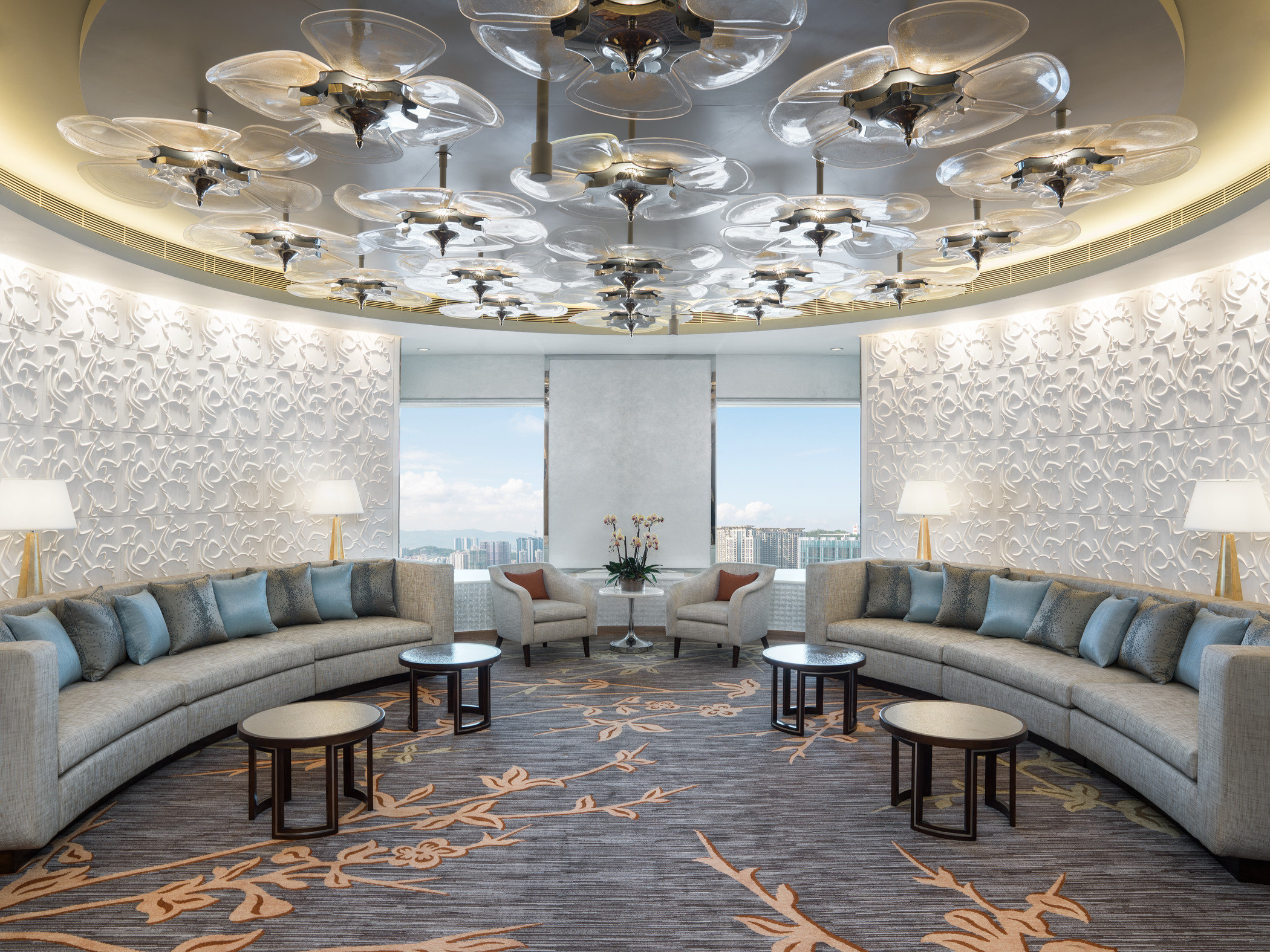 Located on the 38th floor of The St. Regis Macao, Iridium Spa is the city's highest spa, with sweeping views over the Cotai Strip. I'm warmly welcomed into the lounge by Spa Manager April and introduced to my therapist, Dewi. After enjoying a fragrant tea and warm face towel, Dewi leads me to my treatment room, aptly named "Malachite", a protective stone thought to help in clearing away negative energy. After a quick visit to the changing room, Dewi asks me to place my phone and watch in a special locked box, as time will stand still during the treatment.
My treatment begins with the signature Iridium Spa welcome foot ritual – a salt scrub with tourmaline gemstone oil. Dewi serves me hot floral tea, and while performing the ritual, introduces the treatment and the signature gemstones that are most suitable for me. The Gemology Youthful Therapy journey includes a 30-minute anti-aging body scrub followed by a 30-minute mineral body wrap, and a 60-minute Gemology relaxing body massage as the finale. Relaxation mode is in full swing as I lay down on the massage table and my head sinks into the pillow-soft face cradle.
With curtains drawn and soft music playing, Dewi begins the anti-aging body scrub that's infused with ruby extract and vanilla. The former contains chromium, a mineral thought to aid the breakdown of fats; while the latter is rich in antioxidants believed to help slow the aging process. Dewi tells me that the ruby salt scrub also promotes skin renewal by shedding dead cells so that new cells migrate to the skin's surface. After applying the scrub to my whole body, Dewi removes it with warm towels, leaving my skin feeling fresh, smooth and soft.
After the scrub, my relaxation is in ultimate rest-and-recovery mode and I'm only aware that Dewi has started the Pink Garnet body wrap from the intoxicating smell of cranberry and raspberry being softly rubbed over my skin. Cranberries are rich in antioxidants and may have anti-aging benefits, while raspberries are thought to reduce inflammation, redness and hypersensitivity. After my body is completely covered with the cream, Dewi folds the sheet around me so that I am fully cocooned and lets the potion work its magic. While my body is wrapped, she massages my head. At least I think that's what happens, because I'm so comfortable and relaxed that I drift off. 
Dewi gently awakens me, unwraps the sheet and leads me to the rain shower to rinse off. Already feeling rested and revitalised, I'm almost giddy with excitement that there is still a 60-minute massage to look forward to.
Dewi tells me that the precious gemstone massage will leave me feeling relaxed and balanced, with my well being restored. Using a massage oil infused with peridot – a gem that's rich in magnesium – the oil also contains orange and vanilla. The citrus, she says, will help tone and de-stress the skin, and the vanilla has soothing and calming effects.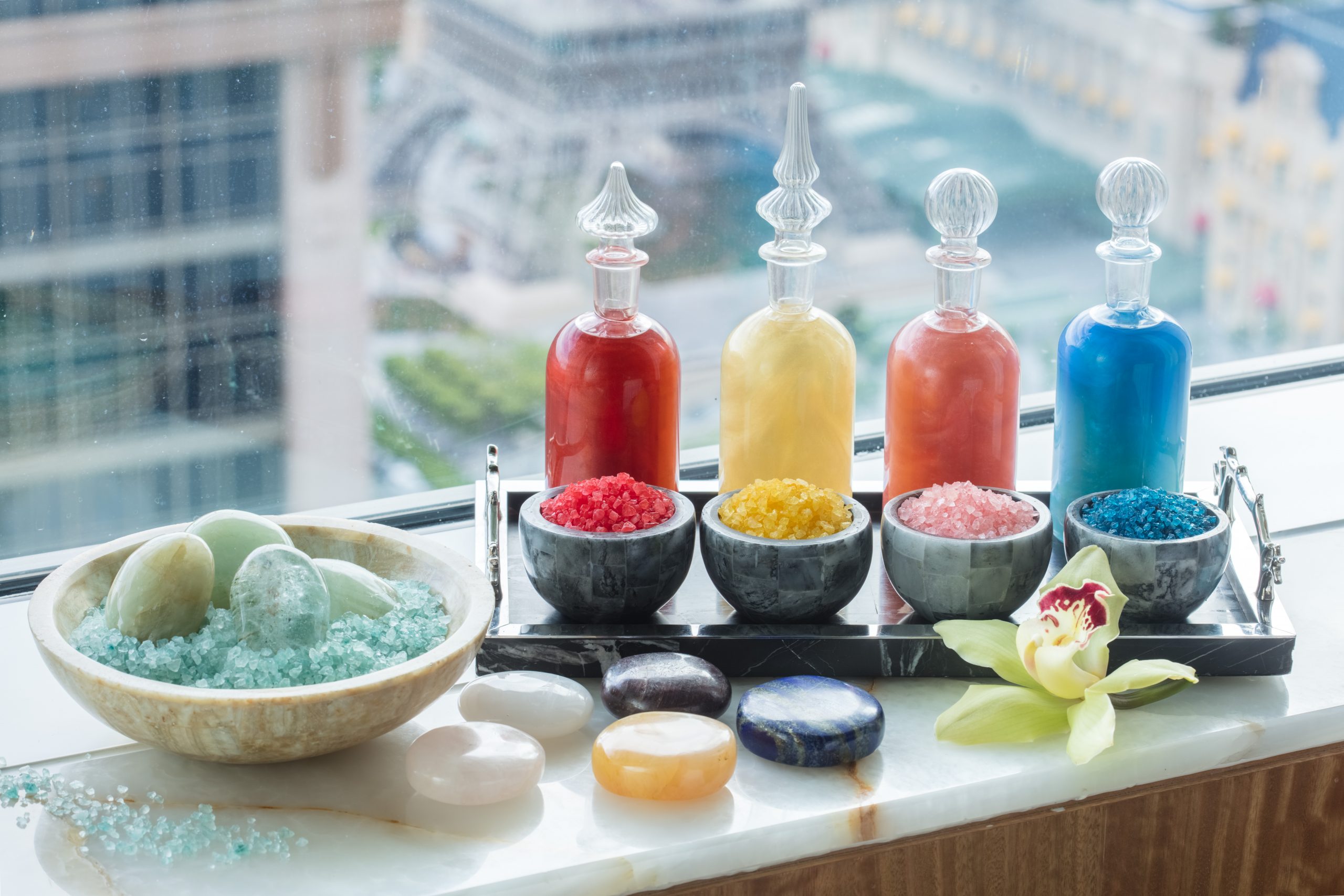 Throughout the massage, Dewi selects different stones from a heated container near the massage table to balance my chakra energy centres. She uses a warm agate pear stone to apply acupressure on my feet and stomach, then an agate roller stone across my legs to tone and tighten the skin. Dewi then chooses a moonstone – a stone for "new beginnings", which is said to soothe stress, aid digestion, eliminate toxins and reduce fluid retention – to massage my arms and legs. 
My favourite is the rose quartz pillow stone. It is thought to attract and strengthen intimate relationships, dissolve emotional wounds and reconnect us to our heart's desires. Dewi slowly works the hot stone's smooth edges down my back and across my chest, and even though I'm dazed by bliss, I can almost feel the power of the stone purifying my energy and opening my heart.
Even though my treatment has lasted an indulgent 120 minutes, I can't help but feel a tinge of sadness when Dewi chimes the bell to signal that the experience has come to an end. I slink back into my robe and take a seat at the window. Dewi brings me more floral tea and biscuits as I gaze out over the Cotai Strip and ponder over my treatment. While the idea of gemstone healing may conjure up images of mystical rituals for some, they have become a popular therapeutic tool in the spa industry – and I for one am happy to indulge. 
---
Are you ready to experience gemstone therapy? The Gemology Youthful Treatment is available now for MOP 2,080+ per person for a 120-minute session. For bookings and inquiries, call +853 8113 4949 or email [email protected].