How Maccrew is shaking up sneaker culture in Macao
How Maccrew is shaking up sneaker culture in Macao

Link copied
With his bespoke sneaker brand Maccrew, Allen Choi aims to turn shopping for shoes into a more personal experience. And his work is already changing the way Macao residents express their style.
Even if you don't realise it, you've likely seen Allen Choi's work around Macao.
Perhaps it was a pair of Nikes covered with rainbow-coloured snakeskin, white Adidas sneakers reimagined with hand-drawn lotus flowers, or Air Jordans emblazoned with "Macao" on the midsole.
The 27-year-old entrepreneur founded Maccrew, a Macao company creating custom sneakers, in 2019. Ever since, he has brought fresh, artistic and totally one-of-a-kind shoes to the city's fashion lovers.
It's no small feat. The designers disassemble each pair, then rebuild them with custom paint jobs, laser engravings or textural elements ranging from leather from Louis Vuitton handbags to old denim.
"With sneakers, there is no limit [to what you can do]," says Choi. "You can add different colours, patterns or unique elements. Let's say leopard print – you add whatever you like to them."
Choi's work ever so subtly has started to transform the city's fashion scene. Between creating singular designs and hosting DIY customisation workshops at Maccrew's brick-and-mortar shop, he empowers Macao consumers to express their style loudly and proudly.
A brief history of sneaker culture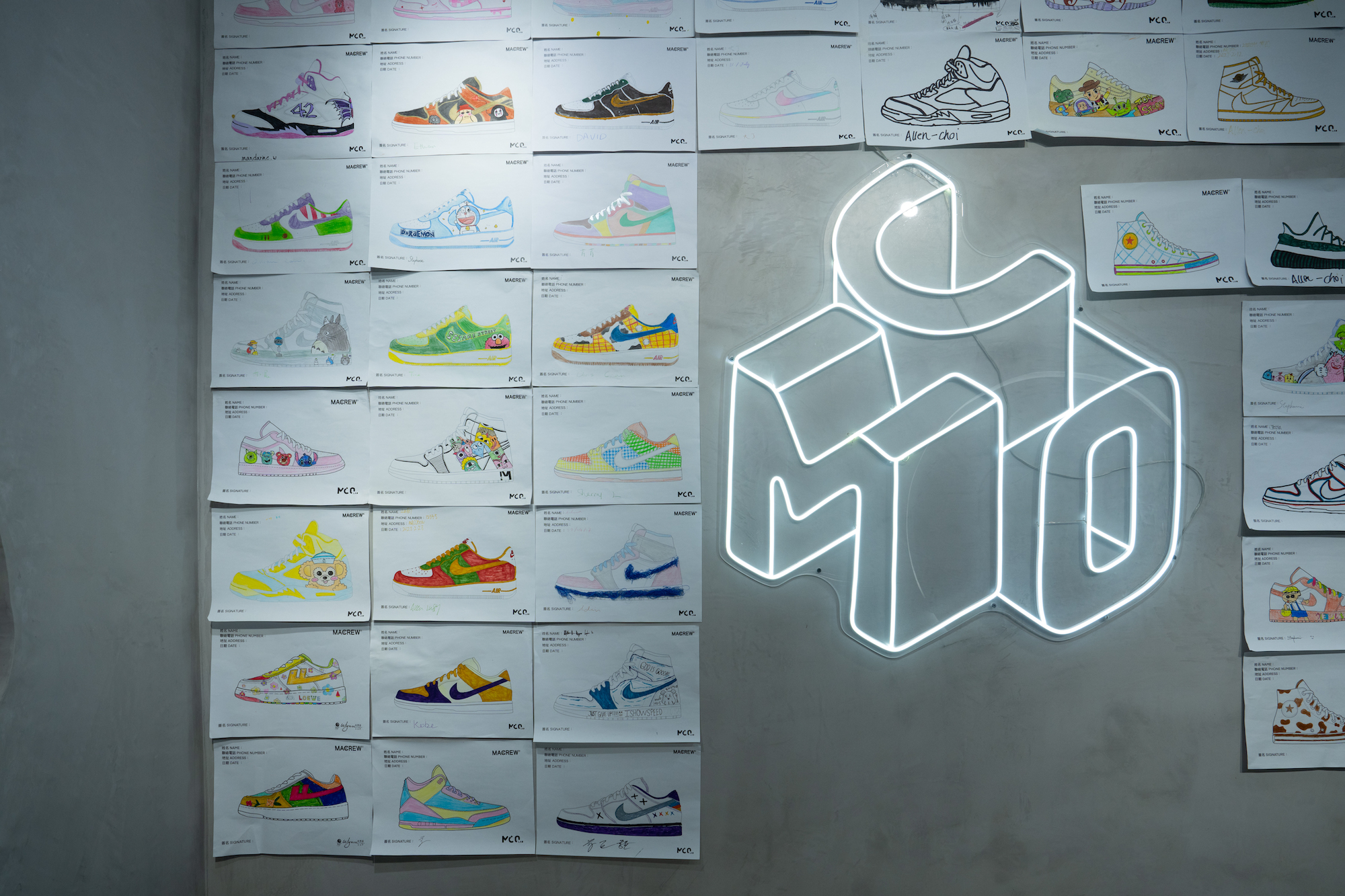 Historically, custom fashion has been the domain of high-end men's tailors or haute couture. Sneakers, on the other hand, have held a tighter bond with pop culture – especially American hip-hop culture. But in the 1980s, these disparate fashion realms began to merge.
In 1986, Run-DMC, an influential American hip-hop group, struck a sponsorship deal with Adidas after releasing the track "My Adidas", cementing the music genre's role in the rise of sneaker culture. 
The booming popularity of the NBA further altered the landscape, leading to a wellspring of signature kicks endorsed by celebrity players like Michael Jordan, Kobe Bryant and LeBron James. None has had a greater impact on fashion than the Nike Air Jordans – a shoe that transcended its celebrity endorsement and became a cultural icon – but many other shoes backed by basketball stars have become sought-after items, too. Even Choi admits the first sneaker he owned was Reebok's Answer 1, the shoe made for basketball star Allen Iverson.
As early models like the Nike Air Force 1 and Converse Weapon (worn in the 1980s by Magic Johnson and Larry Bird) started to become collector's items commanding high prices on the resale market, luxury brands entered the game. 
Fashion giants like Balenciaga, Alexander McQueen and Off-White – the street-style brand launched by the legendary Virgil Abloh, whom Choi credits as a major influence on his life and work – all release new sneakers every year. 
Today, the sneaker market has grown so big that it's expected to reach US$102 billion (MOP 822 billion) by 2025, as demand explodes for custom sneakers in Western markets. "[The trend is] so hot in the US and Europe because of some famous NBA players" and singers like Justin Bieber, Choi explains.
But in Macao, Choi says it's just starting to gain traction. "Custom sneakers have been very popular in foreign countries and mainland China for a while. I know there are quite a lot of people in Hong Kong and Singapore who are very into custom sneakers as well," he says. "But it's still the beginning stage in Macao."
Getting into the game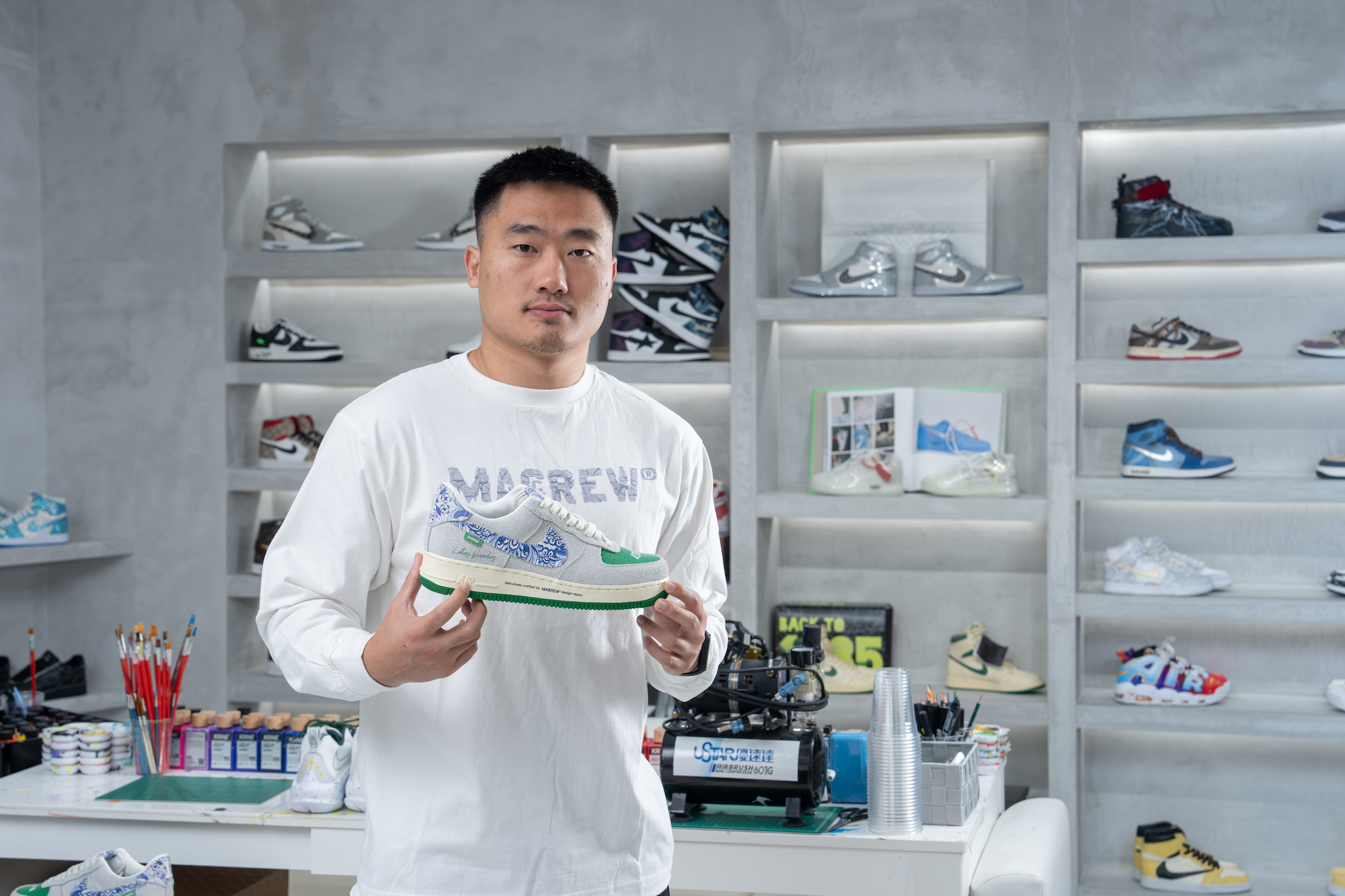 Though he's still young, Choi has surprisingly robust experience in both business and sports.
Born in Zhongshan, Guangdong, Choi moved to Macao with his family when he was 7. As a child, he says he got into sports thanks to his brothers and father. "Because of them, I developed a hobby of playing basketball," he says, and he found an idol in Allen Iverson, the scrappy guard who turned the Philadelphia 76ers into a perennial title contender in the NBA.
"I got my English name from Allen Iverson," he adds. "He isn't a strong or tall athlete like other NBA players – he became famous because of his work ethic and passion for basketball."
He also started practising sanda (full-combat Chinese boxing) and became so adept that he has represented Macao internationally since 2011. "I'll be at the Asian Games next September," he adds.
Choi has approached academics, and later business, with the same intensity as sanda. His passion for basketball spurred him to study sports management at Beijing Sport University and Tsinghua University, where he earned a master's degree. Meanwhile, his love of the NBA provided a gateway into sneaker culture that would lead him to where he is today.
"From the NBA, I learned about American pop culture and street culture. From that, I learned about Kanye West and Virgil Abloh and drew a connection from sports to fashion. Then I realised in mainland China or Macao, no brand connected the two," he explains. So why not do it himself?  
Custom sneakers for a new generation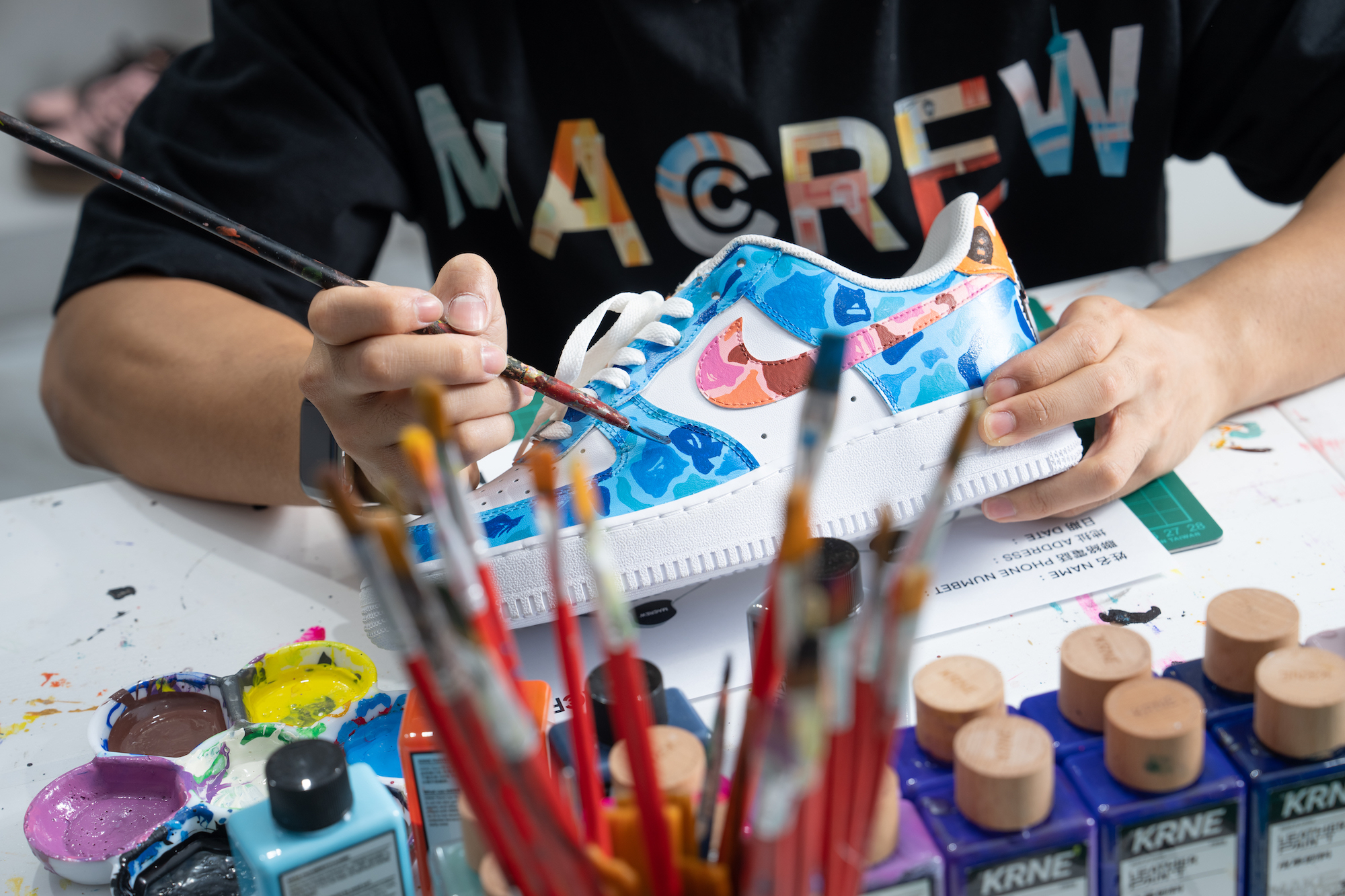 Using his earnings from sanda, as well as outside investment from like-minded friends and partners, he opened Maccrew on Largo da Ponte, just off Rua Gov. Tamagnini Barbosa, in 2019. Located within the Taipa Village, the shop sits on a quieter street just behind the busy Taipa Food Street. This means that there isn't constant heavy footfall, but those who wander into this quieter wide street (with lots of places to park your car) can enjoy a more spacious, personalised customer experience. This is not your average shop but rather "an experience store," as Choi puts it. 
Graced by natural light, the airy duplex features fine-art collages of fashion icons made with materials from deconstructed shoes. There's also a café where customers can linger over a latte while exploring the customised sneakers, hats, phone cases, and apparel on display. 
All the while, visitors can chat with Maccrew employees about their design ideas or join a workshop where they learn how to transform their shoes. For these workshops, participants either bring a pair of sneakers from home or buy them from the store (Nike Air Force 1, Nike Dunk SB, and Converse All-Star are all popular models, adds Choi). Maccrew employees then offer tools, such as paint and draft paper, and guide them step-by-step, from the blueprint to the finished product. 
Choi says it's a fast, hands-on way to make shoes no one else has. "If [customers] tell us what they want and we customise the sneakers for them, it takes around one to three weeks [to make them]," says Choi. "If they join our workshops and customise the sneakers themselves, it only takes around three to four hours."
Another step forward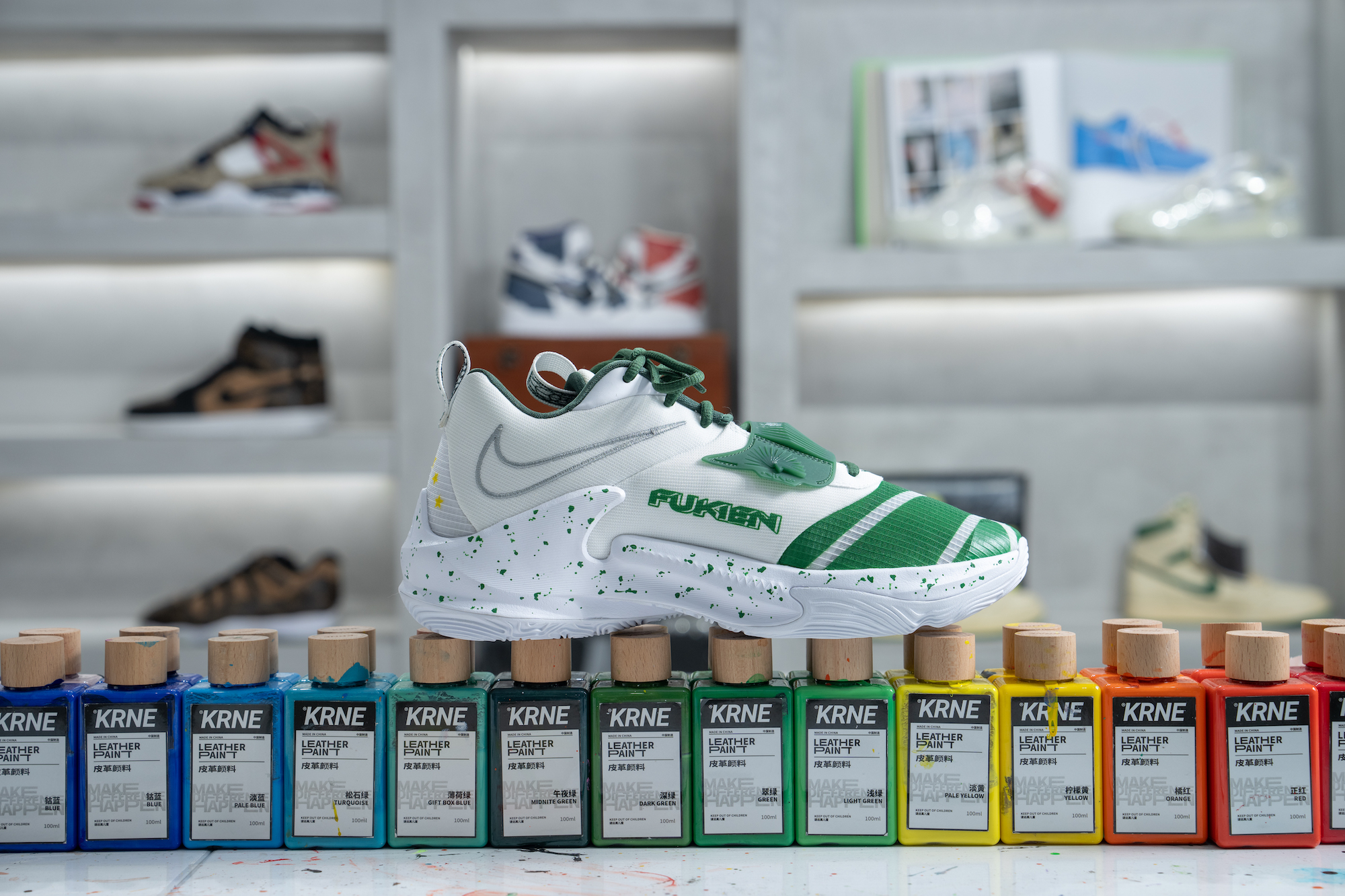 In just a few short years, Maccrew has had a hand in creating more than 10,000 sneakers, the most expensive of which fetched MOP 67,000. Although customisation might seem to be a service centred on the wealthy, Choi says the baseline starts at a wallet-friendly MOP 300. 
"You can get a blank white Warrior shoe from mainland China and just pay for the customisation, like the paint job," he explains. "Around 90 per cent of sneakers are customisable."
According to Choi, this unique and surprisingly accessible service separates Maccrew from other sneaker shops. "You cannot find another store like this in Macao."
But soon, you might find one elsewhere. Choi plans to expand Maccrew across the Greater Bay Area, beginning with a store in Shenzhen tentatively scheduled to open in mid-2023. You might also find other stores tapping into the booming demand for personalised goods sooner than later. That's the future of fashion, he says – authenticity and individuality.
"The old strategies of just adding name-brand logos or different colours will no longer work," he says. "New techniques and technology will be part of it, too, such as the metaverse, NFTs or auto-lacing [a lacing system that electronically adjusts to the shape of your foot]. Sneaker culture will be a combination of the digital world and the real world."
However it shapes up, one thing is clear: in Macao, thanks to brands like Maccrew, you can be part of the future of fashion – and design shoes you love in the process. 
---
Want to check out Maccrew's custom sneakers and design services? Visit the store at 63-67 Largo da Ponte, Taipa. Maccrew is open Monday-Thursday from noon-7 pm and Saturday to Sunday from noon-8 pm. 
If you are keen to join a bespoke shoe workshop, contact Maccrew via their Instagram page or Wechat (ID: maccrewculture). Workshops are priced at MOP 399 per person and are available upon request.