A climate of change: Why I chose a career in environmental sciences
A climate of change: Why I chose a career in environmental sciences

Link copied
Recent graduate Thomas Lei says the University of Saint Joseph's Environmental Science Doctoral programme armed him with the skills, confidence and expertise needed to pursue his dream job.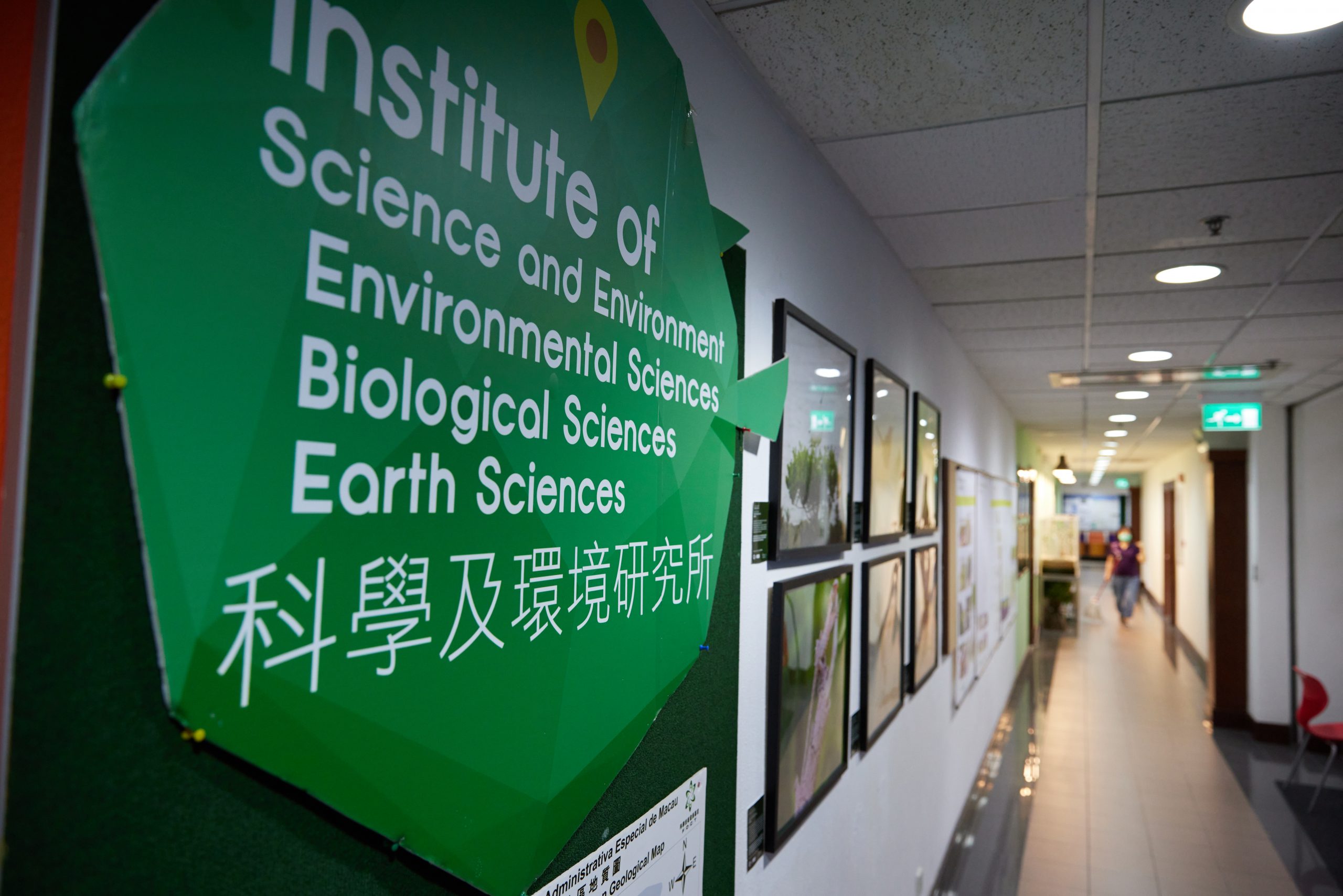 In the 1980s, the concept of climate change was just emerging. No one could have foreseen that it would impact nearly every aspect of society just three decades later. And as climate change accelerates, the world needs more environmental experts and professionals to navigate emerging social, economic and environmental challenges. 
Keeping pace with global needs, the Institute of Science and Environment at the University of Saint Joseph (USJ) is the only university in Macao to offer courses in Environmental Science, including bachelor's, master's, and doctoral programmes. 
With global warming, air pollution, and plastic waste threatening communities and wildlife around the world, environmental science is becoming an increasingly advantageous degree. This relatively new field is as varied as it is valuable, combining elements of chemistry, biology, earth science, technology and fascinating research opportunities.
For 29-year-old Thomas Lei, a recent doctoral graduate of USJ, his environmental sciences degree has set him up to find his dream job as a professor and researcher, possibly even at USJ's Institute of Science and Environment. 
"I would love to continue my journey in academia," says the Macao-born scholar. "That's one of the reasons I went on to do my PhD – becoming a professor has always been my goal. Now with my doctorate under my belt, I'm in a position to seize that opportunity."   
Having been interested in the environment since middle school, Lei was particularly attracted to the degree's diversity and scope, which reflect rapidly emerging career opportunities.
"There's no one type of scientist," he says. "Career opportunities are always evolving. You might work in a lab, or in science education, or use science to shape government policy. The great thing about a science degree is that it gives you the flexibility to explore your interests and make an impact through the pathway that's right for you."
Something in the air
Environmental science covers a lot of areas – ecology, biology, geology and oceanography, to name a few – but it was atmospheric science, or the study of air quality, that captured Lei's attention.
"I always felt like the air quality in Macao could be improved," he says. "The pollutants are trans-boundary – meaning they are brought in from elsewhere via the wind."
For his thesis, Lei studied air quality and developed a system that could accurately forecast harmful particles. "The development of air quality forecast models is essential for cities with high population density,  such as Macao," he says. "It is extremely important to predict pollution episodes so the authority can provide a warning to the local community in advance to avoid the adverse air quality, which may lead to severe health consequences."
Lei's project was a collaboration between USJ and the Macao Meteorological and Geophysical Bureau (SMG). "The forecast model that we developed is expected to be operational," says Lei. "If you have the SMG app or if you go on to their website, you can see the air quality forecast, and any alerts if we anticipate pollution."
Six stations – two in Macao, two in Taipa, and two in Coloane – monitor the territory's air quality. "They monitor several pollutants, but mainly focus on concentrations of nitrogen dioxide, particulate matter (including PM2.5), and maximum hourly concentration of ozone," says Lei. "These are most concerning. Especially PM2.5 because it is inhalable. After it gets into the human body there is no way to expel it. Basically, it can get deep in the lungs and can cause cardiovascular and respiratory problems."
During the almost four years it took Lei to complete his research, professors and advisors from the University's Institute were always on hand to assist him. "They supported and guided me through every stage, especially when we hit a speed bump or encountered a challenge that we needed to overcome."
Passion and purpose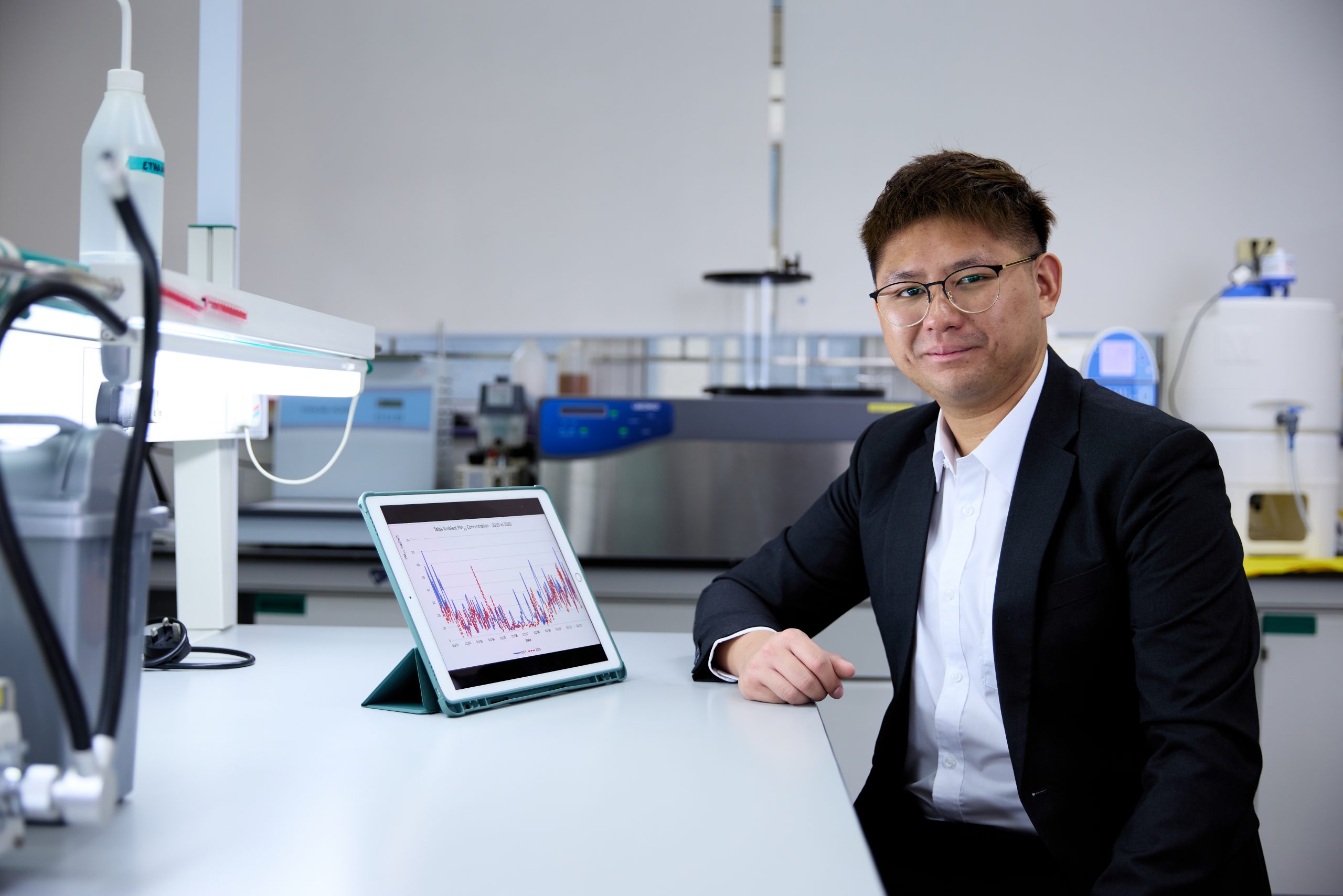 Lei's degree and desired career in academia speak to his personal values and give him a sense of purpose. Not only does his work have real-world implications and help the Macao community, but the study of air quality is closely linked to climate change. 
"When we burn fossil fuels, such as coal and gas, we release carbon dioxide into the air," he says. "This builds up in the atmosphere and causes the Earth's temperature to rise. This extra, trapped heat disrupts many of the interconnected systems in our environment, and also makes our air less healthy to breathe. Higher temperatures lead to an increase in allergens and these harmful pollutants."
Lei says that everyone can do their part to work towards a solution. "More electric vehicles would be a great and easy place to start," he says.
"Macao has a population of 682,500 and there are [nearly] 250,000 privately owned vehicles. That's hugely unnecessary. Vehicles emit both air pollution and greenhouse gases like CO2, so that's a big one."

– Thomas Lei 
So what does the future hold for Lei? "I would love to do more research," he says. "There is so much more we can do about air quality. It's such an important issue, because everyone is exposed to ambient air. It impacts everyone."
His future plans include creating a real-time map of pollution around Macao – a project that was due to be started at the end of 2019, but was delayed due to the pandemic. And his advice for anyone considering a degree in this field? 
"You must have a passion for the environment," he says. "It was a passion that drove me to complete so many years of training in environmental science. I hope that my research will continue to serve the community and bring positive impacts to the overall development of Macao. If you have the passion, then the long hours and hard work make it all worthwhile."