Dore depositors protest outside Wynn Macau again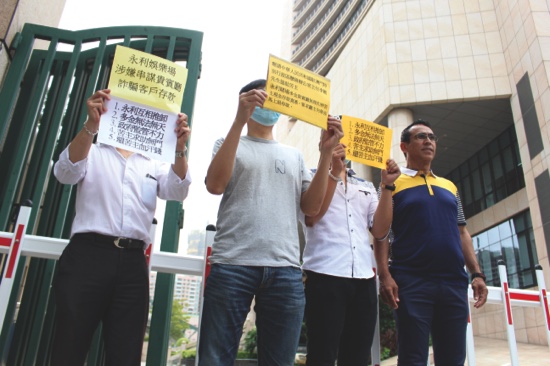 About a dozen investors in local junket operator Dore Entertainment Company protested on Sunday outside the Wynn Macau casino in Nape and demanded the junket company return their interest-bearing deposits, which total at least HK$700 million between them, according to some of the investors.
Depositors started gathering outside the Wynn casino in Nape at about 1 p.m. for a sit-in.
A local depositor surnamed Fong, who declined to be photographed, told reporters that she had deposited "several" million Hong Kong dollars in the junket company.
Fong, who is a junket promoter, said that some of the money she invested in Dore belonged to her clients.
"The company must return my money…it is unreasonable to seize our money after a theft was committed by a member of its staff," Fong said, adding that Dore or Wynn must tackle the matter.
While Dore is understood to run two VIP rooms at Wynn, the latter has insisted that it has nothing to do with the junket operator's business woes.
Fong also slammed the government for its perceived failure in tackling the matter as there was no regulation in place to protect the "proper" investment by Dore's investors.
Early this month dozens of depositors in the company started a string of actions such as protests and petitions to urge Dore to return their deposits. The protesters have told the media that Dore has refused to refund them.
Meanwhile, Dore Entertainment Company insisted in an advertisement published last week in the Chinese-language newspaper Macao Daily News that it never raised capital by attracting depositors with high interest rates because it knew that it would be illegal to collect capital in this way.
The company said its "former staff member surnamed Chow, the director of cage operations, is suspected of using the name of the company, making a copy of the company stamp and providing high interest rates to raise capital illegally." Chow "stole more than HK$100 million" from the company, according to the advertisement.
(macaunews/ macaupost)