Pork in tamarind shrimp paste by Chef Wong Meng Kang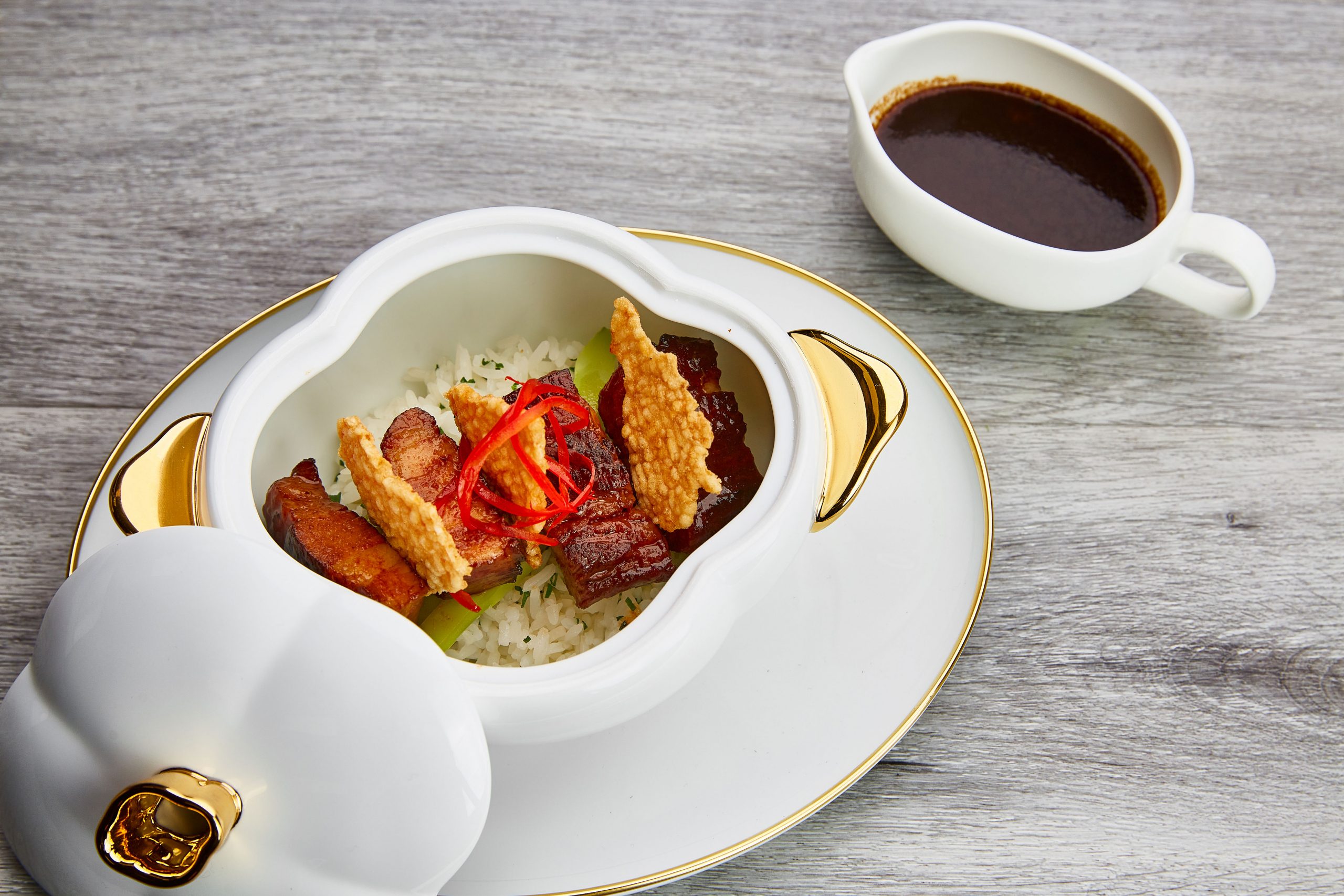 Serving

Prep Time

Cook Time
Ingredients:
Pork belly and marinade:
750 g pork belly
45 g dark soy sauce
50 ml Chinese rice wine
1 g black pepper
Stock:
40 g tamarind
40 g shrimp paste
15 g shallots
2 pcs bay leaves
2 pcs dried chillies
400 ml pork stock
40 g sugar
20 g chives
100 g rice
15 g pork fat
Garnish:
5 g paprika
1 crispy rice sheet (100 g rice)
Peanut oil
40 g broccolini
Pinch of salt
The 11th Macanese Cooking Competition took place in November 2020, drawing many talented chefs to vie for the top spot. Organised by the Macau Culinary Association, the contest invites chefs to innovate three Macanese dishes – one appetiser, one main and one dessert – through unexpected ingredients, flavours or cooking techniques. 
This year's winner was Wong Meng Kang, a chef who works as a Commis I Chef (First Cook) at Wynn Macau. For one of his dishes, Wong chose to innovate a familiar, nostalgic dish: traditional Macanese-style pork with shrimp-and-tamarind sauce. 
The young chef prepared the dish the classic way but added crispy rice sheets to enhance the texture with a satisfying crunch. Wong shares his award-winning recipe with Macao News:  
Instructions: Crispy rice sheets
1) Cook rice in a rice cooker with 400 g water
2) Spread cooked rice evenly on a plate and press into a thin layer

3) Put into the oven and bake at 40°C until crisp
4) Heat peanut oil to 160°C. Note: the amount of oil should be enough for covering the whole rice sheet when deep-frying
5) Deep-fry the dried rice sheet in oil for 30 seconds
6) Take out rice sheet, set aside and let it cool
7) Sprinkle paprika over the rice sheet
Instructions: Broccolini
1) Boil water with a pinch of salt
2) Blanch broccolini for 15 seconds
3) Remove water and set aside
Instructions: Main Dish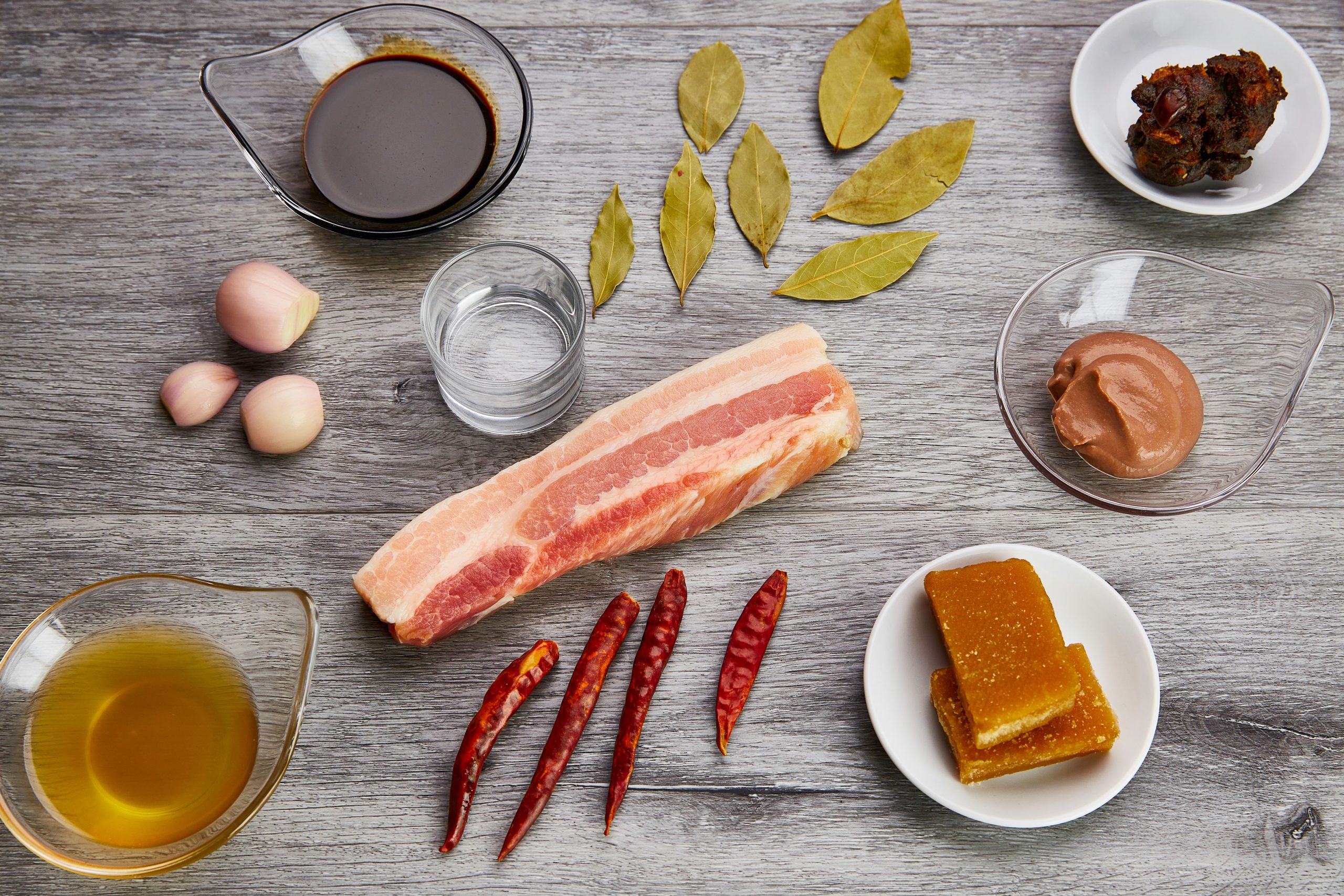 1) To create the marinade, mix together dark soy sauce, Chinese white wine and black pepper
2) Marinate pork belly in dark soy sauce, Chinese white wine and black pepper for a few minutes. Note: Massage the pork a little bit while in the marinade, then move onto next step
3) Heat up a pan, sear each side of the pork belly on high heat for 2 minutes, then set aside. Note: No need to use oil or butter, as the pork belly already has enough fat
4) Separately, sauté shallots, dried chillies, bay leaves and shrimp paste in a saucepan until fragrant, then set aside
5) Simmer tamarind with pork stock on low heat for 5 minutes, then strain tamarind in a colander and dispose of the seeds
6) Add the stock to the pot used in Step 4, then add sugar
7) Add seared pork belly into the stock and bring to boil
8) Then reduce heat to low heat to simmer and cook for an hour
9) While pork is cooking, steam rice and pork fat in 300g of water for 30 minutes
10) Chop chives, add to rice and stir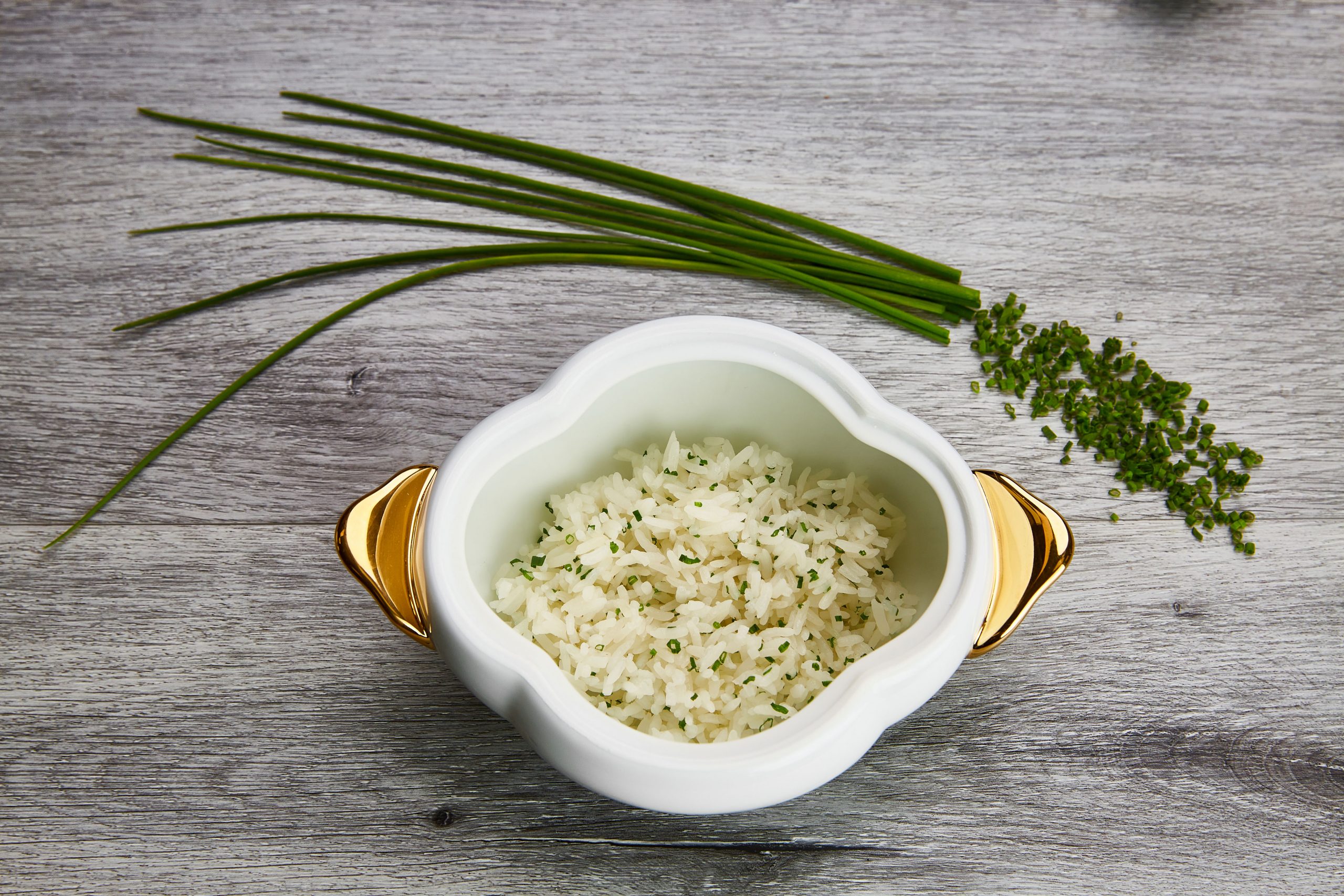 11) Serve steamed rice in a bowl, topped with pork belly
12) Garnish with a crispy rice sheet and broccolini