Crispy, savoury, and rich in symbolism, these bite-sized "money-bag" dumplings are an endlessly popular treat to enjoy over the holidays, not to mention a bearer of good fortune ahead of the Year of the Tiger.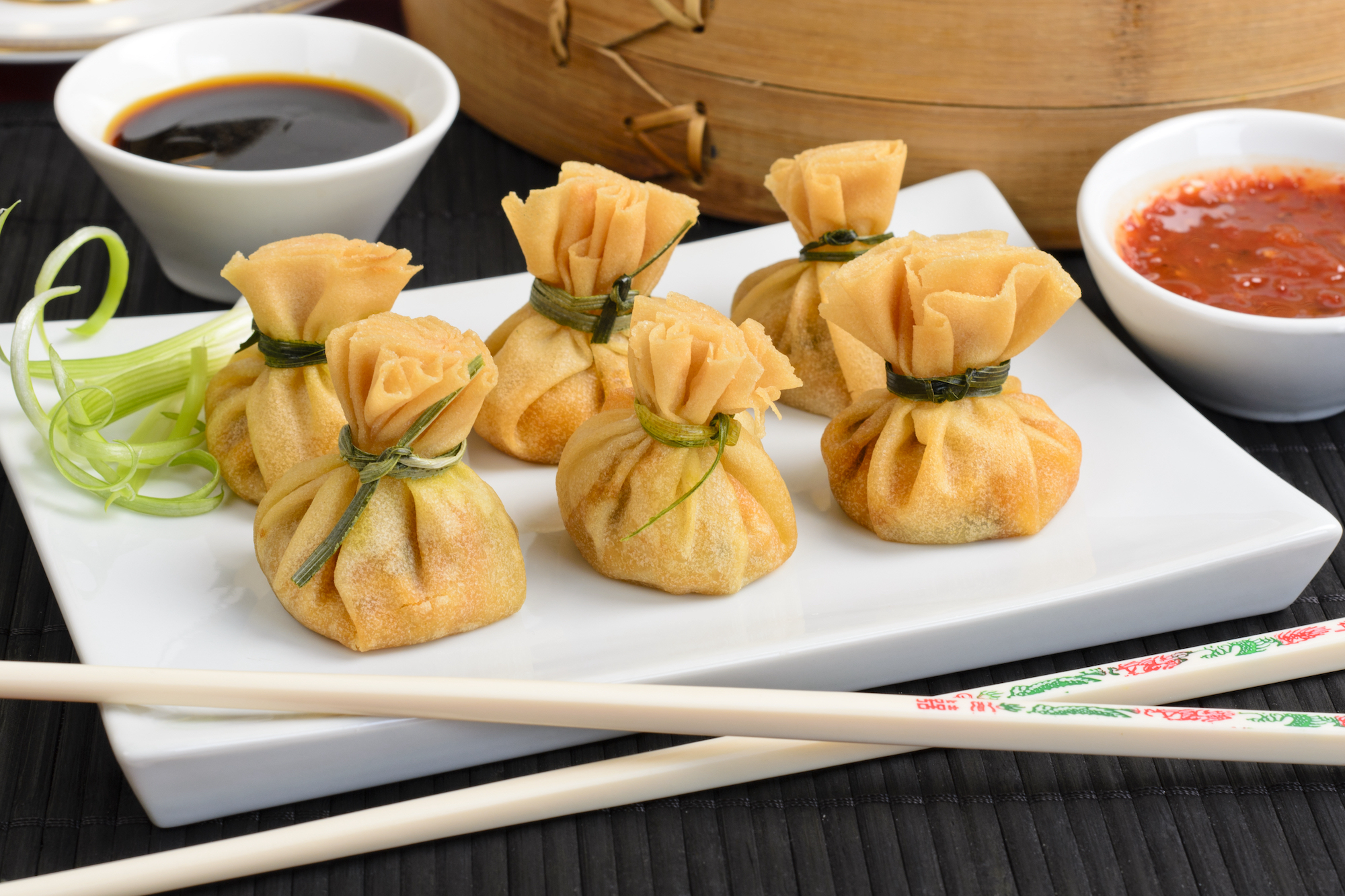 Serves

Prep time

Fry time
Ingredients:
100 g minced pork (or other meat of your choice)
1/2 tbsp of minced ginger
1 tbsp of diced spring onion
1 tbsp of cooking wine
1 tbsp of soy sauce
1 tbsp of sesame oil
A pinch of sal
A pinch of white pepper
A tsp of cornstarch
50 g glass noodle
3 shiitake mushrooms
Dumplings are a staple of Chinese New Year. They hold a good deal of symbolism in Chinese culture, thanks to their purse-like appearance, which many believe invites a year filled with wealth, good luck and prosperity. These dumplings in particular have a striking resemblance to money bags, tied ever so carefully with small cilantro strings, so you can really cash in on the auspiciousness and deliciousness of this festive tradition.
DIRECTIONS:
1. Soak the glass noodles in hot water until softened. Cut them into short threads with scissors.
2. Mix minced pork with the ginger and spring onions.
3. Add cooking wine, soy sauce, salt, sesame oil, white pepper, egg and cornstarch. Stir until well mixed. Let sit for 30 minutes.
4. Pan-fry the pork mixture for 2 minutes. Add the glass noodles and shiitakes. Stir-fry till the meat is fully cooked.
5. Set aside until the filling has cooled down.
6. Meanwhile, make the ties for your money bags. Blanch the cilantro stems for 5-10 seconds in boiling water, before placing in ice-cold water to stop the cooking process.
7. Gently squeeze dry, being careful to keep the stems intact.
8. Start making the dumplings. Add a tablespoon of filling to the middle of each wrapper, ensuring that there is room around the edges to twist and tie.
9. Gently close the wrapper over the filling. Pinch the bundle together at the top, leaving a small bit fanned out.
10. Use the cilantro "strings" to tie the bag.
11. Heat oil in a pan to cook the dumplings over medium heat, watching carefully to ensure they don't overcook. Once they're golden, they're ready to be served!
Important note: Replace minced pork with pressed tofu or a plant-based minced meat for a vegan version.
For more Chinese New Year recipes, click here