How i-Bagel brought the New York staple to Macao
How i-Bagel brought the New York staple to Macao

Link copied
Former casino workers Henry Chiang and Rachel Kou opened the city's first proper bagel shop at the end of 2020. Find out what led them to start up their business.
When you hear the word bagel, the first thing you may think of is New York, or if you are a fan of the TV show Suits, you would know that witty Harvey Specter in his downtime would never go without a bagel and a cup of coffee. 
The ring-shaped, boiled-and-baked bread product might be available across New York, but until recently, Macao locals lacked a bagel shop they could call their own. 
Enter i-Bagel. In December 2020, Henry Chiang, 42, and Rachel Kou, 40, both former casino workers, opened their small bakery in Avenida Xian Xing Hai when the pandemic began threatening their job security. 
"We consider the pandemic as our turning point and one that motivated us to start a business," Kou says. "We  have our own business, secure jobs and have gained a lot of experience from this."
We sat down to learn more about how the two met, why they decided to start making bagels and some of the challenges they have faced as new business owners.
Best friends and business partners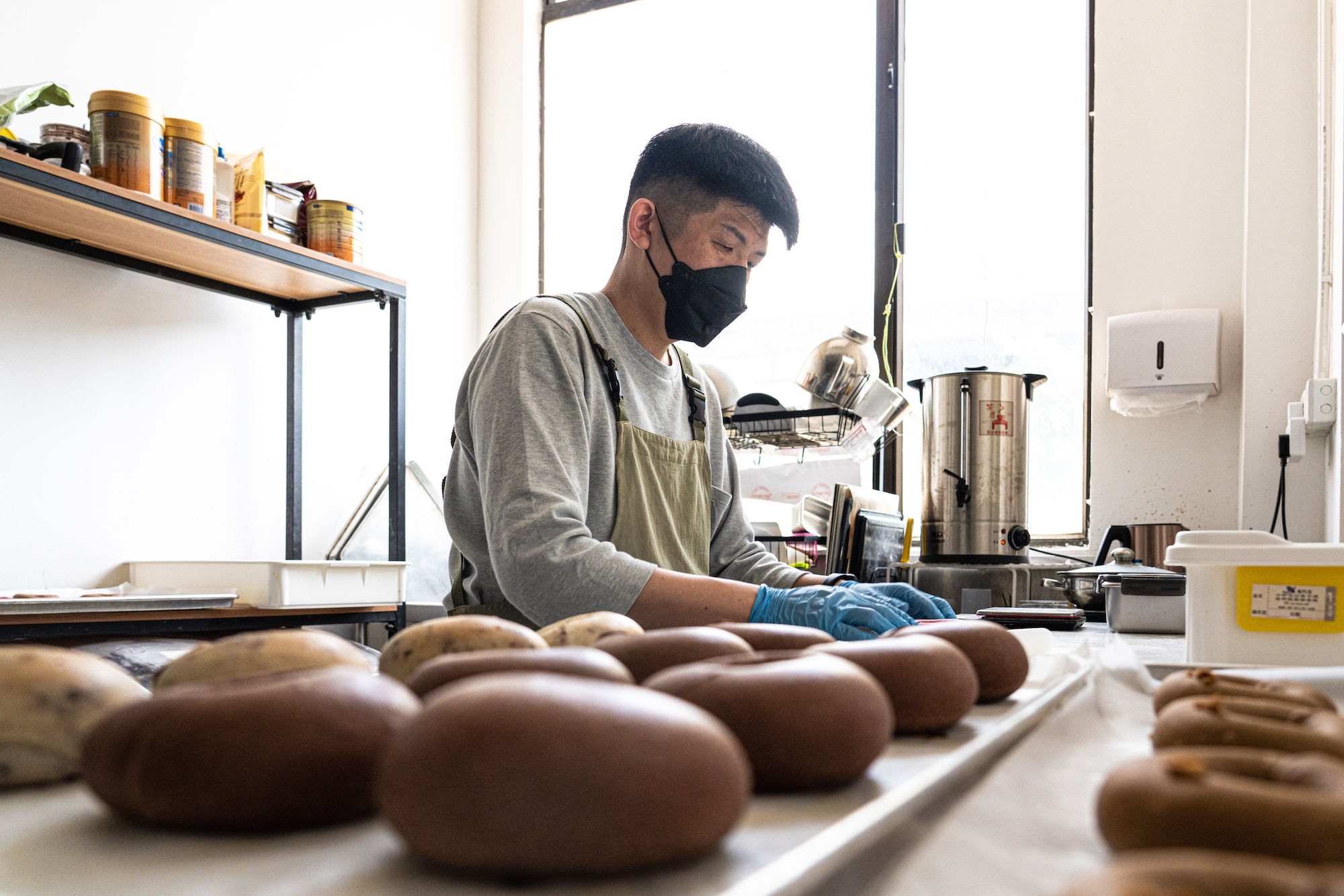 Chiang and Kou met at City of Dreams in 2009. Both were part of the opening team, Chiang as the Assistant Director of Casino Marketing and Kou as the Executive Assistant of the Casino Marketing Department. Ever since they have been close friends. "Our families know each other well, we go travelling sometimes and I was even the bridesmaid for his [Chiang's] wedding," Kou says.
At the start of 2020, however, when the pandemic began to upend life everywhere, Kou was furloughed and did not work for about half a year. Chiang realised his job seemed just as unstable. Since locals were stuck in the city, looking for entertainment and places to eat, he thought: "Why not open a shop?" The two partners had wanted to start a business together for years but never had a good reason to do so until the pandemic. 
"I did online research on Facebook and a Macao local on one page asked 'Why are frozen bagels from Taiwan so expensive? Why do we need to spend so much money to eat frozen bread?'" Chiang explains.
He discovered that no place in Macao focused solely on the breakfast staple. Opening a shop in the city would mean fresh bagels for customers who for so long had relied on frozen imports. When Chiang approached Kou and asked if she was interested in starting a bagel shop with him, she immediately said, "Yes, why not?"
Kou soon joined the 'Young Entrepreneurs Aid Scheme' – an interest-free business start-up loan programme offered by the Macao government that teaches you how to start a business step by step. 
"The tutor told us the truth: 'it is not easy to set up a new business and our imaginations were too idealistic,'" Kou recalls. 
The tutor proved invaluable, providing her with real-life examples of ways to manage a business that the two still draw on today, like always having a plan B in case things go sideways and understanding government rules for operating a business. 
Fresh and soft bagels 
In May 2020, Kou and Chiang joined the Reunion workshop, where pastry chef Ro shared her baking knowledge and natural, healthy, and comprehensive professional baking methods with participants. 
"Before opening up the store, we spoke with Ro and asked for her permission to use her recipe," Kou says. "She was kind and delighted that we used her recipe to open a shop and promote bagels in Macao. She also gave us tips on how to operate our business. I'd say she is our mentor." From then on, the two practised making bagels daily for three months, trying to get the perfect round shape and the right amount of dough and water in the mix. 
Before opening their brick-and-mortar shop, the two discussed all sorts of things – from how much money was needed to open a store and what they would be willing to risk to setting up goals like when to reach break-even and when to hire more staff. In August 2020, the two went store-hunting. While there were many locations available, the two settled on the space at Avenida Xian Xing Hai. "We had many competitors that wanted that same location," Kou explains. "But one of the main reasons we chose it is because we were targeting [office workers], children and their parents since there are many offices around and a school nearby." 
They agreed on a Japanese-style design and began furnishing the space. "We settled with this design style since it is simple, comfortable and warm," Chiang says. The store is compact, with a narrow lane that separates the bagel, coffee and cashier counter with a long wooden table and about six seats for customers. There is also a lit-up i-Bagel sign and corner for customers to take pictures for their social media – a key resource for marketing on a budget.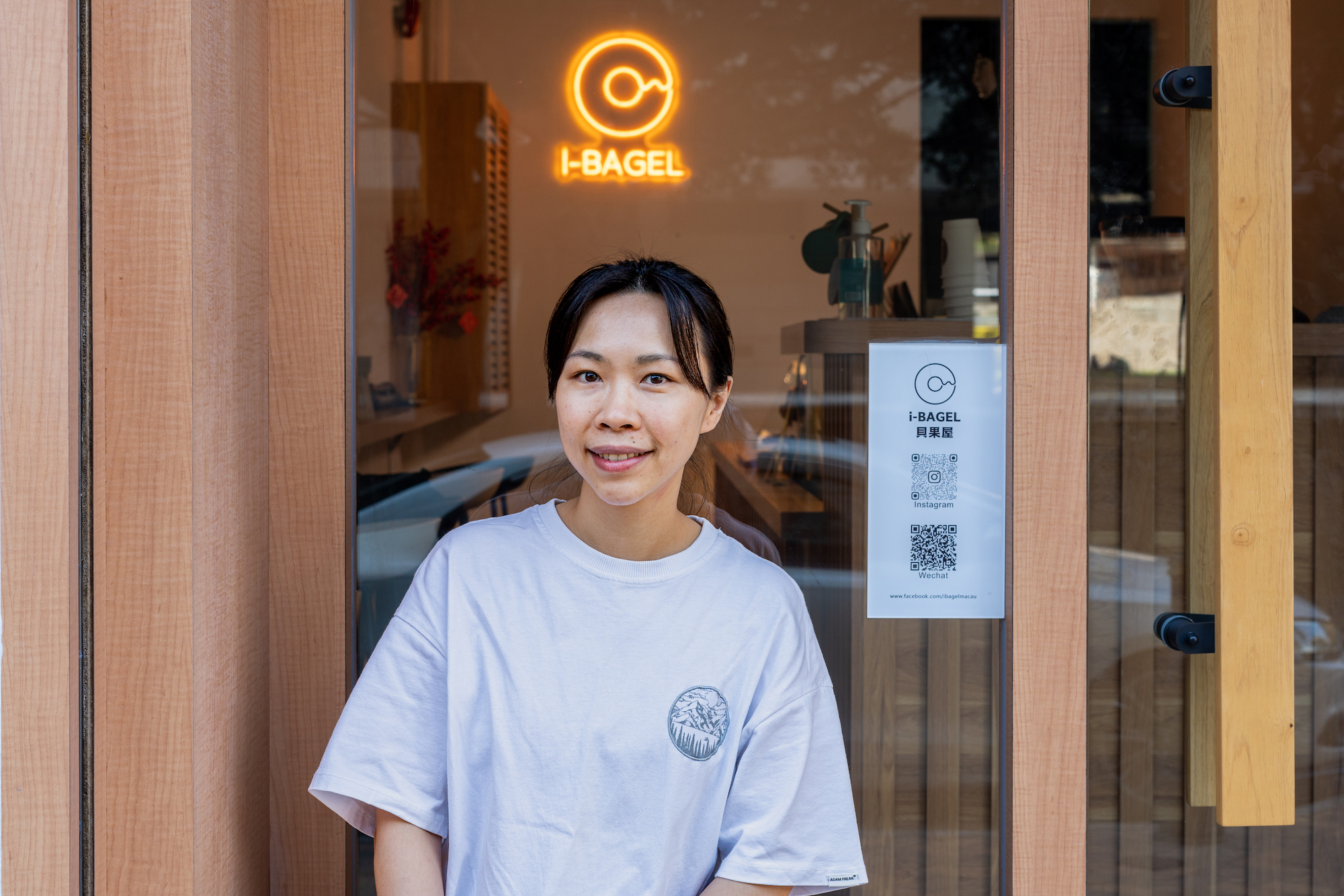 "Starting up a business is never easy, but surviving in the market is even more difficult," Kou says. "Although we both understand that promotions and advertising are important, we chose to focus on quality first and promote by word of mouth." 
"Since we make bagels by ourselves, we can control the quality of the ingredients and make sure the bagels meet [our] standards," Chiang adds. "Although many other stores have raised their prices, we've never adjusted them since we opened." 
Friends, family members and former colleagues from City of Dreams have supported them from the beginning, giving them a boost of confidence. That has helped immensely, because the bagel business is more energy-intensive than many might imagine.
Chiang and Kou begin their day at 7 am with prep. Around 9 am, they check orders, help with the production of bagels and prepare pre-orders from social media for delivery or pick-up. That's not all, though. 
"Every day before 3 pm we prepare the bagels for the following day since the bagels need to be in low-temperature fermentation and left overnight," Chiang says. 
When i-Bagel opened, the first few bagel choices were whole wheat, cheese, rich chocolate, green tea and chocolate mochi. Through customer recommendations and cuisine inspiration, today they have 18 different options, including sesame, beetroot, earl grey, green tea with red bean, purple potato cream cheese, blueberry cream cheese, and hazelnut chocolate. "Chocolate mochi gets the most sales, but it also depends on the promotions," Kou says.
As time went by, many influencers, foodies, and magazine and newspaper writers began promoting the store, which has led to its rapid growth. When the Macao government launched the "Macau Wealth Partaking Scheme" and "Electronic Consumption Benefits Plan", the store began producing over 240 bagels per day, up from the 180 they would usually produce. Once that period ended, however, they struggled to boost sales. 
To overcome that challenge, at the start of 2022, they started their own bagel delivery service. The partners opted against joining another food delivery platform because of the high administration fees. "We do not want to spend money on that and increase our selling price just for joining these platforms, so we found our own part-time bagel delivery rider," Kou says. This helped boost sales among customers living in Taipa or near the border, as well as on rainy days. 
A long-planned expansion has also helped. i-Bagel now has a cafe in Taipa next to Supermercado Seng Cheong, opposite Zung Fu Motors. Currently, the store sells bagel sandwiches in the morning and bagels in the afternoon. 
Despite the serious effort they have put into their start-up bagel shop, the two remain rosy about the future and proud of what they have achieved so far.
"You have to try," says Chiang, encouraging other would-be business owners to take the leap. "Do not be afraid. If you never try, you will never know the outcome."