How 853 Burgers' Houry Garcia brings Americana to Macao
How 853 Burgers' Houry Garcia brings Americana to Macao

Link copied
American chef Houry Garcia travelled the world with the Hard Rock Cafe before finding love and settling down in Macao, which he noticed was desperately in need of decent burgers.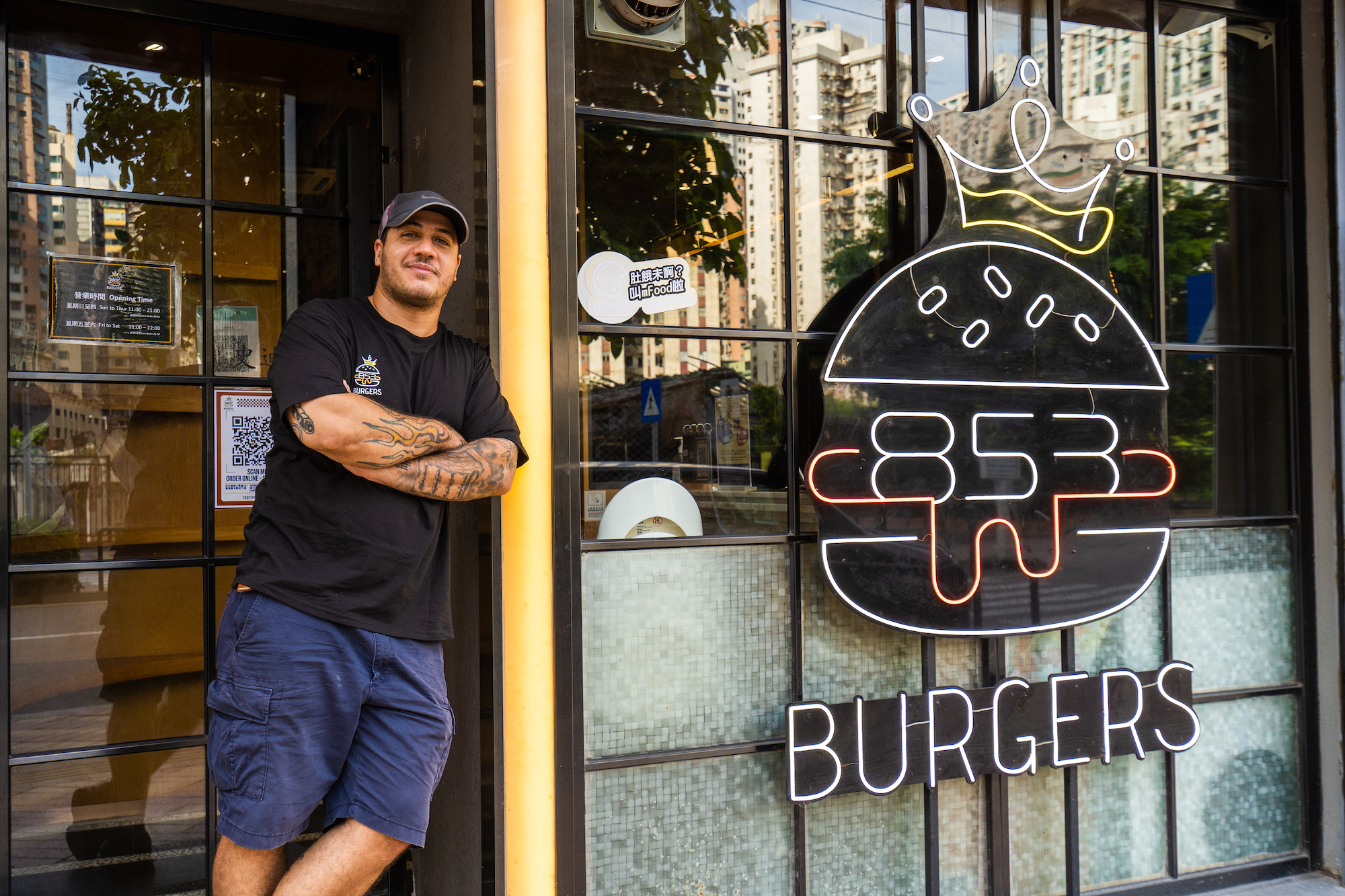 Growing up in Florida in the US, becoming a chef was never Houry Garcia's dream. Helping his mother out in the kitchen, to boil rice or chop a few ingredients, was the most he ever thought he'd do. But one kitchen job led to another, and he found he enjoyed working in restaurants. Eventually, he started one of his own here in Macao.
The 41-year-old co-owns Taipa's popular 853 Burgers, named for the city's area code, dishing up delicious burgers, fries and tacos. In this "Know Your Chef," Garcia tells us how a chance job at an amusement arcade led to travelling the world with the Hard Rock Cafe and on to a brand new life in Macao. 
The early days: Garcia was born in Santo Domingo, the capital of the Dominican Republic. At age three, he moved to a place best known for its beaches: Miami, Florida.
Garcia spent most of his childhood swimming at those beaches, or playing American football and baseball. At the end of each day, he'd come home and watch his hard-working mother, Francis Hernandez, cook a hearty Latin meal of rice, beans and steak. 
"My mom worked 10 hours a day and at a young age, I didn't understand single parents," Garcia says. "I didn't realise how hard she worked until I got older, when I understood why she would come home angry because we hadn't prepared the meat for dinner." 
At 10 years old, Garcia's preferred breakfast was a hotdog – which he knew was not the most sophisticated option. He slowly grew more interested in food and began helping around the kitchen, learning how to measure ingredients and cook his favourite thin steak. 
Garcia jumped between schools before graduating from Miramar High in 1999. He started attending classes at Broward College, but dropped out after a few semesters, preferring parties over studying.
"College was not for me," says Garcia. "I only went because it's what my mom wanted."
His first job: During that heady time, Garcia ran into an old school buddy who introduced him to a new group of friends – all working as chefs.
Those connections led to Garcia's first job, in 2001, at a restaurant-cum-amusement arcade called GameWorks. He prepared pizzas, manned the fry station, made burgers, and had a great old time working with colleagues who soon became close friends.
"I was mainly there just to work with friends," Garcia admits.
After three years at GameWorks, he felt ready for a new challenge. And right opposite GameWorks was a Hard Rock Cafe.  
The turning point: Garcia asked if the Hard Rock Cafe was hiring kitchen staff. It was, he put in an application, and the job was his.
The Hard Rock Cafe's kitchen was a step up from GameWorks. Garcia says it was his first "real dose of being a chef." 
His new boss told him he'd be fired within the month if he didn't start learning fast, and Garcia rose to the challenge. Soon he could prep any meal, be the garde manger (cold food chef), handle the dessert station, and work as an efficient expo (short for expediter, the person responsible for making sure food orders are delivered correctly and on time). 
"It was tough when I was adjusting," Garcia says. "Working in a kitchen, it's very rare to have somebody guide you. You either sink or float, because everyone's a shark." 
Learning the expo role was the hardest thing, he remembers. But it taught him a valuable lesson: "communication is key or the kitchen is doomed."
Garcia worked and partied hard during his first year at the Hard Rock Cafe, often heading to work straight from the clubs at daybreak. But in 2004, he got more serious about his career. A few top employees were being asked to work as Corporate Trainers in new Hard Rock Cafe branches overseas, and Garcia wanted in. At the age of 24, he was sent to Ho Chi Minh City, Vietnam. It was Garcia's first time leaving North America and he had no idea what to expect. 
"I thought I knew everything, but the Vietnamese culture and people opened my eyes," says Garcia. "I went there and met these people who are so poor but so nice; they can't speak English, but still treat you with respect."
Garcia describes his stint in Ho Chi Minh City as a "transcendence time" where he matured and developed deep respect for different cultures. 
Between 2004 to 2014, Garcia helped open Hard Rock Cafes in Vietnam, the United States, Macao (China), Cambodia, Indonesia and Malaysia. He first met his now-wife, Belinda, in 2012, when they worked together opening the Macao branch at City of Dreams. She was a local, hired to teach staff how to run the Hard Rock Cafe's bar. They parted ways when Garcia moved back to the US. But Belinda visited him in Malaysia, in 2014, while he was opening the Hard Rock Cafe Malacca.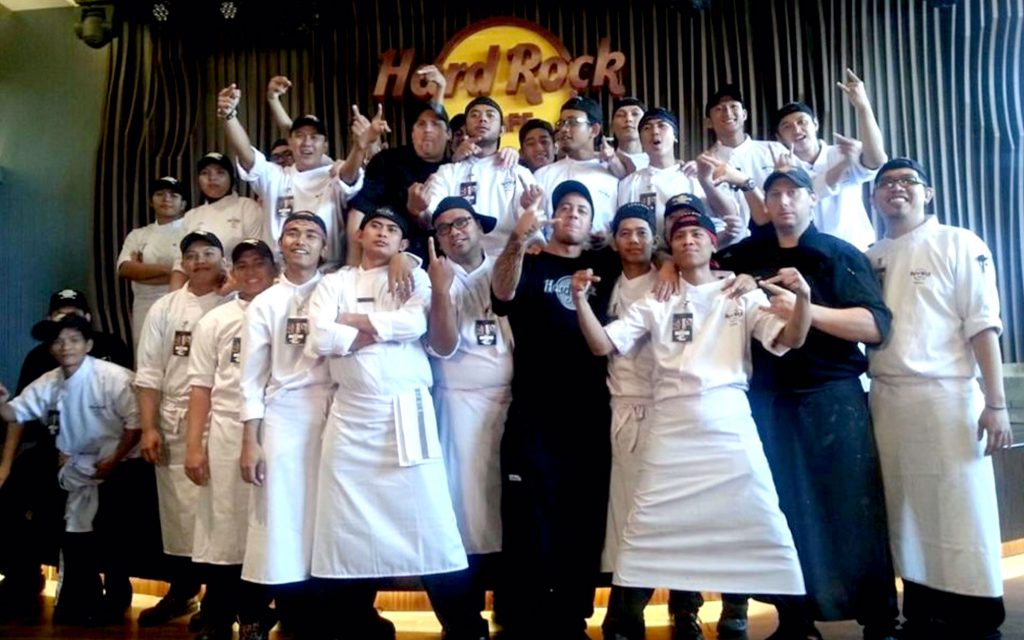 "Our bond grew stronger, but I had to move back to the US again," says Garcia of that second encounter. "We either ended it then and there, or we pursued love. And we chose love."
Belinda flew to the US for frequent visits, though the couple eventually decided to settle in Macao. Fewer Hard Rock Cafes were being opened around the world and Garcia felt ready for a permanent base. 
Between 2015 to 2019, Garcia cooked at the Hard Rock Cafe Macau, Cafe Fontana at Wynn Palace, and Morton's The Steakhouse at The Venetian Macao. When the Covid-19 pandemic forced Morton's to close down, Garcia found himself jobless. Luckily, a close friend in the food industry came to the rescue and asked Garcia if he had any interest in opening a burger shop. He did.
"You also couldn't get a decent burger in Macao back then," Garcia remembers.
A new beginning: Garcia opened 853 Burgers with two partners in 2020. It started off as a small blue shipping container on the Macau University of Science and Technology's campus. The burgers' popularity exceeded everyone's expectations, though conditions inside the container were tough. 
On hot days, the temperature could reach 37 degrees celsius, says Garcia. "But when it was cold, it was really cold, and likewise when it rained," he adds.
The partners opened a proper eatery a year later on Avenida de Kwong Tung, a few blocks away from Nova Mall, Taipa. The new 853 Burgers was a Korean restaurant before Garcia took over; he has kept the same basic format, only adding a few paintings to the walls. There are four people working in the kitchen including Garcia, while one manages the front desk.
"We just wanted it to be a really simple laid back place to enjoy a good burger," he says.
853 Burgers' simple menu is based on traditional American fast-food. Burgers, chicken wings, fries, tacos, pickles, and Garcia's own special sauce. Its difference lies in the fact everything is hand-crafted on-site.
"All our food is made fresh to order, nothing is pre-made," Garcia says. Meat at 853 Burgers is dry-aged for at least seven days, so it's perfectly tenderised.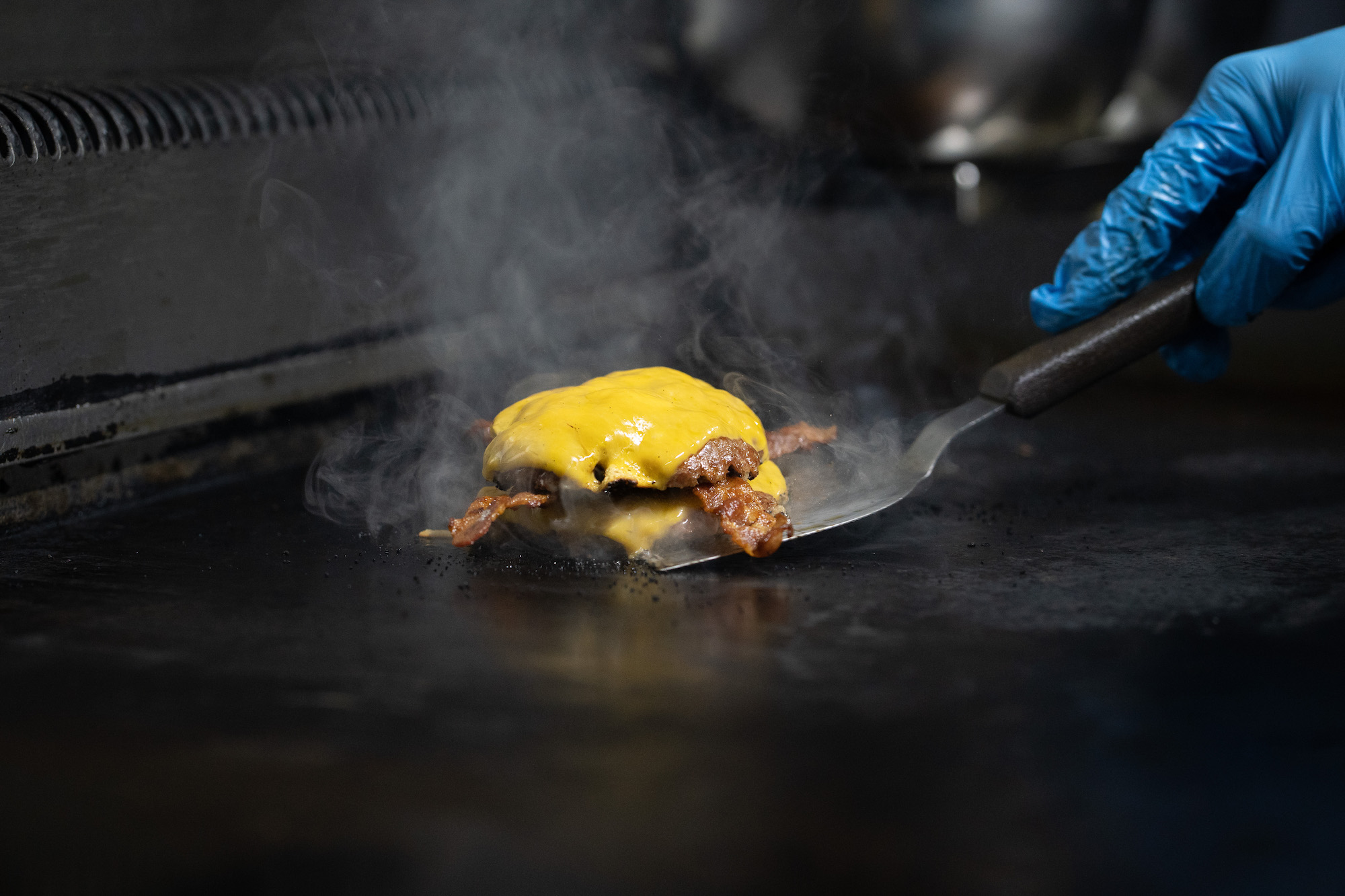 Biggest challenge: Due to the pandemic, 853 Burgers has been the hardest restaurant Garcia has ever opened.
"The store is close to my heart and I want it to be successful," he says "But there are so many obstacles right now with Covid-19 and I just feel like there's always something [obstructing progress]. But we have to push through it, and be creative."
Favourite burger: Barbecuing is incredibly popular in the US, and Garcia himself is a big fan. His prefered burger at the restaurant is the 'All-smoked'. 
"It's a barbecue burger that reminds me of the barbecue sauce, bacon and fried onion frizzles back in the US," Garcia says. "The crunch of the frizzles and that bacon texture makes it one of my favourites."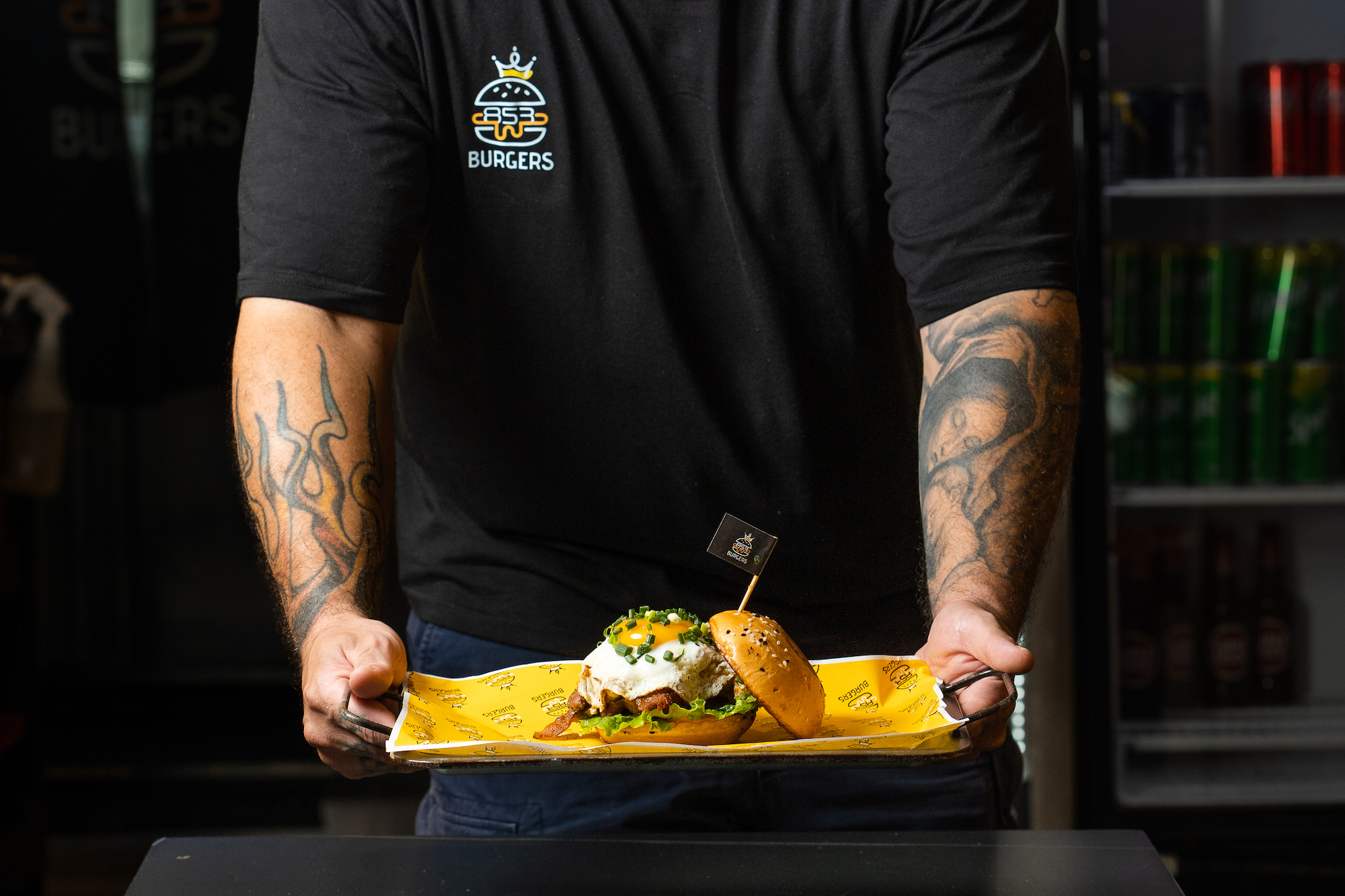 Parting advice: "How you do anything is how you do everything," Garcia says. "So, do everything 100 per cent. Even if you're feeling down that day, just try to keep that energy the best that you can."