Egg Balado by Loly Indonesian Restaurant
Egg Balado by Loly Indonesian Restaurant

Link copied
Popular in Indonesia and Malaysia, balado is a warming red sauce that hails from West Sumatra, Indonesia, and is often enjoyed with eggs, chicken, shrimp and more.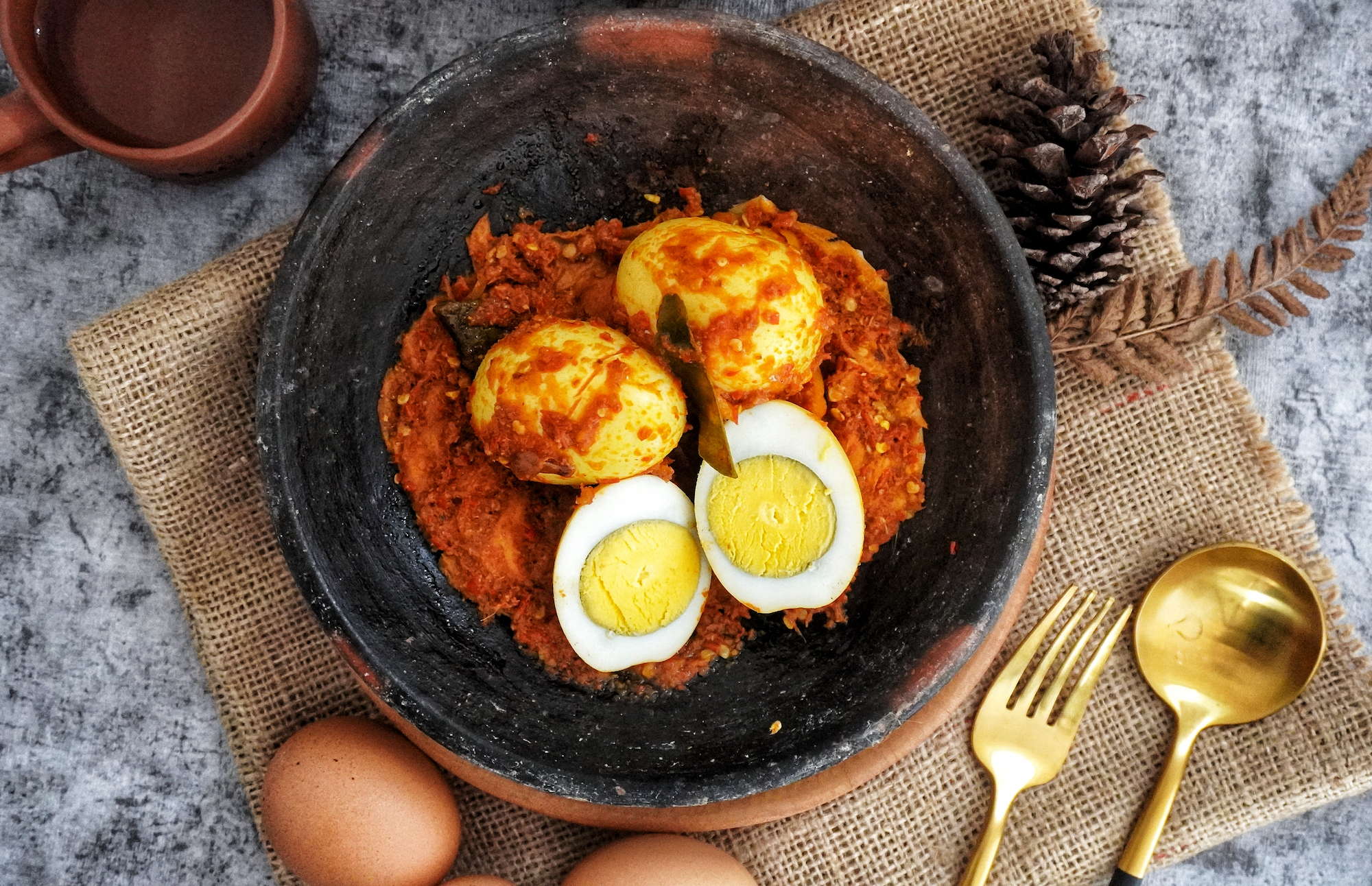 Serves

Prep time

Cooking time
Ingredients:
10 eggs
2 thumbs (5 cm-long pieces) fresh galangal (grated or blended)
2 thumbs fresh ginger (grated or blended)
2 bay leaves
5 long red chillies
5 cloves of garlic
5 shallots
2 candlenuts
½ tsp salt
½ tsp pepper
Palm or cane sugar to taste
5 tbsp cooking oil
1 stalk of lemongrass (smashed)
3 tomatoes cut into 1 cm cubes
½ tsp corn flour as thickener
Steamed white rice for serving
Winter is the season for savouring hot and spicy delicacies – the sort Padang food is known for. Also known as Minang food, this type of flavour-packed cuisine originated from Indonesia's Minangkabau ethnic group who inhabit the highlands of West Sumatra.
Commonly enjoyed in neighbouring Singapore and Malaysia, too, Padang recipes often call for coconut milk and spicy chilli pepper, which is known in the Minangkabau language as lado. Anyone familiar with Indonesian fare will know that balado falls joyfully into this category.
Better yet, it's easy to make, plus you can adjust the level of heat without sacrificing the dish's authenticity. That's thanks in part to the complexity of the sauce, which consists of stir-fried red chillies, tomatoes, garlic, shallots, lemongrass and bay leaves. The lemongrass imparts bright, aromatic notes, while the bay leaves lend a sweet, earthy flavour. To make balado sauce into a proper meal, simply add a protein or hearty vegetable, such as eggs, chicken, shrimp, eggplant or potato.
We've borrowed this egg balado from the menu of family-run eatery, Loly Indonesian Restaurant, which owners Indonesian chef Indah Handayani Sunardi and her Hong Kong-born husband, Thomas Tang, opened in Macao about six years ago. Diners loved the restaurant's warming, aromatic and spicy flavours (though Loly's milder dishes are delicious, too).
DIRECTIONS
The eggs:

1. Boil the eggs for about 15 minutes, then peel off their shells.
2. Fry the peeled eggs on medium heat, until they turn yellow or a little bit brown.
3. Remove them from the frying pan and put them aside.
The balado sauce:
1. Blend the galangal, ginger, bay leaves, red chillies, garlic, shallots, candlenuts, salt, and pepper together in an electric blender or using a mortar and pestle until smooth.
2. Stir-fry the mixture over low to medium heat, with the cooking oil, for 3 to 5 minutes.
3.Add the lemongrass and tomatoes, stirring until fragrant.
4. Add the cornflour, stirring until a desired thickness.
5. Add sugar to taste.
Egg balado:
1. Place the hard-boiled eggs into the simmering sauce and stir for about 5 minutes.
2. Serve egg balado on a plate accompanied by steamed white rice.
Note: For a milder heat level, you can either reduce the amount of chilli or increase the amount of tomato.