Macau government aims to open Patane library next year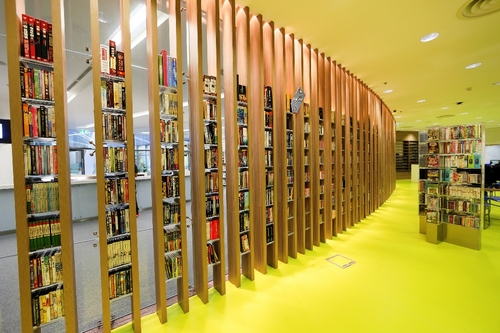 Cultural Affairs Bureau (IC) President Guilherme Ung Vai Meng said his bureau is planning to open a new library in Patane next year.
Ung made the announcement after attending a phone-in programme on Ou Mun Tin Toi, the Chinese-language radio channel of government broadcaster TDM.
Ung, alongside IC Vice-President Leung Hio Ming and the acting chief of the bureau's Cultural Heritage Department, Leong Wai Man, were invited to talk to the programme's audience about the government's cultural heritage evaluation process.
Speaking on the sidelines of the programme, Ung said most of the construction for the Patane library was basically completed, adding that the bureau was already ordering books and equipment, as well as installing utilities in the property.
Ung said a row of seven old low-rises in Rua da Ribeira do Patane were being converted into the new library.
Ung said that as Patane district is reclaimed land, his bureau had to reinforce the buildings' foundations, adding that as they were originally built for residential use, their structure also required some strengthening before they could be repurposed into a library.
As the bureau wanted to keep the buildings as close to their original design as possible, the project took a bit longer to complete, Ung said.
He added the bureau was planning to have the new library open to the public next year.
Meanwhile, regarding the city's new Central Library, which is to be constructed inside the former Judiciary Police (PJ) headquarters and old courthouse on a plot of land between Rua Central and Avenida de Praia Grande, Ung said that due to the complicated interior layout, it took the bureau some time to finish the construction blueprints. He added that the total area of the new Central Library will be 10 times that of Taipa Central Park's library.
The new Central Library project, which will keep the two original buildings intact, is slated to be completed between 2019 and 2020, according to Ung. The Central Library is currently located in a heritage-listed building in Praça do Tap Seac.
(macaunews/macaupost)