Lusofonia has smaller budget in 2015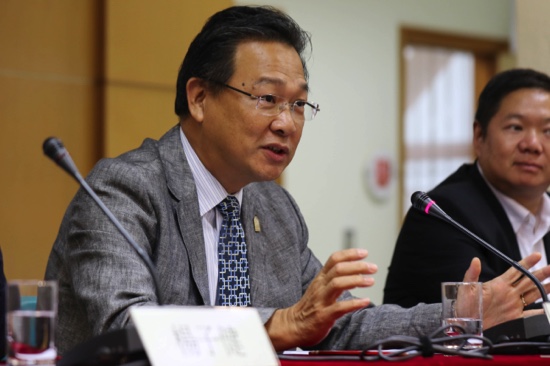 This year's Lusofonia Festival will take place from October 23 to 25 and will have a smaller budget, but the Civic and Municipal Affairs Bureau (IACM) expects that the party will be as lively as in previous years. Held at the Taipa Houses-Museum and Carmo Area in Taipa, the festival, will feature folk arts and culinary booths from ten Portuguese-speaking countries.
In a press conference held on Tuesday, Ma Kam Keong, a member of the IACM's Administration Committee, said that the event's budget was downsized to MOP2.4million, MOP400, 000 less than in 2014. A smaller budget, according to Ma, does not imply a smaller programme, since the number of activities was upsized.
Now entering its 18th year, the Portuguese Speaking Communities Cultural Festival will present, as usual, a series of music concerts, sports competitions, stage performances, and gastronomy, among many other cultural and recreational activities.
The typical fair-style decorations and booths, organized and hosted by members of ten different Portuguese-speaking communities, will also be present, showcasing the cultural, economic and tourist attractions of Angola, Brazil, Cape Verde, Guinea-Bissau, Goa, Daman and Diu, East Timor, Macau, Mozambique, Portugal, and São Tomé and Príncipe.
Questioned by the journalists, Ma mentioned that the festival has been growing in number of visitors, increasing from 17,000 in 2013 to 20,000 in last year's edition. He also expressed his expectations about this year's festival, explaining that "if the weather helps, we expect a similar figure".
The IACM member was asked why there were no local-based Lusophone associations at the press conference. Ma justified their absence with the fact that "they hold different positions alongside their full-time jobs, so they could not be here today."
As for the musical highlights, on Friday the Carmo amphitheater will present Mariene de Castro, from Brazil, Master Jake, from Angola, and Bitori Nha Bibinha, from Cape Verde. On Saturday, the stage will be occupied by the Portuguese band Virgem Suta, Mozambique's Massukos, and East Timor's D'Voices Talik Murak.
For the closing evening, the programme highlights the Binhan Quimor & Star Candinha, from Guinea-Bissau, Versatyle, from Goa, e Mezô Dance, directly from São Tomé and Príncipe.
According to the program the Festival will occur between 7 p.m. and midnight on Friday, and between 12 p.m. and midnight on the following evenings.
(macaunews/macaudailytimes)